2017 Chevy Silverado Lifted for Sale
2017 Chevy Silverado Lifted for Sale at

Ultimate Rides
These days, it isn't necessarily easy to find the right used vehicle. This is especially true if you have high standards when it comes to quality. If you've been searching for a 2017 Chevy Silverado lifted for sale in great shape but haven't had any luck so far, it's time for you to check out Ultimate Rides. We carry a huge range of custom vehicles, and that includes the 2017 Silverado. Best of all, each of our vehicles is in excellent shape and free of rust.
In this guide, we want to provide you with more information on Ultimate Rides. That includes our delivery service, which allows us to provide vehicles to customers throughout the United States and far beyond. We'll also tell you more about our custom service center as well as our unique customer service philosophy. By the time we're through, we think you'll be ready to contact Ultimate Rides about finding your next truck!
Customize Your Next Truck in the

Lift Center
One of the best benefits of buying your vehicle through Ultimate Rides is the ability to customize it any way you want in our lift center. Whenever a customer buys a vehicle from us, they'll have the opportunity to send it over for any kind of work they want. We offer a huge variety of customization and services. That includes lift kits, custom tires and wheels, running boards, LED lighting, stereo setups, performance chips and more. For a more detailed list of everything we have to offer, we encourage you to contact our office.
Whenever you decide to opt in for some of these extra modifications, you'll be able to choose if you'd like to pay upfront or finance it alongside your vehicle. This will simply add on a little bit extra to each monthly payment, making it affordable for just about anyone to customize their next truck. The 2017 Chevy Silverado lifted for sale is quite a popular choice, as the truck has a lot to offer. We can take the factory setup and design of the vehicle and bring things up a notch. Just let us know what work you'd like done and our team will bring it to life.
Speaking of our team, the Ultimate Rides lift center is staffed by an expert group of ASE-certified technicians. We fully believe we have the most talented team of techs and mechanics out there. Without them, our vehicles would not be what they are today. For more information, call Ultimate Rides!
Customer Service That

Treats You Right
We're very aware that the used auto sales industry doesn't exactly have the best reputation for customer service. However, that is something that we've set out to change. Ultimate Rides is a family business, and we do our part to make sure our customers have the best experience possible. When you come visit our office, or call us on the phone, a member of our team will listen to everything you have to say. Instead of trying to unload whatever vehicle we want to get rid of at the time, our goal will be to help you find what's right for you.
We have a huge variety of vehicles ready and waiting, but that still doesn't cover everything out there. If there's something specific you want, such as a 2017 Chevy Silverado lifted for sale, let us know and our team can help you find it. We'll just need a small deposit to ensure we don't lose money on buying the vehicle. As soon as we have it, we'll let you know! From there we can get it ready for pickup or to ship out to you.
Vehicles Delivered Straight to

Your Driveway
Speaking of vehicle delivery, it's one of the shining reasons why Ultimate Rides is so popular with people around the country. No matter where you live, you'll have access to high-quality custom vehicles, able to be delivered right to your home. In fact, around half of all our business is done with buyers from outside our area. Go ahead and get started by browsing the inventory on our website and giving us a call. Someone from our team will be able to offer more details and photos of each of our vehicles.
When you've decided what you'd like to buy, we'll be able to take care of all the financing and shipping details over the phone. You can choose if you'd like to pay for shipping now, or finance it and pay for it over time along with your vehicle. Either way, we can still offer customization services, and as soon as the truck is ready we'll send it out. Not everyone can find a 2017 Chevy Silverado lifted for sale in their neighborhood, but with Ultimate Rides you can order one nonetheless!
Choose Ultimate Rides for a

Top-Notch Experience
If you would like to give us a call, we're open seven days a week. You can reach us today at 815-634-3900. If you ever find yourself in the Chicago area and would like to stop by and see us, our office is located at 38 W. Division St., Coal City, IL 60416. We are more than happy to show our customers around and answer their questions, so don't be shy! Ultimate Rides is the place to find your next vehicle, no matter what it may be.
---
Two Brothers With a Dream

,

Building The Best Ultimate Rides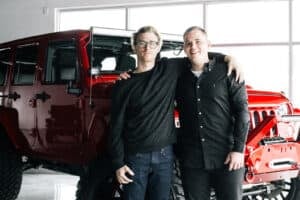 Ultimate Rides consists of two brothers who have been buying and selling custom vehicles for over ten years. Selling lifted trucks by day and writing these awesome reviews by night! They started their Ultimate Rides journey with a third brother Jake, who was a big part of building the business they have today. In 2016 Jake passed away and losing their brother was the hardest thing they ever had to deal with. Even though they had a tragic loss they plan to continue to set a new trend for the auto industry, keeping customers number one. Pushing the envelope on the lifted truck market, these guys love researching and learning about everything in the auto industry!
 — Nick and Alex Bulanda, Founders of Ultimate Rides