2020 F150 Lifted for Sale at Ultimate Rides
Find a 2020 F150 Lifted

for Sale Today!
It's no secret that people love the F150. In recent years especially, many modern improvements have been made to the truck to bring it into the future. The 2020 model is one of our absolute favorites, and we love when we get our hands on one at Ultimate Rides. You see, we do more than just sell vehicles here. We also customize them, outfitting them with improvements like lifted suspension and custom wheels. In this guide, we'd like to tell you more about Ultimate Rides, and why we're the best place to find a 2020 F150 lifted for sale, no matter where you live.
We have delivery options available that allow access to our inventory wherever you are. It's affordable, and made even more so by the option to finance the cost so you can pay along with your vehicle. We'll have more on that for you down below. We also have plenty to share about the standard of quality when it comes to the vehicles we sell, as well as all the services offered in our custom lift center. Stick around if you want to learn more about one of America's favorite destinations for custom vehicles today: Ultimate Rides.
High-Quality Custom Vehicles at a

Fair Price
You may be wondering why you shouldn't just head down to your local used auto dealership to scope out your next vehicle. While it's possible you'll find a few good trucks there, you won't have the same guarantee of quality available at Ultimate Rides. If you're someone who's willing to pay a little extra to ensure you get a high-quality vehicle that won't let you down, we're the place for you. All of our vehicles are rust-free, brought in from warmer and milder states like California. We also only buy vehicles that have been well taken care of. This is to ensure as much quality as we reasonably can for any used vehicle. Every model we bring in is inspected by our team, and we even customize many of them in our lift center with a few extra touches.
Despite the quality of our vehicles, you won't be paying an insane price like at some other premium dealerships. Our prices are fair and we're always willing to provide you with a cost breakdown to share our math. If you have any questions, don't be afraid to ask! You can find a 2020 F150 lifted for sale at Ultimate Rides, and you'll always know that it's a quality vehicle. That's not something that's always available at your local dealership.
Learn about Ultimate Rides

Lift Center
By now, we've namedropped our lift center a few times. It's only fair we tell you a little more about it! We have our very own on-site service center that specialized in lifted suspension and other custom modifications. We completed our new lift center in 2017, and we've been proudly providing great service there since. Our staff is top-notch, comprised of ASE-certified technicians, each one with a great deal of expertise and experience. If you'd like to see some examples of their work, just take a look at our inventory!
Every time you buy a vehicle from Ultimate Rides, you'll have the option of sending it to the lift center before you pick it up. We can make any modifications you want there, from lifted suspension to performance chip installation, running boards, custom lighting and more. Best of all, that work can be included in the total cost of your vehicle. This allows you to finance the entire thing together. You can also choose to pay for the work separately and finance your vehicle like normal, or pay for it all upfront! However you want to pay works for us at Ultimate Rides.
Our custom service center is even open to members of the public. If you'd like to keep your current vehicle but think we could make some positive adjustments, go ahead and set up an appointment with us! We're always happy to work on a new vehicle, and we're confident you'll find our prices fair and reasonable.
2020 F150 Lifted for Sale – Delivery Available from

Ultimate Rides
Though we are located one hour south of Chicago, we're able to provide vehicles to customers across the United States. In fact, more than 50% of all of our sales are done with long-distance customers. While some make the trip to our office, many opt to do business over the phone. We have vehicle delivery available that's both secure and affordable, ensuring you get your new vehicle in a timely manner. The whole process is easy as can be. We'd recommend you start by looking at the inventory here on our website. You can also skip that step and begin by giving our office a call if you'd prefer. We'll help you find some vehicle options to consider, or provide you with an exact fit if you know what you're looking for.
From there, we'll talk financing options. Once all of that is settled, all that's left is talk about vehicle customization options and delivery. Whether or not you decide to have us modify your vehicle, we'll get your delivery details taken and get the process in order. Just like with our service center, you'll have the option to either pay for delivery now or finance it. At Ultimate Rides, we're big on offering the best customer service experience possible. This is just one more way we try to accommodate our customers.
A Promise of Quality

Customer Service
At Ultimate Rides, we know that auto dealerships haven't quite earned a great reputation for customer service. We'd like to change that. We've worked hard for years to prove to customers that we're on their side. We know that we can offer quality vehicles at a fair price and still make a profit for ourselves, all without screwing our customers over. When you call or stop by our office, you'll find a team of friendly experts. They're here to help you find the perfect vehicle, whether it's something we already have or something we have to find. If you know exactly what you want, we'll get you set up with that. However, if you're still not sure, we can also help you find what exactly you're looking for.
If there's a specific make, model and model year you need, but we don't have it in-stock, we can help you find it. Leave a small deposit with us and we'll have our team hunt down the vehicle you want. As soon as we find it, we'll let you know. It'll be brought back to our HQ to get ready for you. You can order any custom modifications you'd like, or take the vehicle as-is. That's just one of the many ways Ultimate Rides will go above and beyond to impress. We're a family business, and we believe that still means something these days. Get in touch with us to find out firsthand what we mean. Whether it's a 2020 F150 lifted for sale or something else, we can help.
Maintenance, Detailing and Repair

Offered Here
On top of all that, Ultimate Ride also offers a number of services for your vehicle. Whether or not you purchased your ride from us, you can get maintenance, repair and detailing done here. Our team is the best around. We also know it's not always easy to find quality mechanics anymore. If you're in the Chicago area, you can rely on finding high quality service provided by our team. Whether you need something standard like a wheel alignment, oil change or fluid check, or you need something more major like engine repair, we can take care of it. We have the utmost confidence in our team, and we hope you will too.
Like with everything else, our pricing makes sense and we're always willing to break it down for you. Other mechanics might try to add-on small extras and hope you won't notice. You won't ever find anyone trying to pull a stunt like that here. If you have been searching for an auto shop that you can rely on, give Ultimate Rides a shot the next time something goes wrong.
Why People Love

Lifted Suspension
You may have noticed that lifted suspension is a growing trend among drivers. Each year, more and more people decide to adopt this alternate style. There's good reason for it, too. While many drivers upgrade simply for the looks, there are also tangible performance benefits. If you plan on taking your F150 off-road, lifted suspension can help you avoid low-to-the-ground hazards like rocks and stumps. You'll have a higher vantage point from your cab, allowing you to see farther a little easier.
However, as we said, most people upgrade because they like the look. Lifted trucks also just have a different feel when driving them. It's hard to explain, but many people have a hard time going back to the old way. If you're interested in learning more about lifted suspension and its benefits, Ultimate Rides can answer your questions. Continue checking out the articles on our website, and give us a call when you're ready!
Your Next Vehicle

Awaits
There's little doubt that the Ford F150 is one of the best choices available for drivers today, pickup truck or otherwise. In addition to its undeniable style, it also offers fantastic performance, utility, comfort and safety. If you would like to learn more about the features found inside the 2020 F150, take a look at our website's inventory, or give our team a call. We're always around during business hours to answer questions about our vehicles. We promise it won't be a bother!
We've told you all about our delivery, custom service center and more. Hopefully you're considering choosing us to provide your next vehicle. We have a wide selection, and it goes beyond just the 2020 F150. We are one of the top places in the country to buy a custom truck. If you want a vehicle you can count on and you'll be proud of, take a look at our selection.
If you're in the greater Chicago area, you can visit our office at 38 W. Division St., Coal City, IL 60416. We can also help you out over the phone today. Give us a call at 815-634-3900 to speak to a member of the Ultimate Rides team.
---
Two Brothers With a Dream

,

Building The Best Ultimate Rides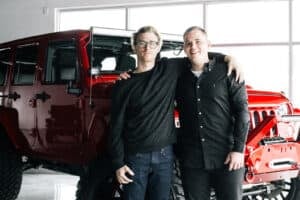 Ultimate Rides consists of two brothers who have been buying and selling custom vehicles for over ten years. Selling lifted trucks by day and writing these awesome reviews by night! They started their Ultimate Rides journey with a third brother Jake, who was a big part of building the business they have today. In 2016 Jake passed away and losing their brother was the hardest thing they ever had to deal with. Even though they had a tragic loss they plan to continue to set a new trend for the auto industry, keeping customers number one. Pushing the envelope on the lifted truck market, these guys love researching and learning about everything in the auto industry!
 — Nick and Alex Bulanda, Founders of Ultimate Rides