Best 35 Inch Tires for Daily Driving | Daily Driver Tips
Choosing the Best 35 Inch Tires for

Daily Driving
Finding the right tires is all about taking a look at your own needs and that of your vehicle. What kind of height are you looking for? Will you be doing any off-road driving? What's the climate like where you live? The answers to these questions can help you pick out a fantastic option for your vehicle. If you are looking for the best 35 inch tires for daily driving, this guide has the answers for you. Below you'll find a list featuring a few of our favorite options to consider. These tires are all-around excellent choices, some of the best available today, and should do well on SUVs, trucks and even some cars with the right setup. Just make sure your vehicle is outfitted to take on 35 inch tires!
After our list, you'll find the Ultimate Rides buying guide. In it, we'll provide you with some additional useful information for these products. That includes letting you know how to read the letter-and-number codes that detail each tire, as well as sorting through the options to determine which set of tires is best for you. If you have any questions for Ultimate Rides when we're through, you should feel free to call our office! We install tires as well as provide custom vehicles to drivers around the country, so we know our stuff. Reach out to learn more.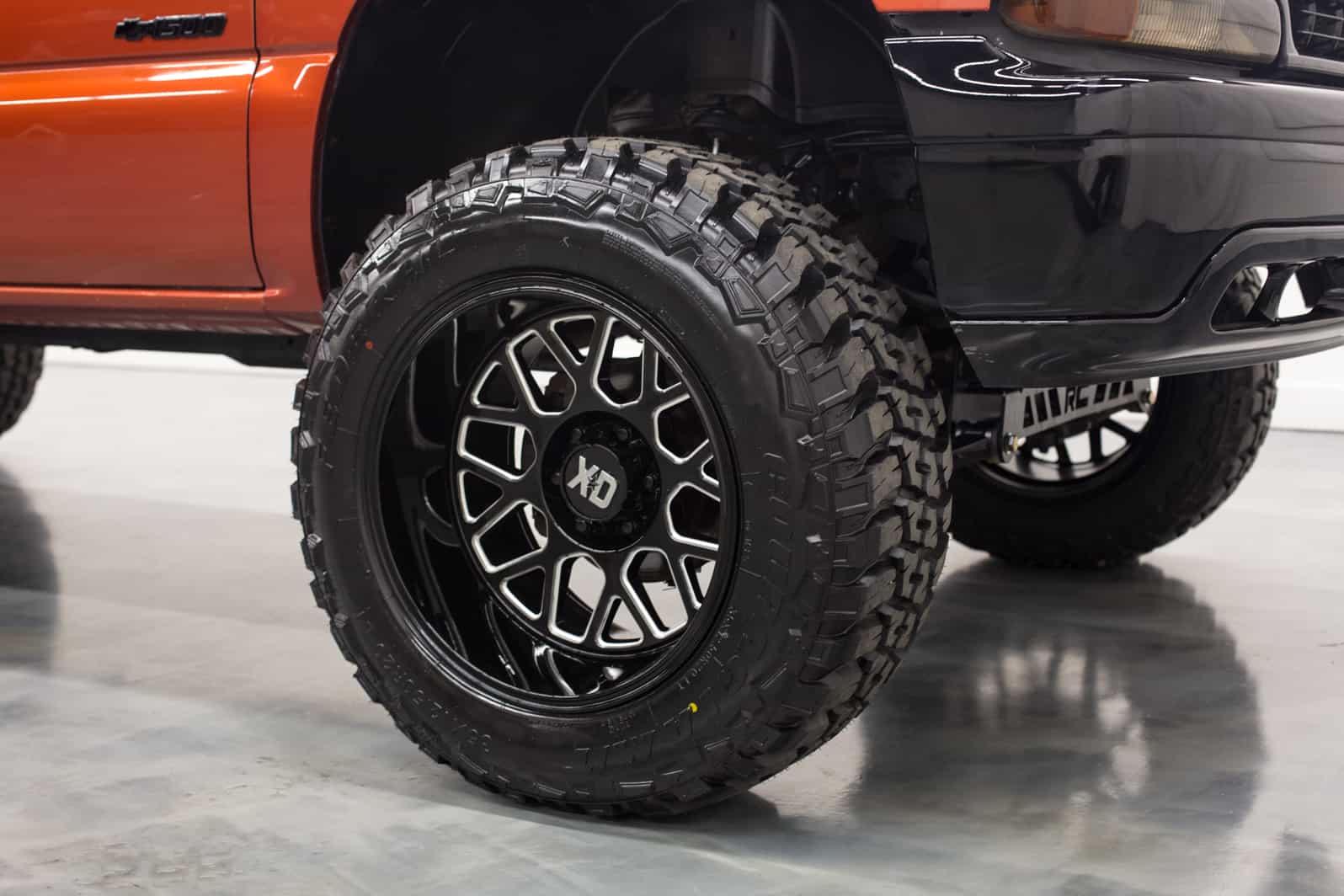 ---
1. BFGoodrich All-Terrain T/A KO2 Radial Tire 
Specs: 35×12.5R18 123R
The first tire we want to recommend is from one of America's most popular manufacturers of tires, BF Goodrich. The tire has excellent ratings from customers on Amazon as well as reviews elsewhere on the internet. With it, drivers will find excellent handling, a long-lasting tire life, and a sturdy and advanced design that won't degrade or chip from one of the most reliable manufacturers of tires out there. This tire is built for just about any situation, and that versatility is why it's a fantastic pick year-round, across a wide range of driving situations. We think it definitely could be the best tires for everyday driving. They aren't cheap, but these tires should prove that they're worth the extra cost as you spend time using them. Check them out and decide if they're the right tires for your needs!
---
2. COOPER Evolution M/T All-Season Tire
Specs: 35X12.50R15LT 113Q
Next up, we've got a tire from another very popular manufacturer: Cooper. It's another favorite among customers, and can handle whatever the road has to throw at it. This tire was designed to hold up to everyday damage, and because of that offers a long lifespan. Customers have fantastic things to say about these tires, both during installation and after having them on their vehicle for a while. No matter if you spend more time on hilly rural roads, grid-like suburban streets, or flat highways, these tires can reliably get you where you need to go. They're well-made and feature excellent design. What else is there to ask for in a set of tires? Cooper is known for providing some of the best tires money can buy, and this tire is no exception. Check out these tires for daily driver and let us know if they work out for you.
---
3. Toyo Tire Open Country M/T Mud-Terrain Tire
Specs: 35×12.50R17 125Q
If you have plenty of room in your budget, our next tire may be the one for you. While it is expensive, you're getting an aggressive and long-lasting tire for your vehicle. Many customers have said that these are the best tires for daily driving. The only reason they've fallen to the three spot on our list is simply their increased price. If that doesn't bother you too much, and you're willing to pay a little extra for top-notch quality, these Toyo tires should suit you just fine. While they're specified for mud terrain action, you can count on these tires to easily tackle any kind of driving situation. That's why they're the first choice of many drivers out there. We recommend looking into this tire if you spend a lot of time off-road. Otherwise, it may be best to look at one of the all-terrain options on our list. Still, there is no doubt this is a strong tire for daily driver situations.
---
4. Cooper Discoverer STT Pro All-Terrain Radial Tire
Specs: 35X12.50R17LT 121Q
Here we have another tire for you that comes from Cooper, the company known for providing durable Wrangler tires to drivers everywhere. This time, it's the STT Pro all-terrain tire, a very tough and reliable choice for your vehicle. This tire is especially promising for trucks, and features advanced tread design, excellent handling, and great performance no matter the road conditions. If you live in a place with particularly unpredictable weather, this tire is even better for you. It features mud release dimples, stops stones from getting stuck in the treads, and high-quality shoulders that offer fantastic traction. If you want a better daily drive experience, we can easily recommend installing these tires on your vehicle, as long as they are the right fit.
---
5. Federal Couragia M/T Mud-Terrain Tire
Specs: 35X12.50R20 E 10ply
If you want to get the best bang for your buck, these may be the best tires for daily driving you can find. They're available at a fair price, and yet they still offer top-tier performance and design. They'll look amazing on any truck or SUV, and these tires offer up versatile performance to back up their looks. However, they are only 10-ply, which is something to be aware of. That means there is a chance they can wear down faster than 12-ply tires if you do a lot of driving, especially on hot roads. For most drivers, though, 10-ply tires are perfectly acceptable, and will still last quite a long time under heavy use.
---
6. Mastercraft Courser MXT Mud Terrain Radial Tire
Specs: 35/125R20 121Q
Next up, we want to recommend this exciting tire to you, this time from Mastercraft. These tires are quiet, and will provide you with a smooth and easy-to-handle ride. They aren't one of the most popular manufacturers out there, but there's no doubt in our minds that they know how to put together a quality tire. Check out this model if none of the other options appeal to you for one reason or another. They're available at a reasonable price and will be reliable for daily drivers.
---
7. Nitto Ridge Grappler All-Terrain Radial Tire
Specs: 35×12.50R17 121E
These tires from Nitto are another option to consider. They're not cheap, but they are extremely durable and perform well across a variety of situations. On top of that, they also have strong customer ratings. Though, like most larger tires, they are meant to function both on the road and off of it, the hybrid tread pattern found here helps improve performance across the board. These tires are fairly quiet compared to many other all-terrain tires, while also gaining good traction across different weather conditions and terrain. This is a great tire for someone who spends much of their time on the road but isn't afraid to hit the trail every so often. Just make sure you have enough room in your budget for a full set!
---
8. Venom Power Terra Hunter X/T XT All-Terrain Mud Light Truck Radial Tire
Specs: 35X12.50R22LT 117R 10-Ply
Venom Power offers tires with a rugged design capable of handling just about any situation. The Terra Hunter X/T tire features a specially designed tread pattern to improve traction on the road as well as on trails. These light truck tires feature mud and stone ejectors for enhanced performance, and include alternating stepped shoulder lugs to gain traction on rocky surfaces as well as city streets and the highway. Designed to last for up to 50,000 miles, you shouldn't have to change out these tires any time soon once you install them. While they may not be the overall best option, they perform excellent compared to most typical all-terrain tires, making them a strong choice to consider for your vehicle.
---
9. BFGoodrich Mud Terrain T/A KM3 Radial Car Tire for Light Trucks, SUVs, and Crossovers
Specs: 35×12.50R15/C 113Q
Our next tire is geared a bit more towards off-road use. Still, though, it can perform admirably well on the road. It just might be louder than other tires on our list. The tire utilizes BFGoodrich's Krawl-TEK compound to provide better traction in mud, soil, and across rocky surfaces. It's very resistant to chips from gravel and other hazards, while also functioning well in situations where low tire pressure might benefit you. While these tires aren't for everyone, if you spend much of your time driving on trails and dirt roads, this is likely an excellent choice for you. Just take a look to make sure the size matches your rims, and you should be ready to install these tires as soon as they arrive.
---
10. Road One Cavalry M/T Mud Tire
Specs: 265/70 R17 121E
The final tire we'd like to share with you comes from Road One, and it's another mud terrain tire to consider. These affordable tires are designed with shallow grooves that keep themselves clean by ejecting mud and small stones that often get stuck in your tire treads. While they are designed more for unpaved road travel and trails, they can still perform well on the highway. The best option for most drivers is typically a set of all-terrain tires, but this tire is best suited for those who spend much of their time on dirt roads and trails. The sidewalls here help keep the tires in great shape over time, and the set is designed to last for a long while under heavy use. Check them out and see if these tires are right for your situation and vehicle.
---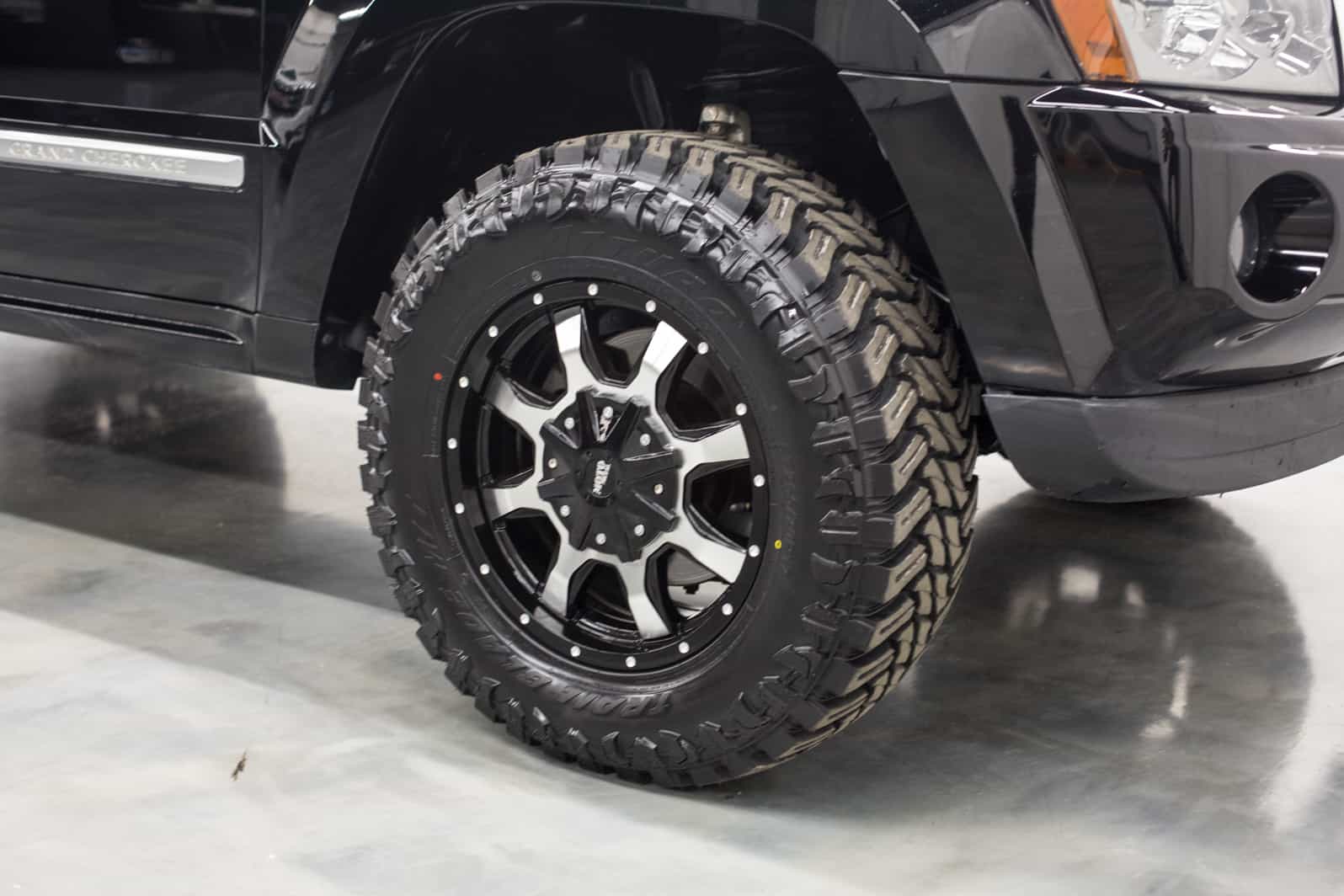 Best 35 Inch Tires for Daily Driving
Buying Guide
Did our list provide you with a tire that you think matches your vehicle? If you're still not sure, perhaps the information here in our buying guide can help. Below we'll offer some advice on picking the right option for you. After that, we'll fill you in on how to read tire codes for those who don't know. Finally, we'll provide you with some more details on Ultimate Rides that may help you out in the future!
Factors of Focus: Choosing the Top Truck Tires for a

Daily Driver
When shopping for tires, there are a number of factors that can and should influence your decision. If you're here reading this guide, you've already narrowed down your choices quite a bit by looking for the best tires for regular everyday driving. Tire size is perhaps the most important factor to consider when shopping, so it's excellent that you've already narrowed it down.
You may be wondering what makes a given set of tires you can rely on for driving every day. If you're looking for one set of tires that can encompass all situations, versatility is what you're searching for. If you have the money, it's a solid idea to specialize your tires for winter and summer. However, a good set of tires will be able to handle all seasons without too much of a problem. You want tires that offer a long lifespan as well as solid grip and traction. Essentially, you want the most well-rounded tires you can find, no pun intended.
Reading and Understanding

Tire Codes
On every tire, you'll find a code of letters and numbers along the side. While they may seem like nonsense upon first glance, each part of the code actually have a very specific meaning. If you're in the United States, you'll find that the vast majority of tire codes begin with P. This means that the tire has been rated for passengers. After this, you'll find the width of the tire measured in millimeters. Then you should find a slash, after which you'll find the tire's aspect ratio. This is a percentage measuring the height of the tire to the width.
Next up, you'll see a letter, almost always an R. This means that it's a radial tire, describing the way the tire is layered. After that part of the code, you'll see another number. This number lets you know what size wheel this tire fits on. Lastly, you'll see the tire's load index and speed rating. The load index will be a number, while the speed rating will be letters. They each represent certain figures, so if you have any concerns make sure to do some research on the tire you wish to buy!
Driving All-Terrain Tires or
Off-Road Tires
The vast majority of large tires, especially around 35 inches, consist of either all-terrain tires or off-road tires. Knowing which style is best for you depends completely on the kind of driving you do on a regular basis. If you spend much of your time on the road or highway, all-terrain is likely going to be your best bet. However, if you split your time evenly between the road and trails or live in an area with lots of dirt roads, a set of more rugged tires could be best. Our advice is to shop around, utilize our reviews as well as customer reviews, and base your decision on your lifestyle. After all, the best set of tires is the one that enhances performance in the situations you find yourself in.
In

Conclusion
We hope you were able to learn about the best 35 inch tire for driving on a daily basis. In addition to selling vehicles, Ultimate Rides is happy to offer installation on tires and much more. If you live anywhere near the Chicago area, we encourage you to learn more about us. We have an expert team of ASE-certified technicians, offer fair prices, and will get your vehicle back to you in no time. Give us a call at 815-634-3900, or come see us at 38 W. Division St., Coal City, IL 60416.
Frequently Asked Questions
Before you make any final purchase, you might be looking for answers to some of the most common questions we hear from customers. That's why we've taken time to put together this last section. Take a look below and, if you have any lingering questions, we hope you'll find them answered here. If not, you can always feel free to get in contact with the Ultimate Rides team over the phone for more hands-on assistance right now!
Q: What are the top quality 35″ tires?
A: As evidenced by our list, the BFGoodrich All-Terrain T/A KO2 Radial Tire is our favorite choice overall. However, finding the right tire is all about examining your own needs. Each tire is different, and will likely cater to different situations. If you're here reading this guide, you are likely looking for some tires that can accommodate a lifted vehicle, and are safe and easy to drive on a daily basis. However, do you plan on taking your vehicle off-road, or sticking to paved streets? Do you do most of your driving in the city, or on the highway? These are the kinds of questions you'll want to ask yourself to decide which set of tires is right for you. Each of our accompanying reviews should provide more help in choosing the right set. If you're still unsure by the time you finish our guide, please don't hesitate to contact Ultimate Rides over the phone.
Q: Do these tires offer a rough ride?
A: 35 inch tires might often have a rough ride, but that doesn't always have to be the case. Every tire and vehicle combination is different, so it's impossible to give you a fully accurate answer without knowing what you're driving. In general, we do our best to recommend tires that provide a smooth ride, but it could differ depending on where you're driving, what vehicle you're in, and the suspension setup you're using. For the most accurate information, it's best to speak to an expert and share your current setup with them.
Q: How do these tires affect gas mileage?
A: Any tire around 35 inches will use up more gas than standard-sized tires, but the difference will not be a major inconvenience. For instance, upgrading from 33 inches to 35 inches will only alter your fuel mileage by about one mile per gallon. The vast majority of drivers who utilize larger tire sizes find the extra money spent on gas to be well worth all the benefits that come with the altered size.
Q: Is it safe to drive on these tires every day?
A: It's absolutely safe to drive on a set of tires sized at 35 inches on a daily basis. The tires listed here are meant for everyday vehicles – the kind you use to get around town, through the country, and everything in between. In addition to being safe, these tires are actually meant to enhance your experience. You'll get to enjoy driving higher up from the ground, and many of the options listed here are all-terrain, giving you plenty of versatility.
---
Two Brothers With a Dream

,

Building The Best Ultimate Rides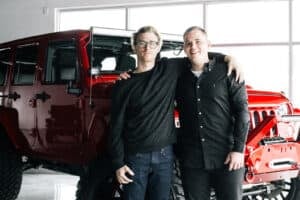 Ultimate Rides consists of two brothers who have been buying and selling custom vehicles for over ten years. Selling lifted trucks by day and writing these awesome reviews by night! They started their Ultimate Rides journey with a third brother Jake, who was a big part of building the business they have today. In 2016 Jake passed away and losing their brother was the hardest thing they ever had to deal with. Even though they had a tragic loss they plan to continue to set a new trend for the auto industry, keeping customers number one. Pushing the envelope on the lifted truck market, these guys love researching and learning about everything in the auto industry!
 — Nick and Alex Bulanda, Founders of Ultimate Rides