Best All Terrain Tire for Jeep Wrangler (Review & Buying Guide)
Finding the Best All Terrain Tire for Jeep Wrangler
When's the last time you went shopping for a tire for your Wrangler? If it's been awhile, you might be surprised at the sheer amount of options available these days. Once you learn how to read tire codes, and you find out what measurements you have on your vehicle now, you can find something that suits your current needs. In today's guide, we want to share our thoughts on the best all terrain tire for Jeep Wrangler drivers.
The exact tire you are going to want will depend greatly on the tread pattern. Certain styles of tread are better for certain activities, such as highway driving, sand driving and mud driving. Below, you'll see that we've come up with a list that features some of our favorite tires for the Wrangler. As we mentioned before, there are a ton of options out there, varying in style, size and more. This is just a small selection of some of best tires featuring some of the most popular sizes.
Following our list, you'll find our buying guide, as well as a short description on how tire codes work. This will ensure you know exactly what you need to buy for your vehicle. The buying guide will offer a few more tips to consider as you shop for tires, particularly if you don't find what you need on our list. With all of that in mind, let us take a look at some of the most impressive options available.
---
1. Falken Wildpeak AT3W All Terrain Radial Tire P265/75R16 123S (ASIN – B01C8Z7NJA)
Our pick for the overall best all terrain tire for Jeep Wrangler is this: the Falken Wildpeak AT3W. While it's not the cheapest option out there, it certainly isn't the most expensive either. Despite being a mid-budget tire, it offers top-tier performance. With its sturdy and dependable design, you should feel comfortable taking these tires off-road in dust, dirt, mud and more. However, that excellent performance isn't just limited to off-road. These tires also perform great in the city and on the highway. If you plan on using your Wrangler for all different driving scenarios, we truly feel that these are the tires for you.
Falken Wildpeak AT3W all_ Terrain Radial Tire-265/75R16 123S
---
2. BFGoodrich All-Terrain T/A KO2 Radial Tire -30×9.50R15/C 104S (ASIN – B00ZQAZ5W2)
The next tire on our list comes from a very recognizable manufacturer in BFGoodrich. This all terrain tire is another one of our favorites, and has proven very popular with Wrangler drivers. It's best suited for off-road driving, but it has strong performance anywhere you go. Over the years, drivers have come to expect excellence from BFGoodrich, and we don't think this tire will be letting anyone down. The only downside customers seem to have is that the tires could be quieter, so if that is a priority for you, we may recommend another option. However, many all terrain tires are quite loud, so it may not be easy to avoid.
BFGoodrich All-Terrain T/A KO2 Radial Tire -30×9.50R15/C 104S
---
3. Mickey Thompson Deegan 38 All-Terrain Radial Tire 275/55R20 117T (ASIN – B01NB1K3C6)
While manufacturer Mickey Thompson may not be as mainstream as BFGoodrich or Goodyear, it still has plenty of quality to offer, especially with this tire. When it comes to daily drivers, the Deegan may be the best all terrain tire for Jeep Wrangler. It holds its own off road, but you can especially count on it to perform well in everyday situations. They're pretty quiet on the highway, but can still get you out of a tough situation in a pinch. Pick up a set today for your decked out Wrangler!
Mickey Thompson Deegan 38 All-Terrain Radial Tire – 275/55R20 117T
---
4. Goodyear Wrangler Radial Tire OWL P235/75R15 105S (ASIN – B004QL66XO)
Next up, we have the first of two tires from Goodyear. This tire is specifically made for the Wrangler, and it seems to be quite a hit with many drivers. The treads are not as wide as many of the other options in our list, meaning that it may not be able to create as much traction off-road as the other tires on our list. However, this is one of the all terrain tires that is a little more geared towards paved driving. It offers fantastic handling, a quiet ride and more. Give it a try if you're looking for a budget tire that gets the job done!
Goodyear Wrangler Radial Tire – 235/75R15 105S
---
5. Goodyear Wrangler TrailRunner AT Street Radial Tire P275/60R20 115S (ASIN – B07HYYBDZX)
Our next Goodyear tire is once again more geared towards off-road adventuring. It features wider and deeper treads, as well as durable sidewall construction that holds up to quite a bit of aggression without taking any damage. While it has more of a focus on the all terrain aspect, it still handles very well on the roads. It provides great traction in the rain, and can even handle its own in snow. This is another contender when it comes to the best all terrain tire for Jeep Wrangler drivers.
GOODYEAR Wrangler TrailRunner AT(P Street Radial Tire-275/60R20 115S
---
6. Toyo 352360 Open Country A/T II Radial Tire 225/75R16 104S (ASIN – B00BW4ID5C)
Lastly, we have one more highly-regarded tire to share with you. It's from manufacturer Toyo, and has impressed customers all over the world. This tire offers plenty of traction both on the road and off, and will handle great anywhere you take it. Customers even say that this tire worked well for them driving in icy and snowing conditions. It may not be as popular as some of the other models we've shared, but this is a sturdy and reliable tire that could be great for your Wrangler.
Toyo 352360 Open Country A/T II Radial Tire – 225/75R16 104S
---
Best All Terrain Tire for Jeep Wrangler Buying Guide
There is no definitive way to say that a certain tire is the best all terrain tire for Jeep Wrangler drivers. So much of that value comes from your specific needs. If you are looking for the best tires to drive around in the mud, it's not going to be the same tires that's best for driving in the city. However, we've included some options that cover a variety of different uses. If you're looking for a tire that's not on our list, our main recommendation is to do research on the tire you're looking at. See what customers who've purchased the item have to say, as well as experts online (from trusted sources, of course). With reviews, you should be able to find out what a specific tire excels at and see if that works for you.
Reading Tire Codes
Don't feel embarrassed if you haven't yet learned how to read tire codes. Though the system isn't too complex, it does appear quite random at first glance. That's often enough to convince most to ignore it, at least until you need to know. If that time is now, have no fear. At Ultimate Rides, we do what we can to help our customers and readers with their every vehicle need.
When it comes to tire codes, it's probably easiest to use an example to explain. Let's use the Falken WildPeak AT3W. The code associated with this tire is: P265/75R16 123S. Let's start at the beginning! The "P" simply means that the tires are rated for passengers. This is going to be a given on any standard vehicle tires you buy in the United States, and it's often not even including when listing the tire code online.
After that, the 265 measures the width of the tire treads in millimetres. After the slash, the next number (75 in this case) represents the depth of the treads in relation to the width. It's a percentage number rather than a measure, so for us it's 75% of 265 millimetres, which comes out to 198.75 mm. The R just means radial tire, and the number after that refers to the size of the wheel that the tire is suited for. Finally, the 123 is in reference to the load index for the tire, while the S is the speed rating. Tires marked with an S are rated for up to 118 mph.
Final Thoughts
Here at Ultimate Rides, we offer a full range of vehicle maintenance, repair and installation services. Not everybody has the necessary equipment to change out all of their tires, and we can do it for a fair price. While you've got your vehicle here, you may be interested in learning more about what we can do for your Wrangler, especially as it's perhaps our specialty vehicle. We can install full suspension lift kits, provide your vehicle with custom lighting and more! Just let us know today what you'd like done. You can give us a call at 815-634-3900, or find us at 38 W. Division St., Coal City, IL 60416.
---
Two Brothers With a Dream

,

Building The Best Ultimate Rides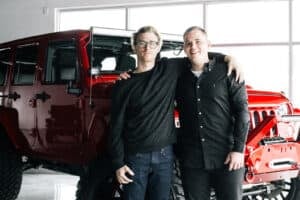 Ultimate Rides consists of two brothers who have been buying and selling custom vehicles for over ten years. Selling lifted trucks by day and writing these awesome reviews by night! They started their Ultimate Rides journey with a third brother Jake, who was a big part of building the business they have today. In 2016 Jake passed away and losing their brother was the hardest thing they ever had to deal with. Even though they had a tragic loss they plan to continue to set a new trend for the auto industry, keeping customers number one. Pushing the envelope on the lifted truck market, these guys love researching and learning about everything in the auto industry!
 — Nick and Alex Bulanda, Founders of Ultimate Rides