Best All Terrain Tire for the Money (Review & Buying Guide)
Picking Out the Best All Terrain Tire for the Money
Buying a completely new set of tires isn't as cheap as it once was. On top of that, with so many options available out there, it can be difficult to tell the good from bad. Today, we want to help out those looking to buy the best all terrain tires they can for their budget. It's never a good idea to skimp too much on tires, as you want to ensure quality. The real trick is finding the right balance between performance and price. We've put together a list that offers some of the best tire options available ranging from less than $100 to around $150. Any of these options may be the best all terrain tire for the money, depending on your needs.
Along with that, we've also come up with a buying guide that should leave you with a few more tips before you go. If you don't find the right tire on our list, these pieces of advice should provide some assistance going forward. We definitely understand that not everyone wants to spend over $800 on a set of tires, so these options are for you!
---
1. Federal Couragia M/T Performance Radial Tire LT285/70R17 118Q (ASIN – B013T76VM6)
Our pick for the best all terrain tire for the money is the Federal Couragia M/T Performance. There are cheaper options out there, as you'll see down our list, but we feel this is the preferred option if you can afford it. It's not ridiculously pricey, but we'd say it's a mid-range tire. However, you wouldn't be able to guess it from the performance. These tires are tough as can be, perform great both in tough conditions and normally on the road, and will last you for years. There are certainly better tires out there if you plan on using your vehicle specifically for off-road use, but for an everyday all terrain tire, this is our definitive recommendation.
Federal Couragia M/T Performance Radial Tire-LT285/70R17 118Q
---
2. BFGoodrich Terrain T/A KO2 Radial Tire-31×10.50R15/C 109S (ASIN – B010C78656)
Another popular choice as the best all terrain tire for the money is the KO2 from BFGoodrich. This tire is around the same price as the Federal Couragia, but offers more of an emphasis on rugged terrain performance. It has deep treads, a heavy-duty construction and upper sidewall traction bars that increase traction in rough conditions. It's rubber is split- and bruise-resistant, holding up for years after installation without an issue. This is truly one of our favorite tires, and we feel confident that it will serve you well for many years to come. It's a tire that offers excellent quality without breaking the bank too much.
BFGoodrich Terrain T/A KO2 Radial Tire-31×10.50R15/C 109S
---
3. Milestar Patagonia M/T Mud-Terrain Radial Tire 31X10.50R15 109Q (ASIN – B01EI2LQY4)
Our next tire is one that seems to be extremely popular with drivers. It has great ratings across the board online, and its an excellent mud terrain tire that crosses over into all terrain territory. It features those deep and wide treads often found in mud terrain tires, but this is available for less than $130 and performs very admirably on the road as well as in mud. They offer a quiet ride, which is often one of the major complaints heard about all terrain tires used on the road. If you're looking for a rugged set of tires that you can find on a budget, you should be happy with what this product has to offer.
Milestar Patagonia M/T Mud-Terrain Radial Tire – 31X10.50R15 109Q
---
4. Falken WILDPEAK A/T Trail All- Terrain Radial Tire 225/60R17 99H (ASIN – B07WNRGC7R)
There's no doubt that this tire from Falken is one of our absolute favorites. You can find it for under $120, and it offers really impressive performance. The tire has advanced design features that increase its performance without raising the price, which is what really appeals to us. Its tread design ensures excellent traction wherever you're driving, and these tires shouldn't get too loud while you're driving on the highway. While they aren't a mainstream name brand, Falken still offers great quality, especially at the price you get.
Falken WILDPEAK A/T TRAIL All- Terrain Radial Tire-225/60R17 99H
---
5. General Grabber AT2 Radial Tire 205/75R15 97T (ASIN – B004QL60XK)
Next up, another potential choice for the best all terrain tire for the money is the General Grabber AT2 tire. This tire has been designed to reduce loud road noise, offers deep treads that are great for snow and other annoying weather conditions, and works on a wide variety of vehicles and situations. Best of all, you can get this tire for under $100. There's no denying that there are better options out there, but you will certainly have to spend a decent amount more to get there. With this tire, you can have a whole new set for around $400, and your vehicle will be ready to take on anything.
General Grabber AT2 Radial Tire – 205/75R15 97T
---
6. Travelstar EcoPath A/T All- Terrain Radial Tire 245/75R16 111S (ASIN – B07GXFTKQL)
The last, and cheapest, item on our list is the Travelstar EcoPath all terrain tire. It's stylish, affordable and effective. Really, what more can you ask for? These tires can handle off-road conditions quite well, and will help make sure you can drive easily no matter what road conditions look like. They offer a deep tread pattern that helps with traction, and shouldn't be too loud as you drive at higher speeds. Once again, we wouldn't say that these are truly the best tires out there, but it's really hard to beat them at this price point.
Travelstar EcoPath A/T All- Terrain Radial Tire-245/75R16 111S
---
Best All Terrain Tire for the Money – Buying Guide
If you didn't see a tire that looked right for you on our list, do not worry. There are plenty more fish in the sea, especially when it comes to varieties of tires. The key to finding the right tire is A. understanding tire codes, which we explain below, and B. knowing what style you need. Some all terrain tires are better suited specifically for off-road driving, while others perform better on pavement, and some try to strike the right balance. Each tire is different, and the best we can recommend is to do your research before buying. Once you've figured out what kind of performance you're looking for, it should be easier to match it up to the right tire style and size.
Deciphering Tire Codes
If all you see is a random assortment of letters and numbers when you look at a tire code, you are definitely not alone. Most people never learn what these codes mean, but it's actually not very complicated. Plus, once you learn, you'll be able to use that information to more accurately relay your needs when it comes to tires.
Let's use an example from our list: the Federal Couragia M/T Performance radial tire. The code for this tire is LT285/70R17 118Q. The LT at the beginning is the classification for the tire, which is light truck in this case. The following number, 285, is actually the width of the tire treads measured in millimetres. After that, the next number represents the depth of the treads in a percentage value in relation to the width. For example, the 70 in this code means that the depth of the treads is 70% of 285, which totals out to 199.5 mm.
The R just means radial tire, and you'll find that is quite common for obvious reasons. After the R is a two digit number, in this case 17. That is the measurement of the wheel that this tire can fit on, measured in inches. Finally, near the end there, you will find the size index and the speed rating. The size index is the 118, while the speed rating is a letter. The Q in this code means that these tires can safely reach up to 99 miles per hour.
Ultimate Rides Offers Installation and More
Before you go, we just wanted to let you know that if you're in the Chicago area and need assistance with installing these tires, Ultimate Rides has your back. We also offer a full range of repair, maintenance and installation services. Whether it's a lift kit, a transmission repair, or a simple oil change, we can take care of it for you. We've built up a long list of loyal customers over the years through the quality of our work, our honesty and fair prices. Get in touch with us today at 815-634-3900, or stop in and see us at 38 W. Division St., Coal City, IL 60416.
---
Two Brothers With a Dream

,

Building The Best Ultimate Rides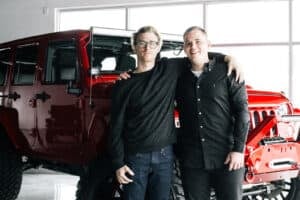 Ultimate Rides consists of two brothers who have been buying and selling custom vehicles for over ten years. Selling lifted trucks by day and writing these awesome reviews by night! They started their Ultimate Rides journey with a third brother Jake, who was a big part of building the business they have today. In 2016 Jake passed away and losing their brother was the hardest thing they ever had to deal with. Even though they had a tragic loss they plan to continue to set a new trend for the auto industry, keeping customers number one. Pushing the envelope on the lifted truck market, these guys love researching and learning about everything in the auto industry!
 — Nick and Alex Bulanda, Founders of Ultimate Rides