Best Bed Liner for Ford F150 (Review & Buying Guide)
Tracking Down the Best Bed Liner for
Ford F150 Trucks
In our estimation, a bed liner is one of the most useful things to add onto your truck to keep its value up. Truck beds can take a lot of damage, especially if you use the vehicle for work or recreation often. A high-quality bed liner will ensure you have the protection you need. Whether it's from bumps and scratches, or the natural wear of the elements over time, defending that bed liner is important. However, not all options will get the job done. There's nothing worse than spending your hard-earned money on a product only to find it doesn't live up to your expectations. Avoid that disappointment by utilizing the information here in our guide.
Below you'll find a list that includes some of our favorite bed liner options suiting the Ford F150. Make sure to find a choice that matches up with your model year, the length of your truck bed, and other details. Our compatibility notes for each product should help you there. Stick around after our list to find our buying guide! In this section, we'll provide more information on choosing the best bed liner for Ford F150 models. We will also tell you more about what we do on a daily basis at Ultimate Rides, and how we could help you find your next truck or upgrade your current one, along with so much more to enjoy!
---
1. BedRug Full Bedliner, Gray
Compatibility: 2015-2022 Ford F150, 6.5′ Bed
The first bed liners we would recommend to F150 drivers come from BedRug. These liners provide excellent and durable coverage for your truck bed. There's an anti-skid surface that ensures your cargo doesn't slide around, and it's also a little bit easier on the knees if you have to climb around in the back. The product was made right here in the United States, so you can count on its reliability. Additionally, the bed liner is waterproof, as well as resistant to chemicals and stains. It shouldn't be hard for you to clean either, so don't worry about it building up dirt and grime over use. It's not exactly cheap, but we believe this is best bed liner for Ford F150 models you can buy today. Just make sure to check the compatibility notes and ensure it's the right fit for your truck.
BedRug Full Bedliner BRQ15SBK fits 15+ F-150 6.5′ BED , Gray
---
2. DualLiner Bed Liner, Works with Factory LED Lights
Compatibility: 2015-2020 Ford F150, 5.5′ Bed
Our next bed liner was designed specifically to fit with the LED truck bed lights from Ford. This is another option that was manufactured in the USA, which can be a big deal for some consumers. You'll also have access to a lifetime warranty with this bed liner. That can also be a huge benefit to have, and will help you rest easier knowing you'll have options in the future. It's another bed liner that is a little expensive, but if you want the best you'll have to shell out a little bit extra for it. It'll do a great job protecting your bed from scrapes, scratches and stains. Just ensure it'll work for your vehicle and you can go ahead and feel confident picking this product up.
DualLiner Bed Liner Fits 2015-2020 Ford F-150 with 5'6″ Bed, Works with Factory LED Lights
---
3. BedRug Full Bed Liner without Step Gate
Compatibility: 2004-2014 Ford F150, 6.5′ Bed
Up next, we've got another product for you from BedRug. You'll find lots of similarities with the first item on our list. However, the main difference here is that the liner is designed for a different generation and truck bed size. If it's the right fit, we think you'll be happy with everything this bed liner has to offer. It'll stop your items from moving around in the truck bed, and protect the vehicle itself from a variety of damage. It should be very easy to clean, and while it's not cheap, you should find that all your money is worth it. The process of installing the bed liner should be simple but may be time-consuming. As long as that's okay with you, you'll truly enjoy this product.
BedRug Full Bedliner BRQ04SBK fits 04-14 F-150 6.5′ BED W/O FACTORY STEP GATE
---
4. Gator Rubber Truck Bed Mat
Compatibility: 2015-2019 Ford F150, 6.5′ Bed
As long as you choose a good bed mat, it'll get the job done just as well as a full bed liner. At the same time, they'll also cost you considerably less. This option from Gator is one of our favorites. It's made from a heavy-duty rubber, and fits with a range of F150 trucks from a few years back with the larger truck bed. With this accessory, you'll be protecting your truck bed from weather damage, scratches and scuffs, and so much more. You'll also be able to stop whatever you're hauling from sliding around. There are plenty of benefits to choose a bed mat, and this is a contender for best bed liner for Ford F150 models. Take a good, long look and decide if it's the one for you!
Gator Rubber Truck Bed Mat (Fits) 2015-2019 Ford F150 6.5 Foot Bed Only Bed Liner
---
5. Husky Liners X-act Contour Series Heavy Duty Bed Mat – Black
Compatibility: 2015-2022 Ford F150, 5.5′ Bed
Husky Liners is definitely one of the top choices consumers can consider for these products. This bed mat is heavy-duty, designed specifically for modern F150 trucks. You can get it for less than $100 as of this writing, and it should be a complete piece of cake to install. Despite that, you'll still find excellent protection for your truck bed. It helps keep the truck bed dry and protected from harm. At the same time, the design helps air out even the mat itself. Check it out and see if this is the option for you!
Husky Liners X-act Contour Series | Heavy Duty Bed Mat – Black | 16008 | Fits 2015-2022 Ford F-150 5.8′ Bed 1 Pcs
---
6. Rough Country Rubber Bed Mat
Compatibility: 2015-2021 Ford F150, 5.5′ Bed
Here at Ultimate Rides, we love Rough Country products. Over the years, they've made huge strides when it comes to the quality of their accessories. This bed mat, made from a durable rubber material, will do an excellent job protecting your truck and helping keep up its value. Once again, it's very easy for drivers to install, and can be found at a great price. It even comes with a lifetime warranty from Rough Country, and features a non-skid surface for your cargo.
Rough Country Rubber Bed Mat for 15-21 F150 | 5.5 FT Bed – RCM671 , Black
---
Best Bed Liner for Ford F150
Buying Guide
Were you able to pick an option off our list for your truck? If you feel the desire to keep looking, that's perfectly okay. In fact, we've put together this buying guide specifically to help you. Finding the best bed liner for Ford F150 is about weighing a number of factors and deciding which are most important to you. Take a look at our next section for some advice on how to do that for these products. Following that, stick around and read about Ultimate Rides to see if we could help you out!
Factors of Focus: Choosing a
Bed Liner
The first thing to remember when shopping for a bed liner is choosing a product that will actually fit your truck. That means paying close attention to the model year and size of the truck bed. If it matches your truck, you're in good shape. Once you've taken that into consideration, it's important to think about the quality of the bed liner or mat. Does it offer enough coverage of your vehicle, and is the material of a high quality? See what previous buyers have to say, as well as professionals reviews elsewhere online. Depending on what you use your truck for, your needs may be different. Don't rush into purchasing anything you aren't sure about. It's okay to take some time and consider all of your options before buying!
Choose Ultimate Rides for
Custom Vehicles and Upgrades
Ultimate Rides is a custom auto dealer that ships vehicles all across the country. We specialize in lifted trucks and SUVs, but that's definitely not all you'll find in our inventory. On top of the already-featured customizations, buyers will have an opportunity to make further changes before we send the vehicle out. That's because we have our very own lift center, staffed with an amazing team of ASE-certified technicians. Contact us for more details on how this whole process works, or to make an appointment to bring your current vehicle in for some changes! We can even install accessories like a bed liner for your truck. Speak with us today at 815-634-3900, or visit our office at 38 W. Division St., Coal City, IL 60416 if you're in the Chicago area.
---
Two Brothers With a Dream

,

Building The Best Ultimate Rides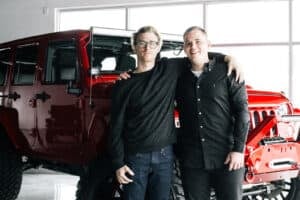 Ultimate Rides consists of two brothers who have been buying and selling custom vehicles for over ten years. Selling lifted trucks by day and writing these awesome reviews by night! They started their Ultimate Rides journey with a third brother Jake, who was a big part of building the business they have today. In 2016 Jake passed away and losing their brother was the hardest thing they ever had to deal with. Even though they had a tragic loss they plan to continue to set a new trend for the auto industry, keeping customers number one. Pushing the envelope on the lifted truck market, these guys love researching and learning about everything in the auto industry!
 — Nick and Alex Bulanda, Founders of Ultimate Rides