Best Brush Guard for Toyota Tacoma (Choosing Your Grille Guards)
Choose the Best Brush Guard for

Toyota Tacoma
The Toyota Tacoma isn't always the first truck that comes to mind when thinking of off-road driving, but it is actually quite a capable vehicle. This is especially true when you outfit it with the right accessories. There are a ton of different ways to upgrade your Toyota truck, and our team at Ultimate Rides deals in that kind of work each and every day. The Tacoma is a truck that we don't see as often as some more popular models, but we love it all the same.
One of the upgrades that we recommend for your Toyota is a brush guard, otherwise known as a grille guard. These accessories protect the front end of your truck from a wide variety of damage. They essentially act as a shield, blocking impact from messing up your bumper and more. A reliable guard can protect your Tacoma from dents and scratches from brushing up against trees and bushes. Additionally, your Toyota will have some defense if you unfortunately make contact with any local wildlife such as a deer. We've heard from many customers who were happy about the guards they installed before they went out on the trail.
Despite how useful they can be, it's not always easy finding the best brush guard for Toyota Tacoma models. There are definitely options out there for high-quality guards, but the best overall picks may get lost in the shuffle. That's true for a variety of reasons. There are more options for guards than ever before, even just for the Tacoma pickup truck. Below you will find a list that features our recommendations for your truck. Make sure you pay close attention to the model year information to ensure you buy a brush guard that fits your vehicle.
After you get through our list, stick around and read our buying guide. There we will tell you what qualities you want to look for in a good brush guard for your Toyota. We'll also fill you in on what we do at Ultimate Rides, so you can learn how we may be able to help you out. Good luck finding the right brush guard, and feel free to contact us the next time you're shopping for a vehicle. We may have a Tacoma that's perfect for you, or you can check out everything else we have to offer!
---
1. Westin 40-33885 Textured Black Sportsman X Grille Guard (ASIN – B07W3H2RSX)
Compatibility: 2016-2021 Toyota Tacoma
One company that can just about always be relied upon for quality accessories is Westin. While guards for the Tacoma can be somewhat hard to find, this company can provide some of the best. This brush guard for modern Toyota Tacoma trucks is the first we would recommend to our readers. It's highly durable and features an aggressive look that will suit the Tacoma very well. The guard offers excellent coverage for your front end, including extra protection for the outer wings. Installation can be a pain, but doing your research ahead of time will help immensely. If there was one option that we had to name the best brush guard for Toyota Tacoma models, it would have to be this one.
Westin 40-33885 Textured Black Sportsman X Grille Guard Fits 2016-2021 Tacoma
---
2. Hunter GT-811 Powder Coated Black Bumper Guard (ASIN – B00OPD1EFI)
Compatibility: 2005-2014 Toyota Tacoma
Our next product is made for older Tacoma models, and can be found for a great price while still offering strong defense. It features powder coating for extra durability to protect your Toyota truck in the long-term, and these guards even include a limited five-year warranty from the manufacturer. Everything you need for install is included in the package, and the process shouldn't be too difficult. With a little bit of help, it should take an hour or less to install one of these guards on a Tacoma pickup truck. It does still pay off to look up some video tutorials online before attempting it on your own. Once you get it on your truck, you should be ready to go off-road without worrying about damaging your Tacoma.
Hunter GT-811 Grille Guard Compatible for 2005-2014 Toyota Tacoma – Powder Coated Black
---
3. Armordillo USA 8702161 AR2 Pre-Runner Guard (ASIN – B08QM8QF1H)
Compatibility: 2016-2021 Toyota Tacoma
Here we have another brush guard for the newest generation of the Toyota Tacoma. It does, however, offer a different look than the other two products we've shared. The item features a more basic design, but that's more about looks than the actual effectiveness of this guard. It does still work well at protecting your truck from damage and should be a good choice for rough driving situations, protecting your bumper, grille and more from damage. At the same time, it has a sleeker aesthetic that many drivers may prefer over more detailed brush guards. Plus, this option allows plenty of room for other front end upgrades, like towing kits and light bars. For all of those reasons, this may be the best brush guard for Toyota Tacoma drivers with certain needs.
Armordillo USA 8702161 AR2 Pre-Runner Guard Fits 2016-2021 Toyota Tacoma – Matte Black
---
4. Tyger Auto TG-GD6T60028 Light Mount Front Bumper Guard (ASIN – B01NGTEDHE)
Compatibility: 2005-2021 Toyota Tacoma
Tyger Auto is a fan favorite, and their products have a distinct look that some people truly love. This option is the first bull bar on our list, designed for a wide range of Tacoma models. That means it's smaller than a full-sized brush guard, but accomplishes the same purpose. The product comes with a five-year no-hassle warranty from Tyger Auto, and you can expect their customer service team to treat you well. Installing this bar on your Toyota truck shouldn't be too difficult, and as long as you like the Tyger Auto branding you should dig the style once all is said and done. If these guards seem like the perfect fit for your truck, go ahead and pick one up!
TG-GD6T60028 Front Bumper Guard Compatible with 2005-2021 Tacoma | Textured Black | Light Mount | Bull Bar
---
5. TAC Predator Bull Bar with LED Off-Road Lights (ASIN – B09BLHX1BZ)
Compatibility: 2016-2021 Toyota Tacoma
Here we have another bull bar for you to check out, this time from TAC Truck Accessories, designed for newer models of the Tacoma. This bar includes LED lights, an upgrade that no other options on our list features. It has a five-year warranty from defects and, like many other bars of this style, should be quite easy to install at home in just a short matter of time. While it may not offer the same degree of defense as a bigger brush guard, sometimes you only need minimal protection for your Toyota, and the extra LED lighting may make up for it. If this seems like the right fit for your needs, it'll be great for new Toyota Tacoma trucks. Just make sure you are ready to settle for a smaller bull bar rather than one of the larger guards that offers more protection for your Toyota.
TAC Predator Bull Bar Compatible with 2016-2021 Toyota Tacoma Pickup Truck Fine Textured Black Modular Lighting Front Bumper Brush Grille Guard with LED Off-Road Lights (Patent No.: US 10,315,599 B2)
---
6. BLACK HORSE Custom Fit Black Brush Guard (ASIN – B00T53VFWU)
Compatibility: 2005-2015 Toyota Tacoma
Finally, we have one more brush guard to share for older Tacoma models. It's once again a full size brush guard, including extra strong protection for your headlights that are even removable. The installation process on a Toyota is about what you'd expect, and we'd encourage you to research the process before attempting on your own. It can be hard to install a guard like this without any help. As far as looks and effectiveness, you can't really go wrong with this product, as long as you double check it'll fit on your vehicle. This brush guard definitely deserves a spot on this list as one of the best options out there for drivers of the Tacoma pickup truck.
BLACK HORSE 17A096400MA Black Grille Guard Compatible with 2005 2015 Toyota Tacoma
---
Best Tacoma Grille Guards

Buying Guide
Our list should have provided you with plenty of guards suited for the Tacoma. Hopefully you were able to find a brush guard that will work for your reliable Toyota truck. However, if you do need to keep looking, this next section should be of some use to you. With our Factors of Focus, we'll get into the details of what makes a high-quality brush guard, so you can learn what to look out for as you shop. After that, we will finish up by telling you what exactly we do here at Ultimate Rides. We think you'll be excited about what we can offer.
Factors of Focus: Finding a Good Brush Guard
When you choose a brush guard for your truck, the most important thing should be finding an option that fits. With the best brush guard for Toyota Tacoma, this usually isn't too difficult. You should just need to find a product that fits your model year, without having to worry about other factors. From there, start thinking about what style you'd like to go with. There are some smaller options for many Toyota models including the Tacoma, often referred to as bull bars. On the other hand, if you don't mind spending more for better protection for your truck's grille, a full size brush guard could be a great choice.
As far as quality, durability is going to be the most important thing to consider on guards for a Tacoma pickup truck. Look into the type of materials used to construct the specific bumper guard. If it is a reliable metal, you know you can count on it for a while. If you're not too sure, take a look at customer reviews for the product. These can often be useful in terms of knowing what you're getting into. Just make sure to keep an eye out for a verified purchase. Otherwise, there is no way to know if the person actually bought one of these guards or if they're just writing a fake review for whatever reason. There are many options for guards out there, so don't settle for anything you're not totally sure about. If you have any doubts about Tacoma guards, just reach out to our team.
Ultimate Rides Offers Custom Pickup Trucks and More Today
Are you in need of a new truck soon? Ultimate Rides is a custom auto dealership that delivers vehicles around the country, including awesome Tacoma models. We'll be able to get our hands on whatever vehicle you want, including any Toyota, and customize it just the way you'd like. That includes any of the guards seen here on our list, or whatever else you might need. All of this is made even more affordable through financing. You can include the cost of installation for guards to protect your bumper, lift kits and more in your overall vehicle financing deal. Give our team a call at 815-634-3900 to talk details. If you are near the Chicago area, you can find our office about an hour south of the city at 38 W. Division St., Coal City, IL 60416. We pride ourselves on offering good customer service, and our team can't wait to speak with you!
---
Two Brothers With a Dream

,

Building The Best Ultimate Rides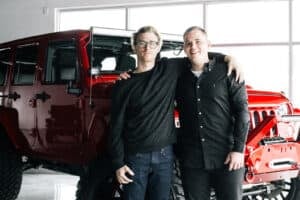 Ultimate Rides consists of two brothers who have been buying and selling custom vehicles for over ten years. Selling lifted trucks by day and writing these awesome reviews by night! They started their Ultimate Rides journey with a third brother Jake, who was a big part of building the business they have today. In 2016 Jake passed away and losing their brother was the hardest thing they ever had to deal with. Even though they had a tragic loss they plan to continue to set a new trend for the auto industry, keeping customers number one. Pushing the envelope on the lifted truck market, these guys love researching and learning about everything in the auto industry!
 — Nick and Alex Bulanda, Founders of Ultimate Rides