Best Car Air Freshener (Review & Buying Guide)
Best Car Air Freshener
Available Today
If you're like most Americans, you spend a significant amount of time in your car. That's just one of the many reasons to keep it smelling good. Your vehicle may not smell bad (it most likely does not have a smell at all), but you could always use an item that helps keep it smelling good. Not all air fresheners offer the same level of quality, however. Our team at Ultimate Rides has plenty of experience dealing with accessories, and that includes air fresheners. That's why we're qualified to tell you how to find the best car air freshener.
Start by taking a look at our list below. It features 10 options, each one a little different. We've included a variety of styles and scents, so we're confident there's something for everyone available on the list. However, if you need to keep looking or would simply like to learn more on the subject, check out our buying guide after the list. It'll have information on separating the good from the bad when it comes to air fresheners, along with some useful tips on maintenance and details on what we do at Ultimate Rides. Let us know if you think there's any way we can help you out today!
---
1. Febreze Unstopables Car Air Freshener 3-Pack
Our first recommendation for readers comes from the popular company Febreze. While they're primarily known for making homes smell great, they also have some impressive products for your vehicle. This is our favorite, and customer reviews seem to support our belief that it's the best car air freshener available today. They last a good long time, and work great.
The scent is pleasant, and the clips do a good job of keeping the air freshener in place. These little items can even get rid of existing bad smells within your vehicle if there are any to be found. Each one lasts for about a month, and this pack includes three for you. At this price, it's a fantastic deal! We encourage you to pick some up and see how they work for you before deciding if you want more.
Febreze Unstopables Car Air Freshener, Unstopables Fresh Scent, Odor Eliminator for Strong Odor Car Vent Clips, .07 Fl Oz (3 Count)
---
2. Little Trees Car Freshener Black Ice 10-Pack
Our next entry is an item that most of us are probably already familiar with. Little Trees air fresheners are iconic, affordable, and work great. While they won't get rid of any smells in your vehicle, they produce a strong scent. They may not last long, but they're quite cheap. The Black Ice scent is a favorite among many individuals, and it's one we recommend trying if you've never used Little Trees items before. There are plenty of additional options out there, including right here on our list. It may not be the overall best car air freshener, but there's a very strong chance that the Little Trees air freshener offers the most value.
Little Trees Car Freshener, Black Ice, 10-Pack
---
3. Ozium Smoke & Odors Eliminator Gel
One of the most common causes of a bad smell inside of a vehicle is cigarette smoke. While the process can sometimes be difficult, it is possible to get rid of that smell. This gel from Ozium is one of those ways, and it won't be difficult for you. The gel comes in an easy to use cannister, and is designed not to melt in the heat. One thing to note is that the gel does have a potent "soap" smell to it. If you're sensitive to strong smells, you may want to look elsewhere. However, many customers report great results when trying to remove lingering scents in their vehicle. Just make sure to read the instructions that come with the product. Follow the steps and you should get great results.
Ozium Smoke & Odors Eliminator Gel. Home, Office and Car Air Freshener 4.5oz (127g), Original Scent (Pack of 4)
---
4. Air Spencer CS-X3 Squash Air Freshener
If none of the previous options seem right for you, check out this air freshening device from Japanese company Air Spencer. The product is easy to mount on your dashboard, and uses scented cartridges to keep the interior of your vehicle smelling fresh and clean. Each cartridge lasts quite a long time, and there are adjustable vents on the item so you can decide how strongly you want it to emit. Best of all, the whole setup is very affordable for everything you get. This set here comes with two cartridges, so it should last you six months or more before you should order additional product. For well under $30, you could have one of these items shipped to you in no time. Try it out and see if they're effective in keeping your ride smelling great.
CSX3 Squash Air Spencer Bundle of CS-X3 Squash Air Freshener Unit and Refill Cartridge 2 Packs
---
5. Little Trees True North Scent Air Freshener 24-Pack
Up next, we have an impressive value pack for you that comes from Little Trees. This item has the strongest reviews from customers on our list. We suspect that's partially due to how great of a deal this set is, offering 24 individual tree air fresheners to hang from your rearview mirror. This pack, available now for right around $20, should last you at least a year, if not significantly more. By now, you should know what to expect from Little Trees. These aren't a permanent solution to any smell, but they can help freshen things up. Make a decision on whether or not these are right for your situation. From there, pick up a pack or keep on shopping until you find something that works!
Little Trees True North Scent Air Freshener, 24 Pack
---
6. Yankee Candle MidSummer's Night Paper Car Jar Air Freshener 6-Pack
Have you bought a Yankee Candle before, or maybe received one as a gift? One thing you can know for sure about the company is that they know how to make something smell fantastic. If you've used their candles in your home before, we don't have to tell you that. Now you can bring their scents to your vehicle as well. This pack of six air fresheners features a MidSummer Night scent, and reviews say that they smell excellent. Like other air fresheners of this style, though, they wear out fairly quickly. Since they come in a large pack and are still very affordable, though, this shouldn't be too much of a problem for you. Take a look around and see if this matches up with your needs. If so, pick some up for your vehicle!
Yankee Candle MidSummer's Night Paper Car Jar Hanging Air Freshener (Pack of 6)
---
7. Febreze Gain Car Air Freshener 4-Pack
Our next pack of air fresheners comes once again from Febreze, but this time they're not alone. These air fresheners feature scents from Gain, another company who knows about smelling good. According to the product information, these items won't just cover up bad smells, but help eliminate them altogether. Each one should last about a month, so this four-pack will ensure you have a while to test these clips out before you need to buy anymore. The only bad reviews the product seems to have complain about the short life-span. However, with each one lasting 30 days and a pack of four costing less than $15, we can't really see the issue. Try them out for yourself and see how they work for you!
Febreze Car Air Freshener, 2 Gain Original and 2 Gain Island Fresh Scents, Odor Eliminator for Strong Odors (4 Count)
---
8. Little Trees Air Fresheners Rare Scents 12-Pack
The third and final item from Little Trees on our list is this pack of 12 air fresheners featuring a variety of rare scents. It's another top choice of customers as it's affordable and gives you a random selection of flavors. That means you may not get all the options shown in the picture, and there may be repeats. However, if you just need something basic and affordable, and you don't care too much about the specific smell, we'd say this is one of the better choices available to you. There's not much left to say about Little Trees air fresheners that hasn't already been said, so we'll just let you decide if you want to opt for these or another selection.
Little Trees Home and Car Air Fresheners 12 Pack Vacation Pack Ultra Rare Scents
---
9. Yankee Candle Car Smart Scent Vent Clip
For drivers who like Yankee Candle but want something more advanced than a simple hanging air freshener, check out this item. It's a smart scent vent clip air freshener, with the Pink Sands scent. This is a single clip, and it's available for just under $5. That might be good for someone who just wants to try the item out, but we encourage you to look for multi-packs if you want to keep on using this product in your vehicle. It'll help you save money and you can avoid having to wait long stretches for the next item to come in the mail. These air fresheners can work for up to a month, and will ensure there's a pleasant smell every time you enter your vehicle.
Yankee Candle Car Vent Clip HW Pink Sands, Smart Scent
---
10. Bamboo Charcoal Air Purifying Bag 4-Pack
Lastly, we have something else for you to try if none of the other options seemed up to your standards. These purifier bags are filled with charcoal that soaks in moisture and other causes of odor. They're odorless, so those who want to avoid unnatural smells can choose this product without worry. The package comes with four bags, but each bag isn't big enough to cover your whole vehicle. They work best in small spaces, such as a cup holder, or somewhere on the floor of the vehicle if all else fails. These aren't exactly cheap, and they aren't right for every situation out there. However, they are still worth mentioning on this list, because they can be great for getting rid of smells attached to spills, and those in small compartments. Try them out and see how they work for your vehicle.
Bamboo Charcoal Air Purifying Bag 4-Pack – Naturally Freshen Air with Powerful Activated Charcoal Bags Odor Absorber – Kid and Pet-Friendly Air Fresheners for Home or Car by House Edition, 4x200g
---
Best Car Air Freshener
Buying Guide
Did any of the air fresheners on our list strike you as the right choice? While we definitely think there's something there for everyone, we're always here to help you find exactly what you need. In our buying guide, we'll get into the details of how we determine which is the best car air freshener for you. Our Factors of Focus section should have the answers you need.
After that, we'll get into the differences between the main types of air fresheners. That way you can know what you're getting into, and how to choose the one that's best for your vehicle. From there, we'll talk more about the importance of keeping your vehicle clean, smelling fresh, and running great. Then we will wrap up by offering more information on Ultimate Rides, and how we believe we can help you next. Good luck in your search, and don't be afraid to contact us if you have any questions that aren't already answered by our FAQ at the bottom!
Factors of Focus: Choosing Your
Air Freshener
Whether you just started driving or you've put in years and years of experience, we all probably know about basic air fresheners. They work, but they aren't a permanent solution to any problem. That doesn't mean they aren't worth your money. In fact, Little Trees air fresheners are a great deal. However, what you need depends on exactly what your problem is. Do some research on the different types of air fresheners to figure out which is best suited to tackling your issue. From there, it's a matter of quality.
Once you decide on a type of air freshener, you'll have to comb through the options until you find the best one. But how do you tell them apart? Well, customer reviews can help, but they can't be the only factor that helps you decide. It's important to know what to look for as you shop.
The best car air freshener is going to last an appropriate amount of time based on what you're paying. For example, many options only last a month. However, it's that only costs you a few bucks, it seems like a pretty good deal to us. Just make sure you buy enough to last you for awhile. You also want to find an air freshener that actually works. If your vehicle has a bad smell, you'll want something that can eliminate that and not just cover it up.
Beyond quality and the kind of air freshener you buy, there's one other important factor to consider: your own taste. Do you want a fruit-based smell in your vehicle, or maybe something minty? Other people may not want an artificial smell at all. Whatever it is you're looking for, there's an option out there for you. Shop around until you find one you like, then determine if it meets your quality standards. If it does, feel free to throw it in your cart and place an order!
Types of Air Fresheners for
Your Vehicle
If you want a fresh smell in your vehicle, or simply to get rid of an old one, there are a number of things you can try. The most common air freshener are the cheap options you can hang from your rearview mirror. Little Trees air fresheners are the highest quality options in this category. They're affordable and have a strong smell, but they won't eliminate old odors and they don't last long. However, they are very easy to dispose of and replace.
Beyond these simple options, there are some other things to try. There are small air fresheners that can clip onto your vents or another area near the front dash. These work much like air fresheners people use around the house. At certain intervals, these little devices will release a scent into the vehicle. The quality differs from product to product, but you can definitely find a few options like this on our list.
You can also buy more advanced air fresheners, though they can start to cost more money the higher the quality gets. An example of this is the Air Spencer CS-X3 Squash Air Freshener seen on our list. These products usually work great, but they have more upkeep and cost more. However, they are almost always worth the price. Just make sure to shop around and find the one that does what you need it to do.
One final option you can try is a charcoal bag. It's said that charcoal is great at absorbing moisture and other elements in the air around it. Try one of these products out and, depending on your situation, you could find that it does exactly what you want. The best car air freshener for you depends on what kind of results you want.
Importance of
Vehicle Maintenance
We all know about the basics of maintaining your vehicle, such as getting an oil change at regular intervals and keeping the right amount of air in your tires. However, a lot of drivers neglect the finer points of vehicle maintenance. That includes things like tire rotation, changing out filters (air, fuel, and oil), and keeping your vehicle clean.
If you end up selling your car later on down the line, it would make sense to clean it out before it changes hands. That's both because it's the right thing to do and because it'll help ensure you can get the most money for your vehicle. By keeping your vehicle clean all the time, you won't have to worry about finding last minute problems or long-term damage right before you try to sell your vehicle. Additionally, a clean vehicle is less likely to develop these problems over time.
Our team at Ultimate Rides can help with vehicle maintenance, along with plenty of upgrades for your vehicle. We have a service center on-site that we'll be happy to tell you more about. We're also a custom auto dealer that offers nationwide shipping. Get to know more about us through the rest of our guide!
Custom Vehicles Available from
Ultimate Rides
Ultimate Rides can be your go-to destination for new and used custom vehicles, no matter where you live. While our specialty is lifted trucks and SUVs, we offer a huge range of vehicles for you to choose from. Take a look at our inventory and you should see right away what we mean. The majority of our inventory features at least a few upgrades.
On top of that, you can always choose to have us install any additional upgrades or accessories, or make any changes before you take ownership. We have a custom service center right here, with a talented staff of ASE-certified technicians. When you decide to buy one of our vehicles and outfit it with some upgrades, you can include it all together in one financing package.
We offer a huge range of modifications and accessories for drivers to choose from. You'll have access to a selection of industry-leading parts, and we can always make a special order for anything particular you want if we don't already have it ready. If you have a vision in your head of the perfect vehicle, our team can help you bring it to life. Just give us a call to find out more!
Affordable Shipping and Amazing
Customer Service
Though Ultimate Rides is located an hour outside of Chicago, we supply vehicles to drivers all across the United States. That's because we can deliver our vehicles quickly and reliably. Just give our team a call and we can complete the entire buying process over the phone. It's safe and secure, and you'll still be able to completely customize the vehicle any way you'd like. We'll handle financing over the phone, and gather all your shipping details. Just like with our custom upgrades, you can decide if you'd like to pay for delivery costs separately, or include them in your financing deal. Either way, we'll do whatever we can to make the process smooth, and get your vehicle to you as fast as possible.
We also pride ourselves on offering top-notch customer service. Whatever it is you need help with, our team will do our best to assist. If there is a specific vehicle you want to get your hands on, but we don't have it available, don't give up. Let us know and, with a small deposit, our buyers will start searching for the vehicle. As soon as we locate it, we can let you know. You'll decide if you want to buy it as-is, or have us bring it to the Ultimate Rides HQ for some upgrades.
Visit or Call Ultimate Rides
Today
On top of all that, you can also count on our service center for both repairs and maintenance. No matter what kind of vehicle you have, how old it is, or whether you bought it from us or not. Our team can help get things working right.
If you have any questions about Ultimate Rides, go ahead and contact us over the phone at 815-634-3900. If you're in the greater Chicago area and would like to pay our office a visit, you can find us at 38 W. Division St., Coal City, IL 60416. We can't wait to speak with you!
Frequently Asked
Questions
Are there any other questions you have for our team before you head out? If you're lucky, we'll have the answers for you right down below. We've taken the liberty of answering some of the most common questions we hear from readers and customers. Take a look and you may find the help you need! If not, don't hesitate to call the Ultimate Rides office.
Q: How long does Ultimate Rides shipping take?
A: When you order your next vehicle from Ultimate Rides and ask us about shipping, we should be able to give you a detailed answer on what to expect. For now, we can tell you that you should have your vehicle in a week or less within the continental United States. Our team works incredibly hard to get your vehicles to you in a timely manner, and that's just one of the reasons so many drivers love shopping with us.
Q: Why are lifted trucks so popular?
A: There are a variety of reasons why so many people enjoying owning and driving these vehicles. They are becoming more and more common each day, and it's hard to pin down exactly why one person decides to upgrade. Instead we'll offer some of the most common reasons you can find today. You'll notice right away when you get behind the wheel that being higher up provides a different feel. It can be hard to get used to going back to a standard truck or SUV or even a car. On top of that, many people just love the way lifted trucks look. They dominate the road, and you can customize them just the way you want when you buy from Ultimate Rides.
Q: Do lifted vehicles require extra maintenance?
A: There are a few extra things you'll want to check up on from time to time, but none of it is going to greatly increase the amount of time or money you spend working on the vehicle. At worst, you'll just want to have someone take a look at all the bolts and everything to make sure it all looks safe every once in a while. Repairs may cost more as it becomes more difficult to work on the vehicle, but that depends on the team you choose to fix your ride and how comfortable they are with these parts.
Q: Are there other ways to customize a vehicle besides a lift kit?
A: Oh yes. There are countless different ways to customize your car, truck or SUV. That ranges from a new paint job to custom tires and wheels to a new stereo to lighting upgrades. There are plenty of accessories you can decide to install, each one adding something a little different to your vehicle. At Ultimate Rides, we can take care of it all. Get in touch with a member of our staff and we'll go over the many possibilities with you until you know exactly what you want. From there, our highly talented technicians will take care of the rest.
Q: What kind of vehicles do you sell at Ultimate Rides?
A: When you shop at Ultimate Rides, you can find just about any kind of vehicle there is. We do get cars, but more often we specialize in trucks and SUVs. There are some standard vehicles here but the majority of our inventory features custom modification from our lift center team.
We also have the ability to track down any specific vehicle you want. Just give our office a call. With a small deposit, our team will search for the vehicle you want until they find it. We'll let you know, and you can come pick it up from us or we can always ship it out to you.
---
Two Brothers With a Dream

,

Building The Best Ultimate Rides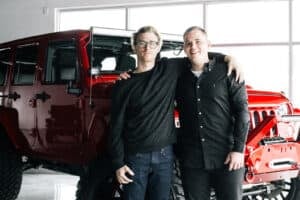 Ultimate Rides consists of two brothers who have been buying and selling custom vehicles for over ten years. Selling lifted trucks by day and writing these awesome reviews by night! They started their Ultimate Rides journey with a third brother Jake, who was a big part of building the business they have today. In 2016 Jake passed away and losing their brother was the hardest thing they ever had to deal with. Even though they had a tragic loss they plan to continue to set a new trend for the auto industry, keeping customers number one. Pushing the envelope on the lifted truck market, these guys love researching and learning about everything in the auto industry!
 — Nick and Alex Bulanda, Founders of Ultimate Rides