Best F350 Lift Kit (Review & Buying Guide)
Finding the Best
F350 Lift Kit
By now, countless drivers across the country are already aware of how big a difference a lift kit can make. If you own a Ford F350, or are thinking about buying one soon, we encourage you to think about lifting the vehicle. In addition to an impressive new look, it can have positive implications on the truck's performance.
Use today's guide to find a high-quality F350 lift kit. We've put together a list below featuring some of our favorite options. After that, read through our buying guide for details on what makes the right lift kit, as well as installation tips and more information on Ultimate Rides. Good luck in your search!
Note: Be sure to pay special attention to the compatibility of each lift kit.  You'll need to find one that matches your truck down to every detail, from model year to trim level to the configuration of the fuel or wheels.
---
1. Rough Country 4.5″ Lift Kit 50620
Compatibility: 2017-2022 Ford F250/F350 with 4WD and Diesel Engine
First up, we have a kit to share with you that comes from Rough Country. They're a manufacturer that makes a variety of different kinds of lifts, from complicated suspension lift kits to spring and spacer kits. This high-quality coil spring lift kit offers excellent performance and while it's not cheap, there are plenty more expensive options out there for drivers. Make sure you drive a modern F350 with a diesel engine before you decide on this model. If you do, we think you'll like what you find. It offers impressive performance on and off the road. Though installation won't be easy, once a professional installs it you'll be ready to get behind the wheel and experience the truck yourself.
Rough Country 4.5″ Lift Kit for 2017-2022 Ford Super Duty 4WD | Diesel – 50620
---
2. ReadyLift 69-2534 3.5" SST Lift Kit
Compatibility: 2008-2010 Ford F250/F350/F450 with 4WD
ReadyLift is another leading company when it comes to lift kits, and this is the first of multiple appearances on today's list. This kit works for Ford Super Duty 4WD trucks from 2008 through 2010. A limited but still popular subset of model years, it can sometimes be hard to find kits for certain models. If this option fits your truck, you'll be in for a treat. Once again, installation won't be easy. However, we're very confident you'll be happy with the final result. This is another mid-range price point product, a good option for those who want to get serious about lifting their truck without committing thousands of dollars to the project.
ReadyLift 69-2534 3.5" SST Lift Kit (1 Piece Drive Shaft For F250/F350/F450 Ford)
---
3. ReadyLIFT 2.5" Coil Spring Front Lift Kit 46-2727
Compatibility: 2011-2019 Ford F250/F350
This modest lift kit from ReadyLift is another great option to consider. It works for the previous generation of Super Duty trucks from Ford, and is a high-quality coil spring kit for the front only. That means if your truck has a noticeable sag on the front end, a lift kit like this will take care of that problem for you. As long as you're aware this isn't a full lift kit and you know what to expect, we believe you'll love this kit. Once installed, if the measurements were correct, it'll give you a nice even look. Just make sure to find out the difference between the front and rear of your vehicle to see if these match up!
ReadyLIFT 2011-2019 Compatible With FORD F250 F350 2.5" Coil Spring Front Lift Kit 46-2727
---
4. Supreme Suspensions 3″ Front and Rear Spacers and Blocks Lift Kit
Compatibility: 2005-2022 Ford F250/F350 with Overloads
If your truck features a set of overloads, you'll likely need a special lift kit setup. This option from Supreme Suspensions is exactly that, and it covers a wide range of F30 pickup trucks. It also comes from one of the top manufacturers in the industry. While the options from Supreme Suspensions are usually the lower-tier spacer and block kits, they are at the top of that pile. This style of lift is more affordable, though it won't offer the same ride quality as a more expensive suspension lift. That said, it's still a great improvement, and can be a good first step for those looking to get into lifted trucks. If that all checks out with you, try this product out on your vehicle!
Supreme Suspensions – Full Lift Kit for 2005+ Ford F250 F350 Super Duty w/OVERLOADS 3″ Front Lift Spring Spacers + 3″ Rear Lift Blocks + UBolts + Brake Line Brackets + Bump Stop Spacers 4WD (Silver)
---
5. Zone Offroad 6″ Full Suspension Lift Kit with Black Nitro Shocks
Compatibility: 1999-2004 Ford F250/F350 with 4WD
Finally, we have one last lift kit here for older heavy-duty trucks. If this option fits your F350, and you're looking for a powerful and noticeable lift, you're in the right place. The kit isn't cheap, and the process of installing it won't be easy. However, it's a very high-quality product, designed specifically for your vehicle. If you have the room in your budget and you're ready to go all in on a suspension lift, this kit should have everything you need.
Zone Offroad Ford F250 F350 6-Inch Full Suspension Lift Kit Zone Offroad Top Rated with Black Nitro Shocks
---
F350 Lift Kit
Buying Guide
Did one of the options on our list seem like the right fit? If not, check out our buying guide. In it, we'll talk about what elements are important to find in a lift kit. After that, we'll wrap up with information on how Ultimate Rides can help you, as well as how to contact us.
Factors of Focus:
Choosing Your Lift
The first thing to do as you shop for a F350 lift kit is to find out exactly what size you're looking for. Lift kits range from as little as an inch or two, to as much as six inches or more. There are different styles out there as well, each offering a different budget and ride quality expectations. Once you figure this out, you'll have to start narrowing down your search to options that fit your truck. If you're here, you likely want an F350 lift kit. From there, you'll want to pay attention to model year, whether it uses gas or diesel fuel, and whether it utilizes 4WD or not. These factors can influence what lift kits will fit. As far as quality, stick to trusted brands unless you know for sure a product is reliable. Customer reviews can be useful, but they shouldn't be your only source of info. Take a look around online to learn about the product before you buy!
Final
Thoughts
Here at Ultimate Rides, we sell custom trucks and have our own service center on-site. Take a look at our inventory the next time you're shopping for a vehicle. We have tons of custom options, and you can alter each one in our lift center before we ship it to you. Give us a call at 815-634-3900 to learn more, or visit our office at 38 W. Division St., Coal City, IL 60416.
---
Two Brothers With a Dream

,

Building The Best Ultimate Rides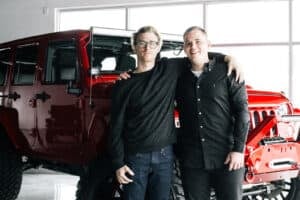 Ultimate Rides consists of two brothers who have been buying and selling custom vehicles for over ten years. Selling lifted trucks by day and writing these awesome reviews by night! They started their Ultimate Rides journey with a third brother Jake, who was a big part of building the business they have today. In 2016 Jake passed away and losing their brother was the hardest thing they ever had to deal with. Even though they had a tragic loss they plan to continue to set a new trend for the auto industry, keeping customers number one. Pushing the envelope on the lifted truck market, these guys love researching and learning about everything in the auto industry!
 — Nick and Alex Bulanda, Founders of Ultimate Rides