Best Floor Jack for Trucks (Review & Buying Guide)
How to Find the Best
Floor Jack for Trucks
Getting a flat tire is never a good time. However, if you stay prepared, it doesn't have to ruin your whole day. Along with a spare and jack stands, a jack is one of the most important pieces of equipment for this situation. A floor jack is a specific type of jack that is easy to fit under the vehicle, folds up to a easy-to-store package, and can be used in a wide variety of situations. When you shop online for floor jacks, you're going to be met with an overwhelming number of options. It can often be difficult to pick out the good from the bad. That's where we come in.
At Ultimate Rides, we're experts on upgrading vehicles. With that comes a lot of knowledge about tools and equipment, including floor jacks. We've put together a list of the best floor jacks for trucks. Take a look below and you'll find a link to each along with a short review. After our list, you'll have a chance to read through our buying guide. In this section, we'll offer up more information on what separates a high-quality floor jack from a worse option. We'll also be able to tell you more about what Ultimate Rides can offer you. Stick around and let us know if you think we can assist you!
---
1. BIG RED T83006 Torin Hydraulic Trolley Service/Floor Jack with Extra Saddle
Capacity: 3 Tons (6,000 lbs.)
In our opinion, the classic floor jack from BIG RED might as well be called Old Reliable. People have been counting on this jack for many years now, in a huge variety of situations. It's well-constructed, and works great both on the road and in the garage. With a maximum height of nearly 21 inches, it's an excellent choice for standard-sized vehicles. If you drive with a lift, you'll want to look for one of the larger BIG RED options or another pick. However, those with standard suspension will be able to count on this product for many years to come. It's even available right now for less than $100. Talk about a fantastic deal!
BIG RED T83006 Torin Hydraulic Trolley Service/Floor Jack with Extra Saddle (Fits: SUVs and Extended Height Trucks): 3 Ton (6,000 lb) Capacity, Red
---
2. Blackhawk B6350 Black/Red Fast Lift Service Jack
Capacity: 3.5 Tons (7,000 lbs.)
Need something with a little extra strength? This jack from Blackhawk lifts up to 22 inches, and can hold as much as 7,000 lbs. of weight. It's quite heavy, though, so we recommend this mostly for garage use. If that's all you plan on using it for, you should find this floor jack serves you well for years. According to customers, the directions leave something to be desired. However, if you've used floor jacks before, it shouldn't be too difficult to figure out. With more power than your standard floor jack, this one is worth all the extra weight to haul it around.
Blackhawk B6350 Black/Red Fast Lift Service Jack – 3.5 Ton Capacity
---
3. Arcan Quick Rise Aluminum Floor Jack with Dual Pump Pistons
Capacity: 3 Tons (6,000 lbs.)
Drivers looking for something lightweight yet still strong ought to check out this quick rise floor jack from Arcan. It's not cheap, but if you're willing to shell up a little extra money you could just find the best floor jack for trucks. Like some of the other floor jacks on our list, the directions are said to be lightweight, so to speak. We recommend looking up a tutorial on first-time use for this floor jack so you know what to expect. Once all of that makes sense, though, you'll have access to one of the best floor jacks available today at this price range. Whether you want to use it in your garage or keep it in your truck, you shouldn't have too much of a problem.
Arcan 3-Ton Quick Rise Aluminum Floor Jack with Dual Pump Pistons & Reinforced Lifting Arm (A20018)
---
4. Aain Heavy-Duty Floor Jack with Double Pump Quick Lift
Capacity: 3 Tons (6,000 lbs.)
Our next floor jack has great ratings for customers, and offers comparable specs to other jacks on our list. It's somewhere in the middle of the price range, but offers reliable lifting for up to 6,000 lbs. It's a truly heavy-duty jack, and works fast and well. With that, though, you'll find that it's not very easy to carry around. That's not to say it's impossible to keep in your truck for emergency use. Just expect the thing to be pretty heavy when you need it. If that's okay with you, go ahead and get your hands on this floor jack. It's certainly one of the best options out on the market right now, especially for this price level.
Aain Heavy duty 3 Ton Floor Jack, Steel Hydraulic Service Jack Quick Rise With Double Pump Quick Lift, Blue HT3300
---
5. COOKE Pro Eagle Big Wheel Hydraulic Off Road Jack
Capacity: 3 Tons (6,000 lbs.)
Our last floor jack is made specifically for off road use. While there's nothing to stop you from keeping this one specifically for garage situations, it's a great choice to keep around in your truck as well. The wheels are easy to use both on standard floors as well as rough terrain. There's even an available extension to make the jack suitable for lifted trucks. It'll confidently hold up to 6,000 lbs., though as always you should use jack stands once you use the jack to lift the vehicle up. This jack from COOKE definitely earns a place on our list as a contender for being the best floor jack for trucks. Get yours today!
COOKE Pro Eagle 3 Ton Big Wheel Hydraulic Off Road Jack, for Lifted, 4WD, and Extreme Vehicles
---
Best Floor Jack for Trucks
Buying Guide
Now that you've had a chance to look at some options, do you know which floor jack you want to buy? If you feel like you need to keep looking, that's perfectly okay. The information here in our buying guide may help you come to a decision. In our Factors of Focus section, we'll go over what considerations came into play when choosing the best floor jacks for trucks. If you stick around after that, you'll be able to read about what we do here at Ultimate Rides. There's a good chance we can help you start driving the truck of your dreams, so give us a call today!
Factors of Focus: Choosing a
Floor Jack
When it's time to buy a floor jack, the first thing you should do is figure out what kind of height needs you have. For standard-sized vehicles 18-20 inches should usually be enough. However, if you're driving a lifted truck, you'll want to increase that number by a solid 8-12 inches. Remember that you'll need enough room to get underneath, so make your measurements and shop accordingly.
You'll also want to think about what kind of situations you plan on using the floor jack in. Are you buying it to keep in the garage? Or do you do a lot of off road driving and want something for emergencies? This can affect what kind of floor jack you purchase. There are specific models made for off road use, including one on our very list.
Lastly, the best floor jack for trucks is going to be durable and reliable. Weight capacity is important, and what's even more important is doing your research to make sure the jack actually lives up to those promises. Read through customer reviews, and plug the name of the product into your favorite search engine to see what results come up. This can help you determine if a given floor jack can actually be relied upon in tough situations. If you like what you find, go ahead and add it to your cart!
Custom Trucks, Vehicle Upgrades and Repairs at
Ultimate Rides
It's not always easy finding a reliable auto dealer these days, especially one that specializes in high-quality custom vehicles. That's exactly what we are at Ultimate Rides. We have a huge inventory of custom vehicles, with the ability for you to make any further changes you'd like. From there, you're free to come pick the vehicle up from our headquarters, or we'll ship it straight to your home. We make it easier than ever to start driving an incredible custom ride. Give us a call to learn how to get started. You can reach Ultimate Rides at 815-634-3900. If you're ever in the Chicago area, you can visit us an hour south of the city at 38 W. Division St., Coal City, IL 60416.
---
Two Brothers With a Dream

,

Building The Best Ultimate Rides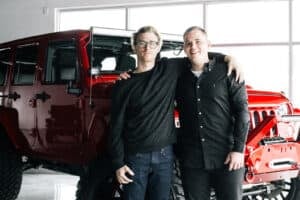 Ultimate Rides consists of two brothers who have been buying and selling custom vehicles for over ten years. Selling lifted trucks by day and writing these awesome reviews by night! They started their Ultimate Rides journey with a third brother Jake, who was a big part of building the business they have today. In 2016 Jake passed away and losing their brother was the hardest thing they ever had to deal with. Even though they had a tragic loss they plan to continue to set a new trend for the auto industry, keeping customers number one. Pushing the envelope on the lifted truck market, these guys love researching and learning about everything in the auto industry!
 — Nick and Alex Bulanda, Founders of Ultimate Rides