Best GMC Canyon Lift Kit (Review & Buying Guide)
Choosing the Right

GMC Canyon Lift Kit
In recent years, the popularity of lifted suspension on trucks has continued to skyrocket. Though the practice has roots all the way back to WWII, it's more popular now than ever before. However, finding the right GMC Canyon lift kit is not as simple as choosing the first option you come across. It's important to figure out what height you're going for, first of all. After that, you've got to determine the quality of a kit before you buy.
Here at Ultimate Rides, we specialize in suspension lifts. It's safe to say we know our stuff. That's why we feel comfortable offering advice on the best lift kit options for you. Take a look at our list to find a range of different lift kits, each one offering something a little different for you. Be sure to pay close attention to compatibility, as not all lift kits will fit on any Canyon model.
After our list, you'll find a buying guide, where we provide extra tips and advice for those looking to outfit their truck. If you have any questions after reading through this guide, feel free to contact Ultimate Rides. We provide lift kit installation as well as many other products and services. Don't hesitate to get in touch with us soon! For now, take a look at some of the best GMC Canyon lift kit options out there.
---
1. Rough Country 6″ Lift Kit with N3 Shocks and Knuckle Kit 
Compatibility: 2015-2020 GMC Canyon 
Rough Country is one of our go-to lift kit manufacturers. Their products are always reliable, especially when installed by a professional. This six-inch kit will set you back quite a bit compared to some of the other kits on the list, but it's absolutely worth it. If you're looking for a powerful new look for your truck, this is the GMC Canyon lift kit for you. It features a lifetime warranty from Rough Country, as well as all the hardware you'll require for installation. It's a lifted knuckle suspension system, which is usually more reliable than a standard (and cheaper) body lift kit. The package also comes with a set of N3 shocks which provide excellent performance. You truly can't go wrong with this lift kit, as long as you're aware that installing it at home is going to be quite a challenge, especially for newcomers.
Rough Country 6″ Lift Kit (fits) 2015-2020 Chevy Colorado GMC Canyon | N3 Struts/Shocks | Knuckle Kit | 24133
---
2. Rough Country 3.25″ Dual Lift Kit Suspension System
Compatibility: 2015-2019 GMC Canyon
Next up we have another impressive lift kit from Rough Country. This option, however, is a much smaller size, measuring out to a 3.25-inch lift for your truck. It's also a different type of kit, utilizing lift pucks to raise up your vehicle. Once again, you'll have access to a lifetime warranty that will back you up if you run into any manufacturer issues. Once you get this kit installed, you'll be able to outfit your truck with a new set of wheels and you'll be ready to hit the road (and off-road!).
Rough Country 3.25″ Dual Lift Kit (fits) 2015-2019 Chevy Colorado GMC Canyon | Gas | Body/Suspension System | 924
---
3. KSP 3″ Front 2″ Rear Leveling Lift Kit 
Compatibility: 2015-2021 GMC Canyon (Does Not Fit ZR2)
Our next kit is the first leveling lift kit available on our list. This means that it offers a slightly different height in the front and the back to compensate for uneven suspension. If you're trying to get rid of a tilt towards the front end, and want an overall lift to your truck's height, this is the type of lift kit for you. This option from KSP is a great choice, offering a substantial but not-overboard three-inch front lift and two inches in the rear. It includes a five year warranty, and is made from sturdy and reliable steel. It's definitely a very solid choice, even for those who are lifting their truck for the first time.
KSP 3″F+2″R Lift Kits fit Colorado Canyon 2015-2021,True Lift 2.75inch of the Front Strut Spacers 2in of the Rear Lift Block
---
4. Truxxx 403035 2.75″ Front 1.5″ Rear Lift Kit 
Compatibility: 2015-2021 GMC Canyon
Here we have another leveling lift kit for modern Canyon trucks. We recommend measuring out the current height of your front and rear end, paying special note to the difference between the two. There are lots of different leveling kit options out there, and you've got to find the one that matches your truck. If this is the right height for your truck, feel free to pick this kit up. With this kit, you won't have to worry about replacing your shocks as it's meant to work with your factory setup. Overall, it's another good pick as long as the measurements line up.
Truxxx 403035-3″ Lift Kit Compatible with 2015-2021 Chevy Colorado & GMC Canyon ~ 2wd & 4×4 (4wd) including diesel
---
5. WULF Suspensions 1-3″ Front 3″ Rear Adjustable Leveling Lift Kit 
Compatibility: 2004-2012 GMC Canyon Z71 2×2 and 4×4
WULF Suspensions is another one of our picks for reliable part manufacturers. With this kit, made for older Canyon models, you'll be able to adjust your front end to get just the right height, while the read end is lifted by a flat three inches. The front end can be raised by anywhere between one and three inches. The product features a limited lifetime warranty for manufacturer defects, so you'll have recourse if you run into any problems that come from the production end. It's a pretty basic kit, but will still serve a great function on your vehicle!
WULF 3″ Front 3″ Rear Adj Leveling Lift Kit compatible with 2004-2012 Chevy Colorado GMC Canyon Z71 2WD 4X4 w/Torsion Bar Suspension
---
6. Supreme Suspensions 1-3″ Front 2″ Rear Adjustable Leveling Lift Kit 
Compatibility: 2004-2012 GMC Canyon Z71 2×2 and 4×4
The last option we want to share with you today is once again for older models of the GMC Canyon, specifically the Z71. Just like with the last kit, you'll be able to adjust the front end to your needs. However, this option offers a two-inch lift to the rear of the vehicle. It also includes a set of shocks to install, increasing the performance of the truck. This is definitely a great pick as a GMC Canyon lift kit, as long as you own one of the models that it's made for.
Supreme Suspensions – Full Lift Kit for 2004-2012 Chevy Colorado & GMC Canyon Adjustable up to 3″ Front Lift Torsion Keys + 2″ Rear Lift Shackles + Pro Performance Series Shocks PRO
---
GMC Canyon Lift Kit

Buying Guide
Were you able to find a lift kit that suits you on our list? There are countless options out there, and we shared some of our favorite picks. However, it's likely you may have to keep looking to find one that suits you. If so, you can use our buying guide to separate the good from the bad. Additionally, we'll give you a little bit more information on installing one of these kits on your truck, as well as on Ultimate Rides itself. Stick around and you may learn a thing or two!
Factors of Focus
When shopping for a GMC Canyon lift kit, the most important thing to pay attention to at first is compatibility. Find a kit that you're certain will fit on your truck. This means paying attention to the model year as well as truck bed length and trim level. Some lift kits are more general and will fit on a wide range of trucks, while others can be very specific. Just make sure you're buying one that will work before you go through the whole process.
Once you've made sure it's a good fit, you can start thinking about the actual quality of the kit, as well as the height. We usually try to buy from the manufacturers that we know and trust. One good way to determine whether you can count on a specific kit is by reading through customer reviews. They'll usually provide you with a pretty good picture of what you can expect!
Lift Kit Installation
If you're a newcomer to lifted suspension, you may want to try and install one of these kits at home. However, we want to warn you that the process can be pretty intensive, especially depending on the size of the kit. We recommend taking a look at professional installation. While it might cost you extra money, you'll be able to rest easy knowing everything was installed correctly. If you do plan on installing a kit at home, make sure you do plenty of research to know exactly what you're doing, as well as the equipment you'll need.
Closing Thoughts
If you're in the Chicago area, you can bring your vehicle to Ultimate Rides for lift kit installation as well as a number of other services. We're located over at 38 W. Division St., Coal City, IL 60416. That's about one hour south of the city, which puts us pretty centrally located for many states in the US. If you'd like to call us to find out more, you can reach us today at 815-634-3900.
---
Two Brothers With a Dream

,

Building The Best Ultimate Rides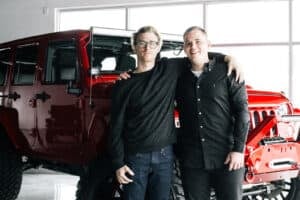 Ultimate Rides consists of two brothers who have been buying and selling custom vehicles for over ten years. Selling lifted trucks by day and writing these awesome reviews by night! They started their Ultimate Rides journey with a third brother Jake, who was a big part of building the business they have today. In 2016 Jake passed away and losing their brother was the hardest thing they ever had to deal with. Even though they had a tragic loss they plan to continue to set a new trend for the auto industry, keeping customers number one. Pushing the envelope on the lifted truck market, these guys love researching and learning about everything in the auto industry!
 — Nick and Alex Bulanda, Founders of Ultimate Rides