Best Jack for Lifted Trucks (Review & Buying Guide)
Tracking Down the Best Jack for

Lifted Trucks
If you own a lifted truck or SUV, a regular floor or bottle jack might not be able to get the job done. You are going to want to get a jack that accommodates your vehicle's extra height, as well as offering support for additional weight. If not, you could run into some real safety problems while trying to get the job done.
However, as you might quickly find as you shop, it's not always easy to tell what the best jack for lifted trucks really is. There are a lot of options out there, and it isn't always clear if a given jack is the right fit. That's where Ultimate Rides enters the picture.
With this guide, you'll find a list featuring our recommendations for some of the best jack options money can buy, specifically for lifted trucks. These are just a few of our favorites, but we're confident you'll find something that works for you on our list.
After that, you'll find a buying guide that provides more details on these products. You'll get some advice to remember while you're shopping around, as well as some additional information on Ultimate Rides. If you have any questions with us as you're reading or once you've finished, go ahead and give our office a call! Someone will be around to help you out.
---
1. COOKE Pro Eagle 3 Ton Big Wheel Hydraulic Off Road Jack (ASIN – B0794J5VRB)
Our favorite jack to choose for lifted vehicles is the Pro Eagle 3 from COOKE. Yes, it may be expensive. However, in these cases, you usually get what you pay for. This option is specifically great for off-road and rough terrain situations, making it much easier for you to change a tire out in the dirt. This jack can hold up to 6,000 lbs., and works great no matter where you are. If you're looking for the absolute best jack for lifted trucks to carry around with you, this is the option that we would go with.
COOKE Pro Eagle 3 Ton Big Wheel Hydraulic Off Road Jack, for Lifted, 4WD, and Extreme Vehicles
---
2. BIG RED T83006 Torin Hydraulic Trolley Service/Floor Jack with Extra Saddle (ASIN – B0028JW4PU)
Next up, we want to tell you more about a product from one of the more popular jack manufacturers out there, BIG RED. It offers a maximum lift height of just under 21 inches, so it's worth measuring out your vehicle to see if this is a good match. The product is also incredibly easy to use, with an extended saddle neck that makes it less of a chore to raise a truck. This jack is also very maneuverable, making it a great piece of a equipment to get around the garage or in the back of your truck.
BIG RED T83006 Torin Hydraulic Trolley Service/Floor Jack with Extra Saddle (Fits: SUVs and Extended Height Trucks): 3 Ton (6,000 lb) Capacity, Red
---
3. EAMBRITE 12V DC Heavy Duty 4.5 Ton Hydraulic Floor Jack with LED Light (ASIN – B01JRZK6U2)
The third jack on our list is a hydraulic option, and can raise a vehicle up to 20.2 inches. It features a useful LED light, as well as a built-in safety valve for your protection. If you don't want to have to worry about lifting up your vehicle yourself, this jack is the perfect option for you. It has great reviews from customers, and the manufacturers is even responsive on the product page. That's always a great sign. Additionally, this hydraulic jack is even available at a surprisingly fair price, giving you no reason not to pick it up.
EAMBRITE 12V DC Heavy Duty 4.5 Ton(9900lb) Hydraulic Floor Jack with LED Light
---
4. Ark Motoring 48″ Off-Road High Lift Jack with 3 Tons Capacity (ASIN – B08NNLHVYJ)
Have none of the jacks listed so far been tall enough? That should not be a problem with this next pick from manufacturer Ark Motoring. This jack is made for tractors and other heavy vehicles, and it also works great on trucks outfitted with a suspension or lift kit. It's not difficult to use, and it offers a variety of uses in addition to serving as a truck jack. Because of that, it was not a hard decision to include this option on our list. It definitely counts as a contender for the best jack for lifted trucks.
Ark Motoring Farm Jack, 48″ Off-Road High Lift Jack with 3 Tons Capacity, Cast and Steel, Black
---
5. BIG RED T46002A Torin Steel Jack Stands (ASIN – B00026Z3DQ)
Here we've got another option for you from BIG RED. This time, though, it's a pair of jack stands that extend up to nearly 24 inches. Additionally, these stands can support up to 12,000 lbs., making them one of the most heavy-duty options available on our list. There are several advantages to choosing these over standard jacks, including a great price. However, they can sometimes be more difficult to work with, and that's something to be aware of before you buy. As long as you're confident you can handle these tools, though, you should have no problem using them to raise up your vehicle.
BIG RED T46002A Torin Steel Jack Stands: Double Locking, 6 Ton (12,000 lb) Capacity, Red, 1 Pair
---
6. Powerbuilt 620471 Unijack (ASIN – B00GJJZ5NI)
The final recommendation we have for you comes from Powerbuilt, and it's a combination hydraulic/bottle jack. It can get up to 21 inches, and offers a few different safety features including a bar that locks the unit at the desired height. This item is very popular with customers, having great reviews with over 1,000 being submitted on Amazon as of this writing. This versatile jack will work on a variety of different vehicles, including lifted models. Just make sure that it offers enough height for you before you make a final decision.
Powerbuilt 620471 Unijack – 6000 lb. Capacity
---
Best Jack for Lifted Trucks

Buying Guide
There are a lot of options for jacks out there, and each one offers something a little bit different. You might be wondering how to choose which one is right for you. If so, you're in luck. We've compiled this buying guide to assist you. Take a look. By the time you're through, you should be well on your way to knowing exactly which option to is the best choice for you.
Factors of

Focus
There are several key factors that should stick in your mind as you're shopping for your next jack. First and foremost, you'll want to make sure the jack offers the right height for your truck. Many standard jacks only raise up to around 18 inches, or 20 if you're lucky. Depending on the height of your truck, you may need to look hard to find an option that fits. On our list, we included a variety of different choices that go higher than the standard height.
Along with height, weight capacity should play an important factor in your decision. For a variety of reasons, it's a good idea to know around how much your truck weights. Once you find this out, you'll be able to choose a jack that is the right fit for your vehicle. If you don't pay attention to this, you could end up in the hospital or worse, so don't forget to check before you buy.
The final two factors you should remember as you shop are durability and ease of use. After all, it's important to get a floor or bottle jack that will last you for many years to come, and that you can use without a problem. Reading through customer reviews can be helpful, as people will often share their positive or negative impressions on a product.
Visit Ultimate Rides to Find

Custom Vehicles and More
Was this guide able to help you find the best jack for lifted trucks? We certainly hope so. At Ultimate Rides, we work hard to make sure our readers and customers are informed. If you have any questions for us, please feel free to reach out to 815-634-3900. Ultimate Rides offers an inventory of awesome custom vehicles. We also have our own lift center on-site to work on your vehicle. Choose us the next time you're looking to buy, or feel like it's time to upgrade your current truck. We are located at 38 W. Division St., Coal City, IL 60416, but we can ship our vehicles anywhere!
---
Two Brothers With a Dream

,

Building The Best Ultimate Rides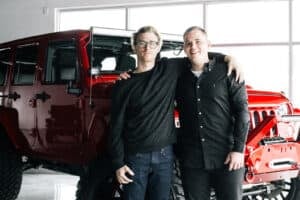 Ultimate Rides consists of two brothers who have been buying and selling custom vehicles for over ten years. Selling lifted trucks by day and writing these awesome reviews by night! They started their Ultimate Rides journey with a third brother Jake, who was a big part of building the business they have today. In 2016 Jake passed away and losing their brother was the hardest thing they ever had to deal with. Even though they had a tragic loss they plan to continue to set a new trend for the auto industry, keeping customers number one. Pushing the envelope on the lifted truck market, these guys love researching and learning about everything in the auto industry!
 — Nick and Alex Bulanda, Founders of Ultimate Rides