Best Jeep Wheel Well Lights (Review & Buying Guide)
Choosing the Right Jeep Wheel Well

Lights
The great thing about owning a Jeep is the ability to completely customize the vehicle to your liking. From lift kits and larger tires to more intricate lighting setups, the Jeep can be a canvas for your ideas. One of the most intriguing accessories you can add onto your Jeep is a set of wheel well lights. These lights are usually easy to attach to the vehicle, and then when you take care of connecting the electrical system you'll be all set! The real trouble is finding a quality set of lights. With so many options out there, it makes sense that there would be a lot of stinkers. At Ultimate Rides, we are well-versed in Jeep accessories, and can help you find the best options.
In the list that follows, you'll find some of our favorite Jeep wheel well lights. Browse through our list and hopefully you'll find a set you like! After you make it through our list, stick around to find our buying guide. In it, we provide more details on installing these lighting kits, as well as what qualities to look for in a reliable set. If you have any questions at the end, go ahead and give the Ultimate Rides office a call!
---
1. MICTUNING 2nd-Gen RGB LED Rock Lights 8-Piece Set (ASIN – B01IP8W254)
The first lighting set we'd like to recommend to you is this eight-piece kit from MICTUNING. The lights feature high-quality aluminum housing, bright LED lights, and simple installation. You'll have the ability to control the lights from an app on your smartphone, and have access to a vast assortment of color choices. As with any set of Jeep wheel well lights, figuring out the electrical aspect of installation is going to be the difficult part. Depending on the size of your Jeep, you may need to purchase cable extensions. We always recommend professional installation because this aspect can get quite tricky. However, once you have everything installed, you'll have an excellent look for your Jeep.
MICTUNING 2nd-Gen RGB LED Rock Lights with Bluetooth Controller, Timing Function, Music Mode – 8 Pods Multicolor Neon LED Light Kit
---
2. Teochew LED 8-Piece RGB Rock Light Kit (ASIN – B081PM81LD)
In our second spot, we have another eight-piece set of lights. This time, they come from manufacturer Teochew LED. The housing consists of a durable and waterproof silicon material, which should stand up to the elements for a long time to come. The LEDs feature 72,000 Lumens, providing plenty of brightness for the area around your vehicle. Plus, the manufacturer offers a two-year 100% guarantee. This kit offers just about everything you could ask for in a set of lights.
RGB Rock Light Kits, Teochew-LED 8 Pods Wheel Well Lights Underglow Multicolor LED Rock Lights with Music, Timing Mode Bluetooth Control Neon Light Kits for RZR ATV Truck Jeep UTV
---
3. SUZCO 8Pods RGB LED Rock Underglow Lights Kit (ASIN – B08DL2C8G9)
Weren't a fan of either of our first two options? Check out this next kit from SUZCO. Once again, you'll find eight different lighting pods here. You'll be able to set up your lights with ease, though the electrical can be a hassle as always. There's a remote control that comes with the set, and you'll also be able to use an app on your phone to pick your colors and control the lights. While not as popular as the first two sets, customers still have great things to say about this kit, making it a great option for you to consider.
SUZCO 8Pods RGB LED Rock Underglow Lights Kit with APP/RF/IR, 【Dual-Zone】+【128LEDs】+【2-in-1 Line】 +【Underbody & Wheel Light】 Multicolor Neon Under Glow Light Set 12V for Jeep Truck Offroad SUV ATV
---
4. PSEQT 10 Pcs LED Rock Strip Blue Lights (ASIN – B08CB4YLLH)
If you don't feel the need for multiple colors, this next option may be for you. It's a set consisting of 10 blue light strips that you can attach to the wheel well of your Jeep. They are both bright and durable, which is important to consider as you shop. If you're on a tight budget, this is a great pickup, as you can get the whole set for a little under $20 as of this writing. The strips measure out to just under four inches, making them easy to place in plenty of spaces around your Jeep. Because of all this, they have earned a well-deserved spot on our list.
PSEQT 10 Pcs LED Rock Strip Lights Car Exterior Underglow Wheel Fender Well Lighting Kits Waterproof for Golf Cart Wrangler Silverado Offroad Truck RV UTV ATV Snowmobile (Blue)
---
5. Nilight LED Rock Light 6PCS White Light Pods (ASIN – B08QND2SV7)
Finally, we have a set of simple white lights for your Jeep. They come from popular manufacturer Nilight, who always offer reliable lighting products for vehicles. While installation can be something of a pain, the end result will definitely be worth the effort. Not everyone wants to go with a plain white lighting setup, but if you're actually looking for illumination they are a great choice. With them, you should be able to see the area around your Jeep with ease.
Nilight LED Rock Light 6PCS White Light Pods Waterproof Under Body Wheel Well Light Exterior Interior Lights for Car Truck Pickups ATV UTV SUV Motorcycle Boat, 2 Years Warranty
---
Jeep Wheel Well Lights

Buying

Guide
Did our list provide you with a set of lights that suits your needs? If you weren't able to find a good match, don't give up looking! While there are a ton of options out there, you can find a quality set by knowing what to look for. You'll find that information just below in our factors of focus section. After that, we'll give you some advice when it comes to installation. Lastly, we'll leave you off with a little bit more on Ultimate Rides and what we do here. We hope that this guide proves useful to you! Remember that you can contact our office with questions if any pop up that we don't cover here. Let's get started!
Factors of Focus
Your main priority when shopping for Jeep wheel well lights should be durability/quality. There are definitely plenty of lighting kits out there that won't stand the test of time. You should keep an eye out for high-quality parts like aluminum housing, as well as the strength of construction. Product descriptions can usually provide some of the info you need, but you'll also need to dive into customer reviews to get a better sense of what each lighting kit has to offer.
Additionally, pay attention to the strength of the lighting. LEDs can be measured by lumens, which tells you how bright their lighting is. Not every product has this information listed, but some of the best ones do. Once again, customer reviews can be useful here. They may not be able to tell you the exact Lumen count, but they can let you know how bright a given light is.
Lastly, think about style and ease of us. The best lighting kits will offer Bluetooth control via an app on your phone, and many will also provide a remote control. Color can be a big factor too. Some lighting sets like you pick from a vast range of colors, while others are limited to a single option. If all you want is that one color, going with that kit could save you a great deal of money.
Installing Underbody Lights
Once you've determined which lights you want and had them delivered, it's time to get them on your Jeep. While attaching the lights themselves is usually pretty easy, it's the electrical where the real work is to be done. For most lighting kits, we recommend opting for professional installation. That will ensure the lights are installed properly, and you won't run into any safety hazard issues while you drive. If you opt to install them at home, make sure you carefully follow the instructions on how to set up the wiring.
Final Thoughts
Was the right lighting kit waiting for you in our list? We hope so! If you have any additional questions on installation or the best Jeep wheel well lights, we encourage you to call our office. We sell vehicles, but also have a service center on-site that specializes in customizing vehicles like the Jeep. We are confident we can help you with installation and so much more. Reach out to us at 815-634-3900, or visit our office at 38 W. Division St., Coal City, IL 60416 if you're in the area.
---
Two Brothers With a Dream

,

Building The Best Ultimate Rides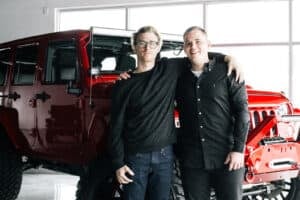 Ultimate Rides consists of two brothers who have been buying and selling custom vehicles for over ten years. Selling lifted trucks by day and writing these awesome reviews by night! They started their Ultimate Rides journey with a third brother Jake, who was a big part of building the business they have today. In 2016 Jake passed away and losing their brother was the hardest thing they ever had to deal with. Even though they had a tragic loss they plan to continue to set a new trend for the auto industry, keeping customers number one. Pushing the envelope on the lifted truck market, these guys love researching and learning about everything in the auto industry!
 — Nick and Alex Bulanda, Founders of Ultimate Rides