Best JK Lift Kit for 35 Inch Tires (Review & Buying Guide)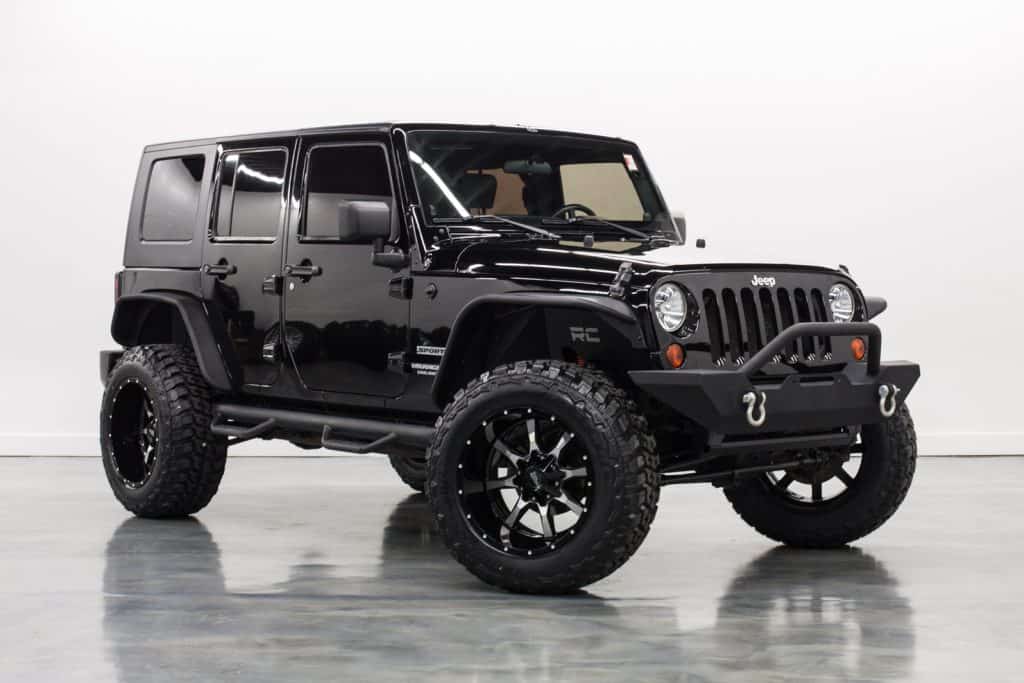 Selecting the Best JK Lift Kit for

35 Inch Tires
If you want to put 35-inch tires on your Jeep Wrangler JK, you're going to also need to install a lift kit of at least 1.75″ or more in order to get enough space. There's a lot of thought that should go into picking out a lift kit. You should consider how extensive the kit is, how it will affect your ride, the quality of the parts, the reliability of the manufacturer, and maybe even more. Some of these aspects are easy enough to figure out on your own. Others can be more difficult.
That's where we come in. At Ultimate Rides, we want our readers and customers to be as informed as possible. Here, we are going to recommend some of the best JK lift kit for 35 tires in our opinion, as well as share what we think makes a quality lift kit. Once we're through, hopefully you'll feel ready to pick out the right lift kit for your Jeep.
---
1. MotoFab Lifts 2007-2018 Jeep Wrangler JK 4WD 3″ Front and Rear Lift Kit with Shock Extenders (B07KN97ZMC)
MotoFab Lifts is one of the most popular brands around that sells lift kits, and for good reason. They make quality products that customers love, and they are usually pretty easy to install for those who know what they're doing. This set of three-inch spacers will be enough to install some awesome 35-inch tires onto your Wrangler, allowing you to drive around install both on the road and off.
These spacers are made from high-grade steel and includes a lifetime warranty for customers. It is important to note that these spacers will only fit on Jeep Wrangler JK 4WD models from 2007 through 2018, though it does work on both the JK and JK Unlimited. Overall, the kit includes two front coil spacers, two rear coil spacers, two front shock extenders, two rear shock extenders, brake line brackets, and all the required hardware to install. In our opinion, it is one of if not the best JK lift kit for 35 inch tires.
MotoFab Lifts 3 inch Front 3 inch Rear Full Lift Kit with Shock Extenders compatible with Jeep Wrangler JK
---
2. JKS Manufacturing 2007-2015 Jeep Wrangler JK Unlimited 3.5″ J Kontrol Suspension System with Geometry Kit (B01N45XHY2)
If you want a full suspension lift kit that will ensure your performance doesn't suffer, and you don't mind spending a premium for it, this is our choice for the best JK lift kit for 35 inch tires. While it only works on four door Wrangler JK models, it offers unparalleled lift and performance. This kit comes with everything you need to achieve a 3.5-inch lift without missing a step, though it can be a little bit much for novices to install on their own.
Word of mouth on this product is very high, and it comes highly regarded from experts in the field. JKS is also said to be very responsive when it comes to questions, and the included instructions are very accurate and easy to follow. If performance is a must, this kit will make sure your truck is working at its capacity.
JKS Manufacturing 07-15 Jeep Wrangler Jk 4Dr 3.5In J Kontrol Suspension System W/ Geometry Kit – JSPEC108K
---
3. TrueTwo Jeep Wrangler JK 2-2.5″ Coil Spacer Suspension Lift Kit (B00U4F1POG)
Here we have another set of coil spacers, this time from manufacturer TrueTwo. These spacers offer a more modest 2 to 2.5-inch lift if the first set of coil spacers were a little too high for you. Instead of steel, these spacers are made from lifetime grade polyurethane, which allows you to avoid metal on metal contact that can wear down over time. If installed with a set of stock isolators, this kit will increase your Wrangler's lift by 2.5 inches, and without the isolators it will raise it by 2 inches.
As with most coil spacers, installation shouldn't be too much of a concern here, though costly mistakes can still be made. We recommend following a tutorial, and if it starts to feel like you're in over your head, take the kit and your Jeep to a professional. Remember that experts recommend taking your vehicle in for an alignment any time after a lift kit is installed.
TrueTwo Jeep Wrangler JK 2.5 Inch Coil Spacer Suspension Lift Kit
---
4. Daystar Jeep JK Wrangler 1.75″ Lift Kit 2007-2017 2WD and 4WD (B001GH5OMU)
These Daystar 1.75″ spacers are a basic but strong option for those who want the best JK lift kit for 35 tires. These will give you just enough clearance to fit your chosen tires, and are made with high-quality polyurethane to last a long time. This kit also includes bump stops and rear sway bar brackets, and should have no negative effect on vehicle performance like some other kits can have. Maintaining factory ride is important, and there won't be any issues here.
Daystar is a trusted brand, and these spacers will certainly get the job done if all you need is a simple 1.75 inch lift. Installation is suitably easy, and you should be able to get in done in just a few hours with the right experience level. Though this kit might seem basic, it does exactly what it needs to do, and it's damn good at it.
Daystar, Jeep JK Wrangler 1.75″ Lift Kit, fits 2007 to 2017 2/4WD, all transmissions, KJ09137BK, Made in America
---
5. Rough Country 2.5″ Suspension Lift Kit for 2007-2018 Jeep Wrangler and Wrangler Unlimited JK (B0777YVQWL)
Rough Country is a name that causes some conflicted reactions, but with the right installation it is a reliable budget lift kit. This kit is more extensive than spacers, so if this is all relatively new to you it may be more than you want to install on your own. However, your local mechanic should be able to help you out quite easily, and you'll certainly feel the difference. It is said that the included instructions may be a little hard to follow, and that's where those useful online video tutorials should come in handy again if you do decide to install on your own.
It is important to note that this lift kit can cause very sensitive steering if the front axle is rotated, which can happen during installation. This isn't a kit that we'd recommend to first time buyers, but if you know what you're doing and expect to augment this kit with some other performance enhancing features and equipment, we think it should do well for you.
Rough Country 2.5″ Suspension Lift Kit for 07-18 Jeep Wrangler and Wrangler Unlimited JK – 635
---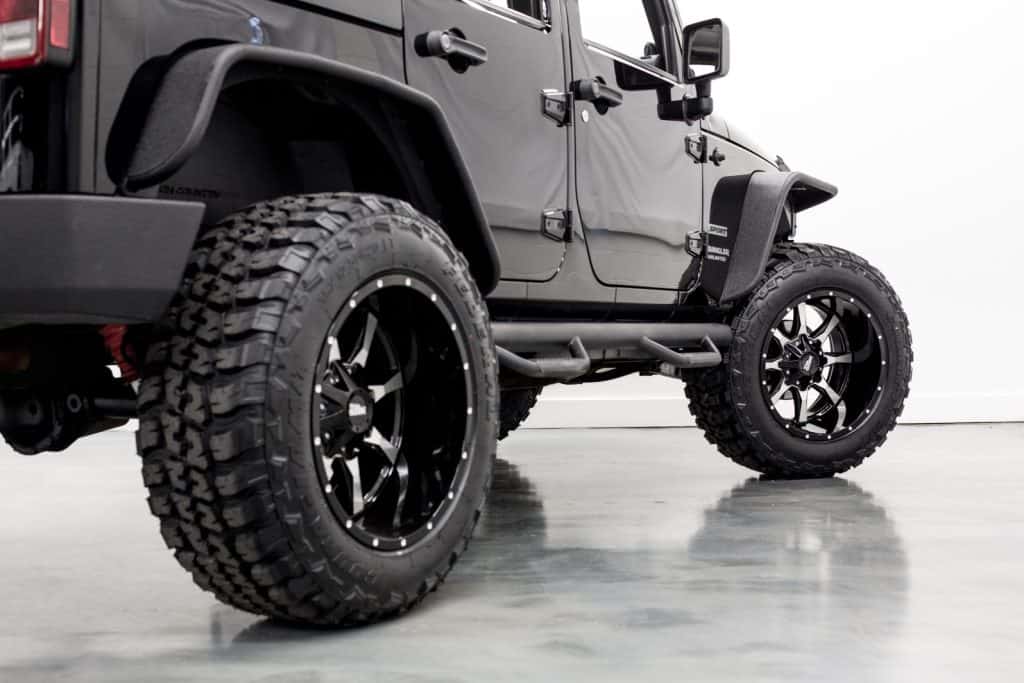 What Makes the

Best JK Lift Kit

for 35 Inch Tires
The most important thing to remember when shopping for a lift kit that will allow you to install 35-inch tires? You're going to need at least 1.75 inches of lift, front and rear. From there, your decision is going to come down to comparing a number of factors. How important is maintaining or increasing performance to you? What's your budget? These are the questions you're going to have to ask yourself.
Additionally, we recommend paying attention to the materials used in the products. These can affect your ride in different ways, as some hold up better over time compared to others. Ease of installation is another important factor to consider. Depending on your confidence and experience level, you may want to bring your Jeep into a professional for installation. You may even be able to receive your recommended vehicle alignment while you bring it in as well. If you're confident that you can install the lift kit properly on your own, it still may not be a bad idea to check out some video tutorials online to guide you through the process visually.
If you're a resident of the Chicago area, you can find Ultimate Rides about an hour south of the city. We're here to help with all your service, modification and maintenance needs, as well as sell you a vehicle the next time you need it! You can find us at 38 W. Division St. Coal City, IL 60416. You can get in touch with us over the phone at 815-634-3900.
---
Frequently Asked Questions
Q: In what ways can having larger tires affect my Jeep's performance?
A: Larger tires means not only more mass for the engine to propel, but each tire rotation takes more engine than it normally would. That means that putting larger tires on your Jeep will result in more exertion from the engine, which may or may not be an issue for you depending on your specific engine and your performance requirements.
Q: Why is it recommended to get a vehicle alignment after a lift kit installation?
A: Once your Jeep settles into its new suspension, your vehicle's alignment can and likely will shift. That just needs to be adjusted by your mechanic, and it is a simple and regular job. Be sure not to skip over this, as it can cause serious issues if unattended to!
---
Two Brothers With a Dream

, 

Building The Best Ultimate Rides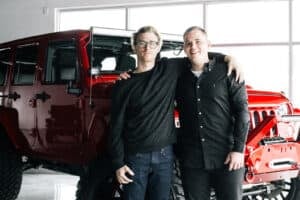 Ultimate Rides consists of two brothers who have been buying and selling custom vehicles for over ten years. Selling lifted trucks by day and writing these awesome reviews by night! They started their Ultimate Rides journey with a third brother Jake, who was a big part of building the business they have today. In 2016 Jake passed away and losing their brother was the hardest thing they ever had to deal with. Even though they had a tragic loss they plan to continue to set a new trend for the auto industry, keeping customers number one. Pushing the envelope on the lifted truck market, these guys love researching and learning about everything in the auto industry!
 — Nick and Alex Bulanda, Founders of Ultimate Rides