Top 10 Best Leveling Kit for F150
Finding the Best Leveling Kit for

F150 Trucks
In their factory state, many trucks have an unattractive and annoying tilt in their suspension, and it's not hard to notice. If you are one of the many people who want to fix this, you've come to the right place. Today's guide is going to help you pick out the best leveling kit for F150 trucks, so you can finally fix the look of your truck. Installing a leveling kit is a fairly basic job for someone who knows the ins and outs of a truck, so this is often an issue you can take care of at home with a set of jacks and a basic kit of tools. However, for those who are unsure of their mechanical abilities, you can also feel free to take your truck to a place just like Ultimate Rides for installation.
One of the more difficult aspects of choosing a leveling kit is finding the right product. There are tons of options available, but they don't all offer the same level of quality. Today we are going to show off some of our favorite leveling kits that can be found for the F150. Make sure to pay close attention to the model year and whether it is for 2WD or 4WD models to ensure it fits with your Ford F-series truck. If it does, feel free to order it and get ready to install it on your ride!
---
1. WULF 3″ Front 2″ Rear Kit with Rear Shocks and Control Arms
Compatibility: 2004-2020 Ford F150 4X4
Our first level kit comes from WULF Suspensions, and it's an excellent choice for those who want to level their vehicle and raise it up at the same time. It features a high-quality strut spacers and blocks system, ensuring an even look for your pickup truck. These kits are some of the best out there in this price range, and they include a pair of WULF shocks as well as all the hardware you'll need for installation. Depending on your experience level, you may be able to install the kit at home, or you may need to seek professional installation for your new leveling setup. Whichever you decide, you'll be in good shape if you choose to do it with one of these kits from an industry leader.
---
2. Freedom OffRoad 3" Front + 2" Rear Spacers and Control Arms
Compatibility: 2004-2018 Ford F150
The next choice on our list is another lift kit that will also help in leveling out your truck if the measurements are right. Once again, you'll find this is three inches in the front and two in the rear, which is the most common offering out there. If your measures out to be an inch lower than the rear of the truck, this is a great kit to level out your ride. These kits include a set of control arms, as well as extended U-bolts for your new setup. The control arms even feature a hassle-free lifetime warranty, with the company replacing them if you run into any problems. We're confident this kit will serve you well, just as long as you receive reliable installation.
---
3. MotoFab Lifts 2″ Front Leveling Lift Kit
Compatibility: 2004-2021 Ford F150
MotoFab Lifts is one of our favorite budget lift and leveling kit manufacturers here at Ultimate Rides. With this product, you can find an affordable option that will help lift up your F150 and keep it running as smooth as ever. These spacers lift up the front of your suspension by two inches, easily getting rid of any suspension sag that has been plaguing you. In our opinion, this is maybe the best available leveling kit for 2o15 F150.
These strong and durable parts will be sure to last a very long time, and they will fit on both 2WD and 4WD F150 trucks from 2004 up through the 2019 model year. The spacers are made in the United States, and feature a lifetime warranty should anything go wrong. Installation should not be too difficult, but it is very possible to install them incorrectly and wind up with a major mistake. Make sure to carefully follow the included instructions, follow a video tutorial online, or bring them in for professional installation.
---
4. Supreme Suspensions 2″ Front Leveling Spacer Kit
Compatibility: 2004-2022 Ford F150
Another one of our favorite lift and leveling kit brands is Supreme Suspensions, and here is an alternative to our first set of spacers. They also raise up your front suspension by two inches, and are made with very high-quality materials. What material a part is made out of has a big factor on how well it holds up over time, as well as how good it is at what it is meant to be doing. That should be a major consideration when you're shopping for any part.
As with most spacer leveling kits, there should be no noticeable affect on the way your vehicle drives. Of course, you should always make sure to get an alignment after installing any kit, as the process causes your steering alignment to shift in most cases. Overall, we highly recommend these top two products to anybody looking for an easy and reliable fix for uneven suspension. Just make sure two inches of lift is what you need before buying!
---
5. MotoFab Lifts 2.5″ Front Leveling Lift Kits
Compatibility: 2004-2018 Ford F150
Need a little bit more of a boost on your front end? This is just the thing for you, and is another one of the great leveling kits available for 2o15 F150 trucks. Manufactured by MotoFab Lifts, this kit features all of the same excellent features as its counterpart we mentioned before. That includes the lifetime warranty, durable parts and compatibility with F150 trucks from 2004 to 2019 with both 2WD and 4WD.
One of the only negative aspects of this product mentioned in customer reviews has to do with the included instructions. It is noted that they could be more specific, but for this problem we recommend viewing one of the many video tutorials that can be found online. Remember that you can always get help with installation by taking your truck in to a professional to avoid problems later on.
---
6. Supreme Suspensions 2.5″ Front Lift Aircraft Billet Strut Spacers Kit
Compatibility: 2004-2022 Ford F150
Another set of 2.5-inch front spacers, this kit from Supreme Suspension is a good choice for drastic front suspension sag. Some drivers also use kits like these to achieve a squatted look for their vehicle, but that may be controversial and even illegal in certain states. However, as a standard leveling kit, you can't go wrong here. The manufacturer is consistently reliable, and you can count on them for accessories beyond just spacer kits. This leveling setup fits on a wide range of F150 trucks, so as long as the measurements are suitable and you drive one of the compatible vehicles, you should be able to confidently choose this kit. Let us know if you need any help with installation!
---
7. WULF 1-3″ Front 1.5″ Rear Leveling Lift Kits with Shocks
Compatibility: 1997-2003 Ford F150 4X4
With our next product, we've got another recommendation that comes from WULF Suspensions. The benefit of this leveling kit is the ability to adjust the front end anywhere between one and three inches. This allows you to get your leveling just right, rather than being stuck to a specific number of inches. These kits also include four WULF shocks, as well as the required hardware. Make sure to note that they only fit on four-wheel drive models of the truck, and older ones at that. If you've kept your pickup running this long, it could be time for an upgrade. These front and rear leveling blocks and spacers could do the trick. Just make sure to choose the right team to install them!
---
8. KSP 2" Rear Leveling Block Kit
Compatibility: 2004-2022 Ford F150
Moving on to something a little different, we have two-inch rear blocks for those whose suspension is sagging in the rear. These blocks will fit on F150 trucks from 2004 through 2017. The parts included in this kit are made with very strong materials, using laser precision to ensure accuracy. Reviews from customers seem to rave about this product, as installation is easy as can be with fantastic results.
Suspension issues are something nobody wants to live with, and you can fix it with just a few simple parts, all available in this kit. While rear suspension sagging isn't as common as a tilt towards the front end, it is still a problem, and these blocks will even everything out for you. The kit comes with a set of blocks as well as the required U-bolts, and all for a great price.
---
9. KSP 3" Rear Leveling Lift Blocks with Extra Long Square Leaf Spring Axle U Bolts
Compatibility: 2004-2019 Ford F150
Need a significant boost to the rear of your vehicle? This body lift will offer a three-inch boost, enough to solve most problems with leveling. The kit is basic but affordable, and relatively easy to install for most enthusiasts with a solid amount of experience. The manufacturer has a 30-day refund policy if you're not happy, and they offer a 24-month replacement part service. The blocks are designed to last for a long time, powder-coated to prevent rust and more. With all that information, we hope you'll feel confident installing these in your truck sometime soon.
---
10. ReadyLift 66-2051 1.5″ Rear Block Kit
Compatibility: 2004-2020 Ford F150
Whether your truck has naturally sagging rear suspension, or a front leveling kit has raised things just a bit too much, these rear blocks should do the trick. This kit includes two rear blocks, four U-bolts, as well as all the other nuts and bolts you will need for installation. Along with the other items available on our list, this kit is made with quality materials, which is always important when you're dealing with any part of your truck.
This kit is set apart because of its use of safer cast-in-center pins rather than pressed in pins. It also features OEM-style bump stop landings, and should be just as easy to install as the other choices we've recommended. There's no doubt this is one of the better leveling kits for F150 trucks out there. Just make sure to measure out your suspension to decide if this is the right fit for you.
---
What to Look For in a

Ford F150 Leveling Kit
When out shopping for the right leveling kit for F150 trucks, we have some things we want to suggest you keep in mind. First, before looking at kits, measure your vehicle's current suspension in the front and back. This will tell you if you're dealing with uneven suspension, and how much of a lift you'll need on each end. Now that you know exactly what you need, you can start looking at kits. Make sure to only buy a leveling kit that will fit your exact truck, including the make, model, model year and configuration (2WD or 4WD).
Once you've narrowed all of that down, it's time to start comparing brands. What you mainly want to look for are brands with great customer reviews. That is always a good gauge for whether a product is going to serve you well or not. Also be sure to pay attention to the materials it is made out of, as some are certainly stronger than others. For our money, we think the listed products are some of the optimal choices you have for a leveling kit for F150 trucks. There are other companies out there that can offer an excellent leveling kit, so be sure to do your research to find the best option.
Best Brands for
Leveling Kits
As you've likely been able to tell, there are many different brands available that offer leveling kits for a Ford truck. Some are better than others, but you can typically rely on all the options presented here on our list. Though they don't have a presence on our list, Rough Country is one brand to keep an eye out for when it comes to lift kits. They offer high-quality products that still fall into the affordable range. The only catch is that they don't have a leveling kit focus, instead primarily selling full lift kits.
Out of the options that do place a focus on keeping your truck level, Supreme Suspensions is one of our favorites. Their products aren't too expensive, but they offer reliable parts that you'll be able to trust. Another favorite is WULF, which occupies the top spot on our list. Just like Supreme Suspensions, you'll find that their kits won't cost you an arm and a leg, but will still do a fine job to level out your truck. Outside of these companies, you can still find plenty of great kits, so just keep an eye out and always feel free to ask a professional for their take on a product.
Installing a Level Kit on
Your Vehicle
Once you have your desired leveling kit, the time comes to start thinking about installation. For many drivers, it's not too difficult a job for you to accomplish this at home. If you're confident in your skills as a basic mechanic, you'll just need to check out a tutorial online, and it will instruct you on how to safely and correctly install your chosen product. Just be sure to do a lot of research ahead of time, ensuring you don't get lost or stuck in the middle of the installation process.
If you're not fully confident in your ability to install your own level setup, don't be ashamed to get in touch with a team of experts to handle it for you. Those of you in the greater Chicago area can feel free to count on Ultimate Rides for assistance. Otherwise, it shouldn't be too hard to find a reliable team of mechanics in your area to help out. Look around online, ask family and friends for recommendations, and get in touch with different shops to ask questions. It won't be long before you're able to get on the road in your awesome Ford truck that looks better than ever.
If you've got any other questions or concerns, Ultimate Rides is here to help. We do lift and leveling kit installations as well as sell parts, vehicles and perform other services and maintenance. If you'd like to come visit us, you can find us at 38 W. Division St. Coal City, IL 60416. You can also reach us over the phone at 815-634-3900.
---
Frequently Asked Questions
Q: What is the difference between a lift kit and a leveling kit?
A: While technically leveling kits are a type of lift kit, generally lift kits are meant to increase the overall suspension of a vehicle. Leveling kits are instead meant to simply even out existing suspension with an additional piece of equipment. There are also leveling lift kits available that increase both the front and rear suspension by differing amounts to even them out while also providing a major boost.
Q: Will a leveling kit have an effect on the performance of my truck?
A: Generally, no, but there is always a chance of that happening especially with a mistake during installation. It is recommended that unless you know very well what you're doing that you bring a lift or leveling kit to a professional for installation if you want your ride to be unaffected. It is also always recommended that you take your truck in for an alignment once you've installed the kit.
Q: Can an amateur install a leveling kit at home?
A: It depends on your overall experience level, as well as how fast you catch on. If you aren't experienced with working on trucks at all, this probably isn't going to be the easiest first job, but it's never too late to learn. There are lots of tutorials available online that show the process, so why not take a look and decide for yourself if it's something you think you can accomplish?
---
Two Brothers With a Dream, 
Building The Best Ultimate Rides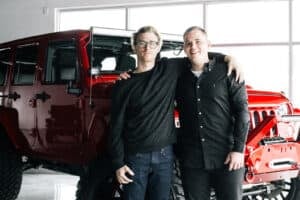 Ultimate Rides consists of two brothers who have been buying and selling vehicles for over ten years. Selling lifted trucks by day and writing these awesome reviews by night! They started their Ultimate Rides journey with a third brother Jake, who was a big part of building the business they have today. In 2016 Jake passed away and losing their brother was the hardest thing they ever had to deal with. Even though they had a tragic loss they plan to continue to set a new trend for the auto industry, keeping customers number one. Pushing the envelope on the lifted truck market, these guys love researching and learning about everything in the auto industry!
 — Nick and Alex Bulanda, Founders of Ultimate Rides