Best Lift Kit for Chevy Colorado (Review & Buying Guide)
Whether you've just purchased your truck or you have owned it for years and feel like it needs something new, a lift kit is never a bad choice. For those who have had lift kits installed before, you might already know what to look for, but every truck is a little bit different, and it can be hard to find the right kit for what you're looking for. If you're feeling a little bit overwhelmed with the amount of options at your disposal when it comes to finding the best lift kit for Chevy Colorado, we are here to help. Always do a little bit of research on your own to make sure that the kit you pick out will fit on your truck!
After our list, stick around and have a look at our buying guide. In it, we'll offer more advice on shopping for lift kits, installation, and much more. You never know, some of this information could save you from making a major mistake with your vehicle. Browse our list to find the right fit for your vehicle, making sure to pay close attention to compatibility. Once you do, our buying guide will leave you with some useful parting words. Hopefully they'll help you in your lift kit journey!
---
1. Rough Country 3.25-inch Dual Lift Kit (B00VW2Y9WU)
Rough Country is a trusted name when it comes to lift kits, and this front and rear suspension lift kit is the real deal. If you want a significant boost in your lift without sacrificing ride quality, this is the way we recommend going. This kit includes lift pucks made from fiberglass reinforced nylon, weather-resistant 0.9 grade body mount bolts, and it comes with a lifetime replacement guarantee. According to customer reviews, most folks have had no problems with installation, but if you need help, Ultimate Rides is around to assist you. It is important to keep in mind that this kit is only compatible with trucks from 2015 to 2019.
Rough Country 3.25″ Dual Lift Kit Compatible w/ 2015-2019 Chevy Colorado GMC Canyon (Gas) Body and Suspension System 924
---
2. Supreme Suspensions Full Suspension Lift Kit 2004-2012 (B00IX69WHA)
If you've got a truck that's between the model years 2004 and 2012, we've got the best lift kit for Chevy Colorado that you can find online. This will not fit on most two-wheel drive models, so 4×4 Colorado trucks only. These parts are built strong, with materials like cold-forged carbon steel, so you can bet that these will last you the lifetime of your truck. This kit includes adjustable three-inch front struts and two-inch rear lift shackles, giving you some leeway to perfect your suspension. As with any lift kit installation, if you know what you're doing it shouldn't be too difficult for you, but without the right skills and tools it can be quite an ordeal.
Supreme Suspensions – Full Lift Kit for 2004-2012 Chevy Colorado & GMC Canyon Adjustable up to 3″ Front Lift Torsion Keys + 2″ Rear Lift Shackles + Pro Performance Series Shocks PRO
---
3. Rough Country 6-inch Lift Kit Compatible w/ 2015-2019 Chevy Colorado Diesel (B07885CLFM)
Another kit from one of our favorites, Rough Country, this time we're recommending a six-inch full suspension lift kit for those who want to add some monster-sized tires to their truck. This kit includes all the pieces you'll need to get your ride lifted up a full six inches, including fabricated rear lift blocks, U-bolts, lifted N3 struts and more. This is a little bit more of an intensive job, and unless you're very confident in your skills we recommend having a professional install this kit. It is also important to note that this kit is only compatible with diesel models, and will not work with the ZR2. You'll also need aftermarket wheels, so this one is for hardcore truck aficionados only!
Rough Country 6″ Lift Kit Compatible w/ 2015-2019 Chevy Colorado GMC Canyon (Diesel) N3 Struts Shocks Suspension 24132D
---
4. WULF 1-3-inch Front 3-inch Rear Lift Kit for 2004-2012 Chevy Colorado GMC Canyon Z-71 2WD / 4WD (B07DD159H9)
If you have a Z-71 and want to get up to three inches of lift, this is your best lift kit for Chevy Colorado. The only limitation here is that it fits torsion bar suspension only and not coil spring suspension. Apart from that caveat, you've got everything you need here to get yourself a quality lift, and according to reviews installation isn't too difficult. This kit uses adjustable torsion keys and lift shackles along with extended stealth shocks to get you a nice lift without affecting your factory setup.
WULF 1-3″ Front 3″ Rear Lift Kit for 2004-2012 Chevy Colorado GMC Canyon Z-71 2/4WD (Ext WULF Shocks)
---
5. Rough Country 922 Leveling Kit 2-inch 2015-2019 Chevy Colorado Performance Suspension Spacer System (B00TADC8IA)
If all you need to do is level out your suspension, the best lift kit for Chevy Colorado for you is this Rough Country 922 two-inch leveling kit. It will work on all trucks model year 2015 and after, and features easy installation. While we love the Colorado, we hate to see uneven suspension on any truck, and this will fix that. The kit includes two upper strut spacers and two pre-load spacers, and installation shouldn't be an issue for those who know their way around the suspension of a truck.
Rough Country 922 Leveling Kit 2″ compatible w 2015-2019 Chevy Colorado GMC Canyon Performance Suspension Spacer System
---
6. Zone Offroad C9157 Body Lift Kit (B017CBTXOS)
This lift kit works on all non-diesel 2015 and beyond Colorado models, including the ZR2. The kit seems to be truly awesome, with some of the only complaints coming towards the vague and hard-to-follow instructions. It will provide you with a 1.5-inch lift and the kit comes with all the parts and hardware you'll need for installation. It's made with crush-proof body blocks and 10.9 grade body mounting hardware for maximum durability. We're confident you'll be happy with this kit.
Zone Offroad C9157 Body Lift Kit
---
7. StreetDirtTrack 2015-2019 Chevy Colorado 2-inch Front Lift Kit 2WD / 4WD Carbon Steel Strut Spacers (B07QY6GJSQ)
This front lift kit is intended to even out your suspension, and a lifetime warranty with 100% customer satisfaction. These two high-strength carbon steel strut spacers will raise up your front suspension, and should be easy to install with everyday at-home tools. Shipping is fast, the product is reliable, and it should be a relative breeze to install. With pretty competitive pricing, we think this is worthy of being listed among the best lift kit for Chevy Colorado trucks.
Fits 2015-2019 Chevy Colorado and GMC Canyon 2″ Front Lift Kit 2WD / 4WD -Street Dirt Track- Carbon Steel Strut Spacers
---
8. Supreme Suspensions 2.5-inch Front Lift Kit 2015-2019 Chevy Colorado 2WD / 4WD Front Carbon Steel Strut Spacers (B01NAFZUUK)
Another kit from Supreme Suspensions, this leveling kit functions much the same as the previous item listed, except a little bit more lift for a little bit more money. With these strut spacers, installation should be quite easy, and you can rely on Supreme Suspensions delivering a quality product when it comes to toughness and durability. The struts are made from carbon steel and specially coated to increase their resistance to elements. Despite being last on our list, we still stand by this as one of the best lift kit for Chevy Colorado you can find.
Supreme Suspensions – 2.5″ Front Lift Kit for 2015-2019 Chevy Colorado and GMC Canyon 2WD + 4WD Front Carbon Steel Strut Spacers
---
9. ReadyLift 69-3535 2015-2019 Colorado/Canyon 2WD/4WD 3.5″ SST Lift Kit (ASIN – B07PGLK4RS)
In our view, this is one of the excellent "middle-ground" kits out there. By that, we mean it's a good choice if you want to spend a decent amount of money but without diving full steam ahead into lifting your vehicle. It'll offer a high-quality 3.5-inch lift, which is certainly nothing to scoff at. With that height, you'll be able to choose a variety of larger tires and wheels for your Colorado. This kit uses smart suspension technology, ensuring you have an excellent factory-quality ride. Plus, it'll help give your truck a better stance, making it look even more formidable. There's no question this is a favorite for this generation of Colorado.
ReadyLift 69-3535 2015-19 Colorado/Canyon 2WD/4WD 3.5″ SST Lift Kit
---
10. KSP 2.75-inch Front 2-inch Rear 2015-2021 Chevy Colorado/GMC Canyon Lift Kit (ASIN – B0832TVVW1)
The final product we want to share with you today is a leveling lift kit from KSP Performance, one of the industry's leaders. Their parts are made with high-quality steel, and are built to last. They even include a five-year warranty if you do happen to have an issue. This set of spacers and blocks will help you even out your vehicle if the measurements are right for you. On top of that, it'll also give you a nice boost, providing a new look and feel for your truck. If you want to keep your budget down and don't mind a modest lift, this is a great kit to choose.
KSP 3″F+2″R Lift Kits fit Colorado Canyon 2015-2021,True Lift 2.75inch of the Front Strut Spacers 2in of the Rear Lift Block
---
Lift Kit for Chevy Colorado

Buying Guide
How are you feeling now that you've had a chance to look over these options? We hope you were able to find a lift kit that matches your needs and the specifications of your truck. However, we realize that there's a lot of variance out there. It's very possible that there's a kind of lift kit you need that wasn't available on our list. If you need to keep shopping around, we've put together this buying guide to offer some helpful advice. Take a look and keep this knowledge with you as you go through the process of buying and installing a lift kit! Let's start by talking about the most important factors to consider in a lift kit.
Factors of Focus: Choosing the

Best Option
Strength/Durability: Nobody wants to spend a bunch of money on a lift kit only for it to fail on you in a few years. Instead, you want to keep your eye out for a set that's going to last for a long time to come. Look for high-quality steel and other reliable materials when you're shopping. If a manufacturer doesn't list what their product is made out of, that could be a sign to watch out for. Do your research to find the best products available for your truck.
Size: You should carefully consider what size lift kit you're looking for when you shop. Do you want a flat three-inch lift, or are you in need of a leveling kit? By planning out what you need ahead of time, you can make sure you know exactly what you're looking for as you shop. If there's a specific set of tire size you want to go with, find out how much of a lift you need to get there. If you want to avoid mistakenly buying the wrong product, it's never a bad idea to form a plan of what you're buying.
Compatibility: Not all lift kits will fit on all Colorado models. Even within model years, there are often some configurations that won't work with some kits. It always pays off to look closely at what models a given lift kit does or does not fit on. Match that up with your vehicle to make sure you choose a lift kit that you can actually use. You'll save yourself a lot of time, energy and possibly money by doing this.
Lift Kit for Chevy Colorado

Installation Tips
Unless you are an experienced at-home mechanic with your own garage and the right equipment, we don't necessarily recommend installing a lift kit on your own. Some easier lift kits, like a few included on this list, may be possible to do without tons of gear. However, if you're not fully confident in your skills, you're taking a chance of making a mistake that could cost you later.
If you do decide to attempt installation at home, make sure you do plenty of research. There are guides you can read online, as well as video tutorials that will walk you through the process. If you're trying to decide if this is a good decision, these can be a helpful tool. Make sure to bring your vehicle in for a steering alignment after you install the lift kit. This is an important safety step that you don't want to ignore.
Final

Thoughts
We hope that this guide winds up being useful for your lift kit shopping. If you decide you want some professional help on installation and you're located near Chicago, check out Ultimate Rides! We offer hassle-free reliable installation for all custom accessories and much more. Give us a call at 815-634-3900, or stop by our office at 38 W. Division St., Coal City, IL 60416.
---
Two Brothers With a Dream

,

Building The Best Ultimate Rides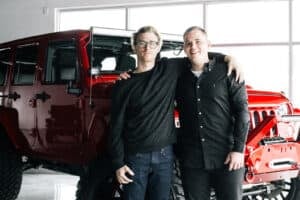 Ultimate Rides consists of two brothers who have been buying and selling custom vehicles for over ten years. Selling lifted trucks by day and writing these awesome reviews by night! They started their Ultimate Rides journey with a third brother Jake, who was a big part of building the business they have today. In 2016 Jake passed away and losing their brother was the hardest thing they ever had to deal with. Even though they had a tragic loss they plan to continue to set a new trend for the auto industry, keeping customers number one. Pushing the envelope on the lifted truck market, these guys love researching and learning about everything in the auto industry!
 — Nick and Alex Bulanda, Founders of Ultimate Rides