Best Lift Kit Ford Raptor (Review & Buying Guide)
Finding the Best Lift Kit
Ford Raptor
If performance is at the top of your list of needs from your truck, the Ford Raptor is a strong choice. The Raptor isn't a single truck, but it instead refers to a line of Ford trucks designed for high-octane off-road performance. Here at Ultimate Rides, you could find your very own Ford Raptor waiting for you, complete with upgrades like a lift kit. However, if you already have your own Ford Raptor and want to find a lift kit to install, the process can sometimes be a little bit intimidating.
There are countless lift kits available, but separating the good from the bad takes time and expertise. Additionally, it can even be a pain to try and find the right match for your individual vehicle. Because of all that, we've compiled this guide to help our readers. Start out by looking through our list below. It features our picks for the best lift kit Ford Raptor drivers can find. After that, you'll find our buying guide. In that section, we'll go over how we decided on our list, telling you what factors to look for as you shop. We'll also tell you more about customizing your Ford Raptor pickup truck, and how Ultimate Rides may be able to help you now or in the future. Go ahead and get started, and contact us if you have any questions.
Note: Please pay close attention to compatibility notes as you shop for a lift kit. The Raptor is a trim level of the Ford F-150 as well as the Ford Ranger, and soon to be the Ford Bronco as well. Make sure to know what model and model year your vehicle is before purchasing a kit.
---
1. ReadyLift 69-2755 2.5" SST Lift Kit for Ford Raptor
Compatibility: 2017-2020 Ford Raptor 4WD
In our experience as lift kit experts, ReadyLift is one of the top consumer options out there. They offer many of the best lift kit Ford Raptor, including this first recommendation. It's the only kit on our list designed specifically for the Ford Raptor. The rest are all suited to either the F150 or Ranger in general, which should include the Raptor. This item, however, is tailor-made for your vehicle as long as it fits within the compatibility range.
It's a spacer lift kit, which means it's a good option for beginners. Suspension lift kits are the higher-quality alternative, but they can get quite pricy and are very difficult to install at home. This is instead a great choice for someone looking to dip their toes into the lifted lifestyle. The product features high-quality construction, and the customer service team over at ReadyLift can be counted on for assistance. Check this kit out. If it fits and feels right, try it out for your truck today!
Readylift 69-2755 ReadyLift 2.5" SST Lift Kit for Raptor Ford
---
2. Rough Country 6″ Suspension Lift Kit
Compatibility: 2015-2020 Ford F150 4WD
If you want the best lift kit Ford Raptor drivers can own, we would recommend a suspension lift. The truck is to find the one that fits your truck. If your Ford Raptor is a 4WD F150 from 2015 through 2020, this option is a great choice for you. Rough Country is another one of the top manufacturers in the field. Their products are great, and continue to improve.
This lift kit in particular is a dominant six-inch lift kit for the Ford F150. The kit is full of different well-made parts, and that means three things for you. First, it will offer a really high-quality look and feel for your truck. Second, it's going to be a true pain to try and install on your own. Third, it's not going to be cheap. As long as you understand and are okay with all of those things, this kit could very well be the one for you. Make sure to make installation plans and then feel free to order the kit when you're ready!
Rough Country 6″ Suspension Lift Kit for 2015-2020 Ford F-150 4WD – 55730
---
3. Rough Country 4″ Ford F150 Lift Kit w/N3 Struts
Compatibility: 2015-2020 Ford F150 4WD
Up next, we have another kit from Rough Country to recommend. It's for the same compatibility range of vehicles, but offers a little bit less height for your truck, making it a good choice for those who don't want to take the full plunge just yet. Four inches is still a lot of lift for a vehicle, and this kit does it right. It includes a set of N3 shocks, helping provide quality performance for your truck. The kit even offers a lifetime limited warranty, backed by Rough Country, there if anything should go wrong.
Rough Country 4″ Lift Kit w/N3 Struts for 2015-2020 Ford F-150 4WD – 55531
---
4. Rough Country 3″ Ford F150 Lift Kit w/N3 Struts
Compatibility: 2014-2020 Ford F150 4WD
The next option on our list covers a similar range of F150 trucks, and is another reduction in size for you to consider. Not everyone wants to go with a massive lift for their truck, and this is a nice in-between step for drivers. You'll still notice a strong difference, but it won't be as monumental as some of the other larger kits out there. Check this model out and see if it could be the right choice for your Ford Raptor truck.
Rough Country 3″ Lift Kit w/N3 Struts for 2014-2020 Ford F-150 4WD – 54531
---
5. AKM F150 3″ Front and 2″ Rear Leveling Lift Kit
Compatibility: 2004-2022 Ford F150
Spacer lift kits are usually much more affordable, and are easier to deal with when it comes to compatibility. They don't offer the same level of quality as a suspension lift kit, but that doesn't mean they aren't the right choice for some driver. This is another one of our favorite spacer kits you can buy for a Ford F150 Raptor. It's a leveling lift kit, meaning it'll raise the front end up a little bit higher than the rear. This should hopefully even out your truck, giving it a nice look.
AKM F150 Lift Kit 3″ Front and 2″ Rear Leveling Lift Kit for 2004-2022 Ford F150 4WD 2WD
---
6. ReadyLift 69-2930 Ford Ranger 3″ SST Lift Kit
Compatibility: 2019-2021 Ford Ranger
The final option on our list is a match for the Ford Ranger. It's another truck that includes a Raptor variation, and it's a great way to get a lot of performance out of a smaller pickup truck. There are actually many advantages to driving the Ranger, and that goes even further with the right lift kit. This option from ReadyLift is another great choice to consider. It's another spacer lift kit, so keep your performance expectations in line with your budget. However, if you're simply looking to try something new out, we think you'll love what this kit has to offer.
ReadyLift 69-2930 2019 Ford Ranger 3.0″ SST Lift Kit
---
Best Lift Kit Ford Raptor
Buying Guide
Before you head out, take a look through our brief buying guide. You can find out some more useful details that could help as you shop for the best lift kit Ford Raptor. Start off in our Factors of Focus section before moving on to read about some expectations when it comes to lifted trucks. After that, we'll wrap up by telling you more about Ultimate Rides.
Factors of Focus: Choosing a Lift Kit for Your
Ford Raptor
When shopping for a lift kit, first and foremost you want to find a product that fits on your truck. Each kit is designed to fit only on a specific range of a certain model of trucks. Make sure to do your research so you know exactly what you need to buy. After that, you'll need to think about the quality and price of the kit. Ideally you want to find the best lift kit Ford Raptor that fits within your budget. Take a look at customer reviews for a product as well as some thoughts from professionals. This should help you decide what kit is the one for you and your vehicle.
Driving a Lifted Ford Raptor:
What to Expect
As soon as you begin driving a lifted truck, you'll notice a number of differences in the experience. You're higher up off the ground, which provides a different feel. On top of that, your truck will have some changes in performance. Your center of gravity is higher, so make sure to take those sharp turns slowly. You'll have enhanced off-road performance, especially with the right set of tires. Contact our team to find out how else to properly outfit your truck for action.
Choose Ultimate Rides for
Your Next Truck
Ultimate Rides is your destination for custom trucks, including the Ford Raptor. We have a huge inventory ready to ship out across the nation. Just give us a call and we'll tell you how we can provide you with an amazing truck custom-built to your specifications, delivered right to your home. If you live in the Chicago area, you can even bring your vehicle to us for upgrades, repairs and maintenance! Visit Ultimate Rides at 38 W. Division St., Coal City, IL 60416, or call us today at 815-634-3900.
---
Two Brothers With a Dream

,

Building The Best Ultimate Rides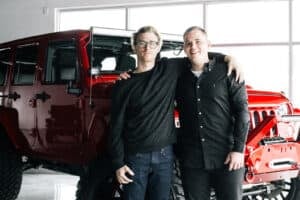 Ultimate Rides consists of two brothers who have been buying and selling custom vehicles for over ten years. Selling lifted trucks by day and writing these awesome reviews by night! They started their Ultimate Rides journey with a third brother Jake, who was a big part of building the business they have today. In 2016 Jake passed away and losing their brother was the hardest thing they ever had to deal with. Even though they had a tragic loss they plan to continue to set a new trend for the auto industry, keeping customers number one. Pushing the envelope on the lifted truck market, these guys love researching and learning about everything in the auto industry!
 — Nick and Alex Bulanda, Founders of Ultimate Rides