Best Mud Tires for Snow (Review & Buying Guide)
Finding the Best

Mud Tires for Snow
Are you in search of a set of mud tires that will work well for you in the snow? They are not always easy to find. If you don't choose the right set, you could find yourself getting stuck in the snow more often than you'd like. The trick is finding a set of tires that offer the right traction for slick situations, and that can force mud out of the treads.
Below you'll find a list that features, in our opinion, the best mud tires for snow. Be sure to pay close attention to the tire code, making sure you pick a sizes that matches your truck. Additionally, keep in mind that each entry on this list is for one tire only, not a whole set. Make sure to plan accordingly!
You can always count on Ultimate Rides for tire installation. If you live in the greater Chicago area, you'll find that we're only about an hour south of the city. We can set your vehicle up with custom tires, wheels, and so much more. Give us a call for details, and read through our buying guide for more information on picking out the right tires.
---
1. Thunderer Trac Grip M/T Radial Tire (ASIN – B01G2K6IZ2)
Tire Code: 245/75R 16 116Q
If we had to pick one set of mud tires to handle snow, it's the Thunderer Trac Grip M/T. Like any mud tire, it's suited for off-road action rather than spending time on the highway. It will be able to find plenty of traction even in snow and icy conditions. The tires are also very affordable, and not difficult to balance. They have top-notch customer ratings, and can be found in a variety of sizes. Overall, it's hard to think of many negative aspects of this product. That's why we consider these the best mud tires for snow. Pick up a set and install them on your truck to see what we mean. You should be quite happy with the final results.
245X75R16 (31X10.00R16) THUNDERER TRAC GRIP M/T R408 BSW – THUNDERER TIRE
---
2. Cooper Evolution M/T All-Season Tire (ASIN – B07RZGG6GB)
Tire Code: 265/75R 16 123Q
Cooper is a brand name that you should recognize. They've been leaders in the tire industry for a long time now, and this set is a great option for drivers looking for something to use in the snow. The tires are Mud + Snow rated, which is a designation that means the tread pattern was designed for use in snow and mud. While there are tires that offer better highway performance, this is an excellent contender for being the best mud tires for snow. They offer great traction, and don't have a tread pattern that invites snow. Customers have had good experience using these tires in rough weather, and you should be able to rely on them for awhile before they need to be replaced.
Cooper Evolution M/T All-Season LT265/75R16 123/120Q Tire
---
3. Mastercraft Courser MXT Mud Terrain Radial Tire (ASIN – B00MY0QZHG)
Tire Code: 275/65R 18 123Q
Another choice for drivers anticipating snow is the Mastercraft Courser MXT. It features a design that helps repel snow, and grabs great traction on any rough land. Yes, they are noisy on the road. However, that's going to likely be an issue with any set of mud tires that you buy. As long as you're okay with that, you'll find excellent mud performance with these tires. Their design works great at keeping snow out of the treads. The tires even look awesome. While that might not be as important as performance, it can still play a factor in whether you want to buy. Overall, we love these tires, and we're pretty confident that you will too.
Mastercraft Courser MXT Mud Terrain Radial Tire – 275/65R18 123Q
---
4. Forceum M/T Plus Mud Tire (ASIN – B07N2GPLBS)
Tire Code: 235/75R 15 104Q
This tire from Forceum has plenty of reviews where customers laud its snow performance. It features a tread that is designed to repel and push snow out as well as mud. Despite being a cheaper tire compared to many other options, they offer a surprising degree of quality. Like most other mud tires you'll find out there, they do make quite a bit of noise on the road. However if you use them primarily for mud driving, that shouldn't be too much of an issue for you. They offer a desirable combination of traction, control and impressive mileage. For all those reasons, we'd encourage you to try them out on your truck the next time you head off-road.
Forceum M/T 08 Plus Mud Tire – LT235/75R15 104/101Q C (6 Ply)
---
5. Falken Wildpeak AT3W all_ Terrain Radial Tire (ASIN – B01C8Z89V6)
Tire Code: 265/70R 17 121S
The final tire we have to share may not actually be a mud tire (it's an all-terrain tire instead), but it offers great performance in the mud and with snow. It comes from Falken, and it's their Wildpeak AT3W. This has great reviews from customers on websites like Amazon as well as message boards around the internet. It even does great on the road. If there was one all-purpose tire we'd recommend, it would probably be this one. Check it out and decide if it is right for your current driving situation. If you're dealing with a mix of scenarios, this could be just what you need.
Falken Wildpeak AT3W all_ Terrain Radial Tire-265/70R17 121S
---
Best Mud Tires for Snow

Buying Guide
Did our list provide you with a tire that you think could work for your situation? We encourage you to do even more research to make sure you find the best mud tires for snow driving. In the rest of this buying guide, we'll tell you about what factors we believe are important for these kinds of tires. We'll also be able to provide some details on the installation process. Lastly, we'll send you off with some information on Ultimate Rides and how we may be able to help you.
Factors of Focus: Which Tires are Right for Your Situation?
Mud tires don't have the best reputation for handling snow. However, that is not true across the board. The challenge is to find a set of mud tires that will actually work in snowy situations. That's exactly what we've tried to offer on our list. But what factors ensure that these tires are the best mud tires for snow?
The most important thing that they need to offer is traction on wet surfaces. Whether it's road or mud, your tires can't be slipping around in the snow. Mud tires can usually be counted on for this. Where many mud tires fail, though, is in the treads. Snow can often get stuck in treads, so you need to find a design that naturally pushes out snow. That's what each of these tires has to offer, and it's where many others fail.
Installing New Tires
Picking out and buying your next tires is one thing. Actually getting them onto your truck is a whole other problem. If you don't have the right tools and workspace, this can be a real hassle. We'd recommend opting for professional installation for your next tires. However, if you have everything you need, and the right knowledge, it should only take an hour or so of your time. If you've never done it before, you can expect it to take longer. Check out a video tutorial online that will show you how it's done. Then you'll know what to do when the time comes, and you can get the tires on like you've done it before!
Ultimate Rides Can Help You Upgrade Your Ride Today
When the time comes for you to shop for your next vehicle, we hope you'll check out the inventory at Ultimate Rides. We have a huge selection of custom trucks, SUVs and cars ready for you right now. We offer delivery for drivers all across the United States, and you'll have the opportunity to customize the vehicle exactly the way you want. Give our office a call at 815-634-3900 to learn more, or feel free to visit us at 38 W. Division St., Coal City, IL 60416 if you're ever in the area.
---
Two Brothers With a Dream

,

Building The Best Ultimate Rides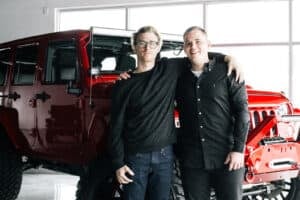 Ultimate Rides consists of two brothers who have been buying and selling custom vehicles for over ten years. Selling lifted trucks by day and writing these awesome reviews by night! They started their Ultimate Rides journey with a third brother Jake, who was a big part of building the business they have today. In 2016 Jake passed away and losing their brother was the hardest thing they ever had to deal with. Even though they had a tragic loss they plan to continue to set a new trend for the auto industry, keeping customers number one. Pushing the envelope on the lifted truck market, these guys love researching and learning about everything in the auto industry!
 — Nick and Alex Bulanda, Founders of Ultimate Rides