Choose the Best Off Road Tire for Daily Driving (Review & Buying Guide)
Tracking Down the Best Off Road Tire for

Daily Driving
A new set of tires can do a quite a bit to improve pickup truck performance. Even more importantly, they can help you cater your vehicle to your needs. If you want a set of off road tires that will also serve great as daily driving tires, we've put together this guide just for you. In it, you'll find some of our suggestions for the best off road tire for daily driving. Our list will give you a little bit of information for each tire, as well as the size measurements provided by the product page.
After you go through our list, you will find our buying guide. Here we offer up some more details on choosing the right tire for your situation. Additionally, we will be able to tell you a little bit more about Ultimate Rides, and have some tips for installation. It's important to balance your off road needs with what you'll be doing on a daily basis. However excited you are to head off road on the weekend, you also don't want to forget about your time on the road.
Before you begin, be aware that the tire size information is not in a consistent format from product to product. Some tires may tell you their size in inches while others use other units such as millimeters. You'll find a little more on how to read tire codes later in our buying guide. For now, good luck on your search!
---
1. Falken Wildpeak A/T3W all_ Terrain Radial Tire (ASIN – B07JLJ552W)
Specs: LT285/65R20 124/127R
The first tire we'd recommend to our customers looking for the best off road tire for daily driving is the Falken Wildpeak A/T3W. At Ultimate Rides, this is a tire that sees quite a bit of action on our end. It offers excellent versatility, ensuring your ride isn't too loud when you're on the road but you still have plenty of control off of it. These tires are stable, will last quite a long time, and offer a smooth ride that you'll be sure to love. While there are certainly cheaper options out there, these are some of the best quality tires you can find. Just make sure you pick out the right size for your truck!
Falken Wildpeak A/T3W all_ Terrain Radial Tire-LT285/65R20 127R
---
2. BFGoodrich All Terrain T/A KO2 Radial Tire (ASIN – B00QJ6XX3K)
Specs: LT275/60R20/D 119/116S
The next tire we want to share with you comes from a household name brand, BFGoodrich. They've been in the tire business for a very long time, and you can just about always count on them for excellent quality. These all terrain tires will ensure you have all the support you need on the road. At the same time, you'll also be able to leave the paved road at a moment's notice and be ready to go. Customers have great things to say, and we're confident these tires will serve you well in many different situations.
BFGoodrich All Terrain T/A KO2 Radial Car Tire for Light Trucks, SUVs, and Crossovers, LT275/60R20/D 119/116S
---
3. Goodyear Tires Wrangler Trailrunner All Terrain Radial Tire (ASIN – B08CVRLP1J)
Specs: 235/75R15 105S
Are you a fan of Goodyear? These Wrangler Trailrunner tires are an excellent choice for pickup trucks. They're among the most affordable all terrain tires out there, and you won't really be sacrificing too much quality in order to get such a great deal. While there are some options out there that can offer slightly better performance, this is the tire to go with if you're on a little bit of a tighter budget. They are still fantastic tires, and you won't have to shell out an arm and a leg just to get a full set.
Goodyear Tires WRANGLER TRAILRUNNER AT 235/75R15 Tire – All Season, All Terrain/Off Road/Mud
---
4. Mastercraft Courser AXT2 All-Terrain Tire (ASIN – B07VBT751V)
Specs: LT285/75R16 126R
Next up we have a sleek and stylish tire that comes to us from Mastercraft. It offers all-terrain performance that won't let you down on the highway. The tire isn't too loud, and you'll find it handles like a dream. The tire comes with 55,000 mile treadwear protection, ensuring you'll get plenty of life out of the set. They're mid-range when it comes to price, but near the top of the list when it comes to quality.
Mastercraft Courser AXT2 All-Terrain Tire – LT285/75R16 10ply
---
5. Toyo OPEN COUNTRY R/T All Terrain Radial Tire (ASIN – B016QR8M4Q)
Specs: 33/12.5R20 114Q
The final tire we'd like to share with you before our buying guide comes from Toyo, and it is a contender for the best off road tire for daily driving. You'll get plenty of heavy-duty performance from this tire, as well as a noticeable lack of road noise that helps make it a favorite for drivers. This particular model offers rough treads like you'd find in a mud tire, but still functions great on highways and city roads. You'll be glad to have these on your truck no matter where you find yourself.
Toyo OPEN COUNTRY R/T All Terrain Radial Tire – 33/12.5R20 114Q
---
Best Off Road Tire for Daily Driving

Buying Guide
There are a number of important steps you should take to get your truck ready for off road action. There's no doubt that the right set of tires should be at or near the top of that list. However, if you plan to keep using your truck for daily driving as well, you need to find the right tires to strike a balance between both uses.
Hopefully our list was able to provide you with some options to get started. However, if you think you need to keep looking, our buying guide should have some useful advice for you. We'll tell you what kind of qualities to look for in a tire, as well as what to remember when it comes time to install them. Finally, we'll leave you off with some more information on Ultimate Rides so you can decide if we're the place for you.
Factors of Focus: What Makes a Great Tire?
When you're shopping for a new set of tires, the first thing you want to do is find out what size you need. That will help you narrow down your options quite a bit, but you'll still have many different products to choose from. It'll be up to you to determine the quality of the tire you're looking on, but there are some resources you can use. Customer reviews can be very helpful, though you shouldn't use them as your only source of quality. It can be helpful to learn a little bit about tires so you'll be able to identify quality when you see it.
Different tread designs are useful for different situations. If you want the best off road tire for daily driving, you're probably going to want something that's all-terrain. Additionally, you'll want it to be quiet as well as offer great performance in mud, dirt and even snow. Customer and professional reviews can help you find the right tire for your needs.
Installing New Tires
While it's definitely possible for you to install new tires on your wheels at home, you will need some equipment, a good place to work, and an hour or two to spare. Not everyone wants to attempt this at home, so it's okay to rely on professional installation. Contact a local team of mechanics to see how much they'll charge to install your tires. If you choose the right experts, they may even be able to help you select a set of tires. Ultimate Rides is located in the greater Chicago area, and we're always happy to help out customers from all over. If you do decide to install at home, we recommend taking a look at some video tutorials if this is your first time installing new tires.
Ultimate Rides – Your Destination for Custom Trucks
Drivers looking for a high-quality custom vehicle have found the right dealership. We've got a huge inventory to offer, and one thing all our rides have in common is that they're in great shape. You'll find plenty of custom options, and you can always further modify any one of our vehicles before we send it out to you. Give us a call today at 815-634-3900 to learn about our vehicle delivery, or come see us at 38 W. Division St., Coal City, IL 60416 if you're from the Chicago area.
---
Two Brothers With a Dream

,

Building The Best Ultimate Rides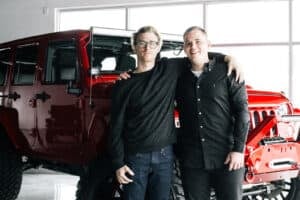 Ultimate Rides consists of two brothers who have been buying and selling custom vehicles for over ten years. Selling lifted trucks by day and writing these awesome reviews by night! They started their Ultimate Rides journey with a third brother Jake, who was a big part of building the business they have today. In 2016 Jake passed away and losing their brother was the hardest thing they ever had to deal with. Even though they had a tragic loss they plan to continue to set a new trend for the auto industry, keeping customers number one. Pushing the envelope on the lifted truck market, these guys love researching and learning about everything in the auto industry!
 — Nick and Alex Bulanda, Founders of Ultimate Rides