Finding the Best Off Road Vehicles Under 5K
Best Off Road Vehicles

Under 5K
Are you looking for an off-road vehicle on a budget? You may be in for a long search, but we're here to help you out with some tips and things to watch out for. The best off road vehicles under 5K are primarily going to be older models of the Ford F-150, Chevy Silverado and Ram 1500. In order to find a model within that budget crunch, you're likely going to want to look at options with higher mileage, perhaps upwards of 200,000 or more. Yes, that seems extreme. However, it can be very difficult to find these vehicles off-road ready at most dealerships, let alone for less than $5,000.
You should know going in that you're going to have to sacrifice some quality to get in that price range. It's just the reality of today's truck market, unless you get extremely lucky and find someone who doesn't know what they're selling. Here at Ultimate Rides, it's honestly rare for us to get a truck in for under $5,000. Your best bet will likely be to check places like Facebook and Craigslist, where people list their own vehicles. It will be especially difficult to find the best off road vehicles under 5K at a dealership.
Choosing the Right Models for

Off Road Driving
When you're searching for a vehicle for under 5K, your best choice is going to be whatever you can find. It's going to be pretty slim pickings at that price range, so you're most likely going to have to take what you can get. However, if you have an option, your three best choices are going to be the Ford F-15o, Chevy Silverado and Ram 1500. These are the most popular trucks in the country for good reason. They're reliable, and perform well off-road even without too many modifications.
If you have a choice, you should look for a vehicle with lifted suspension. This is going to be one of the best indicators of off-road performance. Once again, it may be difficult to find a vehicle with a lift kit at your desired price. Then again, crazy things can happen! If you get lucky enough, you might just find one of the best off road vehicles for under 5K.
Customize Your Off Road Vehicle at

Ultimate Rides
Once you've purchased a vehicle, you may find that it needs a few more things to get it truly off-road ready. Here at Ultimate Rides, we offer installation for all manner of custom modifications for your vehicle. From lift kits to custom tire and wheel packages, sound system installation to performance chips, we can handle it all. Best of all, our pricing is fair and we'll get your vehicle back to you with quick turnaround. Get in touch with our team and we'll fill you in on everything you need to know! You can join the exclusive club of those driving vehicles custom built here at Ultimate Rides.
With a Higher Budget Comes

Greater Quality
At Ultimate Rides, it's not very common for us to get a vehicle in that's available under 5K. However, if you save up and decide you'd like to opt for a more expensive off road vehicle, we may have some appealing options for you. As you go up higher in budget, you'll be able to find higher quality vehicles. Trucks with low mileage will run better and last longer, and we all know that a cleaner truck is favorable to a rusty one. We get a wide range of vehicles in stock here, so there's a good chance you'll find something you love. Plus, you'll always be able to have the vehicle adjusted in our lift center if you'd like to make some changes.
There's nowhere else out there quite like Ultimate Rides. We have a team of expert technicians working in our service center, and we offer a level of quality in custom trucks that is truly hard to find. Though we may not always have the best off road vehicles under 5K, you can be certain that quality will never be a question when you buy from us. If you have any further questions, make sure you give our office a call! Our team is always helpful, and we can line you up with the right vehicle no matter your situation.
Visit Ultimate Rides for Your

Next Vehicle
If there's one thing to remember when shopping for off road trucks under 5K, it's to manage expectations. Unless you happen to get incredibly lucky, you're likely going to have to settle for an older truck with high miles. In most situations, we'd recommend saving up your money so you can get a better truck later on. It's the smarter decision, as a more expensive vehicle will last far longer and offer greater performance.
If you do decide to opt for a more expensive model, you can't go wrong shopping with Ultimate Rides. Our vehicles may be a little more expensive, but you're getting a level of quality that's rarely found at standard auto dealerships. To speak with a member of the Ultimate Rides team over the phone, give us a call at 815-634-3900. If you're located in the Chicago area, we encourage you to come and visit our office at 38 W. Division St., Coal City, IL 60416 the next time you're available. We'll sit down and find the right vehicle together no matter what!
---
Two Brothers With a Dream

,

Building The Best Ultimate Rides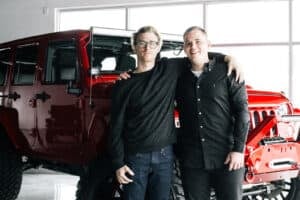 Ultimate Rides consists of two brothers who have been buying and selling custom vehicles for over ten years. Selling lifted trucks by day and writing these awesome reviews by night! They started their Ultimate Rides journey with a third brother Jake, who was a big part of building the business they have today. In 2016 Jake passed away and losing their brother was the hardest thing they ever had to deal with. Even though they had a tragic loss they plan to continue to set a new trend for the auto industry, keeping customers number one. Pushing the envelope on the lifted truck market, these guys love researching and learning about everything in the auto industry!
 — Nick and Alex Bulanda, Founders of Ultimate Rides