Best Place to Find a Lifted Ford Truck for Sale
Lifted Ford Truck for Sale at
Ultimate Rides
Ford pickup trucks are the most popular brand in the country, and there are plenty of good reasons for that. If you want to start driving a custom Ford pickup, you are looking in the right place. Ultimate Rides is an auto dealer specializing in new and used lifted trucks and SUVs. Utilizing our own custom service center, we upgrade our vehicles with lift kits, running boards, new paint jobs and so much more. We also offer delivery to drivers all around the country.
Spend some time today learning about Ultimate Rides. When you are feeling ready, we'll be here to help you out in-person or over the phone. When you want to start driving something special, and the rusty vehicles at your local dealer just won't do, let us help you find or build your dream truck. The lifted Ford truck for sale is just one of the ways we can help. Learn about us in this guide and then reach out for more details.
Lift Kits and More Available
Right Here
The Ultimate Rides lift center is one of the key things that sets us apart from average auto dealerships. We sell new and used vehicles here, nearly all of which have come through our lift center for an upgrade. Though we specialize in suspension lifts, that's certainly not all we can offer in here. Take a look at our inventory and you'll see a wide range of modifications and accessories. Our team can do it all, and that's just one of the things that makes shopping with Ultimate Rides so appealing.
Any time you buy one of our vehicles, like a lifted Ford truck for sale, you'll have a chance to customize it how you want. We'll send it over to our lift center and have our technicians carry out your desires. Get with us over the phone and we can talk about options. There's no limit to what we can do. From a new coat of paint, to a completely re-designed interior, to a massive lift kit, to any accessories you can think of, we'll handle it. Plus, you'll even have a chance to finance the cost of this work. That will allow you to include it in your overall vehicle dealing, keeping things affordable for more drivers.
If you decide to hang on to your current vehicle but still could go for some upgrades, make sure to contact our office. We can schedule an appointment for you to bring your ride to us. We'll be able to install any and all the same accessories or make any modifications that are available to our other customers. You could be driving something special in a matter of days!
Accessible and Affordable
Vehicle Delivery
Though we are located in the greater Chicago area, we're proud to provide our vehicles to drivers from all over the United States, and even beyond. The process is simple and affordable for just about everyone. Start by browsing our inventory here on our website. You can call us and someone from the Ultimate Rides team will happily walk you through your options. We'll also be sure to listen to your wants and needs, and should be able to recommend a lifted Ford truck for sale based on that information.
When you decide which vehicle you'd like for sure, we'll take care of financing over the phone. A member of our team will get all of your information, and you'll be able to choose if you'd rather pay for shipping up front or include it in the cost of your financing deal. We'll still also be able to offer any upgrades you want. As soon as your vehicle is ready, we'll get it shipped out to you. It should arrive within a week of when it's finished!
Choose from Our Selection of
Rust-Free Custom Vehicles
Unlike other auto dealers, you won't find a varied selection here in terms of quality. Each vehicle is rust-free, whether it is new or used. We make a point of seeking out the highest quality vehicles we can find to upgrade. That's why the inventory at Ultimate Rides may be slightly more expensive than what you might see at a local dealership. However, you can be sure you're getting your money's worth.
We send our buyers out to the warmer areas of the United States to find the right vehicles. They pick out options that are suited for our inventory, and we get them sent back here to our headquarters. Each vehicle goes through a detailed inspection so we can make sure it meets our standards. As long as it passes that inspection, we usually outfit the ride with some upgrades and list it on our website for you to buy! If you have any questions about this process, feel free to ask us!
Ultimate Rides – Where Everyone is
Treated Like a VIP
Customer service in the auto sales industry just isn't what it used to be. Ultimate Rides has set out to change that, bringing customer service back into fashion. We do this through our own actions, and it all starts from the moment you get in touch. Unlike most other auto dealers, our goal isn't to just unload a vehicle onto you. Instead we want to help you find your perfect ride, whatever it may be. If that's a lifted Ford truck for sale, we'll do all we can to set it up the way you want. Whether you call us or come in the office, you'll be treated like a Very Important Person.
We'll even go above and beyond to help you find a vehicle. If there's something you want but we don't have it in stock, with a small deposit we can have our buyers take a look. As soon as they find the vehicle you want, we'll let you know. From there, you can decide if you want us to bring it back to our HQ for some upgrades, or if you'd rather pick it up or have it delivered as it is now. However we can help, we will! Contact us today to get started.
Our Lift Center is
Open to the Public
Are you not yet ready to buy your next vehicle? Ultimate Rides can still be of service to you. If you live within driving distance of us, we'll be happy to make an appointment to upgrade your current ride, whether it's a Ford truck or something else. All of the same features available to our vehicle customers will be here for you.
On top of that, we also provide maintenance, repairs and detailing. No matter how minor or major the work, our team is capable of handling it. We'll change your oil or replace your engine, as well as anything in between. We're also fair and honest, and we'll work hard to get your vehicle back to you in a timely manner. If you live near Coal City, IL, we encourage you to call us the next time something goes wrong or you need some work done! Our technicians are the best around, and we'd love to get right to work on your vehicle.
Visit or Call Ultimate Rides for
Assistance Today
Are you ready to get in touch with the team at Ultimate Rides? We're available now to help remotely, or you can even come visit our office in-person if you're in the area. Our office is located about an hour south of Chicago, at 38 W. Division St., Coal City, IL 60416. For most of the rest of you, it'll be easier to contact us over the phone. That number is 815-634-3900. You'll be able to speak with a member of our staff who will help you out with whatever you need. We are open Monday through Friday from 10AM to 6PM, and on Saturday from 10AM through 3PM. Let us set you up with the perfect vehicle!
---
Two Brothers With a Dream

,

Building The Best Ultimate Rides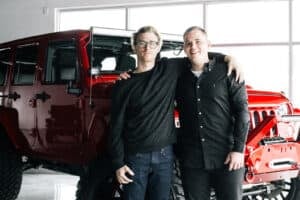 Ultimate Rides consists of two brothers who have been buying and selling custom vehicles for over ten years. Selling lifted trucks by day and writing these awesome reviews by night! They started their Ultimate Rides journey with a third brother Jake, who was a big part of building the business they have today. In 2016 Jake passed away and losing their brother was the hardest thing they ever had to deal with. Even though they had a tragic loss they plan to continue to set a new trend for the auto industry, keeping customers number one. Pushing the envelope on the lifted truck market, these guys love researching and learning about everything in the auto industry!
 — Nick and Alex Bulanda, Founders of Ultimate Rides