Best Roll Up Tonneau Cover for Trucks (Review & Buying Guide)
Finding the Best Roll Up

Tonneau Cover
There is an endless number of ways you can customize a pickup truck. Many times, you'll find a simple accessory can change the way you use the vehicle. If you are looking to protect your truck bed with a tonneau cover, but need to maintain easy access to the inside, a roll up cover is the product for you. There are countless tonneau covers of this variety available out there, and some of them are a heck of a lot better than others. In this guide, we want to share with you some options for the best roll up tonneau cover money can buy. Make sure to carefully inspect each product to ensure it fits your truck before you buy. We've included plenty of information that should help you make that conclusion.
After our list, stick around to take a look at our buying guide. In that section, we'll provide more information on choosing the right cover, as well as installation and so much more. You'll even have a chance to learn a little bit about what Ultimate Rides can offer you. If you have any questions for us after you make it through this guide, please feel free to give our office a call. We have vehicle experts standing by to help you out.
---
1. Tyger Auto T1 Soft Roll Up Truck Bed Tonneau Cover Fleetside 6'6″ Bed 
Specs: 2014-2018 Chevy Silverado / GMC Sierra 1500, 2015-2019 2500HD / 3500HD
Perhaps the most popular roll up truck bed cover is the Tyger Auto T1. It's available for a huge selection of pickup truck models. This listing is specifically for Chevy Silverado and GMC Sierra trucks from the late 2010's. The cover is basic and affordable, yet gets the job done. Even the best roll up tonneau cover won't be able to match more heavy-duty products. However, if you are searching for something lightweight that provides protection with easy access, this is definitely the first product we would recommend looking into. If it doesn't work for you for whatever reason, just keep looking and you'll find another cover that should fit.
Tyger Auto T1 Soft Roll Up Truck Bed Tonneau Cover Compatible with 2014-2018 Chevy Silverado / GMC Sierra 1500; 2015-2019 2500 HD 3500 HD; 2019 LD/Limited Only | Fleetside 6'6″ Bed (78″) | TG-BC1C9007
---
2. Gator ETX Soft Roll Up Truck Bed Tonneau Cover 6′ 7″ Bed 
Specs: 2015-2020 Ford F-150
Another very common choice for a roll up cover is this option from Gator. Once again it's a pretty basic soft cover, but the benefit is that it's much more affordable than more heavy-duty truck bed covers. It'll do a great job protecting the bed and your items from light rain and snow, as well as other minor weather hazards. It's available in a wide range of sizes and configurations, with this model specifically being made for the Ford F-150. Plus, this product features a lifetime limited warranty that will be nice to have around if you discover any manufacturer defects or things along those lines.
Gator ETX Soft Roll Up Truck Bed Tonneau Cover | 53316 | Fits 2015 – 2020 Ford F-150 6′ 7″ Bed (78.9")
---
3. Gator ETX Soft Roll Up Truck Bed Tonneau Cover 6′ 4″ Bed 
Specs: 2019 – 2021 Ram 1500 (New Body Style) without Multi-Function Tailgate
Next up, we have another option for you from Gator, of the same style as our last recommendation. However, this product is a different configuration, instead fitting on newer Ram 1500 trucks. However, it still offers the same degree of quality. While the cover itself is pretty basic, that can actually be taken as a good thing. If you want easy access to your truck bed, the last thing you need is a tonneau cover that takes minutes to get open. Here, you'll have the ability to simply roll the cover up and gain access to your bed and everything in it. Perhaps best of all, the cover is currently available for under $200, giving you plenty of protection at a fantastic price.
Gator ETX Soft Roll Up Truck Bed Tonneau Cover | 1386954 | Fits 2019 – 2021 Ram 1500 (New Body Style) Does Not Fit With Multi-Function (Split) Tailgate 6′ 4″ Bed (76.3")
---
4. TruXedo TruXport Soft Roll Up Truck Bed Tonneau Cover 5′ 10″ Bed 
Specs: 2019-2021 Chevy Silverado / GMC Sierra
Here we have another soft cover for you to consider for the Silverado and Sierra. This time, it comes from manufacturer TruXedo, who offer next-level pickup truck tonneau covers. While the cover may look simple, it offers strong protection for your vehicle and cargo without requiring heavy-duty materials. The cover includes a five-year no-hassle warranty from the manufacturer, giving you even more reason to trust in the quality of the product. It is sturdier than many other soft covers out there, and will even be able to support several inches of snow piled on top, which is one of the best reasons to consider it. Because of that, the TruXedo TruXport cover has more than earned a place on our list.
TruXedo TruXport Soft Roll Up Truck Bed Tonneau Cover | 272401 | fits 2019 – 2021 Chevy/GM Silverado/Sierra, works w/ MultiPro/Flex tailgate (Will not fit Carbon Pro Bed) 5′ 10″ Bed (69.9″)
---
5. Tonno Pro Lo Roll Soft Roll-Up Truck Bed Tonneau Cover 8′ Bed 
Specs: 2007-2021 Toyota Tundra
If you are the owner of a Toyota Tundra, there's a very good chance that this next cover will be a great fit. That's because the cover fits on just about all Tundra models from 2007 through today, as long as it's the configuration with the eight-foot bed, making it very versatile. If you have a different bed size, there should still be a version of this cover out there for you! This cover features 24 oz. double-sided vinyl, marine-grade stitching, a low-profile mounts. Plus, you'll always have quick access to the contents of your truck bed. While it may not be the single best roll up tonneau cover out there, it's certainly a damn good choice.
Tonno Pro Lo Roll, Soft Roll-up Truck Bed Tonneau Cover | LR-5015 | Fits 2007 – 2021 Toyota Tundra 8′ Bed (97.6″)
---
6. TruXedo Lo Pro Soft Roll Up Truck Bed Tonneau Cover 5′ Bed 
Specs: 2020-2021 Jeep Gladiator with Trail Rail System
If you're lucky enough to own a Jeep Gladiator, it's no surprise you're looking for ways to customize this awesome truck even further. A roll up tonneau cover is a great choice, and this model is suited specifically for the Gladiator. It's made by TruXedo, who you should be at least somewhat familiar with by now. The cover offers the same excellence as the earlier option we shared, just made for a different size truck bed. It's easy to open up this cover, with the manufacturer even claiming you can do it with one single finger. Plus, there are a number of other benefits that make it a great pick for any driver. One of the advantages of roll-up tonneau covers is their lightweight nature, and this is among the best when it comes to that. Take a look at these covers and decide if it suits your new Jeep truck.
TruXedo Lo Pro Soft Roll Up Truck Bed Tonneau Cover | 523201 | fits 2020 – 2021 Jeep Gladiator; with Trail Rail System 5′ Bed (60″)
---
7. MaxMate Soft Roll Up Truck Bed Tonneau Cover Fleetside 5.5′ Bed 
Specs: 2014-2021 Toyota Tundra (Won't Fit Special Edition)
Do you drive a Toyota Tundra with the smaller five-and-a-half-foot bed? If so, this is going to be a great cover for you. MaxMate's products are very affordable while still offering excellent protection for your truck bed. They're easy to install and have a basic look that won't distract from any other elements of your truck. Plus, you'll find that the product includes a 10-year no-hassle warranty, giving you that reassurance you need. While not the top tonneau cover on our list, you will certainly be able to count on it for basic protection. Pick it up to install on your Tundra today.
MaxMate Soft Roll Up Truck Bed Tonneau Cover Compatible with 2014-2021 Toyota Tundra (Does Not Fit Trail Special Edition with Storage Boxes) | Fleetside 5.5′ Bed
---
8. Tyger Auto T1 Soft Roll Up Truck Bed Tonneau Cover Fleetside 5′ 
Specs: 2005-2021 Nissan Frontier / 2009-2012 Suzuki Equator
The next cover we want to share with you is fit for the Nissan Frontier. While the Frontier may not be as popular as other truck models, there's definitely still a strong market out there for customizing the vehicle. If you're looking for a soft roll up cover, this option from Tyger Auto is an excellent choice. You'll find all the same benefits that made us put another configuration of this tonneau cover as the top option on our list. For Frontier drivers, picking up this bed cover should be a no-brainer. It even fits on limited model years of the Suzuki Equator, if you happen to drive one of those vehicles. Overall, it's clear that this is one of the best tonneau covers available for that truck at this price range, and a top contender even comparing it to higher-priced covers.
Tyger Auto T1 Soft Roll Up Truck Bed Tonneau Cover for 2005-2021 Nissan Frontier 2009-2012 Suzuki Equator Fleetside 5′ Bed TG-BC1N9034
---
9. Gator ETX Soft Roll Tonneau Cover 5'7″ Bed Ford F150 Trucks
Specs: 2015-2020 Ford F150
This tonneau should look at least a little familiar to you, as it appeared in a different form higher up on our list. It's still one of the top covers we'd recommend, especially if you're certain you want a rolling tonneau. Gator manufactures these covers here in the United States, so you'll be supporting domestic industry when you buy one. Even if that doesn't matter to you a whole lot, it's one of the best choices available to today's drivers.
It's a truck bed soft tonneau that gets the job done across a variety of weather conditions, and manages to keep a low profile look with easy access to the bed of your truck. Like the other options on our list, you'll be able to simply roll the tonneau cover up and back down at your own whim, and the item is designed to last through years of use. If you're looking for the best option without needing to spend extra money, these tonneau covers are for you.
Gator ETX Soft Roll Up Truck Bed Tonneau Cover | 53315 | Fits 2015 – 2020 Ford F-150 5′ 7″ Bed (67.1")
---
10. North Mountain Truck Bed Soft Roll-Up Tonneau Covers for Honda Ridgeline 5′ Bed
Specs: 2017-2022 Honda Ridgeline
Last but not least, we wanted to share a tonneau cover for a less popular but still strong choice for a truck: the Honda Ridgeline. It's another tonneau cover that can roll up, offering simple installation with basic but reliable results. These covers come with a three-year warranty from the manufacturer, which should hopefully raise your level of confidence in the product. North Mountain is a rising name in the industry, and drivers seem to be very happy with their covers so far. It may not be the absolute best tonneau cover money can buy, but it gets the job done for those who don't want to spend an arm and a leg. Plus, it can be harder to find a tonneau cover for the Ridgeline truck. If all that sounds appealing, you should have no worries about buying one of these covers.
North Mountain Soft Roll Up Tonneau Cover for 2017-2022 Honda Ridgeline Truck Bed, Truck Bed Cover fits 2017 2018 2019 2020 2021 2022 Honda Ridgeline 5ft Pickup Truck Bed
---
Best Roll Up Tonneau Cover

Buying Guide
Did you find a tonneau cover on our list that works for you? With so many different models and configurations of trucks out there, it's definitely possible that we weren't able to offer a cover that fits your vehicle. If that is the case, don't give up hope yet. Throughout the rest of this guide, you'll find the info you need to choose your own tonneau cover. We'll fill you in on the most important factors to consider as you shop. After that, you'll learn more concerning the best way to go about installing a tonneau cover. Finally, we'll wrap up by telling you a little bit more about our business and what you could have to gain by shopping with us. Remember, if you have any questions about the best roll up tonneau cover available today, give us a call!
Factors of Focus: Best

Bed Covers for Trucks
The most important thing you want to look for in a tonneau cover is reliability. The entire purpose of buying a tonneau cover is to protect your truck bed and the items in it. That's why it's so important to find a cover that actually gets the job done. Believe us, there are plenty of flimsy and unreliable products out there. Take a look at the items with the best reviews and pay attention to what materials they're made out of. Additionally, check out how each of these covers fits on the vehicle. These two factors will play a huge role in protecting your truck's bed and everything in it.
Customer reviews truly are the key to finding the best roll up tonneau cover. We've had plenty of experience in dealing with these accessories, but even we haven't been able to try them all. If there's an item that you are considering for your vehicle, take a look at what experiences other buyers have had with it. This should tell you whether or not the cover is reliable.
Lastly, make sure to take budget into consideration as well. Thankfully most roll up tonneau covers are pretty affordable. However, the size of your budget can definitely affect which cover you buy. That's perfectly okay, as each driver has different needs to fulfill. It's all about finding the cover that is best for you.
Install a Rolling

Tonneau Cover
Once you have a cover picked out and you order it, it's time to begin thinking about installation. One of the biggest benefits of a roll up cover is the fact that they are usually very easy to install. The process differs from cover to cover, so you'll need to look at your individual product and see how it works. The instructions are usually pretty straightforward. If you do wind up having trouble, don't be afraid to head onto websites like YouTube in search of video tutorials. There are plenty of people online who are willing to put up videos that walk you through the process. For some of the more complicated tonneau covers, this may be very useful. However, in all likelihood, you'll be quite alright on your own.
Visit Ultimate Rides for Tonneau Covers and More Vehicle

Accessories and Customizations
The next time you are in the market for a custom vehicle, Ultimate Rides is the place to look. We have a wide inventory consisting of high-quality custom rides, with an emphasis on trucks and SUVs. All of our vehicles are rust-free and run great. Plus, we have shipping available for you no matter where you live. We also offer vehicle customization in our service center. If you are in the Chicago area and need a team to work on your vehicle, feel free to give us a call. Our rates are fair, and our work simply could not be any better. You can reach us over the phone today at 815-634-3900, or stop by our office and see us at 38 W. Division St., Coal City, IL 60416.
---
Two Brothers With a Dream

,

Building The Best Ultimate Rides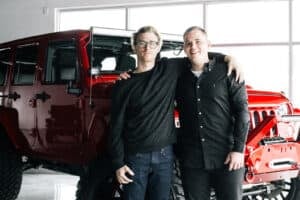 Ultimate Rides consists of two brothers who have been buying and selling custom vehicles for over ten years. Selling lifted trucks by day and writing these awesome reviews by night! They started their Ultimate Rides journey with a third brother Jake, who was a big part of building the business they have today. In 2016 Jake passed away and losing their brother was the hardest thing they ever had to deal with. Even though they had a tragic loss they plan to continue to set a new trend for the auto industry, keeping customers number one. Pushing the envelope on the lifted truck market, these guys love researching and learning about everything in the auto industry!
 — Nick and Alex Bulanda, Founders of Ultimate Rides