Best Seat Covers for Nissan Frontier (Review & Buying Guide)
Choosing the Best Seat Covers for

Nissan Frontier
At Ultimate Rides, we know about truck accessories. We spend a lot of time customizing our own inventory as well as trucks that belong to the public. One of the first types of accessories we would recommend buying for a vehicle, new or old, is a set of seat covers. These covers will help ensure your interior doesn't get stained, ripped, scratched or frayed. Some seat covers may even be more appealing that your regular interior.
The process of finding the best seat covers for Nissan Frontier models can be somewhat difficult. Here in the United States, the Nissan Frontier isn't one of the highest-selling pickup trucks. That means that seat covers custom-fit for the Frontier can be difficult to find. There may be some out there, though, as well as a number of universal seat covers that should also do the trick.
Take a look below to find a list of our favorite seat covers that work for the Nissan Frontier. Pay particular attention to the compatibility notes to ensure you end up buying the right size. After our list, stick around and read through our buying guide for even more useful information concerning seat covers. If you have any questions, a member of our team at Ultimate Rides could be able to help over the phone!
---
1. JIAMAOXIN Custom Fit Faux Leather Nissan Frontier Seat Covers (ASIN – B09D7LZBC1)
Compatibility: 2007-2022 Nissan Frontier
There are not many custom fit Nissan Frontier seat covers out there, but this option from JIAMAOXIN is one of the best options available. The design looks great, and faux leather is one of the better materials to choose when it comes to seat covers. These seem to be a newer addition to the market, as the product doesn't have a ton of reviews yet. The ones that are there, though, are fantastic. These should be a great fit for any modern Nissan Frontier pickup truck.
JIAMAOXIN Custom Fit for Nissan Frontier 2007-2022 Car Seat Covers Full Set 5 Seats Waterproof Faux Leather Car Seat Cushion Protector Compatible Airbag Black
---
2. IKABEVEM Waterproof Custom Fit Faux Leather Seat Covers (ASIN – B09CM3KTS9)
Compatibility: 2007-2022 Nissan Frontier
Up next, we have a similar product to the last in many ways. It offers a different style, but it's another set of faux leather seat covers made specifically for this truck. The covers will protect your interior against spills of all kinds, and even mud as well as dog hair. At the same time, they should offer plenty of comfort for you to rely on day after day. A custom fit means it should be a piece of cake getting these on your vehicle. Check these seat covers out and let us know how they work out for you!
IKABEVEM Custom fit Nissan Frontier 2007-2022 Car Seat Cover, Black Faux Full Set of Car Seat Covers with Airbag Compatible, Automotive Interior Accessories
---
3. LUCKYMAN CLUB Faux Leather Waterproof Seat Covers Full Set (ASIN – B07VF7666Z)
Compatibility: Universal
Universal seat covers can sometimes be a gamble with pickup trucks. However, this set from LUCKYMAN CLUB should work just fine for the Nissan Frontier. You'll again find faux leather, meaning you'll have access to durability as well as comfort. They'll do a great job protecting your seats, and they'll look fantastic at the same time. Best of all, it should only take a few minutes to install this full set into your truck. Take a look at these seat covers and figure out if they could be the set for you!
Car Seat Covers fit Sedan SUV fit for Altima Murano Frontier Maxima Xterra Chevy Cruze Impala Malibu Equinox HHR Venue Seltos CX-30 cx30 cx5 cx7 (Full Set, Black)
---
4. LUCKYMAN CLUB Gray Faux Leather Seat Covers Front Only (ASIN – B07SS4LT67)
Compatibility: Universal
Up next, we have another option from LUCKYMAN CLUB. These front seat covers offer a stylish gray design. Do you think they'd be a good match with your vehicle's interior? If so, they should be an excellent pick-up for you. They're simple to install, and offer the same quality as the other set from this manufacturer on our list. We think they'd feel at home inside at Nissan Frontier out on the road today, and that includes yours! Just make sure you like the style and you'll be good to go.
LUCKYMAN CLUB 2 PCS Gray Car Seat Covers Fit Most Sedan SUV Truck Fit for Escape Chevy Silverado Spark Traverse Volt Murano Pathfinder 4Runner (Gray- 2pcs)
---
5. Motor Trend SpillGuard Waterproof Rear Bench Seat Cover (ASIN – B0823GW9ZN)
Compatibility: Universal
Do you need to protect your rear seats from damage while your front seats are already covered? This option from Motor Trend should work for you. It's a basic but highly effective universal design that should work just fine inside your Frontier pickup truck. It works great against dog hair, drink spills, mud and so much more. Best of all, it's available at a great price. Don't hesitate to pick up this seat cover for your truck today. It's one of the best seat covers for Nissan Frontier drivers available right now.
Motor Trend SpillGuard Waterproof Rear Bench Car Seat Cover, Gray Stitching – Split Bench Rear Seat Protector with Neoprene Padding, Back Seat Cover for Kids & Dogs, Car Interior Accessories
---
6. TTX Lighting Custom Fit Faux Leather Nissan Frontier Seat Covers (ASIN – B09HT97Y31)
Compatibility: 2007-2022 Nissan Frontier
We have one more custom fit set to share with you for the Nissan Frontier. However, it's a new product, and doesn't feature any customer reviews so far. That makes it a little bit of a gamble, and we haven't had a chance to try it out ourselves. All the same, we thought it was worth pointing out, as there are not many custom fit seat covers for the Nissan Frontier out there. Everything looks to be perfectly fine with this faux leather set of seats, but you can find safer choices out there. It's up to you to decide which set works best for your vehicle.
Car Seat Covers Custom Fit Full Set Seat Covers Compatible with Nissan Frontier 2007-2022 Waterproof Faux Leather Vehicle Cushion Cover with Airbag
---
Best Seat Covers for Nissan Frontier

Buying Guide
Were you able to find a set of covers right for you? If you need to keep looking, the information in our buying guide might be of use to you. We also recommend checking out our guide on the best truck seat covers available now. As for this guide, you'll learn what factors make up a high-quality seat cover. Additionally, we'll tell you about installation as well as maintenance before providing more details on what we can do for you at Ultimate Rides. Remember you can get in touch with any questions.
Factors of Focus: Qualities of a Great Seat Cover
We recommend you start your search for the best seat covers for Nissan Frontier by narrowing do your options down. Cut down your search to covers made for the Nissan Frontier, or universal sizes, only. This will ensure you don't waste your time looking at products that won't fit on your truck. From there, start thinking about durability, comfort and effectiveness. Take a look at the coverage a seat cover offers. Is it enough to actually protect your seats? Additionally, you'll want covers that aren't going to rip, so it's important to look at the right materials. Neoprene, faux leather, and Carhartt cloth are three great options, though there may be more out there.
Installing and Cleaning Nissan Frontier Seat Covers
It shouldn't be too difficult to install a set of seat covers in your truck. Most covers come with a set of instructions that walk you through each step. If you run into issues during this process, take a look online to see if anyone else may have advice on how to handle it. You can often find video tutorials that will show you how to install your seat covers if all else fails. When your covers need to be cleaned, the process will differ depending on what style you chose. Some seat covers are machine washable, while others must be cleaned by hand.
Ultimate Rides Can Help You Find an Incredible Custom Truck Today
The next time you feel the need to shop for a vehicle, we hope you'll remember Ultimate Rides. We offer nationwide delivery that you can finance right alongside your custom vehicle. Take a look at our inventory and be sure to let us know if anything catches your eye. You can reach Ultimate Rides today at 815-634-3900, or visit our office at 38 W. Division St., Coal City, IL 60416.
---
Two Brothers With a Dream

,

Building The Best Ultimate Rides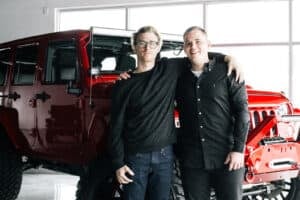 Ultimate Rides consists of two brothers who have been buying and selling custom vehicles for over ten years. Selling lifted trucks by day and writing these awesome reviews by night! They started their Ultimate Rides journey with a third brother Jake, who was a big part of building the business they have today. In 2016 Jake passed away and losing their brother was the hardest thing they ever had to deal with. Even though they had a tragic loss they plan to continue to set a new trend for the auto industry, keeping customers number one. Pushing the envelope on the lifted truck market, these guys love researching and learning about everything in the auto industry!
 — Nick and Alex Bulanda, Founders of Ultimate Rides