Best Shackle Hitch Receiver (Review & Buying Guide)
Picking Out the Best
Shackle Hitch Receiver
Some towing jobs require different setups, and one of the most useful is a shackle hitch receiver. These days, there are more options than ever for you to shop around for online. However, that only makes the process of finding the best shackle hitch receiver even harder. That's where Ultimate Rides comes in.
We're experts when it comes to custom vehicles and accessories, and that includes installing high-quality shackle hitch receivers on some vehicles. Below you will find a list featuring some of our absolute favorite picks. Take a look and see if you can find the best shackle hitch receiver for your needs. After the list, make sure to keep reading to find our buying guide. There we'll provide our readers with more information on choosing between different shackle hitch receivers. We'll then wrap up by telling you more about what we do at Ultimate Rides, and how we may be able to assist you sometime soon.
---
1. GearAmerica UBER Shackles with Anti-Theft Lock 80,000 Lbs (40 T) Strength
The first and best shackle hitch receiver on our list comes from GearAmerica. It has excellent customer reviews, a five star average rating, and has a break strength of 80,000 lbs. It even includes an anti-theft lock so any jealous thieves won't be able to get their hands on your receiver hitch. The maximum working load limit is 40,000 lbs., and it offers a safer format than many other towing configurations. There's even an anti-rust coating, ensuring this product lasts you for a very long. There are cheaper options out there, but we really believe this is the best bang for your buck.
GearAmerica UBER Shackles with Anti-Theft Lock – 80,000 Lbs (40 T) Strength – Connect Tow Strap or Winch Line for Off-Road Recovery – Towing D-Rings and ⅞" UberLock Security Pin – Red, 2-Pack
---
2. Factor 55 HITCHLINK 2.0 (2″ RECEIVERS) – RED
Another shackle hitch receiver that we love is this pick from Factor 55. It's a vibrant red color, so as long as you're okay with that you should get plenty of great use here. The hitch is tough and very reliable. While the design might be a little basic, it has been designed to get the job done without looking flashy. It comes in at around the same price range as our top pick, and works just as well. It also has great customer reviews, which should be a must for any top-tier shackle hitch receiver. This is definitely one of our contenders to be the best shackle hitch receiver, so make sure to check it out and see if it's right for your truck or SUV.
Factor 55 HITCHLINK 2.0 (2″ RECEIVERS) – RED
---
3. AGENCY 6 Recovery Shackle Block Assembly 2 INCH
Here's another product with excellent customer ratings and reviews, this time from a company called AGENCY 6. It's also the most affordable option on our list so far, while still offering great construction. Just be aware that the working load limit for this assembly is 13,000 lbs., so not quite as strong as our best shackle hitch receiver. However, if you're confident that is enough for you, we truly believe you'll get a lot of use from this product. Take a close look and decide if it's the right setup for you, and remember that our buying guide may help offer more guidance.
AGENCY 6 Recovery Shackle Block Assembly 2 INCH Double Hole Powder Coat Grey – Hitch Receiver Block – Proudly Made in The USA with US Certified Materials – Includes Hitch pin and D-Ring
---
4. Factor 55 HITCHLINK 2.5 (2.5″ RECEIVERS) – Gray
Our next option should look familiar, as it took the second spot on our list. However, if you'd prefer not to have a red receiver hitch, this gray option may suit you better. Additionally, this hitch was designed for 2.5-inch receivers. Find out what your vehicle is working with and figure out if this might be the best option. It's rated for 18,000 lbs., and was manufactured in the United States so you know you can rely on its construction.
Factor 55 HITCHLINK 2.5 (2.5″ RECEIVERS) – Gray
---
5. Mile Marker Steel Hitch Receiver with Shackle and D-Ring
If you're on a tighter budget and don't need to tow extremely heavy loads, this next receiver hitch might be the right one for you. It can be found for less than $50, and has a working load of 11,000 lbs. It's made with steel, and features a zinc plating that is designed to prevent rust. It also won't be difficult to install. For all these reasons, we would definitely recommend looking into buying this hitch receiver from Mile Marker.
Mile Marker Steel Hitch Receiver with Shackle and D-Ring – 60-65000C
---
6. Rhino USA Shackle Hitch Receiver 2″
One of the most popular and affordable options also happens to earn a place on our list as one of the best shackle hitch receiver products on the market. It comes from Rhino USA, and features a sleek alloy steel design that includes a lifetime warranty from the manufacturer. Installation is quick and easy, and the hitch is rated for more than 15 tons of weight. It's yet another option that has fantastic reviews from customers, and we encourage you to take a look at this option. There's a good chance it'll work well for you and help you come in under budget at the same time.
Rhino USA Shackle Hitch Receiver (Fits 2″ Receivers) Best Towing Accessories for Trucks, Jeep, Toyota & More – Connect Your Rhino Tow Strap for Vehicle Recovery, Mounts to 2″ Receiver Hitches
---
7. AUTOBOTS Tow Hitch Receiver 2″, 45,000 lbs. Break Strength
Up next we have another receiver that includes very high ratings from customers. It can tow as much as 45,000 lbs. safely, and features a powder coated finish that makes it resistant to rust. You'll even find a wide range of colors available, hopefully allowing you to find a match for your truck. These are definitely among the best receivers of this style that are available today, so keep them in mind as you shop around for your next shackle hitch receiver.
AUTOBOTS Tow Hitch Receiver 2″, 45,000 Lbs Break Strength Heavy Duty Receiver with 5/8″ Screw Pin, 3/4 Shackle, Towing Accessories for Vehicle Recovery Off-Road Black&Black
---
8. CURT D-Ring Shackle Mount Trailer Hitch, Fits 2-Inch Receiver, 13,000 lbs.
If you want a shackle hitch receiver that is basic and affordable, yet very reliable, this is the one for you. It's more lightweight, supporting up to 13,000 lbs. However, this is more than enough for many average drivers out there. As long as you're confident you won't be going over this weight limit, you can certainly count on this product. It won't be hard for you to install on a truck or SUV, and it's resistant to corrosion so you'll be able to keep using it for years to come.
CURT 45832 D-Ring Shackle Mount Trailer Hitch, Fits 2-Inch Receiver, 13,000 lbs
---
Best Shackle Hitch Receiver
Buying Guide
Before you head out, we've got some more information that might be useful to you. In our Factors of Focus section below, we'll use our vehicle expertise to help you figure out which shackle hitch receiver is the one for you. From there, we'll wrap up by sharing a few details about Ultimate Rides, including how you can get in touch with us. Good luck on your search for the best shackle hitch receiver!
Factors of Focus: How to Find the
Right Receiver
The first thing to do when shopping for a shackle hitch receiver is to find out what factory setup your truck or SUV has. You'll need to pick out an option that fits, or have your vehicle customized by experts to get it set up for towing. Once you know you're looking at the right size, start thinking about how much you're going to need to tow. Each receiver has a different working load limit, and you never want to exceed it. Find an option that suits your needs and then start determining the quality. Pay attention to customer reviews as well as what material the accessory is made from. The tougher the material, the stronger the hitch. If you have any questions about this, contact the team at Ultimate Rides.
Final
Thoughts
Ultimate Rides offers custom trucks and SUVs, specializing in lifted models, with delivery available for drivers across the United States. Take a look at the inventory on our website and call us as soon as you're ready to talk more details. Those of you living in the Chicago area are even encouraged to make an appointment to visit our office. We're located at 38 W. Division St., Coal City, IL 60416. You'll be able to get in touch with our team over the phone today at 815-634-3900. We're excited to speak with you!
---
Two Brothers With a Dream

,

Building The Best Ultimate Rides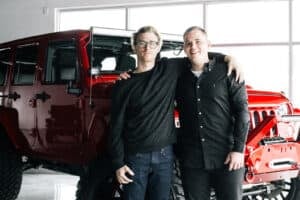 Ultimate Rides consists of two brothers who have been buying and selling custom vehicles for over ten years. Selling lifted trucks by day and writing these awesome reviews by night! They started their Ultimate Rides journey with a third brother Jake, who was a big part of building the business they have today. In 2016 Jake passed away and losing their brother was the hardest thing they ever had to deal with. Even though they had a tragic loss they plan to continue to set a new trend for the auto industry, keeping customers number one. Pushing the envelope on the lifted truck market, these guys love researching and learning about everything in the auto industry!
 — Nick and Alex Bulanda, Founders of Ultimate Rides