Best Smelling Car Air Freshener (Review & Buying Guide)
5 Best Smelling Car
Air Freshener Products
Sometimes you just need a little something to spruce up the smell of your vehicle. If you're tired of disappointing air fresheners, you're in the right place. We've put together a guide to help our readers find the best smelling car air freshener available today. Take a look below and you'll find a few of our favorites put together in a list. It features a variety of different kinds of air fresheners, as well as plenty of different scents. Take a look and see if any of them catch your eye (or your nose).
After our list, keep reading to find our buying guide. In it, we'll tell you more about what factors we think about when shopping for the best smelling car air freshener. We'll also have more details on vehicle upkeep, as well as how Ultimate Rides could be able to assist you with your current vehicle or finding your next one. Good luck in your search for an air freshener!
---
1. Febreze Unstopables Car Air Freshener 3-Pack
There's a good chance you already know the company Febreze, maybe even because you already have some of their products around your house. The company offers products for your vehicle as well, and they're certainly one of our favorite air freshener products available today. These are clip-on air fresheners that release a scent over time, and they're very affordable. This three-pack is available for less than $8 as of writing. You will be able to choose between low-intensity and high-intensity modes, so these clips should truly work for everyone. They also happen to smell excellent! Each clip should last up to 30 days, so a single three-pack should last between two to three months. At this price and level of quality, that's definitely a great deal!
Febreze Unstopables Car Air Freshener, Unstopables Fresh Scent, Odor Eliminator for Strong Odor Car Vent Clips, .07 Fl Oz (3 Count)
---
2. La Chica Fresita Strawberry Air Freshener 4-Pack
If you would rather stick with the traditional kind of hanging air freshener, we believe this option should work for you. It's absolutely a contender for being the best smelling car air freshener out there, and they're quite stylish as well. Air fresheners of this style usually only last a couple of weeks. Thankfully with this product you'll have a number of choices when it comes to the size of your order. This option is a four-pack, great for allowing you to try the air freshener out before making too big of an investment. However, if you like strawberries and the classic hanging air fresheners, we're confident these should work out just fine for you.
4 pc Strawberry La Chica Fresita air Fresheners Aromatizante Fresa
---
3. Enviroscents Auto Sticks Natural Car Air Freshener Seaside Coconut
Looking to keep things natural but still want a great smell in your vehicle? Try out these fragrant paper sticks. Similar to many other advanced air fresheners, you should expect this scent to last for around 30 days. They come in packs of three, with each pack including two sticks, so that's about six months of use for a fantastic price. The product offers a relaxing coconut smell, but it's not too strong to the point that it overwhelms the senses. Plus it has the benefit of being natural, so you don't have to worry about any chemical smells or anything like that. If the other options don't work for you, we believe these could be just what you've been looking for.
Enviroscents Auto Sticks Natural Car Air Fresheners, 3-Pack with 6 Sticks (Seaside Coconut)
---
4. Febreze Gain Car Air Freshener Clips
Up next on our list, we have some more air freshener clips that come to you from Febreze. However, this time they're also working with Gain to provide a refreshing scent to drivers. These clips once again should each last about a month before they wear out, and each pack here comes with four clips for around $14. That means these aren't the cheapest air fresheners available, but they may just offer the best smell. If you're a fan of Gain laundry detergent and keep Febreze products around your home, there's a very good chance these air fresheners will bring a familiar comfort to your car, truck or SUV.
Febreze Car Air Freshener, 2 Gain Original and 2 Gain Island Fresh Scents, Odor Eliminator for Strong Odors (4 Count)
---
5. Little Trees Black Ice Air Freshener 12-Pack
Finally, we included a set of classic Little Trees air fresheners. Are these the best smelling car air freshener out there? Perhaps not, but that all depends on your taste. What can be said is that they're very cheap, and highly effective in short bursts. It all just depends on whether the smell works for you. Some people love them while others say that they smell too inauthentic. It's up to you to make that decision, but it's safe to say our personal favorite and that of many drivers is the Black Ice theme. Check these out and decide if they might be the right fit for inside your vehicle.
LITTLE TREES Car Air Freshener | Hanging Paper Tree for Home or Car | Black Ice | 12 Pack
---
Best Smelling Car Air Freshener
Buying Guide
We've probably all been in a position where we bought an air freshener only to find out it didn't smell very good. It can make spending time in your vehicle more taxing. If you're looking to avoid that mistake again, you're looking in the right place. It can be hard to choose the best smelling car air freshener online, as you obviously don't have the ability to smell it yourself.
Though we can't account for personal taste, we're happy to recommend some options to consider on our list. If none of those work for you, our buying guide will have some information that can help. Check out our Factors of Focus section to learn how to choose an air freshener that is right for you. After that, we'll tell you more about Ultimate Rides and what we do on a daily basis. We're confident we can help you find your next vehicle, or even upgrade, fix and maintain your current one! Get in touch if you have any questions for us or would like to learn more.
Factors of Focus: The Right Air Freshener for You
It's impossible to guess what kind of smells a random person will prefer. These things are just completely subjective. However, it's safe to say there are some scents that are more popularly accepted or beloved than others. On our list, we did our best to offer up some options for people to consider, with some of the most popular scents and styles we could find. If you would like to continue shopping on your own, take our advice.
Go ahead and shop around until you land on a scent you're confident you'll enjoy. Before you make a final decision, think about the quality of the air freshener compared to the price. See what customers have to say about using it. If it doesn't last a long time, is it at least cheap so it's easy to replace? These are the kinds of things you'll want to be thinking about if you want the best smelling air freshener available.
Ultimate Rides Offers New and Used Vehicles, Custom Upgrades
and More
With reliable shipping available for drivers across the United States, Ultimate Rides can be your destination for custom vehicles wherever you live. We're based outside Chicago, but we're proud to help customers from all over. We can get a vehicle to you in a week or less, and you can even include your shipping costs in the vehicle financing deal. Give us a call to get this process started!
Our customers always have the ability to further customize any of our vehicles before we ship it out. That's because we have our very own custom service center, with a staff of expert technicians ready to get to work. The possibilities are endless, so get in contact with someone from our team and we can start putting the project together.
On top of that, Ultimate Rides offers both maintenance and repairs. Our team is as talented as can be, and we're happy to share that talent with the public. You can even bring your current vehicle to us for upgrades if that's what you want to do! Give the Ultimate Rides office a call at 815-634-3900 if you wish to learn more. For those of you around the Chicago area, you can find our office at 38 W. Division St., Coal City, IL 60416.
---
Two Brothers With a Dream

,

Building The Best Ultimate Rides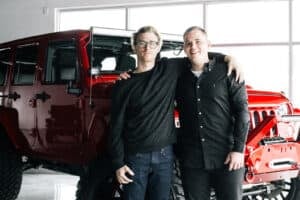 Ultimate Rides consists of two brothers who have been buying and selling custom vehicles for over ten years. Selling lifted trucks by day and writing these awesome reviews by night! They started their Ultimate Rides journey with a third brother Jake, who was a big part of building the business they have today. In 2016 Jake passed away and losing their brother was the hardest thing they ever had to deal with. Even though they had a tragic loss they plan to continue to set a new trend for the auto industry, keeping customers number one. Pushing the envelope on the lifted truck market, these guys love researching and learning about everything in the auto industry!
 — Nick and Alex Bulanda, Founders of Ultimate Rides