Best Tires for Jeep Wrangler Unlimited
Choosing the Best Tires for
Jeep Wrangler Unlimited
The Jeep Wrangler is a beloved vehicle here in the United States, and the four-door Unlimited edition grows in popularity every year. At Ultimate Rides, we are especially big fans of the Wrangler. We're a custom auto dealer with our own lift center on-site, and the Jeep Wrangler is undoubtedly one of our team's very favorite vehicles to work on.
It's safe to say that we know a thing or two about customizing the Wrangler. If you're thinking about making a change from the stock tires to an aftermarket set, we have some advice for you. Whether you want the quietest all terrain tires for your vehicle, your priority is performance on the highway, or something else entirely, our team can help you find what you're looking for. Today's guide is specifically catered to drivers of the Jeep Wrangler Unlimited.
Start by checking out our list below. It features some of our absolute favorite options for Jeep Wrangler Unlimited tires. Stick around after that to read our buying guide. In that section, we'll tell you how to pick up high-quality tires from less desirable options, and offer up information on changing your tires, other ways to customize your Wrangler, and more!
---
1. Goodyear Wrangler All-Terrain Adventure Kevlar Radial Tire
Specs: 255/70R18 113T
These tires from Goodyear are the OEM tires for many models of the Jeep Wrangler. That has a number of advantages, which lands it at the top of the list. While there are definitely other options to consider, it's hard to beat a set of tires designed specifically for your vehicle from one of the best manufacturers around. The Kevlar material is simply a bonus, but it sure is nice to have that kind of toughness in your tires. This product provides versatility, functioning pretty well in just about any situation. While it's not specialized towards any one thing, it is an excellent all-purpose tire.
Goodyear Wrangler All-Terrain Adventure Kevlar (P) Street Radial Tire-255/70R18 113T
---
2. Goodyear Wrangler SR-A Radial Tire
Specs: 255/75R17 113S
Less concerned with driving off road? This other Wrangler tire from Goodyear is designed for fantastic highway performance. It offers great traction in slick road conditions, helping you stay stable no matter the weather. Additionally you will find it to be quiet even at high speeds. This is definitely among the best tires for Jeep Wrangler Unlimited drivers who don't intend to leave the paved road any time soon. It's not one of the cheapest options available, but sometimes you have to pay extra for the right quality.
Goodyear Wrangler SR-A Radial Tire – 255/75R17 113S
---
3. Firestone Destination M/T2 Mud Terrain Tire
Specs: 255/75R17 111Q
Firestone is another brand name you'll probably recognize, and this mud terrain tire is a very strong choice for Wrangler owners. As long as you ensure it's the right fit for your vehicle, you'll find powerful traction available in the mud, as well as reliable performance on the road. The tread pattern is designed to repel both mud and stones, helping you keep that grip no matter the situation. These may not be the quietest tires on the road, but if that's not an issue for you, you will certainly find tough performance available here.
Firestone Destination M/T2 Mud Terrain Tire LT255/75R17 TLOWLPS111QC C
---
4. Cooper Wayfarer All-Season Radial Tire
Specs: 265/70R17 115T
Up next we have another strong tire for the roads, this time from Cooper. The Wayfarer tire is quiet, and offers great performance across all seasons, whatever the weather conditions are. It features very strong customer reviews, and you'll even be able to grab a whole set for quite a fair price. While performance on trails isn't what you'd find in some of the other options on our list, you can count on this being one of the best tires for Jeep Wrangler Unlimited road driving.
Cooper Wayfarer All-Season 265/70R17 115T Tire
---
5. Nitto Trail Grappler M/T all_ Season Radial Tire
Specs: 35X12.50R20/10 121Q
Looking for an off road tire with an aggressive tread pattern and a tough design meant to last? Look no further than the Nitto Trail Grappler. These tires aren't cheap, especially depending on the size you're after. However, you'll have a hard time finding something that performs better. The company designed this tire to be quieter than other mud tires out there, and it handles well on the road in a variety of conditions. The price may make it a tough choice, but you can count on this tire delivering top-tier performance off road.
Nitto Trail Grappler M/T all_ Season Radial Tire-35X12.50R20/10 121Q
---
6. Bridgestone Dueler A/T RH-S All Terrain SUV Tire
Specs: 255/70R18 113T
Lastly, we have a strong option to consider from Bridgestone. The Dueler all-terrain tire is around the middle of the price range for tires, but delivers performance like a top-tier option. These tires were designed to last a long time, and handle well in wet road conditions as well as optimal ones. The tread pattern and shoulder design help provide more traction than you might expect as well, making these a great all-purpose tire for Wrangler drivers. Check them out and see if you find one that fits your vehicle today.
Bridgestone Dueler A/T RH-S All Terrain SUV Tire 255/70R18 113 T
---
Best Tires for Jeep Wrangler Unlimited
Buying Guide
Does one of the tires on our list seem like it could be the right fit for your needs? We hope so, but our buying guide is here to help anyone who wants to keep shopping around. Even if you did find a tire on our list, the information presented here could come in handy in the future. We'll cover the important qualities to look out for if you want the best tires for Jeep Wrangler Unlimited models. You can also learn more about changing out your tires, and a little bit about what we do. Stick around and be sure to contact Ultimate Rides if you have any other questions!
Factors of Focus: Finding the
Right Quality
There are a few things everyone you should look out for as they shop for tires, but it's important first to narrow down your options to something that fits. The right tire is going to depend on the size of your wheels. Do some research into tire codes, or find a set that matches what you're currently working with so you'll know it fits.
From there, you need to decide what style of tire you want, and that should depend on where you'll be doing most of your driving. Most tires are designed for use on paved roads, but if you're driving a Jeep Wrangler there's a chance you may be interested more in off road action. There's also versatile tires that do a good job of covering both without specializing in either one. It's up to you to figure out what you'll be doing with your vehicle, and then decide what kind of tires to install.
It's important to note there are some factors that apply to all the best tires for Jeep Wrangler Unlimited models, no matter what style they are. You want tires that are going to last a good long while, with as little road noise as possible and tight handling. Be sure to read both customer and professional reviews before you decide on a tire for sure.
Changing Out
Tires
In this guide, when we talk about changing tires, we may not be talking about it the way you're initially thinking. The most common thing that comes to mind with that term is changing out a wheel with your tire on it. Here, we're discussing switching the tire on your wheel, which can be more of a pain. There's a special tool you need that makes the process much simpler, but not everyone has easy access to one. If you have room in your budget, it may be worth your time to have a professional simply switch the tires out for you. It shouldn't cost too much, and it'll save you a lot of time.
Final
Thoughts
At Ultimate Rides, we spend every day dealing with high-quality custom vehicles like the Jeep Wrangler Unlimited. If you're in need of your next vehicle, we encourage you to check out our inventory. There should be something there that catches your attention, and if not, our team can always find or build something for you. Contact us over the phone to learn about our simple nationwide delivery today! You can reach out to 815-634-3900. If you live in the Chicago area, you can also come find us an hour south of the city at 38 W. Division St., Coal City, IL 60416.
---
Two Brothers With a Dream

,

Building The Best Ultimate Rides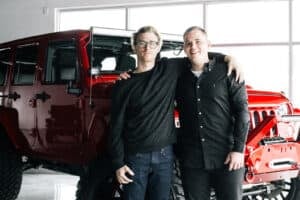 Ultimate Rides consists of two brothers who have been buying and selling custom vehicles for over ten years. Selling lifted trucks by day and writing these awesome reviews by night! They started their Ultimate Rides journey with a third brother Jake, who was a big part of building the business they have today. In 2016 Jake passed away and losing their brother was the hardest thing they ever had to deal with. Even though they had a tragic loss they plan to continue to set a new trend for the auto industry, keeping customers number one. Pushing the envelope on the lifted truck market, these guys love researching and learning about everything in the auto industry!
 — Nick and Alex Bulanda, Founders of Ultimate Rides