Best Truck Seat Covers (Review & Buying Guide)
Finding the Best Truck

Seat Covers
Vehicle accessories are about more than just making your truck look a little cooler. There are also options out there that can help you take care of your vehicle. We would definitely put seat covers in that second category. It should come as no surprise how easy it is to ruin a truck's interior. One simple spill can leave a stain that lasts forever. That's why we encourage you to find the right set of seat covers and install them on your truck as soon as you can.
In this guide, we've put some options together to help you find the best truck seat covers. We'll begin by sharing some of our favorite picks for a few of the most popular truck models out there: the Ford F series, Chevy Silverado and Ram pickup trucks. After that, we'll give you a few more options that should cover a wider variety of pickup models.
Here at Ultimate Rides, we know our stuff when it comes to truck accessories. That's because we're a dealer of custom vehicles built just the way you want. We deliver across the country, and we'd be more than happy to help you find what you need. Give us a call to get started!
---
Ford

F150, F250 and F350
For a long time now, the Ford F150 has been America's most popular pickup truck. It offers excellent performance along with rugged exterior qualities and a ton of great features available on the inside. The same goes for the F250 and F350, except with even greater performance capabilities. If you drive one of these incredible trucks and need a seat cover, these next few options should have you covered. Just make sure you pick out a set that's right for your specific model!
Rough Country Neoprene Front Seat Covers (ASIN – B07KYXZNHL)
Compatibility: 2015-2020 Ford F150
At Ultimate Rides, we're constantly dealing with truck accessories, and without a doubt Rough Country is one of our favorite options to go with. They make everything, including these awesome seat covers for the Ford F150. The covers are made from neoprene, one of the favorite materials among seat covers. These covers are soft, comfortable, waterproof and stylish. They're also not difficult to install, and very easy to clean. The product even includes a one-year warranty from Rough Country, so you'll have coverage if you find any manufacturer issues. As long as this set is the right fit for your F150 truck, it comes strongly recommended.
Note: Despite the picture below, this set consists of only front seat covers. Rear bench seat covers are sold separately.
Rough Country Neoprene Front Seat Covers (fits) 2015-2020 F150 | 1st Row | Water Resistant | Black | 91016
---
Luckyman Club F150 Crew Cab Seat Covers Full Set (ASIN – B083D92WGC)
Compatibility: 2015-2020 Ford F150 Crew Cab, 2017-2020 F250/F350/F450 Crew Cab
Want to go for a faux leather set of seat covers instead? This option from Luckyman Club includes both front and back covers for your convenience. It covers a pretty good range of Ford trucks as well, so there's a good chance this set will work for you. These faux leather covers are comfortable and soft, so you won't be annoyed having to spend hours sitting in them. They are also waterproof, and easy to clean with a wet towel. The only real issue to be aware of here is that some drivers have some issues with the rear seat, saying that it can be hard to find something to attach it to. This issue probably differs from model year to model year, and even then folks have found work-arounds that allow them to still fully enjoy these seat covers.
Full Set Seat Covers fit for F150 Crew Cab from 2015 to 2020 and fit for F250 F350 F450 Crew Cab from 2017 to 2020 with Water Proof Faux Leather (Black Full Set)
---
Oasis Auto Tailor Faux Leather Seat Covers Full Set (ASIN – B09DYS8YGV)
Compatibility: 2009-2022 Ford F150/F250/F350
We love the style of these seat covers, covering both the front and back of Ford trucks. The covers fit on a huge range of F150, F250 and F350 trucks, and should be a piece of cake to install. In many ways, these are closer to a set of universal covers, but made specifically for Ford F series trucks instead. They may not offer total coverage like some of the other custom fit options out there, but they'll provide plenty of coverage. This should be a great choice for a huge percentage of Ford truck drivers out there.
Oasis Auto Tailor Fit Seat Covers Compatible with 2009-2022 Ford F-150 F150 F-250 F250 F350 F350 (FF-01 Full Set, Gray)
---
Chevy

Silverado 1500, 2500 and 3500
Another favorite here in the US among pickup truck drivers is the Chevy Silverado. Just like the F150 and their other competitor Ram, these trucks are available in different setups depending on your needs. The 1500 is plenty enough for most drivers, but the 2500 and 3500 are there for those who need that extra kick of performance. Check out a few options for the best truck seat covers for the Chevy Silverado, and let us know if any one of them work out great for you.
Rough Country F&R Neoprene Seat Covers Full Set (ASIN – B08PPV8SB6)
Compatibility: 2019-2021 Chevy Silverado 1500
Our first set of the best truck seat covers for the Silverado once again come from Rough Country. It features neoprene and foam padding, so you can protect your truck and feel comfortable at the same time. Additionally, these covers are very simple to install, and the process should just take a few minutes. Like the other Rough Country set, you'll find a one-year warranty here that covers manufacturer defects. The covers are resistant to UV light as well as water, so you should have all the protection you need here. As long as you're a fan of the style here, and you drive the latest generation of Chevy Silverado 1500 trucks, these a great pick for you. You'll get protection for both your front and back seats as well!
Rough Country F&R Neoprene Seat Covers for 19-21 Chevy Silverado 1500-91036
---
Covercraft Carhartt SeatSaver Front Row Custom Fit Seat Cover (ASIN – B06Y4Q73K4)
Compatibility: 2017-2019 Chevy Silverado 1500/2500/3500 and GMC Sierra 1500/2500/3500
Just about everyone knows Carhartt, and how reliable their material is. These seat covers from Covercraft are made from that Carhartt heavy-duty cloth we all know and love. It's not difficult at all to get them installed in your truck, and the covers are machine washable so very easy to keep clean. These heavy-duty covers are sure to protect your truck's seats from spills and other damage that inevitably accumulates over time. They're long-lasting, and customers have excellent things to say about the product. You can't go wrong here, just make sure you pick out the right set for your vehicle.
Notes: Despite the picture, this product includes the front row only. The picture is just to give you an idea of what the cover will look like. Additionally, this product only fits trucks that feature the fold-down center console, and NOT models with a center seat belt.
Covercraft Carhartt SeatSaver Front Row Custom Fit Seat Cover for Select Chevrolet/GMC Models – Duck Weave (Gravel) – SSC3458CAGY
---
Luckyman Club Waterproof Faux Leather Seat Covers (ASIN – B092DTP986)
Compatibility: 2007-2021 Chevy Silverado 1500/2500/3500 Crew Cab and GMC Sierra 1500/2500/3500 Crew Cab
Up next, we've got another set of faux leather seat covers from Luckyman Club. We know that the faux leather style may not be for everyone, but we think that the options from Luckyman Club are some of the best out there, balancing quality with budget. These seat covers are comfortable, and waterproof, easily able to protect your seats from spills and stains. They also feature a non-slip cloth that ensures they don't slide around on your actual seats, keeping you still and your interior in good shape. There's no doubt these are a great option for any truck they fit on, which includes the GMC Sierra in addition to the Chevy Silverado!
LUCKYMAN CLUB D04-S2 Seat Covers, Fit for 2007-2021 Chevy Silverado GMC Sierra 1500/2500/3500 HD Crew/Double Cab with Water Proof Faux Leather with Center Console Cover(Front Set, Black 2 pcs)
---
Ram

1500, 2500 and 3500
Here we finally come to the Ram series of pickup trucks. For a long time, Ram played second fiddle to the Silverado and F series from Ford. However, they have made huge gains in recent years. Many drivers even prefer Ram trucks to the Silverado, or even the F150. If you count yourself as one of these drivers, these next few sets of seat covers are for you. We hope you're able to find the perfect one for your Ram pickup. Hopefully this will help keep your interior looking spotless for years to come.
Luckyman Club Front Faux Leather Seat Covers (ASIN – B08XWW8SZQ)
Compatibility: 2007-2021 Ram 1500/2500/3500, Large Front with Narrow Back
Here we've got a set of Luckyman Club faux leather seat covers great for Ram pickup drivers. These covers fit on a vast range of Ram pickups over the last 14 years, so you should have no trouble getting them installed correctly on your truck. You've just got to get the right size depending on your seats. The covers are made with a high-quality fake leather material, and should last for quite a long time without any problems. They won't slide around, and should ensure your interior can stay in great shape over the years.
LUCKYMAN CLUB D01-ZGJ Seat Covers Fit for 2007-2021 Ram 1500/2500/3500 Crew/Quad/Double/Regular/Mega Cab Trucks with Waterproof Faux Leather with Center Console Cover(Front Set, Black 2 pcs)
---
Durafit Grey and Endura Seat Covers Front and Rear (ASIN – B07QP4ZHS7)
Compatibility: 2013-2018 Ram 1500/2500/3500 and 2019-2021 Ram 1500/2500/3500 Classic
These covers are great for the previous generation of Ram trucks as well as the recent Classic variant. While they might not offer the sleekest style out there, they will do a great job of defending your seats from stains and similar damage. This set does include covers for both the front and rear seats, which is a nice bonus. On top of that, they aren't too thick so you'll still be able to enjoy the comfort of your regular truck seats. The covers use a tough fabric that makes them especially good to protect your seats against dogs, both hair and their claws.
Durafit Seat Covers, For 2013-2018 Ram and 2019-2021 Classic Body Dodge Ram Crew Cab Front and Back Seat Seat Covers, Exact Custom Fit (DG29 (20 SECTION BOTTOM DOES NOT OPEN), C8/C1 Gray/Black Endura)
---
Rough Country Custom Fit Neoprene Seat Covers (ASIN – B08429PMCC)
Compatibility: 2009-2018 Ram 1500 Crew Cab
The last set of covers we want to share for Ram trucks comes again from Rough Country. By now, you should know quite a bit about their neoprene covers. As always, you'll have access to a one-year warranty from the manufacturer. The covers should do a fantastic job maintaining the factory quality of your seats. At the same time, you should find plenty of style and comfort waiting for you here. The set includes both front and back row covers too!
Rough Country Neoprene Seat Covers (fits) 2009-2018 Ram 1500 Crew Cab Truck | Exact Fit | 1st/2nd Row | Black | 91029
---
Universal Seat Covers and

Other Popular Options
Lastly, we wanted to include a few more options for other truck drivers out there. Below you'll find a couple of universal options as well as a set of seat covers for the Toyota Tacoma. While we certainly prefer custom fit seat covers to universal sets, there are still good universal covers out there. You've just got to know what to look for! Let us help you find an option that works for your pickup truck, no matter what model it is.
FH Group Blue-Black Seat Cover Full Set with Steering Wheel Cover (ASIN – B01HUTS6E0)
Compatibility: Universal
When it comes to universal seat covers, FH Group is one of the more popular manufacturers out there. As we mentioned before, we tend to prefer custom fit covers, but there's no denying that universal covers off their own advantages. These covers are very easy to clean. Depending on the exact model you drive, you may have an easy time installing these covers, or the first time may require a little bit of trimming. Once that's taken care of, everything should be smooth sailing! If you like the style offered by these FH Group covers, feel free to pick them up for your truck.
FH Group FB030BLUEBLACK-COMBO Seat Cover Combo Set with Steering Wheel Cover and Seat Belt Pad (Airbag Compatible and Split Bench Blue/Black)
---
Oasis Auto Custom Fit PU Leather Seat Cover (ASIN – B08SLV3MSC)
Compatibility: 2016-2021 Toyota Tacoma
Next up, we have a set of seat covers made specifically for Toyota Tacoma models from 2016 through today. The Tacoma is a great truck, even though it's not as popular as the American-made models here. This faux leather seat cover from Oasis Auto should give you everything you need. It offers a basic yet stylish look, and should pose no problems when it comes to installation. This includes the full set needed for your truck, and should provide you with plenty of defense for your seats. Get yours today if you drive a Toyota Tacoma!
OASIS AUTO 2016-2021 Tacoma Custom Fit PU Leather Seat Cover Compatible with Tacoma 2016-2017-2018-2019-2020-2021 (2016-2021 Tacoma, Black)
---
Aries Seat Defender Universal Bucket Seat Cover (ASIN – B009M0S4U2)
Compatibility: Universal
Finally, we have one more universal seat cover to share with you. It offers a different style than any of the other options on our list. To be honest, style isn't really a priority for this seat cover. It's pretty much just a piece of heavy-duty cloth that hangs over your seats. However, it does a great job of protecting from spills and other damage. It's also by far the most affordable option on our list. If you're looking for something cheap that gets the job done, these are the best truck seat covers for you.
ARIES 3142-09 Seat Defender 58-Inch x 23-Inch Black Waterproof Universal Bucket Car Seat Cover Protector
---
Best Truck Seat Covers

Buying Guide
Were you able to find a set of seat covers on our list that works for you? We hope so, but if you need to keep looking we'd like to help. You can use the information available here in our buying guide to assist you in your ongoing search for the best truck seat covers. Our factors of focus section will let you know what to keep an eye out for as you shop. Following that, we'll leave you off with some tips for maintaining your seat covers, as well as more details on Ultimate Rides and what we can offer you. Good luck!
Factors of Focus:

Quality Matters
It's not always easy picking out the right seat covers when shopping online. That's because it can be hard to determine quality when you aren't able to feel or see the covers up close. However, there are things you can look out for that will help you decide on the best truck seat covers out there. The first thing we'd recommend doing to narrow down your options is to restrict your search to seat covers made specifically for you vehicle. There are also universal seat covers out there, but the quality on those can vary. If you opt to go with a universal cover, make sure to read up on the customer reviews to see what others have to say. You may run into issues with fitting or quality, depending on how it's made.
Your best bet is to go with a seat cover that's custom made for your vehicle. From there, it's all about separating the high-quality options from the poorer quality ones. Customer reviews can be very useful here, but it's important to seek out reviews that actually feature information rather than something too simple along the lines of "works great!"
Seat Cover

Maintenance Tips
Once you decide on the right seat cover and get it installed, the hard part is over. However, from time to time there are steps you'll want to take to make sure your cover stays in good shape. The most important thing is to keep them clean. Some covers are machine washable. This means you'll simply remove them from your vehicle, throw them in your washer and let them air dry outside. Other covers will require you to wash them by hand with soap and a wash cloth. It may seem like a pain now, but you'll be glad you took the time to do it! Just make sure to read through whatever documentation came with your seat cover, or look at the product online, to find out the right way to keep it clean.
Final

Thoughts
The next time you're thinking about shopping for a vehicle, we hope you'll remember Ultimate Rides. We are not your standard local auto dealer, instead offering top-quality custom rides of all shapes and sizes. We ship our vehicles across the country and have a ton of options available today. For more information, give us a call at 815-634-3900. If you live in the greater Chicago area, you'll be able to find us about an hour south of the city at 38 W. Division St., Coal City, IL 60416.
---
Two Brothers With a Dream

,

Building The Best Ultimate Rides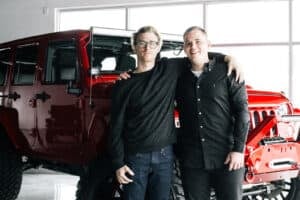 Ultimate Rides consists of two brothers who have been buying and selling custom vehicles for over ten years. Selling lifted trucks by day and writing these awesome reviews by night! They started their Ultimate Rides journey with a third brother Jake, who was a big part of building the business they have today. In 2016 Jake passed away and losing their brother was the hardest thing they ever had to deal with. Even though they had a tragic loss they plan to continue to set a new trend for the auto industry, keeping customers number one. Pushing the envelope on the lifted truck market, these guys love researching and learning about everything in the auto industry!
 — Nick and Alex Bulanda, Founders of Ultimate Rides