Best Tuner for Chevy Silverado 1500 (Review & Buying Guide)
Choosing the Best Tuner for
Chevy Silverado 1500
Are you thinking about installing a performance tuner in your Silverado? At Ultimate Rides, we think it's a great idea. We're truck fanatics, and performance tuners are just another way to gain more control over your vehicle's engine. However, you can't just get online, choose any old tuner you find, install it yourself, and call it day. Instead, you should carefully search for the best tuner for Chevy Silverado 1500 trucks.
We understand it's not always that simple. Not everyone can be an expert on performance accessories. Because of that, we've put together this guide to help you pick out the right tuner for your vehicle. In it, you'll find most of the information you need to select a performance tuner. However, we can't just spell out which tuner is automatically the best. That depends on your truck, and what kind of control/performance upgrades you're looking for.
Let us start in our next section by telling you what to expert from performance tuners. There are actually quite a few misconceptions about what they do. After that, we'll provide you with a list featuring six of our favorite performance tuner options on the market right now. Take a look at each and see if one of them is right for you and your truck. Finally, after that, you'll find our buying guide. In this section, we'll fill you in on more details that will be helpful in choosing a tuner. We'll wrap up by telling you about Ultimate Rides and how we may be able to help further.
What Will a Performance Tuner
Do For You?
Performance tuners actually serve a number of different purposes in the truck, depending on exactly what kind of tuner you buy. There are some out there that can unlock more horsepower potential from your engine. Others allow you to de-active unwanted features like auto stop start or a dynamic fuel management system. Some tuners allow you to down third party "tunes" that can make alterations to your vehicle's electronics. There are many different kinds out there, so it's important to look at each individual product to see what it'll do for you.
---
1. Pedal Commander PC65 Throttle Response Controller
Compatibility: 2007-2018 Chevy Silverado 1500 (4.3L – 6.6L Engines)
Our first performance tuner comes from Pedal Commander, and it's their PC65 model. It fits on a wide range of Silverado 1500 models, though the compatibility cuts off a few years back. As long as this is the right fit for your truck, you should get some excellent performance upgrades out of this box. It can improve your fuel economy, offer better acceleration, and features a number of settings that allow you to fine-tune your truck's performance.
Even with all of that, it won't void your vehicle's warranty, ensuring it's still eligible for dealership recalls and repairs. You can even get your hands on this performance tuner for a solid price, ensuring you won't have to break the bank. It's got very strong reviews online, which can be a rarity because many customers often overlook compatibility issues. With all that in mind, this is our pick for the best tuner for Chevy Silverado 1500 models, as long as you own the right model year.
Pedal Commander – PC65 for Chevrolet Silverado (2007-2018) 1500, 2500HD, 3500HD, WT, LS, LT, LTZ, High Country, SS, & All Other Models (4.3L 4.8L 5.3L 6.0L 6.2L 6.6L) | Throttle Response Controller
---
2. DiabloSport S1000 AFM Module w/ Auto Start Stop Disable
Compatibility: Chevrolet/General Motors Vehicles 2005-2018 with Active Fuel Management and 2019-2022 with Dynamic Fuel Management
Next up, we have the DiabloSport S1000. It's a useful little tuner that can disable the auto stop/start function for your engine, as well as active and dynamic fuel management systems. On top of those features, the tuner can enhance your truck's acceleration. You should also notice a difference in the gas mileage of your Silverado. Customers have great things to say about this tuner, and we'd definitely recommend trying it out in your vehicle. Best of all, it fits on a huge range of Silverado trucks over the past 20 years.
S1000 DiabloSport Sprint AFM Module w/ Auto Start Stop Disable
---
3. Superchips Flashpaq F5 In-Cab Tuner
Compatibility: 1999-2016 Chevrolet/General Motors Trucks
One of the recognizable brands when it comes to performance tuners is Superchips. Their products are often great, and the Flashpaq F5 is an example of that. It gives you multiple tunes to tweak the performance of your pickup. With the high definition screen, you won't have trouble looking at the different settings either. While it's not the most affordable performance tuner out there, this one will do a hell of a job improving the performance of a Silverado 1500, giving you tons of control.
BRAND NEW SUPERCHIPS FLASHPAQ F5 IN-CAB TUNER,COMPATIBLE WITH 1999-2016 GM GASOLINE & DIESEL ENGINE TRUCKS
---
4. Hypertech 3000 Max Energy Spectrum Power Programmer with Color Screen
Compatibility: Chevrolet Trucks and Others
Hypertech is another name that you might recognize if you're familiar with performance tuners. This model is a great choice for Silverado 1500 owners. It'll offer improvements in your fuel mileage, as well as giving you a clear look at diagnostic codes when they happen to pop up. Plus it offers a powerful setup for towing that can help you get the most out of your truck. It's got good reviews, and is available at a fair price right now. It's definitely not a bad option, and should work with just about any Silverado 1500.
Hypertech 3000 Max Energy Spectrum Power Programmer with Color Screen
---
5. Edge Evolution CS2 Programmer
Compatibility: Chevrolet Trucks and SUVs
The next tuner on our list comes from Edge, and it'll work with a variety of Chevrolet vehicles including the Silverado 1500. This tuner will allow you to increase your horsepower and torque, as well as improve the truck's gas mileage rating. Most customers have excellent things to say about the product, though as with most tuners it is recommended to go with professional installation. When you have it all set up in your truck, you'll have more control than ever before.
---
6. Monte Tuning GTR Universal Performance Tuner
Compatibility: Universal
Lastly, we have a less popular but equally exciting performance tuner to share with you. It comes from a company called Monte and, while the product doesn't have many reviews, the reviews that are there are fantastic. The screen is sleek and easy to read. Plus you'll have an impressive degree of control over your engine. It'll help maximize the horsepower of your engine as well as providing codes to the driver and more. With relatively simple installation, it won't be long before you're behind the wheel again.
Monte Tuning Universal Performance Tuner – Monte GTR Powerful 4 in 1 Performance Chip Tuning Device, Fuel Saver and Car Diagnostic Scanner – Powerful Performance Programmer for Most Cars and SUVs
---
Best Tuner for Chevy Silverado 1500
Buying Guide
Before you go, we hope you'll stick around to read through our short buying guide. If you weren't able to find the right tuner on our list, the information here could assist you in finding what you need. Additionally, we'll talk a little bit about performance tuner installation as well as telling you more details concerning Ultimate Rides!
Factors of Focus: Which is the Best Tuner for Chevy Silverado 1500
Drivers?
When it comes to choosing a performance tuner, the most important thing is finding one that will work with your vehicle. This can sometimes be difficult, as product pages don't always helpfully list what models they work with. You may have to do a little digging, but it'll be worth the research. Once you narrow down your picks to options that suit your truck, you can start thinking about your own needs.
What are your priorities when shopping for the best tuner for Chevy Silverado 1500 models? Do you want to disable some annoying features? Looking to maximize your engine's power capabilities? Want to try out a number of different tunings to see which one best suits your driving style? Every tuner can offer something a little different. It's worth shopping around to find one that provides features that appeal to you.
Performance Tuner
Installation
Installing a performance tuner can be a real hassle. If you're not an experienced mechanic, we don't recommend trying this at home on your own. Professional installation may cost you a little bit more, but if you want the best results it will be worth it. If you do decide you want to install your own performance tuner at home, make sure to do plenty of research. There are tutorial videos available online that will be able to walk you through the process. However, every tuner is different. Make sure you're looking at information specifically for your tuner and vehicle!
Ultimate Rides is Your Destination for a
Custom Silverado 1500
Ultimate Rides is here to help with all your vehicle needs. Whether you need a team to take care of your performance tuner installation, or you want a custom-built truck complete with a performance tuner and other upgrades shipped to your door, we can make it happen. That's right – we offer nationwide delivery. And it's all made affordable with available financing. Get in touch with our team over the phone at 815-634-3900 for more information. If you live in the Chicago area, you can find us about an hour south of the city at 38 W. Division St., Coal City, IL 60416.
---
Two Brothers With a Dream

,

Building The Best Ultimate Rides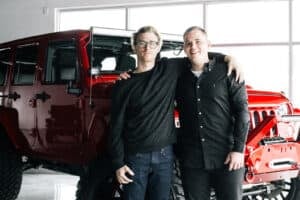 Ultimate Rides consists of two brothers who have been buying and selling custom vehicles for over ten years. Selling lifted trucks by day and writing these awesome reviews by night! They started their Ultimate Rides journey with a third brother Jake, who was a big part of building the business they have today. In 2016 Jake passed away and losing their brother was the hardest thing they ever had to deal with. Even though they had a tragic loss they plan to continue to set a new trend for the auto industry, keeping customers number one. Pushing the envelope on the lifted truck market, these guys love researching and learning about everything in the auto industry!
 — Nick and Alex Bulanda, Founders of Ultimate Rides