Best Waterproof Seat Covers (Review & Buying Guide)
Best Waterproof Seat Covers
Available Today
Taking good care of your vehicle is important for a variety of reasons. First of all, you probably spent quite a lot of your money on the thing. It makes to want to keep it in great condition. On top of that, you'll want to keep the resale value high, and it's simply more enjoyable to be inside of a vehicle that still feels like new.
The actually process of keeping your interior clean is not always easy. That's why it can be so useful to find a set of seat covers to install inside. We've put this guide together so you can decide on the best waterproof seat covers for your needs. Start by checking out our list down below. It features a few options of the best available seat covers that money can buy. However, there are so many different vehicles out there, and not all seat covers will work. Be sure to read our buying guide to learn how to find the right seat cover for your vehicle. We'll also tell you more about Ultimate Rides, including how we may be able to help you. Check it out and contact us for more information!
---
1. Rough Country Neoprene Seat Covers 1st and 2nd Row
Compatibility: 2013-2018 Jeep Wrangler Unlimited
It's no secret that Rough Country is one of our favorite manufacturers of vehicle accessories. Their seat covers are some of the best you can find out there. They are made from neoprene, and the covers are resistant to water and other liquids, protecting your interior from stains and other types of damage. These covers are also quite comfortable, with a padding that should make it no problem to sit on them for hours at a time. The covers are backed up by a one-year warranty from the manufacturer, which will be there to help if you discover any problems. However, we believe these are some of the best waterproof seat covers out there, and you should have no trouble.
Rough Country Neoprene Seat Covers | (fits) 2013-2018 Jeep Wrangler JK 4DR | 1st/2nd Row | Water Resistant | | 91004
---
2. Aierxuan Faux Leather Seat Covers Full Set
2007-2022 Chevy Silverado 1500/2500HD/3500HD and GMC Sierra 1500/2500HD/3500HD
One popular type of seat cover you'll find today is faux leather. It offers most of the same benefits as actual leather at a much cheaper price, and without the effect on the environment. These seat covers are sure to protect your actual seats from water, sugary drinks, coffee and more. They also happen to be quite comfortable to sit in, and easy for drivers to install. With a simple wipe-down, they're even easy to keep clean, and they look as sleek as can be. We highly encourage you to try these out for your vehicle, as long as you can find a set that fits.
Aierxuan Seat Covers for Cars Full Set Chevy Chevrolet Silverado GMC Sierra Pickup 2007-2022 1500 2500HD 3500HD Crew Double Extended Cab Waterproof Leather Seat Protectors (Full Set, Black)
---
3. HAPYFOST Waterproof Front Seat Cover
Compatibility: Universal (45″ x 21″)
Another one of our favorite seat covers for you to consider is this option from HAPYFOST. It's only for a single front seat, so you'll probably need to buy multiple to suit your needs. However, it's quite affordable, and though it doesn't offer 100% coverage for your seat, it definitely covers all the spots that are likely to see a spill of some kind. The cover is very durable, includes a storage pocket, and should be very simple for you to install. You can also decide to wipe down the cover to clean it, or throw it on the washing machine (on gentle) if the situation calls for it. It's certainly a contender for being one of the best waterproof seat covers for your vehicle.
HAPYFOST Waterproof Front Seat Cover Dog Car Seat Covers Nonslip and Full Protection with Side Flaps Fits Most Cars, Trucks, SUVs(Black)
---
4. JSTHT Waterproof Rear Bench Seat Cover
Compatibility: Universal (52″ x 48″)
Our next recommendation is the same style as the last entry on our list. This time, though, it's for rear bench seats. These seat covers are designed specifically to protect your interior from pets. However, they work great across pretty much any situation. They aren't fitted to your seats, so they won't offer absolute coverage against things like sand. That said, they are sure to get the job done in nearly all other scenarios. Just take a look and decide if they look like the right call for your needs. Also be sure to check the measurements to ensure they fit in your backseat without issue!
Dog Seat Cover, 100% Waterproof Pet Seat Cover,Bench Car Seat Cover Protector Scratch Proof Nonslip Durable Soft Pet Back Seat Covers for Cars Trucks & SUVs
---
5. nzonpet 4-in-1 Hammock Style Dog Car Seat Cover
Compatibility: Universal (54″ x 58″)
If your specific worry is protecting your interior from having your dog inside, this seat cover could be just the thing for you. It keeps your dog safe and comfortable, and at the same time will ensure the protection of your interior. An added benefit is that it can stop your dog from climbing their way into the front seat, which can be a problem for many pet owners. The manufacturer is said to offer phenomenal customer service, and the cover should be a piece of cake to install. From there, you'll be ready to hit the road with your dog without worry of them messing up your interior or getting in the way while you are focused on the road in front of you.
nzonpet 4-in-1 Dog Car Seat Cover, 100% Waterproof Scratchproof Dog Hammock with Big Mesh Window, Durable Nonslip Dog Seat Cover, Pets Dog Back Seat Cover Protector for Cars Trucks SUVs
---
Best Waterproof Seat Covers
Buying Guide
Did you spot a product on our list that looks like it could be the right fit for your vehicle? If so, that's great! However, we definitely understand if you need to keep looking around. In our Factors of Focus section, you'll have a chance to hear about the important qualities that we look for in a set of seat covers. Without these features, you may as well pass on that product and keep looking. After we dig into those details, we'll tell you more about Ultimate Rides, including how you can get in touch with our team right now!
Factors of Focus: Finding the Seat Cover
for You
As you probably noticed from our list, while there are some universal seat covers out there, many options are designed for a specific vehicle. That means you'll want to seek out one that will fit on your ride. Universal options can work just fine, but you'll want to make sure the measurements seem okay for your interior. If you want a set of fitted seat covers, you're instead going to want to find a set specific to your model. You'll also need to pay attention to the model year, trim level and sometimes more. It all depends on the vehicle and specific set of seat covers. You should find all the info you need on the page for each specific product.
It's also important to differentiate the high-quality options from lesser ones. This can be a little more difficult. You'll need to know what kind of material to be on the lookout for. Read through customer reviews for a product before you make a final decision. It also won't hurt to do a little bit of outside research to see if experts have anything to say about a set of seat covers before you add them to your cart. If you follow these steps, you'll be increasing your chances of finding the best waterproof seat covers for your vehicle.
Visit or Call Ultimate Rides to Find Your Next Vehicle
and More
Here at Ultimate Rides, we sell custom vehicles with shipping available all across the United States. We also do more than just that. There's a team staffing our lift center that can upgrade any one of the vehicles you see in our inventory, any way you want. We'll even be able to work on your current vehicle if you live close enough to bring it to us! Our office is located about an hour south of Chicago, at 38 W. Division St., Coal City, IL 60416. Give us a call today at 815-634-3900 to learn more about our inventory, shipping policy, custom service center and so much more.
---
Two Brothers With a Dream

,

Building The Best Ultimate Rides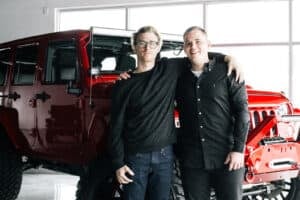 Ultimate Rides consists of two brothers who have been buying and selling custom vehicles for over ten years. Selling lifted trucks by day and writing these awesome reviews by night! They started their Ultimate Rides journey with a third brother Jake, who was a big part of building the business they have today. In 2016 Jake passed away and losing their brother was the hardest thing they ever had to deal with. Even though they had a tragic loss they plan to continue to set a new trend for the auto industry, keeping customers number one. Pushing the envelope on the lifted truck market, these guys love researching and learning about everything in the auto industry!
 — Nick and Alex Bulanda, Founders of Ultimate Rides