Braking Systems for Towed Vehicles (Tips & Information)
Did you know that if you're towing a vehicle, state law likely requires you to have a dedicated braking system installed? It's true! Though it depends on where you're located, you'll find it is the case in most states. That's not necessarily a bad thing, however. A good braking system for your towed vehicle will make hauling it around far less stressful. You'll have more control over your vehicle, and you and your passengers will be safer for it! In this guide, we want to provide more information on braking systems for towed vehicles, as well as some tips that might come in handy. We hope you'll join us!
---
Types of Available Braking Systems for Towed Vehicles
When it comes to braking systems, it's certainly not a one-size-fits-all scenario. There are going to be a variety of options for you to choose from, and each type offers something a little bit different. When checking out a braking system, it will almost certainly be one of three types: progressive, proportional or direct. There's a chance that you may find a system that is a mix of the three, but it's not as common.
Proportional Braking System
Perhaps the most common variety you'll come across is proportional. This system keeps the brakes of your towed vehicle (or toad as it's often referred) proportional to the brakes of the vehicle you're driving. So when you apply the brakes to your truck, this system will apply a proportional level to the other vehicle automatically. This will ensure that brake at the same pace, keeping things safe and running as intended.
Progressive Braking System
You will also find some braking systems for towed vehicles that are progressive. This means that the brakes of the towed vehicle will apply increasing pressure the longer you keep your foot down on the brake. Eventually, it will cut off to make sure the vehicle's brakes aren't damaged. It offers a different feeling than proportional, and isn't as high-tech, but it can get the job done safely all the same.
Direct Braking System
Finally, the last type of brake system you'll likely find is direct. This hooks up the towed vehicle's braking system directly to your brakes, allowing you to control both your own vehicle's and the other's. This is probably the best option you can go with, but it often costs quite a bit more and isn't as easy for you to install at home.
---
Why Upgrade Your Braking System?
You'll quickly find that there are many benefits to upgrading your towing braking system. If you don't have one installed, it'll bring you into line with most state laws. Yep, it's true. Most states require dedicated braking systems for towed vehicles. Check out details for your state and the states you plan on traveling through right here.
On top of that, you'll also find that the vehicle controls much better with one of these systems installed. Most brake systems simply weren't intended to handle two vehicles, and that's why you'll see a huge difference when you install one on your toad. If you compare the amount of time and space it takes your vehicle to stop while towing with and without a brake system, you'll see a huge difference. There's simply no denying it makes your vehicle safer and easier to drive.
Along those same lines, if you keep towing a vehicle without an auxiliary brake system, you'll find that your brakes go bad a lot faster. This kind of weight puts a considerable amount of wear and tear on your brakes. If you'd like for them to last as long as possible, that is yet another reason for you to look into braking systems for towed vehicles.
---
Choosing the Right Braking System for You

r Needs

Not all braking systems are set up to work with all towed vehicles. For some systems to be suitable, your truck or toad will need to be equipped with compression braking. Make sure to do the research on the particular model you have your eyes on. You should be able to figure out what kind of towed vehicles it's suited for. Once you've done that, you'll be able to find the right option for your truck and toad combination.

Another thing to consider when shopping is what kind of braking system it is. Some systems require in-depth installation that is difficult to install and uninstall. If you're in need of something temporary and would want to uninstall it and move it to another vehicle at some point, you'll want to move away from some of the more invasive brake systems. However, those ones are often the smoothest and most effective. It's always a balance! There are also more portable and less-invasive options available. Something like that is much easier to move from vehicle to vehicle if you need to.
---
Setting Up Your Budget
It's always good to have a budget and money set aside when it's time to shop for vehicle upgrades. With that in mind, we'd like to help you prepare! If you are interested in one of the top-tier braking systems for towed vehicles, we'd suggest getting in touch with your preferred mechanic. They'll likely be able to buy the part at a more favorable price than you will be able to, and for the premium options you'll almost certainly need them to install the item as well. For that, you should expect to spend upwards of $1,000-$1,200 or more. This of course depends on the specific system you decide on.
There's also nothing wrong with going for one of the more affordable at-home models. Most of them work perfectly well in most scenarios. They're also far easier to install. You should be able to find a quality one of these models for somewhere between $400 and $1,000. There are also more affordable accessories that will help you out, such as the Brake Buddy. If you're on a tighter budget or need something that you can equip quickly, this will get the job done. That may even be all you need depending on your situation!
---
Installation Tips and Assistance
Before you go, we wanted to leave you with some tips for installation. Once you've got the parts you need, it may be tempting to dive right into installation. However, we think there are some things worth knowing before you start. With that in mind, let's get to the tips!
1.) Check Out Tutorial Videos
Depending on which of the many available brake systems for towed vehicles you chose, you may be able to find a tutorial video online. This may be made by the product manufacturer itself, or it may come from an at-home hobbyist. Either way, it's a valuable tool, and could help you accomplish installation in a breeze. We've included an example below that could help you out! If not, keep an eye out for similar options for your product.
2.) Prepare Ahead of Time
Instead of getting everything together on the day you decide to perform the install, make sure you do it all well in advance. If you come into the project well-researched and organized, the chances of a mistake drastically go down. We recommend reading the experiences other customers of the product have gone through. Online customer reviews can be very helpful in this regard. If you can also get your hands on a copy of the installation manual, you'll be doing yourself a favor if you read it over.
3.) Seek Help If Needed
Our last and perhaps most important tip is this: if you're unsure of your ability to install your brake system correctly, seek help from a professional. If installed incorrectly, you could face dire consequences down the road. However, if you're confident in your abilities, feel free to try this at home. You can always have a professional check over your work if you're having doubts.
If you live near the Chicago area, Ultimate Rides is right in your backyard. To get in touch with us about brake system installation or another issue, give us a call at 815-634-3900. You can also visit us at 38 W. Division St., Coal City, IL 60416.
---
Two Brothers With a Dream

,

Building The Best Ultimate Rides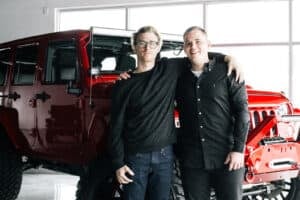 Ultimate Rides consists of two brothers who have been buying and selling custom vehicles for over ten years. Selling lifted trucks by day and writing these awesome reviews by night! They started their Ultimate Rides journey with a third brother Jake, who was a big part of building the business they have today. In 2016 Jake passed away and losing their brother was the hardest thing they ever had to deal with. Even though they had a tragic loss they plan to continue to set a new trend for the auto industry, keeping customers number one. Pushing the envelope on the lifted truck market, these guys love researching and learning about everything in the auto industry!
 — Nick and Alex Bulanda, Founders of Ultimate Rides