Brightest LED Light Bar on the Market (Review & Buying Guide)
Recommending the Brightest LED Light Bar on the Market
Whether you just bought a new vehicle or you want to get your old one setup with some new toys, a light bar is never a bad choice. The real difficulty is finding the best option for your money. That's where we come in. At Ultimate Rides, we are experts in off-road accessories. Many of our vehicles are outfitted with lift kits, custom tires, light bars and more right here in our shop. Today however, we want to help you pick out the brightest LED light bar on the market.
Below you will find a list featuring some of the brightest bars out there. They come in different sizes and from different manufacturers. The choice is yours to determine which one is best for your vehicle. After that, you'll find our buying guide. In it, you'll have access to additional information on these lights that should help you make an informed choice.
Measuring LED Brightness
Before we begin, we think it's important to understand how brightness is measure in these products. Like most electrical accessories, you should find the wattage listed for each product. You should get a solid idea of how bright a light is going to be based on its wattage. However, this isn't exactly the best barometer to measure brightness by. It's not entirely accurate, as the quality of lights can vary regardless of their wattage.
Instead, we recommend measuring brightness using a unit called a Lumen. The Lumen is an official measurement of brightness over time, and the higher the count, the brighter a source will be. With that in mind, we can go ahead and begin sharing the selections for the brightest LED light bar on the market.
---
1. Nilight 52″ 783W 78000LM Curved Triple Row Flood/Spot Combo (ASIN – B0711QGZZ6)
When it comes to quality and brightness, few manufacturers match up to Nilight. From our research, this is the best and brightest LED light bar on the market. It reaches a whopping 78,000LM, blasting the other competition out of the water. Plus, you'll find excellent construction in this product. It's waterproof, and resistant to inclement weather. The curved design ensures you get plenty of visibility with your light bar, and it looks pretty sharp as well. On top of that, installation is as simple as can be. You should have it ready to go in no time at all. If there was one option to single out as the ultimate LED light bar, we'd go with this pick.
LED Light Bar Nilight 52Inch 783W Curved Triple Row Flood Spot Combo Beam Led Bar 78000LM Driving Lights Boat Lights Led Off Road Lights for Trucks, 2 Years Warranty
---
2. AUTOSAVER88 50″ 648W 64800LM Curved Triple Row Flood/Spot Combo (ASIN – B071FHVS1P)
The next light bar we have to share comes from a manufacturer that you'll see pop up several times on our list. They're known as AUTOSAVER88, and they make some of the brightest LED light bar on the market. This product offers nearly 65,000LM, bringing tons of illumination to your vehicle Best of all, it's available today for under $100. The manufacturer also provides a three year warranty on the product, which can be quite reassuring for cautious buyers. This item receives plenty of high marks from customers online, and we feel it will be a great addition to any truck or SUV.
AUTOSAVER88 50″ Curved LED Light Bar Triple Row, Brighter 7D 648W 64800LM Off Road Driving Light No-Foggy Lens Compatible with Jeep Trucks Boats ATV Cars
---
3. AUTOSAVER88 55″ 540W 54000LM Curved Triple Row Flood/Spot Combo (ASIN – B06Y66FFL2)
Our next product also comes from AUTOSAVER88, and it's just a slight reduction in brightness at 54,000LM. However, it is five inches wider, which may make it more appealing for some drivers. Like the other options available on our list, this light bar is waterproof, dustproof and built to handle all weather conditions. It features the same reliable construction as the previous model we shared. Because of all this, we feel strongly that you'll be happy with the product.
55″ LED Light Bar Tri-Row 54000LM 540W with Wiring Harness, Curved Combo Beam Off Road Driving Lights Compatible with Trucks Jeep Wrangler UTV Boats Fishing Hunting
---
4. AUTOSAVER88 52″ 500W 50000LM Curved Dual Row Flood/Spot Combo (ASIN – B01N7P3EB5)
Once again, we've got another AUTOSAVER88 product near the top of our list. This pick is only slightly less bright, measuring out to 50,000LM. This is still more than enough for most drivers, and quite a bit more than your standard LED light bar. The three-row design featured on all of our options up to this point is replaced with a dual-row design, but it still offers excellent illumination for your vehicle. One of the benefits of dropping that extra row of lighting is that you can snag this light bar for around $85, making it quite the steal.
LED Light Bar 52 Inch Curved AUTO Work Light 4D 500W with 8ft Wiring Harness, 50000LM Offroad Driving Fog Lamp Marine Boating Light IP68 WATERPROOF Spot & Flood Combo Beam Light Bar
---
5. Arsenal 40″ 228W 39000LM Curved Pro Optics Flood/Spot Combo (ASIN – B078TNKD8K)
Next up, we have a different style light bar from manufacturer Arsenal. While there are some lights that are brighter than this one, it still offers an impressive 39,000LM. Additionally, it's made with military grade quality. That means it should last a very long time without failing. You'll find the same impressive curved design here, ensuring you have plenty of visibility at night. The strong appeal of this option is its smaller size, measuring out to 40 inches. This could definitely be the perfect light bar for your needs.
Arsenal #1 5D 40 inch Curved Pro Optics 228W 5D= 390W 39,000LM CREE LED Light Bar Offroad TM Spot Flood Combo Beam for Xtreme Offroad Trucks UTV SUV 4×4 Polaris Razor 1000 Cam Am X3
---
6. Nilight 20″ 420W 42000LM Curved Triple Row Flood/Spot Combo (ASIN – B081ZS94LH)
We move back to manufacturer Nilight with our next light bar option. This bar is able to pack 42,000LM into a tight 20 inch length. That's quite a bit of punch in such a small package. It's incredibly easy to mount this light on a variety of different vehicles. Plus, Nilight products have excellent construction, and plenty of coverage under warranty. We feel confident recommending this as one of the best light bars you can buy today.
Nilight 18024C-A 420W 20Inch Triple Row Flood Spot Combo 42000LM Bar Driving Boat Led Off Road Lights for Trucks, 2 Years Warranty
---
7. Nilight 26″ 360W 36000LM Triple Row Flood/Spot Combo (ASIN – B078KM3JQM)
Our seventh light bar is another option from Nilight, and it's our smallest product yet. This 36,000LM light bar measures out to 26 inches long, making it a great fit for all kinds of vehicles. We've already covered the many reasons why Nilight is so great, so we won't waste your time repeating it. In short: this is a great choice for those who want a smaller option.
Nilight 18020C-A 26Inch 360W Triple Row 36000LM Flood Spot Combo Beam Led Bar Driving Boat Lights,2 Years Warranty
---
8. oEdRo 28″ 768W Quad Row Curved Flood/Spot Combo (ASIN – B07NTGYS2J)
Finally, the last light bar we want to recommend comes from the oddly-named oEdRo. The product page doesn't provide a specific lumen count, but with 768W of power, it's safe to say that this quad row light packs quite the punch. It offers strong heat dissipation, which is important when having this much power at hand. You'll also find a three year warranty, strong construction quality and more. You won't be disappointed if you choose this as the light bar for your vehicle.
LED Light Bar Curved with Wiring Harness Quad-Row 28Inch 768W OEDRO Spot Flood Combo Led Lights Work Lights Fog Driving Light Off Road Light 12/24V Fit for Pickup Jeep SUV 4WD 4X4 ATV UTE TruckTractor
---
Brightest LED Light Bar on the Market Buying Guide
Since we've previously spoken about how to measure the brightness of a light source, you already know the most important aspect of shopping for LED light bars. However, there are a few more things to keep in mind while you shop. First of all, pay attention to the size of a light bar. Make sure you measure the space on your vehicle where you plan on installing the bar. Obviously you'll need to compare the space you have available to the size of the light to see if it'll fit.
Along with that, make sure to check out customer reviews to get an idea of the durability and strength of a given light bar. Not all of them are created equal, and we're confident you'll find some options out there that aren't constructed with the sturdiest material.
Final Thoughts
Was this guide helpful for you in finding the brightest LED light bar on the market? We hope so! Be sure to let us know in the comments section down below, or feel free to recommend some additional products. If you need help with installation and want to get in touch with Ultimate Rides, you can reach us over the phone at 815-634-3900 and schedule an appointment. When you're ready to come in and see us, you can find us waiting at 38 W. Division St., Coal City, IL 60416.
---
Two Brothers With a Dream

,

Building The Best Ultimate Rides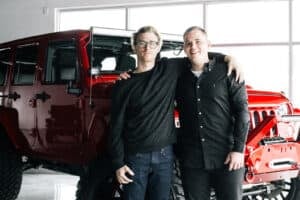 Ultimate Rides consists of two brothers who have been buying and selling custom vehicles for over ten years. Selling lifted trucks by day and writing these awesome reviews by night! They started their Ultimate Rides journey with a third brother Jake, who was a big part of building the business they have today. In 2016 Jake passed away and losing their brother was the hardest thing they ever had to deal with. Even though they had a tragic loss they plan to continue to set a new trend for the auto industry, keeping customers number one. Pushing the envelope on the lifted truck market, these guys love researching and learning about everything in the auto industry!
 — Nick and Alex Bulanda, Founders of Ultimate Rides