Choosing the Best Fender Flares for Ram 1500 (Review & Buying Guide)
Best Fender Flares for

Ram 1500 Pickup Trucks
If you want your truck to drive great, look stylish and last a long time, you've got to outfit it with the right upgrades. A quality set of fender flares can go a long way. Fender flares, similar to mud guards, can help block stones, snow, dirt, mud and water from getting flung around the road. They'll also protect your truck in long term, keeping it in better shape over time.
Finding the best fender flares for Ram 1500 models is not always as easy as choosing the first product that you find. You'll have to find a set that fits your model year and configuration. Additionally, quality can vary from product to product.
In this guide, you can find a list featuring our favorite fender flares available for the Ram 1500. After that, keep reading to find our buying guide. There we'll provide you with a little more information on choosing and installing a set that works for you.
---
1. Bushwacker DRT Style Black Fender Flares (ASIN – B07KPMJDJK)
Specs: 2019-2021 Ram 1500 (Excluding Rebel Models)
One company that you'll often hear brought up in conversations surrounding fender flares is Bushwacker. Their products do work well, and you can find them in a variety of different styles. This particular set of the best fender flares for Ram 1500 trucks is for the newest generation. The product is made here in the United States, and customers will have access to a lifetime limited warranty to back it up. Your truck will have a sleek new design element, and the flares work to block debris from hitting your vehicle and going elsewhere on the road. For those reasons, you should consider it if you drive a 2019-2021 Ram 1500.
Bushwacker 50934-02 DRT Style Fender Flares – Front and Rear for 2019-2021 Ram 1500 (Excludes Rebel Models) , BLACK
---
2. Bushwacker Black Pocket/Rivet Style Smooth Finish 4-Piece Fender Flare Set (ASIN – B0029Z1EJA)
Specs: 2009-2018 Ram 1500, 2019-2020 Ram 1500 Classic (Excluding Rebel Models)
Next up, we have another style of fender flares to present from Bushwacker. This set is for the last generation of Ram 1500 models, which covers 2009 through 2018. If you drive a Ram 1500 Classic from 2019 or 2020, these will also work for you. These flares provide excellent coverage, and should result in less trips to the car wash for you. Additionally, you'll find that protecting your truck in this way can help it maintain more of its value over time. On top of all that, they simply look great. Feel free to pick these up for a wide range of Ram 1500 trucks today.
Bushwacker 50915-02 Black Pocket/Rivet Style Smooth Finish 4-Piece Fender Flare Set for 2009-2018 Dodge Ram 1500 (Excludes R/T & Rebel); 2019-2021 Ram 1500 Classic (Excludes Rebel Models)
---
3. Tyger Auto Paintable Smooth Matte Black Pocket Bolt-Riveted Style Fender Flare Set (ASIN – B0197H52XQ)
Specs: 2009-2018 Ram 1500, 2019-2020 Ram 1500 Classic (Excluding Rebel Models)
Tyger Auto is another company that makes some of the best fender flares for Ram 1500 trucks. This option is once again for the last generation, and offers a matte style that works great for painting over. This will allow you to keep a consistent look throughout your truck's design. At the same time, these flares will do their job to protect your wheel and even the sides of your truck from mud and other debris. These heavy-duty fender flares feature a smooth design, but there is also a more rugged option available for customers who are interested.
Tyger Auto TG-FF8D4148 for 2009-2018 Dodge Ram 1500; 2019-2020 1500 Classic | Exclude R/T & Rebel Models | Paintable Smooth Matte Black Pocket Bolt-Riveted Style Fender Flare Set, 4 Piece
---
4. EAG E-Autogrilles Black Fender Flare Set (ASIN – B010IVINK4)
Specs: 2009-2015 Ram 1500
Looking for something with a different style? Check out this set of fender flares from EAG. With it, you'll find tough UV-resistant black flares that extend out to protect your vehicle. While we definitely think you'll have all the defense you need from these fender flares, it is important to note that the installation process may be more difficult. Some older accessories, such as this one, take more work to get onto your truck. However, once you get them on, you should find that they work just as well as you could hope for.
EAG E-Autogrilles 20291 Black Fender Flare (Pocket Rivet Style Front + Rear for 09-15 Dodge Ram 1500)
---
5. IKON MOTORSPORTS Smooth Matte Black Fender Flares (ASIN – B084335M3J)
Specs: 2019-2021 Ram 1500 (Excluding Rebel and TRX)
This set from Ikon Motorsports is another option for drivers of the latest Ram 1500 generation. The flares are definitely basic, and they're on the more affordable end of the spectrum. At the same time, they still do a good job of blocking whatever gets kicked up by your tires. We think these fender flares work well and have a great style, but they fall to the back half of our list due to a difficult installation process. If you plan on taking them to a professional anyways, this shouldn't be too much of a problem for you. Otherwise, you will want to take it into consideration.
IKON MOTORSPORTS, Fender Flares Compatible With 2019-2021 Dodge Ram 1500, Factory Style 4PC Smooth Matte Black PP Truck Wheel Cover Protector
---
6. MaxMate Premium Rough-Textured Black Fender Flares (ASIN – B07H43BXRL)
Specs: 2009-2018 Ram 1500 (Excluding Rebel, R/T and Warlock)
The final set of fender flares we have to share with you come from MaxMate. They're again for the last gen of trucks, and are currently available at a great price point. The installation process can be somewhat of a pain, but that is the only real drawback of choosing these flares. The product includes a 60-month warranty, and features high-quality stainless steel rivets that should last a very long time. You should feel confident using these on your truck!
MaxMate Premium Fender Flares Compatible with 2009-2018 Dodge Ram 1500; 2019-2020 1500 Classic | Exclude R/T, Rebel, Warlock Models | Rough-Textured Black Pocket Bolt-Riveted Style 4pc
---
Best Fender Flares for Ram 1500

Buying Guide
Did our list offer up some fender flares that work for you? If you feel as though you need to keep looking, this guide should help. Here you'll find more information on determining the quality of a given set of fender flairs. Additionally, we'll tell you about installing them onto your truck and the process of painting them. Lastly, you can read a little bit more about what we can offer at Ultimate Rides. Good luck, and feel free to call our office if you have any questions.
Factors of Focus: How to Find the Right Fender Flares
Picking out the best fender flares for Ram 1500 models isn't necessarily simple. A lot of factors can come into play, and that's what we're here to help you figure out. First and foremost, you can narrow down your search by only considering options made for your specific make, model and year. Once you do that, you'll still have a ton of options left, but it makes it much more manageable. From there, you want to select a set of fender flares that get the job done, and will last a long time. Style may play a factor as well, but that can vary from driver to driver. Use customer reviews, but don't rely on them as your only source. Typically, the more positive star ratings an item has, the more reliable it can be considered.
Installing and Painting Fender Flares
Thankfully the process of installing modern fender flares is typically pretty easy. If you have an old set still on there, take them off. They should leave behind a set of holes that your new fender flares can easily screw into. If your vehicle does not have a set of fender flares already installed, you should still find the small holes to screw into. Older models may require some drilling. As far as painting the fender flares, that can be more difficult if you want them to match your current color scheme. Unless your have the proper equipment, you'll need to take the vehicle in for professional assistance.
Ultimate Rides Can Help You Find an Incredible Vehicle Today
At Ultimate Rides, we offer a huge selection of vehicles, many of which have been customized by our team. We ship out to anywhere in the United States and even beyond our borders. Just call us today and someone from our staff will be able to help you find the right vehicle. If you live in the Chicago area, you can also come on down and visit our office in person. You'll find us at 38 W. Division St., Coal City, IL 60416. You can also call us today at 815-634-3900.
---
Two Brothers With a Dream

,

Building The Best Ultimate Rides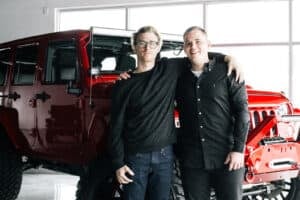 Ultimate Rides consists of two brothers who have been buying and selling custom vehicles for over ten years. Selling lifted trucks by day and writing these awesome reviews by night! They started their Ultimate Rides journey with a third brother Jake, who was a big part of building the business they have today. In 2016 Jake passed away and losing their brother was the hardest thing they ever had to deal with. Even though they had a tragic loss they plan to continue to set a new trend for the auto industry, keeping customers number one. Pushing the envelope on the lifted truck market, these guys love researching and learning about everything in the auto industry!
 — Nick and Alex Bulanda, Founders of Ultimate Rides