Choosing the Best Lithium Jump Starter (Review & Buying Guide)
The Best Lithium Jump Starter

for You
A jump starter is one of the best tools you can keep in your truck. Many of us have, at one time or another, have found ourselves dealing with a dead vehicle battery. If you keep the best portable jump starter 2020 handy, you won't have to worry. Simply hook it up to your battery, follow the instructions, and you'll be back on the road soon.
However, the process of actually finding the best lithium jump starter is not always simple. There are a ton of options out there, and they can vary greatly in quality. Because of that, we here at Ultimate Rides have put together this guide to help.
Take a look below and you'll find a list featuring some of our favorite lithium jump starters. After that, we'll tell you more about how to differentiate the good from the bad in our buying guide before leaving you off with a few more details on Ultimate Rides. Good luck, and be sure to tell us if you have any questions!
---
1. NOCO Boost Pro GB150 UltraSafe Lithium Jump Starter Box (ASIN – B015TKSSB8)
Specs: 3000 Amps and 12V
Our first choice for the best lithium jump starter has to be the NOCO Boost Pro GB150. This powerful device still manages to fit in a small package, yet offers enough juice to jump a battery for a 9.0L gas engine or a 7.0L diesel. On top of that, you'll also have access to an LED flashlight along with ways to charge up your phone in emergencies. This item is a phenomenal gift, or a great investment for your own safety and time. You'll find more items from NOCO on this list, but this one offers the most punch, and it's a sure-fire favorite.
NOCO Boost Pro GB150 3000 Amp 12-Volt UltraSafe Lithium Jump Starter Box, Car Battery Booster Pack, Portable Power Bank Charger, and Jumper Cables For Up To 9-Liter Gasoline and 7-Liter Diesel Engines
---
2. NOCO Boost HD GB70 UltraSafe Lithium Jump Starter Box 
Specs: 2000 Amps and 12V
If you'd like to save some money and opt for a less powerful jump starter, the Boost HD GB70 from NOCO is another fantastic choice. It's very reliable, even in terrible weather conditions. Additionally, it can fit in your vehicle without taking up too much space. These jump starters are incredibly safe, and won't take long to charge up the battery. Best of all, they are super easy to use. They serve multiple roles, ensuring you're covered for just about every kind of emergency out on the road.
NOCO Boost HD GB70 2000 Amp 12-Volt UltraSafe Lithium Jump Starter Box, Car Battery Booster Pack, Portable Power Bank Charger, and Jumper Cables For Up To 8-Liter Gasoline and 6-Liter Diesel Engines
---
3. HULKMAN Alpha85 Lithium Jump Starter (ASIN – B08M41FX48)
Specs: 2000 Amps and 12V
Another great choice to consider is the HULKMAN Alpha85. It's small, reliable and packs quite a heavy punch, with 2000 amps. It's quite small and simple to operate, and once again is safe as can be. The manufacturer also includes a two-year hassle-free warranty with the product. This should reassure you in the quality, as the makers actually stand by what they deliver. Customers have excellent things to say about this piece of equipment, and we're confident that you will too.
HULKMAN Alpha85 Jump Starter 2000 Amp 20000mAh Car Starter for up to 8.5L Gas and 6L Diesel Engines with LED Display 12V Lithium Portable Car Battery Booster Pack (Space Gray)
---
4. GOOLOO GP2000 Jump Starter with Quick Charge USB Type-C Ports (ASIN – B09HYVM6ZT)
Specs: 2000 Amps and 12V
Our next recommendation may not have quite as many ratings as some of the other products, but the few hundred that are there are all top-notch. The GOOLOO GP2000 is very affordable, even more than many less powerful options on the market. At the same time, it also offers reliability. You may expect there to be some drawback, such as the item being massive. Nope! It's barely larger than your smartphone. It even has USB type-C charging ports as well as a light. We believe you're gonna love what this device has to offer.
GOOLOO GP2000 Jump Starter 2000A Peak Car Starter for Up to 9L Gas or 7L Diesel Engine SuperSafe 12V Jump Box Auto Lithium Battery Booster Portable Power Pack with USB Quick Charge, Type-C Port
---
5. AVAPOW Jump Starter Lithium Power Pack (ASIN – B08NPC4VVR)
Specs: 2000 Amps and 12V
If you're on a tight budget, and don't mind opting for a larger jump starter, this may be the pick for you. It's a little bit unwieldy, but it's powerful, reliable and cheap. You can't beat that! With this item, you can jump start batteries for 8.0L gas engines or 6.5L diesel engines. You'll also find a light here along with a small variety of charging ports. This can be your all-in-one emergency power pack. The only issue is that you'll have to find a good place to store it in your vehicle. As long as you don't mind giving up a small piece of trunk real estate, you'll be in good shape!
AVAPOW Jump Starter 2000A Peak 18000mAh Portable Battery Jump Starter for Car with Dual USB Quick Charge 3.0(Up to 8.0L Gas or 6.5L Diesel),12V Jump Box,Compact Lithium Car Power Pack
---
Best Lithium Jump Starter

Buying Guide
Trying to save money is admirable, but sometimes it's worth spending extra for a better product. It's always a smart idea to go with a lithium jump starter over lead acid or something along those lines. Not only will a lithium battery work faster, but it's also safer to use. The products on our list have been tested and reviewed by countless customers, and the verdict is that they're the best of the best. We hope you were able to find one that suits your vehicle. If not, we encourage you to keep the search up.
Here in our buying guide, we'll tell you what factors come into play to decide if something is a contender for being the best lithium jump starter. Read through that section and you should have a much easier time picking out your next jump starter. After that, we'll tell you more about how Ultimate Rides can help you find an amazing new truck, SUV or car. If you have any questions for our team, you can contact us any day of the week.
Factors of Focus: Which Lithium Jump Starter is

Right for You?
When shopping for a lithium jump starter, you've got to always make sure you buy an option that's strong enough for your engine. Larger and more powerful engines require stronger batteries, which in turn require better jump starters. Pay attention to the amperes offered by a given jump starter. Additionally, many products will actual tell you how strong of an engine they can support. Just be sure to note the different values for gas and diesel engines depending on which one you have.
Something else you'll want to focus on is the durability of a jump starter. Some cheaper options may not last as long as the stronger products. It's up to you to balance budget with quality, and research is a big part of that. The options on our list all have excellent customer reviews, which is a great sign of quality. The more ratings a product has, the more popular it is. That is worth remembering as well. Overall, you'll have to use your best judgement to find the best lithium jump starter for your own needs.
Build a Custom Truck with

Ultimate Rides
Here at Ultimate Rides, we are a leading dealer in custom vehicles, with shipping available across the United States. We put a very strong emphasis on customer service as well as the quality of our vehicles. On top of that, you'll be able to customize any car, truck or SUV you buy from us in our very own lift center. You won't find any other dealership out there quite like us. We encourage you to call our office at 815-634-3900, or stop in and see us at 38 W. Division St., Coal City, IL 60416. We'll be happy to work with you to find the ride of your dreams!
---
Two Brothers With a Dream

,

Building The Best Ultimate Rides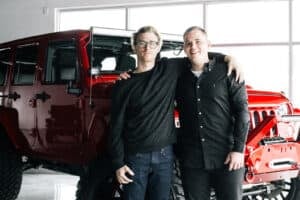 Ultimate Rides consists of two brothers who have been buying and selling custom vehicles for over ten years. Selling lifted trucks by day and writing these awesome reviews by night! They started their Ultimate Rides journey with a third brother Jake, who was a big part of building the business they have today. In 2016 Jake passed away and losing their brother was the hardest thing they ever had to deal with. Even though they had a tragic loss they plan to continue to set a new trend for the auto industry, keeping customers number one. Pushing the envelope on the lifted truck market, these guys love researching and learning about everything in the auto industry!
 — Nick and Alex Bulanda, Founders of Ultimate Rides