Custom Jeep Builders Near Me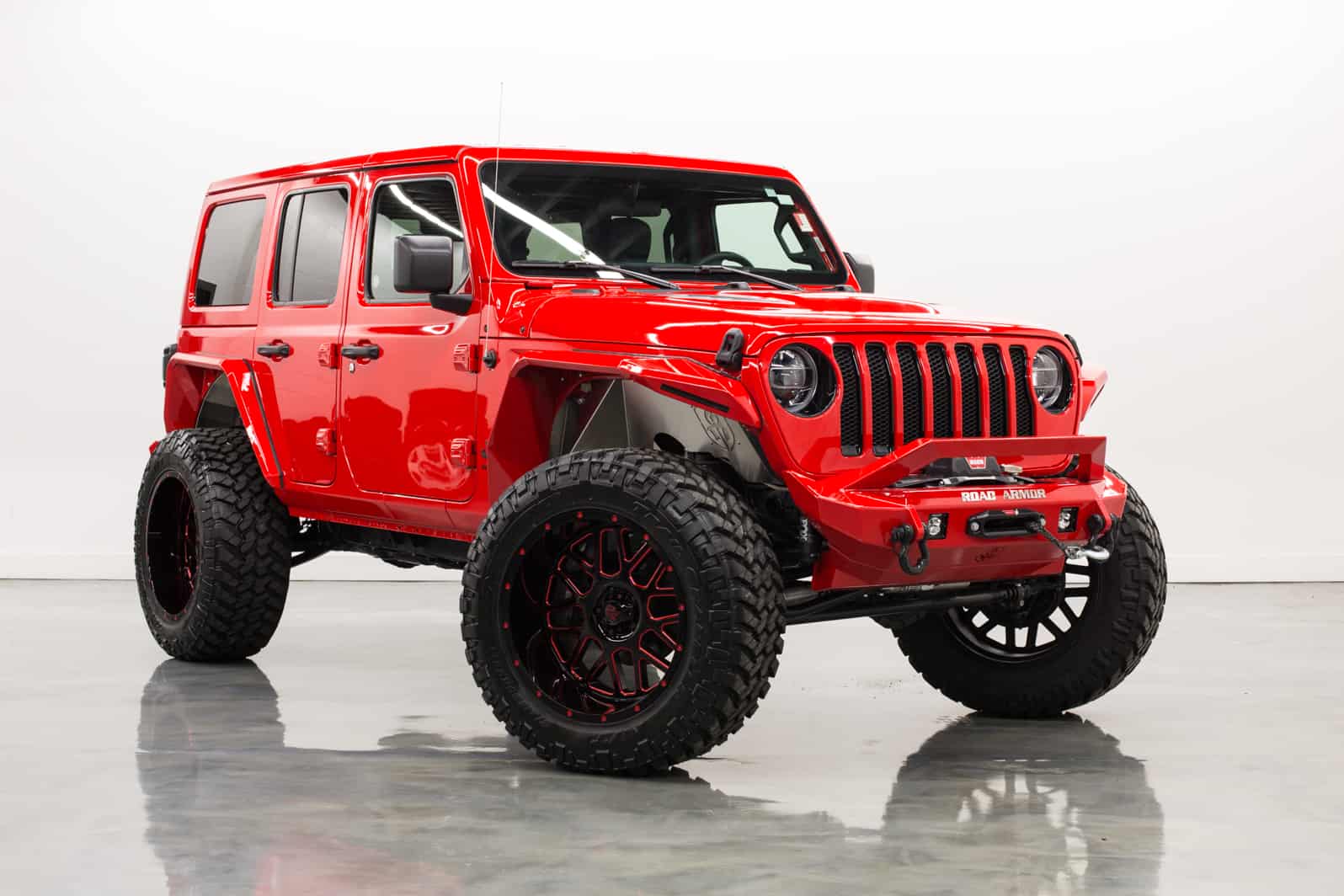 Ultimate Rides are the Custom Jeep Builders

Near Me
Custom vehicles seem to grow in popularity every year, and with good reason. There's just nothing else like driving a vehicle that you've customized to your liking, especially a Jeep. Jeep vehicles are naturally built for adventure, and that potential only grows when you customize it. If you're looking for the best custom Jeep builders near me, Ultimate Rides is the place to look. Though we are located in the Chicago area, we offer vehicle delivery to customers all across the United States. No matter where you are from, we can get one of our amazing SUVs or trucks to you.
You might be wondering why you should choose us instead of your local mechanic. The honest answer is that nobody can build a custom Jeep quite like Ultimate Rides. We offer a wide selection of already-customized vehicles, and you'll be able to make any adjustments you'd like when you buy. Our team is incredibly talented, and we can bring your Jeep dreams to life. Take a look at this guide to get an understanding of what Ultimate Rides is all about, and then feel free to take a look at our inventory or call us to begin.
Custom Vehicle Delivery

Available Anywhere
Without being able to deliver our vehicles, we'd only be able to serve a small portion of the United States. However, since we can get our vehicles to you anywhere, we can offer custom Jeeps to customers all over. The entire process is as simple as can be too. We recommend you start by taking a look at the vehicles in our inventory that you can see here on our website. You can also feel free to give us a call if you'd like someone from our team to walk you through your options. We can provide you with more pictures, as well as any details you'd like to know about the vehicle. When you've made a final decision, we'll be able to take care of financing right over the phone.
When you choose delivery through Ultimate Rides, you'll be able to either pay for shipping upfront, or finance the cost alongside your Jeep. This will allow you to pay off the entire sum in one simple monthly payment. Whatever option works best for you is perfectly fine with us. As soon as the financial aspect is wrapped up, we'll start getting your vehicle ready to ship out! Before too long, it should arrive right at your home, ready for you to drive.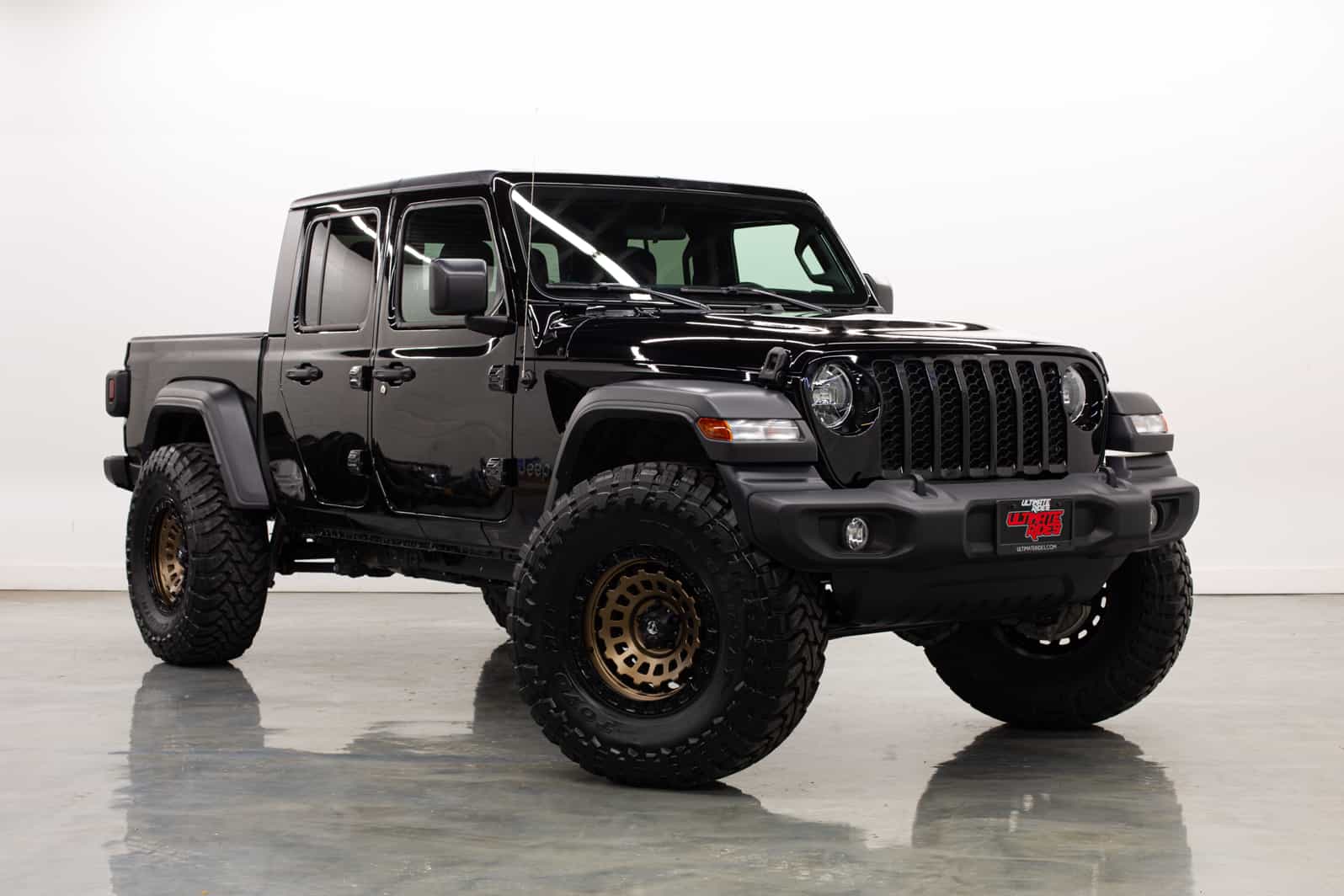 Everything You Need to Know About the

Ultimate Rides Lift Center
One of the main reasons customers from all over America choose Ultimate Rides is our lift center. While many other auto dealerships have their own service centers, very few if any are like ours. We finished construction on our lift center just a few years ago, and that means it's decked out with all the best equipment and technology. However, that would mean nothing if our lift center wasn't staffed by a team of ASE-certified expert technicians. Our team is hard-working, talented and efficient. No matter what kind of work we're performing, we do it at the highest level.
Any time you purchase one of our vehicles, you'll be able to send it over to our lift center for some more work. We can offer whatever custom modifications you'd like, and you'll be able to once again choose whether you want to finance or pay off the cost of these services now.
We can confidently say we're the best custom Jeep builders near me, and we're always happy to prove it. Take a look at the custom Jeeps available in our inventory now to get a sense of what we offer, and be sure to take a look at customer reviews online to hear what others have to say about us. We even work on vehicles from the public. If you want us to customize your Jeep, just give us a call to set up an appointment!
An Inventory Full of

Rust-Free Jeeps
It's not just our custom work that catches the attention of drivers. We also offer an inventory of top-class vehicles. Each one of our Jeeps models is free of rust and in great running shape. If you've spent time shopping at other auto dealerships, you already know this isn't always the case. It can often feel like a crapshoot when it comes to the quality of used vehicles. However, quality is something that is very important to us. Because of that, we send our buyers out to warmer areas of the US to find the best vehicles they can. They bring them back to us and we inspect them to make sure every vehicle meets our standards.
From there, many of the rides we bring in are customized in our shop. We install full suspension lifts, custom tires and more. Just take a look at our inventory and you'll see the wide range of services we have available. All of this comes together to provide drivers with an inventory of vehicles quite unlike any other. If you're looking for the right custom Jeep builders near me, you have definitely come to the right place. We are confident you can find an incredible Jeep suited for you right here.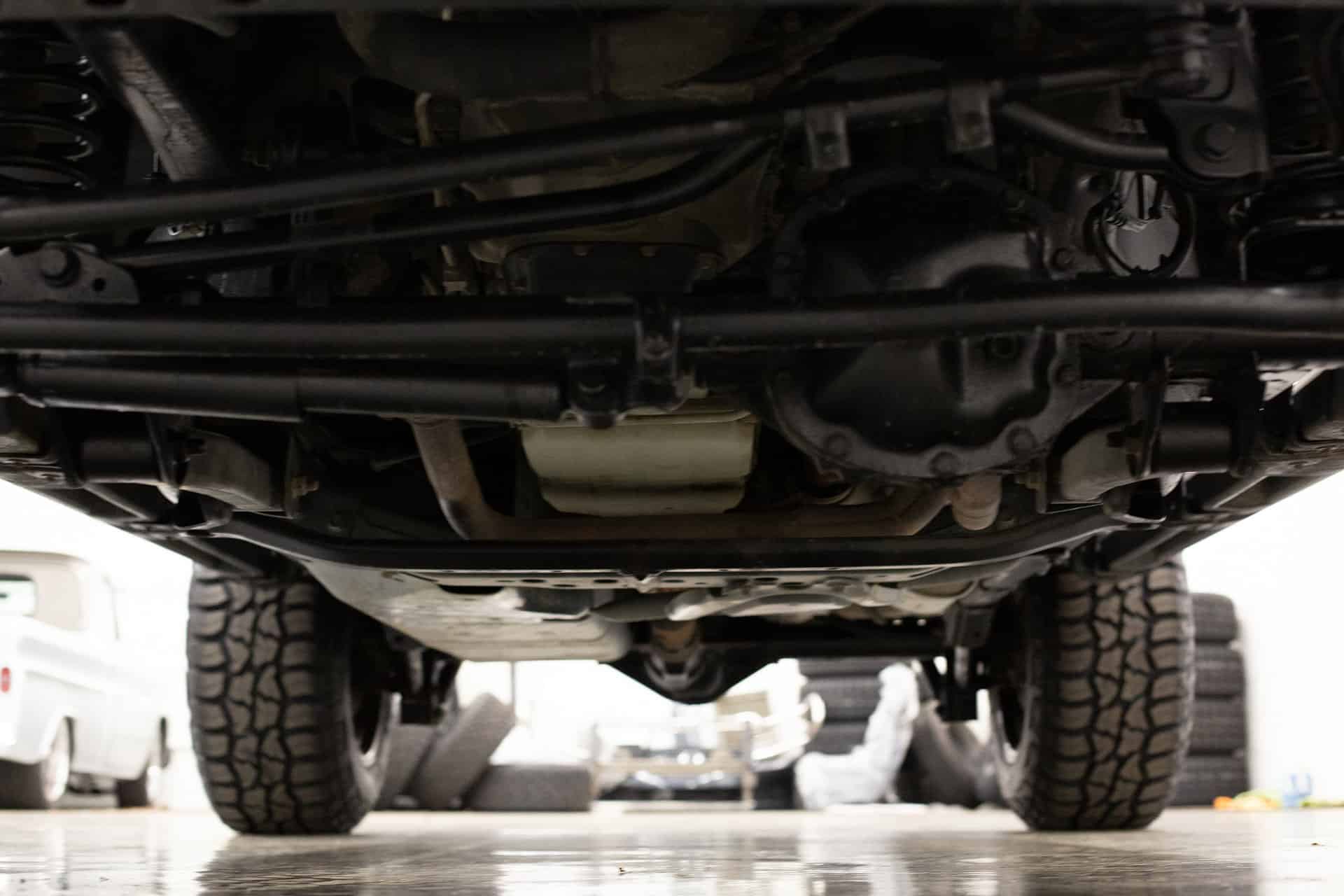 Expect Better

Customer Service
There are still more ways in which Ultimate Rides sets itself apart from the competition. One of the most important is our customer service. The used auto industry has earned quite a negative reputation in this department, and that is something we're out to change. We truly believe that we can still run a successful business while treating our customers fairly and with respect. Our goal is to provide you with your ideal vehicle. Every step of our customer service process speaks to that.
Give us a call or stop by the Ultimate Rides office and a member of our team will be here to help you out. We'll actually listen to everything you have to say, and from there we'll do everything we can to line you up with the right vehicle. Whether you heard we're the best custom Jeep builders near me, or you aren't sure what kind of vehicle you want yet, you can bet on finding the right model right here.
Ultimate Rides will even help customers track down rare or hard-to-find vehicles. Let us know what you're looking for and, with a small deposit, our team will look out for the vehicle. As soon as we locate it, we'll let you know and get it ready for you to come pick up. Alternatively, we can also ship the vehicle to you! Just let us know and we'll assist you.
History and Legacy of

Jeep
It's hard to say exactly what makes Jeep vehicles so appealing to customize. Perhaps it's the fact that they're pre-made for adventure, or just that they have a distinct look that's easy to play around with. Whatever the real reason may be, there's no denying the truth: there's nothing out there like a custom Jeep. Ultimate Rides are the top custom Jeep builders near me, offering models like the Wrangler, Gladiator and more. But you might be wondering about the history of these iconic vehicles. We can help with that.
The actual company known as Jeep can trace its roots back to WWII. The brand has shifted hands between a number of parent companies in the years since. They eventually found their way into the control of Chrysler, and remain under that same corporate umbrella today. These vehicles have always been made with off-road action in mind, but they also perform extremely well as daily drivers. The Jeep brand name still means something, and that certainly doesn't seem likely to change any time soon.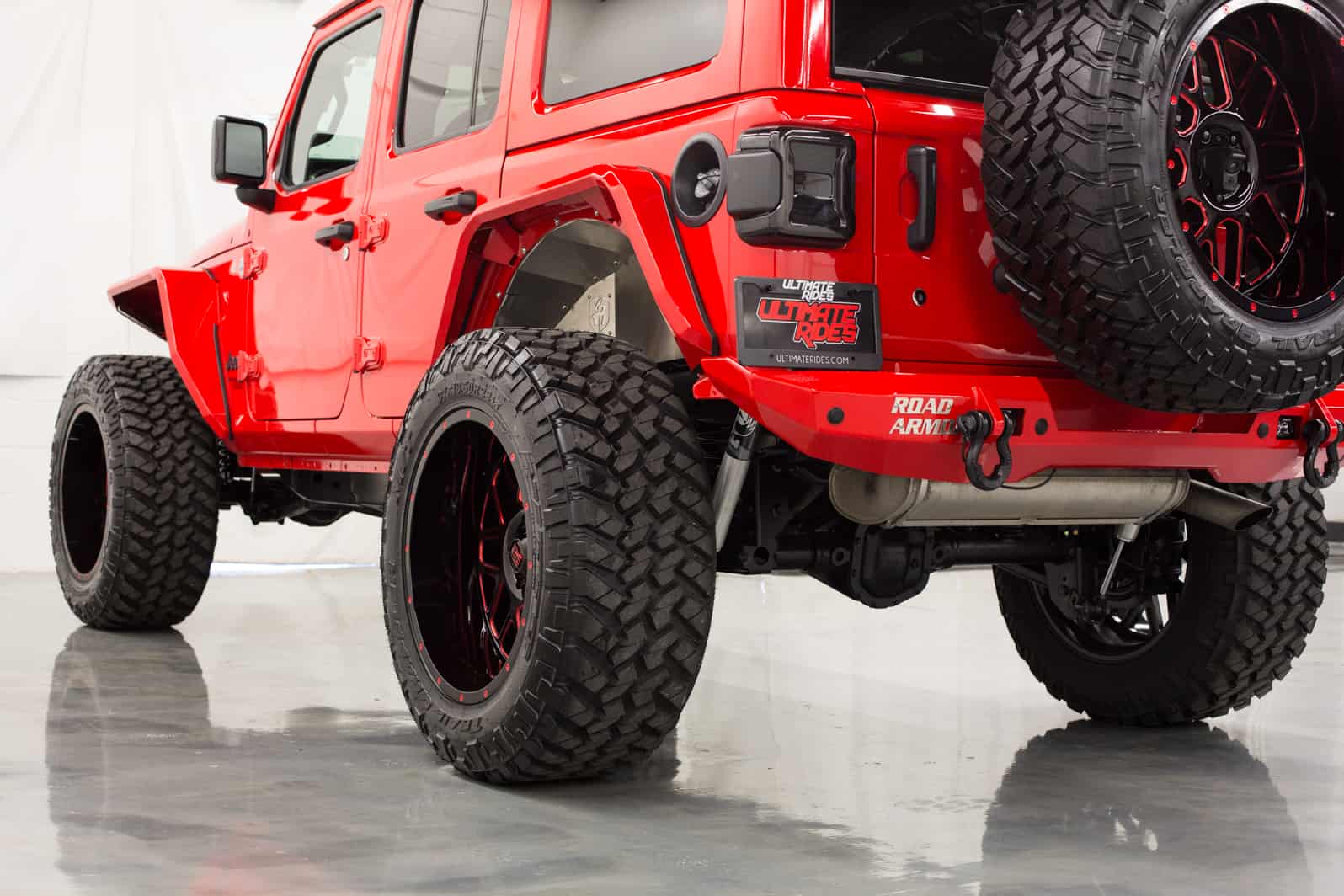 Lifted Suspension and Other Ways to

Customize Your Jeep
If you've never driven a custom vehicle before, the process might seem a little intimidating. However, we're here to assure you that isn't the case, especially when you choose Ultimate Rides. We make the process as simple as can be, offering you concrete options and handling the entire installation ourselves. But you might be wondering why you should upgrade in the first place. Well, we're here to tell you the benefits of driving a custom Jeep.
For off-road drivers, the pitch is easy. You can make your vehicle perform even better with the right modifications, such as larger wheels, a performance chip, skid plates and more. A suspension lift is one of the most popular choices for off-road drivers, raising your vehicle higher up off the ground for better maneuverability.
If you don't plan on heading off-road, there are still plenty of reasons to customize a Jeep. It can offer a unique look that you literally won't find anywhere else on the road, depending on what you choose. There are also great features we can offer to help you on a daily basis, such as a set of running boards or LED headlights. For a full list of all available services and modifications, get in touch with someone from Ultimate Rides!
In

Conclusion
Now that you've had a chance to hear more about Ultimate Rides, we hope you'll consider us as your custom Jeep builders near me. We are a family-run business, operated by brothers who care about the quality of our vehicles. Being a family business means something to us, and we hope you'll be able to feel that when you shop with us. Ultimate Rides offers vehicle that you won't find anywhere else. In a world where reliable auto dealerships can be hard to come by, we work hard to stand out from the crowd. Let us know the next time you're in search of a vehicle. If you want a quality custom Jeep, you know exactly where to look.
If you ever find yourself in the Chicago area and would like to stop by the Ultimate Rides office, you can visit us at 38 W. Division St., Coal City, IL 60416. That's about one hour south of the city. If you would instead like to get in touch with a member of our team over the phone, reach out to us at 815-634-3900. Someone will be happy to help you find the right vehicle today!
---
Two Brothers With a Dream

,

Building The Best Ultimate Rides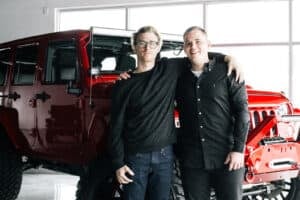 Ultimate Rides consists of two brothers who have been buying and selling custom vehicles for over ten years. Selling lifted trucks by day and writing these awesome reviews by night! They started their Ultimate Rides journey with a third brother Jake, who was a big part of building the business they have today. In 2016 Jake passed away and losing their brother was the hardest thing they ever had to deal with. Even though they had a tragic loss they plan to continue to set a new trend for the auto industry, keeping customers number one. Pushing the envelope on the lifted truck market, these guys love researching and learning about everything in the auto industry!
 — Nick and Alex Bulanda, Founders of Ultimate Rides