Custom Lifted Trucks for Sale Today
Ultimate Rides Offers Custom Lifted Trucks
for Sale
These days, shopping for a vehicle isn't so simple. There's a whole song and dance usually involved, and dealings with less-than-trustworthy dealers. At Ultimate Rides, we're out to change that whole experience. We want to make buying a truck something to enjoy once again. Ultimate Rides is a custom auto dealership specializing in lifted trucks, offering delivery to drivers around the United States. You'll find out inventory to be top-notch, made up of rust-free custom lifted trucks for sale. On top of that, our customer service is here to impress. We want to help you find or build your perfect truck, and we'll do whatever we have to in order to make it happen.
Check out the rest of this guide for more information on Ultimate Rides. You'll learn about our custom service center, where all the magic happens. We'll also tell you about our customer service philosophy, the shipping process when you buy from us, how we source our inventory and much more. If you like what you hear and you're ready to speak with a member of the team, feel free to give us a call today.
Custom Trucks Built in the
Lift Center
If it weren't for our on-site lift center and staff of technicians, none of this would be possible. All the vehicles you see in our inventory have been customized right here. On top of that, any time you buy one of our vehicles, you'll have an opportunity to make even more changes. Our team will handle any adjustments or install any accessories you'd like before you take control of the vehicle. We want to help you start driving your ideal truck, and this is just one of the ways we can help. Our custom lifted trucks for sale are constructed with passion, and we think that comes through in the final product.
You'll be able to decide if you'd rather finance the cost of these upgrades, or pay for them up front. Either way, our team will get right to work. There are countless options available. We can change the height of your lift, offer upgrades like a performance chip, install running boards or custom wheels, or just about anything else you can think of. To discuss options, simply call our office. A member of the Ultimate Rides team will go over every option with you until we find the right fit.
Our Lift Center is
Open to the Public
These upgrades aren't just limited to our own inventory. Would you like our team to work on your current vehicle? We're more than happy to make that happen. The Ultimate Rides office and shop is located about an hour south of Chicago. If that's within driving distance for you, feel free to call us today. We'll talk about upgrades for your vehicle, and we can schedule an appointment that works for you. Our team will work hard to get the vehicle back to you as quickly as possible, and when you get it back it'll have everything you asked for. Let us know if this sounds appealing to you and we can get started right away!
Ultimate Rides – Where Customer Service
Still Matters
In the auto sales industry, it often feels like customer service doesn't carry the same importance that it used to. Ultimate Rides is here to change that. We treat every single customer like a VIP, whether you're buying one of our custom lifted trucks for sale or bringing your vehicle in for an oil change. Our goal is not to squeeze you for money. Instead, we want to help you start driving your perfect truck. We'll do whatever we can to make that happen. When you come to our office or call us, you'll be treated with respect by a knowledgeable and friendly member of our staff. They'll help you with whatever you need.
That includes tracking down a specific vehicle. Is there something you want but can't find in our inventory? Let our team know and, with a small deposit, our buyers will start seeking it out, no matter how rare. As soon as we find it, we'll let you know. You can buy the vehicle as it is, or we can offer a number of different upgrades or accessories. That's just one example of the countless ways our team will go above and beyond to make sure you're happy. Give us a call today if you'd like to find out what else we can do to assist you!
Affordable Nationwide
Shipping
Without our shipping, our vehicles would only be limited to drivers in our area. We're ecstatic that we can provide custom lifted trucks for sale to people all across the country. Our shipping process is incredibly easy, and can all be handled right over the phone. Call us to begin, and we'll go over the many different options in our inventory. A member of our team will hear all your wants and needs, and match you up with the perfect truck. From there, you can decide if you want to buy it as-is, or make any more modifications in our lift center.
When you make your final decision, we can handle the whole financing process right then and there. You can choose if you want to include your shipping costs in that financing deal, or cover them separately. This can help make shipping affordable for even more people out there. As soon as all of that is taken care of, our team will get right to work on upgrades if you asked for any. As soon as your vehicle is ready, we'll send it out. It should be a week or less before it arrives at your door.
Check Out Our
Rust-Free Inventory
You won't find any old trucks at Ultimate Rides. Yes, each one features some kind of customization. However, there's a lot more than just that to set them apart. Our vehicles are all rust-free as well as inspected in and out to ensure their quality for our buyers. You might be wondering how we're able to offer such high-quality custom lifted trucks for sale while located in the Midwest, where rust spreads on vehicles like crazy. It's because we send our buyers out to warmer areas of the country to find the right models. They seek out the best vehicles they can find and we bring them back to our HQ. From there, we inspect them, make sure they're all cleaned up, and install some custom upgrades before we list them online.
If you'd like to learn more about any of the vehicles you see in our inventory, all you have to do is ask. A member of the Ultimate Rides team will have plenty more details to share, as well as more photos to help you out. We stand behind every vehicle in our inventory, so we're always willing to offer as much information on them as possible. If you're in the area, you can even come down and take a look for yourself! We want you to feel fully confident when you're buying through us.
Driving with a Lift Kit –
What to Know
Have you ever driven a truck equipped with a lift kit before? If not, you're in for a great surprise. It's quite difficult to explain the difference in how it feels to drive one of these trucks compared to a standard one. It's just something you have to experience for yourself. You'll be up higher off the ground, which is obvious. This means you should be able to see over most of the vehicles around you, getting a better look at the surrounding area. While this offers some benefits to safety, it also means you won't have as good of a view of the areas right up close to your truck. You'll have to be extra careful when maneuvering around things near you, especially when parking. A 360-degree monitor, a feature appearing in more and more new trucks, can help with this.
You'll also find a number of other benefits to driving a truck like this. If you're a fan of off-road adventure, you're in luck. Lifted trucks can easily handle off road trails with great performance. A suspension lift can also help you avoid bottoming out when towing. There's a lot to get used to when you make the switch to a lifted truck, but the vast majority of drivers absolutely fall in love once they try it. Let us know if there's anything else you wish to learn before making the change with one of our custom lifted trucks for sale!
Popular Accessories and Modifications for
Today's Drivers
It's not a secret that the popularity of lift kits among pickup drivers has been growing. There's been something of an explosion in seeing these trucks out on the road today. Here at Ultimate Rides, we love to see it. However, suspension lifts are just one of the countless upgrades you can equip on your pickup truck.
Another very popular installation is a set of running boards. If you raise up the height of your vehicle, there's a good chance you'll need a step to help you get in and out. If you don't need one, think about your older or younger family members who may have trouble. These add-ons can be installed for a pretty small price, or you could opt for a more-expensive powered set of running boards. They'll cost more, but offer excellent style and convenience.
Yet another excellent addition to a lifted truck is a set of custom wheels and tires. We can offer both right here at Ultimate Rides, with both popular and more obscure brands available. We can help you find the right set of off road tires for your truck, or outfit it with a set perfect for daily driving through the city or along the highway. These are just a few of the more popular options, and they definitely don't represent the limits of what we can do for your truck.
Trustworthy Maintenance
and Repair
At Ultimate Rides, we know it can be quite difficult finding a team of mechanics that you can trust. That's why we're happy to tell you that our service center is here for the public for repairs, maintenance and detailing. Our technicians work incredibly hard, are ASE-certified, and have plenty of experiencing not just customizing vehicles but fixing them as well. We're here to handle small jobs like a tune-up, steering alignment or oil change. Additionally we'll tackle major issues including engine and transmission repairs and more.
Give us a call today and we can schedule you in for an appointment. If you need to have your vehicle towed, just let us know when it's coming and what to look for. Quality is always a priority for us at Ultimate Rides. That said, we know how frustrating it can be to be without transportation. We'll do everything we can to get the ride back to you quickly. Go ahead and call us if you'd like to know more about our available repair or maintenance services. Remember that our detailing can also help get your vehicle looking great!
Custom Lifted Trucks for Sale
Right Here
Does it feel like we might be the right auto dealer for you? We sure hope so. If you still have questions, we definitely encourage you to call us. We can offer even more information over the phone, helping you find whatever it is you're looking for. Reach us today at 815-634-3900. If you happen to live in or are visiting the Chicago area, you can also come see us in-person. Our office is about an hour south of the city, at 38 W. Division St., Coal City, IL 60416. We're ready to sit down and discuss options with you today, so feel free to stop on by!
Frequently Asked
Questions
Before you go, we thought it may be helpful to offer some answers to some of the most common questions we hear from customers and readers. Below you'll find a few of those questions along with our response. If there's anything else you feel like we can assist you with, be sure to give the Ultimate Rides office a call!
Q: Does a lifted truck require extra maintenance compared to standard models?
A: In general terms, there are a few things you can do to keep your lifted truck up and running as good as ever. We recommend greasing the bearings and ball joints every few weeks to monthly, depending on how much free time you have. Tightening up the various bolts on the kit is also an important step. You can do this stuff at home, or take it to your professional shop and they'll take care of it for you. It's also important to know that a steering alignment is required after installing or altering a lift kit, in order to adjust for changes to the vehicle geometry.
Q: Is it possible to buy a lift kit online and install it at home?
A: Yes, it's definitely possible to do this. However, we do not recommend it for everyone. Many of the lift kits you can buy online aren't as high-quality as those a professional shop will have access to. Additionally, installation can be difficult or even impossible for amateurs, unless you go with a lower-quality budget kit. Think carefully before you decide to go this route. Professional installation may cost more, but it could easily save you money, frustration and time in the long run.
Q: What's the difference between a suspension lift kit and a body lift kit?
A: A body lift kit utilizes spacers or another time of physical element to actually raise up the body of your vehicle. A suspension kit, on the other hand, changes the vehicle's suspension to raise it up instead. Body lift kits are cheaper and often easier to install. However, they'll often offer a lower-quality drive than a more expensive suspension kit.
---
Two Brothers With a Dream

,

Building The Best Ultimate Rides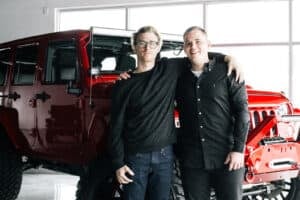 Ultimate Rides consists of two brothers who have been buying and selling custom vehicles for over ten years. Selling lifted trucks by day and writing these awesome reviews by night! They started their Ultimate Rides journey with a third brother Jake, who was a big part of building the business they have today. In 2016 Jake passed away and losing their brother was the hardest thing they ever had to deal with. Even though they had a tragic loss they plan to continue to set a new trend for the auto industry, keeping customers number one. Pushing the envelope on the lifted truck market, these guys love researching and learning about everything in the auto industry!
 — Nick and Alex Bulanda, Founders of Ultimate Rides