Custom Pickup Trucks for Sale at Ultimate Rides
The Best Custom Pickup Trucks

for Sale Today
No matter where you're from, Ultimate Rides believes you should have access to great custom trucks. That's one of our core tenets as a business, and is the reason we offer simple delivery for all of our vehicles to just about anywhere. There's a growing movement of custom pickup trucks that's been building over the years, and we've been on board for a long time. We're glad it seems everyone else is starting to catch up! Ultimate Rides is the place to find the best custom pickup trucks. We've got an incredibly talented team of technicians who work on our vehicles, and you should be able to tell the caliber of their work simply by checking out our inventory.
If you're the kind of person who puts a strong emphasis on their vehicle, it's going to be worth your money to put in a little extra. That's why people keep on coming to Ultimate Rides for their vehicle needs. We offer premium vehicles at fair prices, and we have our very own lift center staffed by the best people around. This guide will offer up some more details on Ultimate Rides, and by the end you should know if this is the right place for you. You won't find vehicles like ours anywhere else, and that's not the only reason we stand out.
Rust-Free Excellence on Every Vehicle at

Ultimate Rides
One of the many things that sets us apart from other auto dealers is the level of quality in our inventory. You won't find rust in our trucks. Corrosion and rust is very common in vehicles, especially in areas with snowy winters and salt on the roads. It's quite an effort to bring in rust-free vehicles, but we believe it truly makes a difference. Our customers deserve the best, and that's what we're out to give them.
We start by searching for our vehicles in warmer parts of the United States, like the southwest. The vehicles in these areas don't undergo as much stress on the road, and rust isn't as common. They bring those vehicles back to our headquarters outside of Chicago and we clean them up for you. Every truck gets an inspection to make sure to meets our standards. If it does, we'll usually add some modifications in our lift center and then list the vehicle.
Take a look at our inventory and you'll see for yourself what we mean. If you're the kind of person who doesn't mind paying a little extra for a lot of quality, Ultimate Rides has what you want.
Customize a Vehicle in the

Lift Center
You'll quickly see that many of the vehicles we sell already have modifications from our team. However, when you buy a vehicle from us, you can always send it over to our lift center before you take possession. We can make any adjustments you'd like, such as new tires, a lift kit or LED headlight installation. You'll even be able to finance the cost of whatever service you get, allowing you to pay it off alongside your vehicle if you'd like. Our team of technicians is ASE-certified, and consists of some of the most talented people around. We're incredibly proud of the work our team gets done, from the vehicles in our inventory to those belonging to you at home.
That's right! If it's not yet time for you to upgrade to a different truck, we can still work on your current vehicle. Give our office a call and we can talk details. The process should be smooth and easy. We'll set you up with an appointment, and get all the work you'd like done. It's possible for you to completely overhaul the look and feel of your vehicle. We can also just make a minor adjustment here or there if that's what you'd like. No matter what you're looking for, Ultimate Rides can bring your vision to life.
Visit Ultimate Rides for

Next Level Customer Service
It's more than just our vehicles that keep our customers coming back to us time after time. Ultimate Rides is a family-owned business, and we make it a point to treat every customer like they're a part of our family. It starts right away when you give us a call or walk through our door. You'll be met by a knowledgeable team member who will go out of their way to make sure you find what you need. If you have questions, we'll answer them however we can. Additionally, we can walk you through the entire process of buying a vehicle. Whether you plan on coming to pick it up from us or want it delivered, our team makes it easy.
We're well aware that the auto sales industry has earned a not-so-great reputation. We also believe that it is our duty to fix that. Our actions speak for themselves in that department. Just take a look at some of our online customer reviews and you'll see what we mean. It is our belief that every single person who calls or stops by our office deserves respect. You won't find any salespeople trying to pull a fast one over you here. Instead, we offer straightforward customer service with an inventory that should impress. If you like the sound of how we do things, we hope you'll get in touch with Ultimate Rides soon!
Simple and Fast

Custom Vehicle Delivery
We mentioned it briefly before, but it's worth digging into details: Ultimate Rides delivers! No matter where you're from, you deserve a chance at buying a high-quality custom vehicle. Thankfully, Ultimate Rides has a ton of great custom pickup trucks for sale. Give our office a call and someone will be able to offer you all the details you'll need to know. We can take care of the entire financing process over the phone, and arrange shipping details. You'll be able to choose whether you'd like to pay for delivery costs now or financing them with your vehicle. Either way, we work hard to make our vehicle delivery affordable.
Additionally, it's also done in a timely fashion. You won't have to wait months to get your vehicle. Get in contact with our team and we'll be able to provide you with an estimated date of delivery. We know that not every area has a custom auto shop, or even a place to buy high-quality new and used vehicles. Ultimate Rides is here for you. No matter where you live, we are confident that we can hook you up with an amazing truck. Give us a call today and we can get the conversation started!
Choosing the Best

Custom Pickup Trucks for Sale
If you've spent time shopping for a vehicle in the past, you likely already know it can be quite a task to narrow down your options. Even just here at Ultimate Rides, we have a ton of different models for you to choose from. Picking the right vehicle is all about knowing your own needs and how to fill them. Are you looking for a truck that's built for off-road performance? What about something you'll need to use to get the kids to school and back?
Let us know what you're looking for in a vehicle and our team will be able to help you track down just the right thing. Even if it's something that we don't have in our inventory, we have the ability to help you find it. At Ultimate Rides, we're all about matching our customers up with just the right vehicle. Whether it's a car, truck or SUV, you can count on us for help.
Benefits of Driving with a

Lift Kit
One of the most common modifications you'll see on a truck is lifted suspension. It's one of our specialties here at Ultimate Rides. Look around and you'll see that many of the vehicles we sell have already been lifted by our team. You might be wondering why this trend continues to grow in popularity. As far as we can tell, there are at least a few reasons. We're happy to tell you about all of them today!
First off, one of the main reasons people choose to life their truck is simply for a new look. Many trucks have a sagging front end and don't offer an aggressive look. That's something many drivers want to change, and a lift kit is a great way to do so. Additionally, lifted suspension can offer distinct performance advantages, especially while driving off-road. It'll help you avoid rocks and other potentially-damaging hazards, and can offer a higher vantage point to see from.
These are just a few of the many reasons why someone might want to lift their vehicle. To get a full range of answers, you only need to look around online and see what others have to say. You can be sure you'll find just as many different answers as there are people out there. If you think a lift kit might be right for you, get in touch with Ultimate Rides for more details!
Maintenance, Detailing and Repair from the

Ultimate Rides Team
In addition to customizing vehicles, the Ultimate Rides service center is open to you for vehicle repair, maintenance and even detailing. That's right! Our talented ASE-certified team is available for all your auto needs. Whether you're dealing with an unknown problem and need someone to diagnose, or you know exactly what's wrong and need someone to take care of it, our team is ready for you. We handle jobs both big and small, from regular everyday maintenance to major problems like engine repair. Best of all, you can trust that your vehicle is in great hands when you choose us. We truly believe that our team is the best around, and you won't find a more reliable team of technicians.
We are quick, precise and affordable, so be sure to get in touch with us the next time you have an issue with your vehicle. It does not matter if it was purchased from us or not. Either way, we'll be able to take care of the job!
In

Conclusion
You've now learned most of what there is to know about Ultimate Rides. Whether you want us to upgrade your existing vehicle or want to check out our many custom pickup trucks for sale, we'll be here waiting for you with open arms. We're the best around when it comes to this stuff, so you won't regret choosing us. Visit our office at 38 W. Division St., Coal City, IL 60416, or feel free to give us a call at 815-634-3900. Someone will be able to help you find exactly what you need today.
---
Two Brothers With a Dream

,

Building The Best Ultimate Rides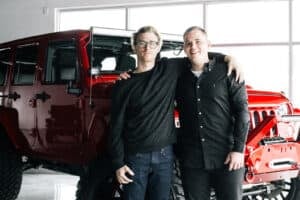 Ultimate Rides consists of two brothers who have been buying and selling custom vehicles for over ten years. Selling lifted trucks by day and writing these awesome reviews by night! They started their Ultimate Rides journey with a third brother Jake, who was a big part of building the business they have today. In 2016 Jake passed away and losing their brother was the hardest thing they ever had to deal with. Even though they had a tragic loss they plan to continue to set a new trend for the auto industry, keeping customers number one. Pushing the envelope on the lifted truck market, these guys love researching and learning about everything in the auto industry!
 — Nick and Alex Bulanda, Founders of Ultimate Rides