Fitted Seat Covers for Chevy Silverado (Review & Buying Guide)
Finding Fitted Seat Covers for

Chevy Silverado Trucks
When it comes to truck accessories, one of the first choices we'd recommend is a set of high-quality seat covers. Not only can the right set make driving more comfortable for you, but they'll also do the important job of protecting your interior. We all know how one simple spill can leave an everlasting stain. Seat covers will prevent that, and ensure the factory quality of your vehicle sticks around.
If you plan on selling your truck in the future, you'll want the interior to stay as is. The right seat covers will help you do just that. Even if you decide to keep your truck, you can make sure it stays clean throughout its lifespan.
Check out this guide to find some of the best fitted seat covers for Chevy Silverado models. We've talked before about the best truck seat covers overall, but in this guide we want to focus on the Chevy Silverado. We'll start off with a list containing some of our favorite products. After that, you can read through our buying guide for more information on finding the right seat covers. Once you're through, if you have any questions, feel free to call us at Ultimate Rides.
---
1. Rough Country F&R Neoprene Seat Covers Modern Set (ASIN – B08PPV8SB6)
Compatibility: 2019-2021 Chevy Silverado 1500
Here at Ultimate Rides, it is probably safe to say that Rough Country is at least one of our favorite accessory manufacturers. They offer plenty of great selections, including this set of seat covers for the newest Silverado 1500 generation. These covers are made from water-resistant neoprene and feature a foam padding that's comfortable to sit on for long and short drives. It won't be a problem getting them installed on your truck either. Overall, we'd say this is the best set of fitted seat covers for Chevy Silverado trucks available right now, but of course much of that choice depends on your personal wants and needs. For our money, this is the set to beat.
Rough Country F&R Neoprene Seat Covers for 19-21 Chevy Silverado 1500-91036
---
2. LUCKYMAN CLUB 56-SLD Black Faux Leather Seat Covers Full Set (ASIN – B08C9N725V)
Compatibility: 2007-2020 Chevy Silverado 1500/2500/3500
If you like the faux leather look, one of our favorite manufacturers is LUCKYMAN CLUB. These fitted seats look great, and do the job of protecting your interior from damage. They're even pretty damn comfortable to sit in for extended periods of time. The set fits on the 1500, 2500 and 3500 too! Installation should be no problem at all, and it's a piece of cake to wipe these covers down with a wet cloth to clean them up. As a set of faux leather fitted seat covers, they check just about all the boxes that you'd want.
Because of the wide range of Silverado models that this set covers, a few model years may run into slight fitting issues with the rear seat. This might require a little bit of extra work on your end getting it to fit, but it should still be quite possible, and only a problem on a limited number of models. Despite that setback, we'd still recommend this as one of the better fitted seat covers for Chevy Silverado trucks. If you like the style, go ahead and install these in your vehicle as soon as you can.
LUCKYMAN CLUB 56-SLD Seat Covers Fit for 2007-2020 Chevy Silverado Sierra 1500 / 2500 HD / 3500 HD Crew,Double,Extended Cab with Water Proof Faux Leather (Black Full Set)
---
3. Rough Country F&R Neoprene Seat Covers Last Gen (ASIN – B07WTP3DXH)
Compatibility: 2014-2018 Chevy Silverado 1500
Drivers of the previous generation of Silverado 1500 trucks need look no further for a top-notch neoprene seat cover. This set from Rough Country is nearly identical to the set at the top of our list, except it's made for the prior era of this pickup. You'll still find the same comfortable setup, as well as the reliable protection we described to you before. The only major changes is that the sizing will accommodate the changes in design of the Silverado 1500. These fitted seat covers for the Chevy Silverado will fit snugly, and won't slide around as you're sitting on them. Customers have excellent things to say, and we think you will too once you try them out.
Rough Country F&R Neoprene Seat Covers for 14-18 Chevy Silverado 1500-91025, Black
---
4. LUCKYMAN CLUB 56-SLD Rear Bench Seat Covers with Red Accents (ASIN – B08C9NY1TD)
Compatibility: 2007-2021 Chevy Silverado 1500/2500/3500
Need a cover for your rear seat? Check out this option from LUCKYMAN CLUB. It features a cool red accent that can go with a variety of different front seat covers out there. You can expect high-quality faux leather from this manufacturer, with a stylish look that many will see as an improvement over the factory seats. Some customers report that the rear seat is a loose fit, but this seems to be a rare occurrence and something that the manufacturer or seller should be easily able to help you out with. As long as you find a good match in terms of style, these are a great choice for your pickup.
LUCKYMAN CLUB 56-SLD Bench Seat Covers Fit for 2007-2020 Sierra Chevy Silverado 1500 / 2500 HD / 3500 HD Crew,Double,Extended Cab with Water Proof Faux Leather (Black & Red Rear Covers)
---
5. Rough Country Black Neoprene F&R Seat Covers (ASIN – B08GY4RHTM)
Compatibility: 2007-2013 Chevy Silverado 1500 and 2011-2013 Chevy Silverado 2500
This set of seat covers should be starting to look familiar. They come from Rough Country once again, but this time they're for yet another generation back in the past. These covers fit on 2007 through 2013 models of the Silverado 1500, and even 2011 through 2013 models of the 2500. You'll find all the same advantages present in those other Rough Country sets, so we won't bore you by repeating them. Let us just say that they're a great pick for this generation of Chevy Silverado.
Rough Country Neoprene F&R Seat Covers for 07-13 Chevy Silverado 1500/11-13 2500 HD Ext Cab – 91033, Black
---
6. YIERTAI Burgundy Faux Leather Seat Covers Full Set (ASIN – B08Y8V2LJN)
Compatibility: 2007-2022 Chevy Silverado 1500/2500/3500
Finally, we have one more set of faux leather seats for you to check out. This time, they feature a flashy burgundy style that we know some readers will love. This is the full set here, so you'll find both front and rear seat covers. They'll be easy to install, and will offer a very distinct look for your truck's interior. In terms of comfort and protection, there's not much better out there! We'd say these would be a great add-on to your Chevy Silverado, whether it's a 1500, 2500 or 3500.
YIERTAI Chevy Chevrolet Silverado GMC Sierra Seat Covers Full Set Fit 2007-2022 1500/2500/3500 Trucks Waterproof Leather Crew Double Extended Cab Covers Protectors(5 PCS Full Set / Burgundy)
---
Fitted Seat Covers for Chevy Silverado

Buying Guide
Were you able to choose your next set of seat covers from our list? If you need to keep looking, you may find some useful information here in our buying guide. We'll tell you what important factors determine quality in seat covers, and go over what you can expect with regards to installation and maintenance. Then you can learn a little bit more about what Ultimate Rides can offer.
Factors of Focus: Determining Seat Cover Quality
You should start your search by narrowing down your options to only those that fit your vehicle. That will cut out the vast majority of your choices, so now you'll just have to worry about finding the seat covers with the right style and quality. We can't speak to your personal taste, so we'll focus here on quality.
The right set of seat covers is going to last at least for the next three to five years, if not more. Anything less than that and you're probably just wasting your money. That means you'll want to look for a set that offers durability. This is possible in a wide variety of materials from neoprene to faux leather and most other options you can think of. Just pay attention to customer reviews and see what others have to say about longevity with their fitted seat covers for Chevy Silverado trucks. That should be your main priority.
Fitted Seat Cover Installation and Care
Once you order your seat covers and they arrive, it's time to install them on your. Most seat covers won't be difficult at all to get on. If you go with a universal option, or one that covers a wide range of vehicles, it may require some trimming to get it to fit just right. Consult the product manual, as well as the company's website, if you run into any issues.
After installation, you'll still need to clean the seat covers from time to time. Some covers are machine washable, though you still shouldn't put them in the dryer. Use your washing machine and let them dry out in the sun. If your cover is not machine washable, you should be able to take care of it with a simple combination of a wash rag, water and perhaps some soap depending on what kind of cover you have.
Ultimate Rides has Custom Vehicles for You and Much More
The next time you need to buy a vehicle, remember to check out the inventory at Ultimate Rides. We have a wide range of custom trucks, SUVs and cars waiting for you. Any time you buy one, you'll be able to add on any other customizations you see fit in our service center. We have the ability to ship our vehicles out nationwide, so it doesn't matter how close we are to you! We're confident we can find the right vehicle. Give us a call at 815-634-3900, or come see us at 38 W. Division St., Coal City, IL 60416.
---
Two Brothers With a Dream

,

Building The Best Ultimate Rides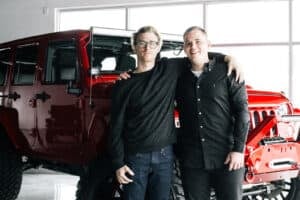 Ultimate Rides consists of two brothers who have been buying and selling custom vehicles for over ten years. Selling lifted trucks by day and writing these awesome reviews by night! They started their Ultimate Rides journey with a third brother Jake, who was a big part of building the business they have today. In 2016 Jake passed away and losing their brother was the hardest thing they ever had to deal with. Even though they had a tragic loss they plan to continue to set a new trend for the auto industry, keeping customers number one. Pushing the envelope on the lifted truck market, these guys love researching and learning about everything in the auto industry!
 — Nick and Alex Bulanda, Founders of Ultimate Rides