GMC Lifted Trucks for Sale
Ultimate Rides Offers

the Best

GMC Lifted Trucks for Sale
If you want to find the best options for lifted GMC trucks, Ultimate Rides should be the first place you look. We are an auto dealership unlike any other out there, and we'd like to tell you why. We've got our own expertly-staffed lift center on site, as well as an inventory of vehicles curated for excellence. Additionally, our customer service is catered to you. Our customers don't have to worry about hustling salespeople or shoddy vehicles when you shop with us.
We are located in the Chicago area, which makes us centrally located for many drivers in the country. Ultimate Rides also offers delivery services for our vehicles. This allows you to order over the phone and have the vehicle sent straight over to you. There's no better place out there to buy a lifted truck in the US. All of this and more is detailed in today's guide, so if you're itching to learn more about Ultimate Rides, here is your chance!
Our Vehicles are

Miles Ahead

of the Pack
Our biggest advantage here at Ultimate Rides has to be our vehicles. While anyone can go to their nearest used dealership and find a vehicle that works, it's much harder to find something truly in great shape. That's not the case here. Each and every one of our vehicles is in great shape, and completely rust-free. We only bring in the best GMC lifted trucks for sale, found in warmer parts of the country such as California. If you are like us and have a high standard of quality when it comes to your truck, we've got the vehicles for you.
We offer a variety of different options, including plenty of GMC lifted trucks for sale. The Sierra is one of the mightiest pickup options out there. This is especially true when set up with a lift kit, custom tires and some other modifications. Feel free to take a look at our inventory here on our website. If you see something that you like, we encourage you to reach out over the phone. A member of our team will get you filled in on all the important details. Then, when you're ready to buy, you can either stop in our office and meet with us or continue the entire process over the phone!
Ultimate Rides Truly Cares About

the Customer Experience
It's more than just our vehicles that sets us apart from the competition. We're keenly aware that used auto dealerships don't have the best reputation with many customers. Ultimate Rides has set out to change that mentality. That means you won't find salespeople here who are pushy, dishonest or condescending. We believe our customers know what they want, and it's our job to help get them set up with it. When you get in touch with us, you'll find our team understands where you're coming from. We treat you as an equal rather than a potential sale. We think that makes all the difference in the world.
Ultimate Rides will go above and beyond to make sure that you are satisfied with your experience. Are you flying in to see one of our vehicles before you buy? Let us know when and where you arrive and we'll pick you up from the airport! Looking for a specific vehicle but have been unable to track it down? If you leave a small deposit with us, we'll have our buyers search for the vehicle. As soon as we find it, we'll let you know! We'll take it back to our shop, make sure it's in great condition and you'll have the option to send it over to our lift center for additional work. Whatever you decide, we want to make sure the process is as smooth and easy as can be.
Vehicle Delivery

and More
Another aspect that many of our customers love is our vehicle delivery. No matter where you live, you have the option of ordering a vehicle through us and having it sent to your home. We've established that our inventory is unlike your standard auto dealership, so it should be no surprise that a huge part of our customer base comes from outside our immediate area. Because of this, we have our delivery process down to a fine science.
Simply get in touch with us over the phone and we can get you details on all of our vehicles. Once you've decided which vehicle you'd like to buy, we can take care of the entire financing process over the phone. You'll have the ability to either pay for delivery up front, or fold that delivery cost right into your vehicle financing plan so you can pay them off together. Whatever is easiest for you, Ultimate Rides will do our best to accommodate.
Everything to Know

about the Ultimate Rides Lift Center
We truly haven't even got to the best part yet. At Ultimate Rides, our lift center is where the magic happens. We have an expert staff of professionals working on vehicles just about every day. Many of the rides you see in our inventory have been customized or even built right here in our service center. One of our specialties at Ultimate Rides is suspension lift kits. These useful pieces of equipment can help get your truck off-road ready, as well as provide a sleek custom look everywhere you go. Additionally, we offer custom tires, wheels, grilles, lighting setups and more.
If you're interested in one of our vehicles, you'll have the option to send it to our lift center for some adjustments before you buy. Let us know what kind of work you'd like done, and we can even include the cost with your vehicle financing. There's nothing quite like driving a custom truck, especially one outfitted with an awesome lift kit.
Vehicle

Maintenance and Repair

Services
Along with our custom services, Ultimate Rides also offers maintenance and repair for your vehicle. It doesn't matter if you bought it from us or not, our shop is open to everyone. Our standard of quality for our service as just as high as it is for our vehicles. That means you will only get the best when you take your vehicle to us. Additionally, we won't overcharge you like other mechanics. It's our goal to be trustworthy, timely and the best at what we do.
At Ultimate Rides, we do it all. It doesn't matter if you need something as major as transmission replacement, or something as simple as a basic oil change. Let us know what your vehicle needs and we will be able to take care of it. Our staff is highly experienced, and has been at this for quite awhile. They're also a team that works very well together, cutting down on unnecessary miscommunication and similar issues. We know how difficult it can be to find a mechanic that you can trust. That's why we do what we do!
Visit Ultimate Rides for

Vehicle Excellence
Well, there you have it. We've laid out all the reasons we believe Ultimate Rides is the best place to look for GMC lifted trucks for sale. Our vehicles are the best there are, and our service is unparalleled. We are a family-owned business, and we've let that guide each and every one of our decisions. You can count on us to always do what's best for the customer. Whether you are looking for a classic GMC Sierra, or a more recent option, we hope you will come see what we have to offer. You can even count on us to help you build the truck of your dreams.
If you'd like to hear more about one of our vehicles, we hope you'll get in touch with us today! You can reach the Ultimate Rides office by calling 815-634-3900. If you happen to be in our area and want to stop by to discuss some vehicle options, you'll find us at 38 W. Division St., Coal City, IL 60416.
---
Two Brothers With a Dream

,

Building The Best Ultimate Rides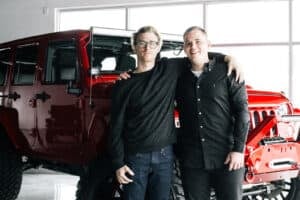 Ultimate Rides consists of two brothers who have been buying and selling custom vehicles for over ten years. Selling lifted trucks by day and writing these awesome reviews by night! They started their Ultimate Rides journey with a third brother Jake, who was a big part of building the business they have today. In 2016 Jake passed away and losing their brother was the hardest thing they ever had to deal with. Even though they had a tragic loss they plan to continue to set a new trend for the auto industry, keeping customers number one. Pushing the envelope on the lifted truck market, these guys love researching and learning about everything in the auto industry!
 — Nick and Alex Bulanda, Founders of Ultimate Rides