Heavy Duty Truck Jump Starter (Review & Buying Guide)
Finding a Heavy Duty Truck

Jump Starter
Are you shopping around for some useful accessories for your truck? One of the first options we would recommend is a heavy duty truck jump starter. We've talked about the best portable jump starter 2020 in the past, but today we're focusing on the most powerful options. If you drive a big truck, you need a jump starter that can provide enough energy for your battery to start your engine. In this guide, our goal is to help you find an option that works great. That way you won't find yourself stranded with a dead battery.
Start by looking through our short list below. In it, you'll find our very favorite choices when it comes to a powerful jump starter. Each item is accompanied by a short review so you can get an idea of what to expect. We also encourage you to read through existing customer reviews for each product to help you make a decision.
After our list, read through our buying guide for even more details on choosing a high-quality option. We'll tell you what goes into selecting the best jump starters out there, and how you can find one of your own. Good luck on your search!
---
1. NOCO Boost HD GB70 UltraSafe Lithium Jump Starter Box (ASIN – B016UG6PWE)
Specs: 2000 Amps and 12V
The first jump starter we would encourage our readers to look into is this NOCO Boost HD. With it, you'll have access to 2000 amps of power, as well as an LED flashlight and USB charging ports. This little device will help ensure your phone doesn't die out on the road, as well as your truck's battery. While there are more powerful options out there, including here on this very list, this is perhaps the best balance between budget and power. The design of this tool is excellent, as it is both very safe and incredibly easy to use. You'll find that it works just as well in the cold as it does under normal circumstances as well. Check out this heavy duty truck jump starter and decide if it works for you!
NOCO Boost HD GB70 2000 Amp 12-Volt UltraSafe Lithium Jump Starter Box, Car Battery Booster Pack, Portable Power Bank Charger, and Jumper Cables For Up To 8-Liter Gasoline and 6-Liter Diesel Engines
---
2. HULKMAN Alpha85 Lithium Polymer Jump Starter (ASIN – B08M41FX48)
Specs: 2000 Amps and 12V
Looking for something smaller but equally powerful? The HULKMAN Alpha85 may be the jump starter for you. It's versatile, safe, and straightforward to use. It'll only take a few minutes to get your truck's battery charged back up so you can get back on the road. The Alpha85 is also incredibly reliable. It holds onto a charge for a very long time, and won't succumb to rain, dirt or other natural conditions. Plus you'll even have access to a two-year hassle-free warranty from HULKMAN. Like many of the best options out there, there are some great added features to use. That includes a 12V port and a flashlight.
HULKMAN Alpha85 Jump Starter 2000 Amp 20000mAh Car Starter for up to 8.5L Gas and 6L Diesel Engines with LED Display 12V Lithium Portable Car Battery Booster Pack (Space Gray)
---
3. NOCO Boost Pro GB150 UltraSafe Lithium Jump Starter Box (ASIN – B015TKSSB8)
Specs: 3000 Amps and 12V
Need something a little stronger? The NOCO Boost Pro is a fantastic choice. It offers all the same benefits of the Boost HD, but with 50% more power. Sure, it's a little more expensive. However if you have a particularly large engine, it's going to be worth the cost. This jump starter is small and easy to store just about anywhere in your truck. At the same time, you'll also be able to rely on it to jump gas engines up to 9.0L and diesel engines up to 7.0L. That's a lot of power in such a small item, and that's why we love it.
NOCO Boost Pro GB150 3000 Amp 12-Volt UltraSafe Lithium Jump Starter Box, Car Battery Booster Pack, Portable Power Bank Charger, and Jumper Cables For Up To 9-Liter Gasoline and 7-Liter Diesel Engines
---
4. AVAPOW Jump Box with LED Light and USB Quick Charge 3.0 (ASIN – B0928VN98C)
Specs: 4000 Amps and 12V
This next option from AVAPOW isn't one of the highest selling jump starters out there. However, from everything we've seen, it's a very good option for folks to consider. It offers a ton of power for a shockingly low cost. The reason it's so affordable? The thing is pretty massive. As long as you're okay with that, you can feel confident investing in one of these boxes. It'll do an incredible job, and can jump start even diesel engines up to 10.0L.
AVAPOW Car Jump Starter, 4000A Peak 27800mAh Battery Jump Starter (for All Gas or Up to 10L Diesel), Battery Booster Power Pack, 12V Auto Jump Box with LED Light, USB Quick Charge 3.0
---
5. GOOLOO GP2000 Jump Starter with USB Quick Charge (ASIN – B09HYVM6ZT)
Specs: 2000 Amps and 12V
Our final recommendation is the GOOLOO GP2000. It's small, affordable, and surprisingly powerful. It even includes a lithium polymer battery rather than lead acid, which most cheaper options are. While this doesn't come from one of the industry's major manufacturers, customers have great things to say about this product. From everything people have to say, you'd expect something that costs much more, but no; you can find it for right around $100. If you're on a tight budget, give this one a shot!
GOOLOO GP2000 Jump Starter 2000A Peak Car Starter for Up to 9L Gas or 7L Diesel Engine SuperSafe 12V Jump Box Auto Lithium Battery Booster Portable Power Pack with USB Quick Charge, Type-C Port
---
Heavy Duty Truck Jump Starter

Buying Guide
Did our list provide you with a jump starter that caught your eye? We tried to include a variety of options so there should be something for everyone. However, if you feel as though you need to keep looking, we can definitely help. In our buying guide, we'll tell you what elements make a high-quality jump starter. That means you'll be able to pick out your own option not featured on our list if need be. Additionally, we'll tell you more about what Ultimate Rides can offer. Whether you're shopping for a vehicle now, or you'll need to down the line, we can help.
Factors of Focus: Picking Out the

Best Jump Starter
When shopping for a jump starter, the first thing you'll want to look for is an option that's strong enough for your engine. Take a look at the level of amperes the device offers. If you don't know off the bat how many amperes you need to get your engine going, a quick Google search should offer up plenty of results. Additionally, many of the products will tell you how large of an engine they'll work for.
Along with that, you should also pay close attention to durability and effectiveness. You want to make sure you buy a product that works, and will continue to work for the foreseeable future. This isn't always the case, which is why you must be careful as you shop. Be sure to read customer reviews and do your research before making a purchase. Otherwise you could find yourself with a faulty product, and nobody wants to deal with that.
Your Perfect Truck, Available at

Ultimate Rides
The next time you're thinking about shopping for a vehicle, whether it's a truck, car or SUV, think about Ultimate Rides. We're an auto dealer with our own custom service center, and we can provide shipping across the United States. No matter what kind of vehicle you're looking for, we can help. You'll find a large inventory here, and we're always willing to seek out a specific vehicle for you if there's something you want. Along with all of that, customers are able to customize their vehicle exactly how they want when they buy from Ultimate Rides. For more details on how all of this works, feel free to call us at 815-634-3900. If you ever find yourself in the greater Chicago area, you can visit our office an hour south of the city at 38 W. Division St., Coal City, IL 60416.
---
Two Brothers With a Dream

,

Building The Best Ultimate Rides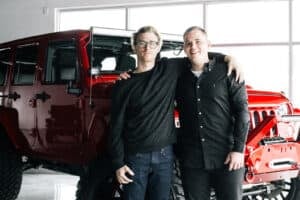 Ultimate Rides consists of two brothers who have been buying and selling custom vehicles for over ten years. Selling lifted trucks by day and writing these awesome reviews by night! They started their Ultimate Rides journey with a third brother Jake, who was a big part of building the business they have today. In 2016 Jake passed away and losing their brother was the hardest thing they ever had to deal with. Even though they had a tragic loss they plan to continue to set a new trend for the auto industry, keeping customers number one. Pushing the envelope on the lifted truck market, these guys love researching and learning about everything in the auto industry!
 — Nick and Alex Bulanda, Founders of Ultimate Rides