Heavy Duty Truck Seat Covers (Review & Buying Guide)
Finding a Set of Heavy Duty Truck Seat Covers for

Your Vehicle
When you own a truck, part of the fun is upgrading the vehicle with modifications and accessories. That is what we specialize in here at Ultimate Rides, and that means it's safe to say we know which accessories can be useful and which can be passed up. One of the first accessories we'd recommend installing is a set of heavy duty truck seat covers.
Seat covers are there for more than just looking good. Their main purpose is to protect your truck's interior from damage. It's all too easy to accidentally spill some coffee on your cloth seats, or have a guest make the mistake. That won't be an issue if your seats are covered up.
Finding the right set of seat covers can sometimes be a pain. That is why we put together this guide. Start by looking through our list below. It features our favorite seat cover options, but make sure to pay very close attention to compatibility. Some seat covers are universal and can fit most any truck, while others are custom designed for specific models. After our list, be sure to check out our buying guide for even more details. It'll help you know what to look for in a quality set of seat covers. Good luck on your search!
---
1. Seats Inc. COVERALLs Truck Seat Cover Two-Tone Black/Gray (ASIN – B00OKEG34Y)
Compatibility: Universal (High-Back or Mid-Back Seats with 28″ – 35″ Backrest)
The first set of heavy duty truck seat covers we want to share come from Seats Inc. It's a set of universal seat covers is supposed to provide excellent coverage for any seats within the size range. The fabric is 900D polyester canvas, which is resistant to liquids and stains and should last a very long time. Customers have excellent things to say about these seat covers, and they should even provide plenty of comfort for you. Just make sure to measure your seats to determine if this is the right fit for your truck. If all is well, go ahead and pick this up for install soon. They'll help you keep your interior looking, smelling and feeling fantastic.
Seats Inc. COVERALLs Truck Seat Cover – Two-Tone Black/Gray, Model Number 9107
---
2. Rough Country Neoprene Custom Fit Seat Covers 1st Row (ASIN – B08429RKKN)
Compatibility: 2009-2018 Ram 1500 Crew Cab
Rough Country has to be one of our favorite manufacturers of accessories here at Ultimate Rides. We use them for everything from lift kits to (you guessed it) seat covers. These neoprene seat covers are a great choice for Ram 1500 drivers with one of the models listed above. Neoprene is comfortable to sit in for long stretches of time, and provides powerful protection for your interior. On top of that, these seat covers are even pretty stylish. The product features a one year warranty from Rough Country, so if you notice any problems you should have an avenue of recourse. That said, we think you'll be very happy with these seat covers when you get them in your truck.
Rough Country Neoprene Seat Covers (fits) 2009-2018 Ram 1500 Crew Cab Truck | Exact Fit | 1st Row | Black | 91028
---
3. Rough Country Neoprene Front Seat Covers (ASIN – B07KYXZNHL)
Compatibility: 2015-2020 Ford F150 / 2017-2020 Ford F250 and F350
Next up, it's another set of neoprene seat covers for Rough Country. However, while the last set was for Ram 1500 models, this time we've chosen seat covers for Ford trucks from 2015 through 2020. They have all the same excellent quality to deliver, as well as that reliable warranty from the manufacturer. Installation should be a piece of cake, and the seats are easy to take care of once they're installed. Just simply spot wash them with a wet cloth and maybe some soap if you need it. Overall, you can't go wrong with these seat covers from one of the industry's leaders. Just double check that they fit your vehicle and you'll be all set!
Rough Country Neoprene Front Seat Covers (fits) 2015-2020 F150 | 1st Row | Water Resistant | Black | 91016
---
4. Covercraft Carhartt SeatSaver Front Row Custom Fit Seat Cover Duck Weave (ASIN – B06Y4Q73K4)
Compatibility: 2017-2019 Chevy Silverado 1500 / GMC Sierra 1500
Carhartt has a reputation for strong and reliable fabric, and that's exactly what you'll find from these heavy duty truck seat covers from Covercraft. These machine washable covers fit both the Chevy Silverado 1500 and GMC Sierra 1500 from 2017 through 2019. It features a dark grey duck weave fabric material made from that classic Carhartt stuff. It doesn't add much cushioning to your vehicle, relying instead of the seats underneath for that. They will, however, protect from spills, dirt, scratches and other damage, keeping your vehicle looking great on the inside. For that reason, we definitely recommend these front row seat covers to our readers.
Covercraft Carhartt SeatSaver Front Row Custom Fit Seat Cover for Select Chevrolet/GMC Models – Duck Weave (Gravel) – SSC3458CAGY
---
5. Covercraft Carhartt SeatSaver Custom Seat Covers Front Row (ASIN – B073SN78TY)
Compatibility: 2017-2021 Ram 1500/2500/3500
Here we have another set of Carhartt SeatSaver covers, but this time for the latest generation of Ram trucks. This front row seat cover should fit the 1500, 2500 and 3500 models of the truck. It once again offers all the same advantages of the last Carhartt seat covers, including being machine washable. In order for that to be worth it, they must be easy to get on and off, which they thankfully are. Double check that these are the right fit for your truck, but if they are feel free to buy and install them today. They look great, and they'll protect your interior for years.
Covercraft SSC2518CAGY Carhartt SeatSaver Custom Seat Covers
---
6. Official Carhartt Universal Low Back Single Bucket Seat Cover (ASIN – B08BLWW6FJ)
Compatibility: Universal
Lastly, we have a single universal seat cover from Carhartt themselves. While our last options were made from Carhartt material, they were designed by Covercraft. These seat covers are 100% from Carhartt. The cover is universal, and should fit on a very wide range of truck seats. The material is water-resistant ripstop fabric, so not that same material you might expect from the company. However, the product is still a favorite among customers and should do fantastic protecting your seats from stains and damage. As long as you like the style, these are a great choice for any truck.
Carhartt Universal Low Back Seat Cover, Carhartt Brown
---
Heavy Duty Truck Seat Covers

Buying Guide
Did our list provide you with a seat cover that's right for your vehicle? We hope that it did. However, our buying guide will help you hone in on what makes a quality seat cover if you need to keep shopping. After that, we'll wrap up by telling you a little bit about how Ultimate Rides may be able to help you.
Factors of Focus: The Best Seat Covers Available Today
When looking for a set of seat covers, the most important thing is choosing some that will fit your truck. That can be one of the most difficult factors. Though many options are "universal," they may not actually fit 100% of vehicles, or may require some alterations. If you buy a set of universal cover and run into trouble, professional installation may be the best route. While shopping for your seat covers, look for a set that is custom fit for your truck if you can. This should be easier to install, and will look great inside your vehicle.
In terms of quality, the best thing you can find is a set of covers that provides good coverage and will last a long time. Rely on quality materials like faux leather, neoprene, or even the signature Carhartt material like some options on our list. Read through customer reviews and you should get a pretty good sense of quality.
Custom Trucks Available from Ultimate Rides
Are you thinking about buying your next vehicle some time soon? We hope you'll consider our inventory at Ultimate Rides. We have a great selection of custom trucks, SUVs and cars, all available for delivery nationwide. Ultimate Rides also has an on-site lift center where we can upgrade your current vehicle. We're located at 38 W. Division St., Coal City, IL 60416, about one hour south of the city of Chicago. Feel free to give our office a call today at 815-634-3900 if you have any questions or want to schedule an appointment for your vehicle. We even offer repairs and maintenance, so reach out today!
---
Two Brothers With a Dream

,

Building The Best Ultimate Rides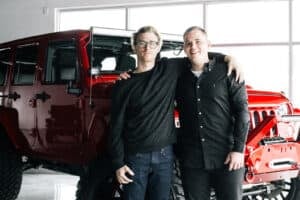 Ultimate Rides consists of two brothers who have been buying and selling custom vehicles for over ten years. Selling lifted trucks by day and writing these awesome reviews by night! They started their Ultimate Rides journey with a third brother Jake, who was a big part of building the business they have today. In 2016 Jake passed away and losing their brother was the hardest thing they ever had to deal with. Even though they had a tragic loss they plan to continue to set a new trend for the auto industry, keeping customers number one. Pushing the envelope on the lifted truck market, these guys love researching and learning about everything in the auto industry!
 — Nick and Alex Bulanda, Founders of Ultimate Rides