Get a Jacked Up Truck for Sale

from Ultimate Rides
Are you here looking for a quality lifted truck at a fair price? If so, you've come to the right place. At Ultimate Rides, we offer a wide variety of vehicles as a part of our inventory. However, you'll quickly be able to quickly tell that our specialty is lifted trucks and SUVs. No matter what vehicle you decide on, you will find it in excellent shape. At Ultimate Rides, we source our inventory from places around the country that deal with favorable weather conditions. This allows us to bring in vehicles that are completely free of rust. When you get a jacked up truck for sale from us, you won't have to worry about unknown damage carried on from years. We perform thorough inspects of all our vehicles, and anything that's not up to par gets sent over to our lift center to get it in top shape.
Ultimate Rides is located in the heart of the Midwest, but we ship our vehicles all across the globe. Customers seek us out because we've become known as a place to find the best jacked up trucks around. We've worked hard to build up that loyal following, but we still maintain our grassroots family business mentality. Give us a call today to hear our latest vehicle availability. In the meantime, check out the rest of this guide for further details.
---
Customer Service

You Can Count On
Along with our stunning vehicles, the greatest thing that sets Ultimate Rides apart from your standard dealership is our level of dedication to our customers. As we briefly mentioned before, Ultimate Rides is a family owned and operated business. Despite our growth in popularity over the years, we have stayed loyal to those roots. When you speak with a member of our team, you can expect respectable personalized service. Our team members will work with you to find the best to solution to your problem, whatever it may be. If you have any questions, feel free to give us a call and we'll do our best to help. We feel that customers are mistreated far too often in this industry, and we've made it a goal of ours to change that mentality. If you're in need of an exciting jacked up truck for sale, you know where to turn.
---
Learn About the

Ultimate Rides Lift Center
In addition to sell vehicles, we also have our very own service center onsite. There many of the vehicles we sell undergo inspections, as well as modifications and upgrades. When you buy a jacked up truck for sale from us, you'll have the opportunity to have it sent to our lift center before you pick it up. You'll be able to let us know whatever changes you'd like to be made, and you can finance the cost of these adjustments right along with your vehicle. It's just another way Ultimate Rides tries to go above and beyond what is expected from an auto dealership.
Additionally, if you are looking to get the vehicle you currently own upgraded, we can help you out there as well. Simply give us a call and let us know what kind of work you'd like done. Someone on our team will be able to set you up with an appointment to take care of your vehicle as soon as possible. In addition to lift kits, we also offer a number of other accessory installations, modifications and more. Get in touch with us to find out a full list of the things we offer!
---
Jacked Up Truck for Sale

Delivered Straight to You
Having your vehicle delivered straight to your door is yet another one of the benefits you'll get from shopping with us. That's right! Let us know that you're interested in vehicle delivery and we can arrange it. You will even have the ability to finance the cost of vehicle delivery, making it even easier for you. You might be wondering why not just buy a vehicle from your local dealership just down the street. That may, in fact, be a better option for you if you're just looking for a plain old set of wheels. However, if you are looking for a truly high-quality vehicle, especially something hard to find out customized, we promise that you won't find another place that's quite like Ultimate Rides.
---
Ultimate Rides Maintenance and Repair

Services Offered
Along with everything else we've mentioned today, Ultimate Rides also offers a full range of repair and maintenance services. If you live in the Chicago area and are looking for a new mechanic, come and speak with us! We have an expert team that is used to working on custom vehicles, and we have extremely fair pricing. Best of all, we are reliable. When you take your vehicle to us, you won't have to expect anything less than excellence.
If you have any other questions, we encourage you to reach out to us over the phone! Give Ultimate Rides a call today at 815-634-3900. You can also stop in and see us by visiting 38 W. Division St., Coal City, IL 60416. That is about one hour south of Chicago, and it should be easy to find!
---
Two Brothers With a Dream

,

Building The Best Ultimate Rides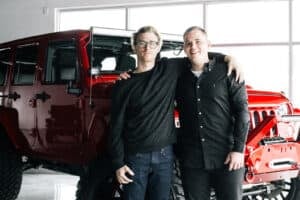 Ultimate Rides consists of two brothers who have been buying and selling custom vehicles for over ten years. Selling lifted trucks by day and writing these awesome reviews by night! They started their Ultimate Rides journey with a third brother Jake, who was a big part of building the business they have today. In 2016 Jake passed away and losing their brother was the hardest thing they ever had to deal with. Even though they had a tragic loss they plan to continue to set a new trend for the auto industry, keeping customers number one. Pushing the envelope on the lifted truck market, these guys love researching and learning about everything in the auto industry!
 — Nick and Alex Bulanda, Founders of Ultimate Rides