Leveling Kit Installation Near Me
Finding Leveling Kit Installation

Near Me
Are you one of the many Americans who still have trouble finding the right mechanic? It's important to know you're not alone, as it's a common problem. At Ultimate Rides, you won't find the same kind of service offered by other service centers and dealerships. We are out to change the came, and if you're in search of leveling kit installation near me, and you live in the greater Chicago area, we're the place for you.
Uneven suspension is a problem that plagues too many trucks and SUVs. Thankfully, it's a problem that is relatively simple to fix. You'll just need a leveling kit, a special kind of lift kit that will raise one end up of your suspension. If you're looking for more information on leveling kits and the best place to get them installed, this guide is for you!
---
What is a

Leveling Kit?
As we briefly mentioned before, the intent of a leveling kit is to get rid of pesky uneven suspension. Take a look at the picture of the pickup truck below. Notice how the front end has a decided lean to it? While it may not be a big deal to some, others absolutely hate it. Most people would probably agree that it looks better with level suspension. Thankfully, a leveling kit is one of the most affordable and basic upgrades you can get on your truck, making it an excellent stepping stone towards bigger and better modifications.
Thought you can buy a leveling kit at home and complete the job yourself, that may not be an option for everyone. If you aren't used to working on your own truck, you may be interested in leveling kit installation near me. Additionally, the options you'll find online often aren't as high-quality as you could be getting. If you're just dipping your toes into the water of modifying your truck, it's best to consult with a professional. However, if this isn't your first, second or third time around the block, feel free to take the initiative on your own.
---
Choosing the Right Leveling Kit

For Your Vehicle
If you do decide to buy a leveling kit on your own, we have plenty of options that we recommend right here on our site. It all depends on your exact vehicle to figure out which leveling kit to buy. Whether you've got an F150, a Ram 1500, a Tacoma, or a different truck, you can be sure there's a leveling kit that will fit your model. The real trick is nailing it down to not only the model year, but the exact configuration of your truck. You'll have to get down to specifics, and it's an area that a lot of people get hung up on. All too often we've heard stories of folks accidentally ordering the wrong lift kit. That's yet another reason to look for leveling kit installation near me.
You'll also want to take the quality of the kit into consideration. If you buy a cheap kit, there's a chance it will affect your vehicle's performance, especially if installed incorrectly. Once again we recommend only experienced users attempt to modify their truck on their own. If you do, make sure you check out a variety of video tutorials before you attempt the real deal. There are potential safety hazards when installed incorrectly, so it's not a bad idea to at least have a professional look the job over when you're done. You'll need to get a steering alignment anyways, so you might as well have them take a look!
---
Why Pick Ultimate Rides?

We'll Tell You!
For those of you who live in the Midwest, there's only one place to choose when it comes to lift and leveling kit installation: Ultimate Rides. We are experts in this field, and you only need to look at our inventory to see what we mean. Most of the vehicles you'll find available with us has undergone some form of a transformation thanks to our service center team. From lift and leveling kits to full on overhauls, there's almost nothing we can't do to form your truck to your needs. We have customers come to us from all over the country, and we've worked hard to build that reputation over the years.
When you choose Ultimate Rides to either service your current vehicle or purchase your next one, you can expect to be treated with fairness and honesty. Additionally, you'll find that all of our vehicles are completely and entirely free of rust. We have set a high bar for the quality of our vehicles, and each one undergoes a strict inspection before we sell it. Additionally, we make sure all of our customers vehicles that are brought to us are treated just as if they were our own. Get in contact with us soon if you'd like to learn more about what we can do for your ride.
---
Ultimate Rides

Lift Center Details
At Ultimate Rides, our service center is a little different than what you'll find at other dealerships. It's actually a key part of our business for a variety of reasons. As we've mentioned, many of the vehicles that pass through Ultimate Rides get some work done in our lift center to improve them in various ways. Additionally, we have an incredibly talented team of technicians, and many of our customers refuse to bring their vehicles anywhere else for repairs, maintenance and modifications. We understand the reputation that mechanics and dealerships have earned over the years, but we are set on changing that perception. We've worked incredibly hard to build up our reputation in the eyes of our customers, and we did it the old-fashioned way: hard work and determination.
Simply give us a call if you have any questions or would like to hear some of the ways we can revolutionize your vehicle. We'd be happy to offer recommendations, as well as follow your instructions to make the vision you have in your head a reality. Whether you own a truck, SUV or even a car, there's a lot we can do for you. Don't be shy, and feel free to reach out to a member of our team! We're ready to answer any and all of your questions concerning the installation of a lift or leveling kit, as well as other accessories.
---
Our Customer Service

Guarantee
However, there's more where that came from. Another reason we get so much love from our customers is because they feel respected when they shop with us. Ultimate Rides is, and always has been, a family business. Run by two brothers, you can count on that classic family mentality driving every decision. Because of that, you'll find all of our team members are incredibly helpful and open to your needs. You won't find us trying to hustle you into buying a vehicle you don't need. Instead, we believe it's our duty to serve the customer the best we can. Give us a call today and we'll be happy to answer any of your questions or provide you with a quote for some service you need!
We will even go above and beyond to make sure our customers are satisfied. Is there a vehicle you've been looking to buy, but you haven't found it anywhere? We may be able to help. We have buyers spread across the United States looking for the best vehicles out there. Let us know what you're looking for, and we'll bring it back as soon as we track one down. From there, we can get it fixed up in our lift center and ready for you! You can either come and pick it up from us, or we'll even have it delivered straight to you!
---
Maintenance and Repair

All at Ultimate Rides
Along with finding leveling kit installation near me, Ultimate Rides has plenty more to offer with our service center. Whether you're buying a vehicle already in our inventory and want to make a few changes, or you're bringing in your beloved truck for us to fix up, we can make the vision in your head come to life. At Ultimate Rides, you'll find an expert team of professionals who are ASE-certified and have a vast collective amount of experience among them. We get jobs done efficiently, precisely and at a fair price. If you want only the best for your automobile, our service center should be your go-to.
Whether your vehicle requires some basic maintenance or you have more intensive needs, we can help. Our team is able to handle it all. Unlike many other auto dealerships, we place a huge emphasis on our service center. At Ultimate Rides, we don't just sell vehicles. We understand them, inside and out. We think that is a large part of why our customers keep on coming back. If you want a team of mechanics that you can trust, give us a call!
We Offer All Manner of Modifications As Well!
Along with that, you'll have access to a wide variety of customization options. We've talked plenty about leveling kits today, but you could always go big with a full suspension lift kit. From there, you can add on some big custom wheels and tires, or a set of high intensity discharge Xenon headlights. Maybe even go for a custom light bar mounted on top of your cab. The possibilities don't end there. We encourage you to share your ideas with us and we'll do everything we can to make them come to life.
Visit Us Today!
If all of this is starting to sound appealing, we hope you'l get in touch with us soon! We're open seven days a week and have a team standing by ready to speak with you. You can give us a call at 815-634-3900. You should also feel free to stop by our office and check our place out! We are located at 38 W. Division St., Coal City, IL 60416. That's about one hour south of Chicago, giving us a great location in the heart of the Midwest. We have folks drive in from all across the country! Come and see what all the fuss is about at Ultimate Rides!
---
Two Brothers With a Dream

,

Building The Best Ultimate Rides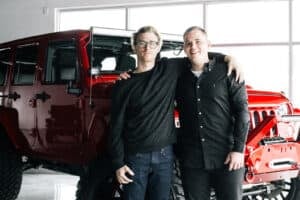 Ultimate Rides consists of two brothers who have been buying and selling custom vehicles for over ten years. Selling lifted trucks by day and writing these awesome reviews by night! They started their Ultimate Rides journey with a third brother Jake, who was a big part of building the business they have today. In 2016 Jake passed away and losing their brother was the hardest thing they ever had to deal with. Even though they had a tragic loss they plan to continue to set a new trend for the auto industry, keeping customers number one. Pushing the envelope on the lifted truck market, these guys love researching and learning about everything in the auto industry!
 — Nick and Alex Bulanda, Founders of Ultimate Rides