Lifted 1998 Chevy Silverado Available with Shipping
Ultimate Rides Can Set You Up with a
Lifted 1998 Chevy Silverado
We hear from customers all the time who are searching for a specific vehicle but have had no success so far. Ultimate Rides is happy to help. Start by checking out our inventory. If we don't have it there, don't give up just yet. We have a team a buyers who scour available vehicles to find options that fit our style of trucks, SUVs and cars. With a small deposit, we can have them include your desire vehicle in their search. It shouldn't take long to find it, and as soon as we do we will let you know.
A lifted 1998 Chevy Silverado is an excellent choice. Though it can be difficult to find any lifted Chevy Silverado in good shape these days, we believe we can help. Once we locate it, Ultimate Rides can even offer a wide range of available custom upgrades. That's what we specialize in, with our very own lift center on-site featuring a staff of expert technicians. Whatever it is you're searching for, contact us and we are confident our team can help you locate it.
Affordable and Fast
Vehicle Shipping
If you're searching for a high-quality custom vehicle, Ultimate Rides is your destination, no matter where you live. That's because we can offer easy, reliable, fast shipping for any of our vehicles. Take a look at what we have to offer, and give us a call to discuss some options with a member of our team. We'll be able to provide more details and photos for every vehicle in our inventory. When you make a decision on which model you'd like to buy, we'll get right to work on setting you up with a financing plan.
Nothing will move forward until you're completely aware of the financing details and you agree to everything. We'll be ready to offer up more details on the process over the phone today. You will still be able to customize your vehicle if you choose shipping (more on that soon), and you can even include the cost of delivery in your financing deal if that works better for you. Just let us know!
Customer Service Looking Out
for You
At Ultimate Rides, we feel that customer service has fallen to the wayside in our industry. We work incredibly hard to make sure we can win our customers over. It starts from the moment you walk through our doors or call us. Our staff treats you with the respect that you deserve, and we won't try to push any vehicles on you that you aren't sure you want. Instead, it's our goal to help you find your perfect ride, whether that's a lifted 1998 Chevy Silverado or another vehicle. Get in touch, tell us what you need, and we'll put in the necessary hard work to make it happen. If there are any questions, simply let us know!
Endless Possibilities in the
Lift Center
Looking at our inventory, one of the first things you should notice is that just about every model features some kind of custom modification. From lift kits to running boards to performance chips, there's no telling what you could find with an Ultimate Rides vehicle. We encourage you to contact our team for more details on that.
When you buy one of our models, you'll always have the opportunity to send it back to our lift center for more upgrades. You can change the height of your lifted 1998 Chevy Silverado, or you can add on or change any accessories you can think of. There's really no limit to what we can do in our lift center. We even have the option to build your dream truck if you have something in mind. Give us a call today and we can talk details! Remember that we can even work on your current vehicle instead of buying a new one, so feel free to ask about that.
High-Quality
Rust-Free Trucks
The vehicles available at Ultimate Rides aren't just any random models. Each one was handpicked by a member of our staff for a variety of reasons. Every model we sell at Ultimate Rides is going to be free of any rust damage, but it goes beyond just that. Our buyers are on the lookout for trucks, SUVs and even some cars that are in the best shape. Before getting added to our inventory, each model goes through an in-depth inspection, so we can do our best to ensure its quality for you. The inventory at Ultimate Rides is full of the best used vehicles out there. They may wind up costing more than at your local auto dealer, but you'll know you're getting a high-quality ride.
Contact Ultimate Rides to
Get Started Today
Does it sound like we're the perfect place to find your next truck, or do you have any questions for our team? We encourage you to reach out today. We'll have so many more details to share with you, from additions to our inventory to the countless possible custom upgrades. If you're not sure exactly what you want quite yet, we are also happy to help you find it. Drivers in the Chicago area can visit us at 38 W. Division St., Coal City, IL 60416, only an hour south of the city. Alternatively you can give us a call at 815-634-3900. Someone from our team will be happy to work with you until we find the perfect vehicle!
---
Two Brothers With a Dream

,

Building The Best Ultimate Rides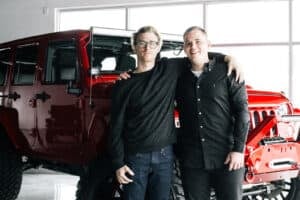 Ultimate Rides consists of two brothers who have been buying and selling custom vehicles for over ten years. Selling lifted trucks by day and writing these awesome reviews by night! They started their Ultimate Rides journey with a third brother Jake, who was a big part of building the business they have today. In 2016 Jake passed away and losing their brother was the hardest thing they ever had to deal with. Even though they had a tragic loss they plan to continue to set a new trend for the auto industry, keeping customers number one. Pushing the envelope on the lifted truck market, these guys love researching and learning about everything in the auto industry!
 — Nick and Alex Bulanda, Founders of Ultimate Rides