Lifted 2006 Chevy Silverado in Excellent Condition
Get a Lifted 2006 Chevy Silverado from
Ultimate Rides
It's not always easy to find a specific truck model, especially when you know exactly what you want. For example, a lifted 2006 Chevy Silverado pickup. This is a great vehicle, but more than 15 years after being released, it can be hard to find in good shape. That's where Ultimate Rides comes in. We have a team of buyers who comb through available vehicles across the country to find the best options that suit our inventory. If you let us know you want one of these trucks, or any specific model, we can find it for you!
Ultimate Rides is a custom auto dealer that ships high-quality vehicles to drivers all across the country. We have our own lift center on-site with a team of expert technicians who customize and build our vehicles. That lift center opens up a world of possibilities for you. We encourage you to read through the rest of this guide to learn a little more about us, and then feel free to get in touch to take the next steps towards finding your lifted 2006 Chevy Silverado.
We Build
Custom Vehicles
One short look at our vehicles, like the lifted Chevy Silverado, and you should get an idea of how different we are compared to your standard local auto dealer. The majority of our vehicles feature lift kits, all installed right here in our service center. You can also find a wide variety of other enhancements and accessories, from running boards to custom lighting to a brand new interior.
On top of all those existing upgrades, there are more possibilities waiting for you. Whenever you buy a vehicle from Ultimate Rides, like a lifted 2006 Chevy Silverado, you'll have an opportunity to customize it any way you want in our lift center. Get on the phone with us and we can go over all the options, and come up with a vision for your dream vehicle. You'll even be able to include the cost of these upgrades in your financing deal.
Our lift center isn't just limited to our own inventory either. If you aren't quite ready to get rid of your current vehicle but still are interested in some upgrades, give us a call. We'll schedule an appointment and our team will be happy to provide any modifications or accessories you're interested in.
Quick and Affordable Delivery
Available Now
While Ultimate Rides is located south of Chicago, we're able to provide drivers from all over the country with fantastic vehicles. That's because we ship, and it's all made more affordable through optional financing. Begin by looking over our available inventory. As soon as you see something that catches your eye, give us a call and a member of our staff will provide more details. We can even offer up more photographs if you'd like.
Once you make your final decision, we can handle financing there over the phone. The process is secure and simple, and it won't be long before we ship your vehicle out. You'll still have all the opportunity to customize your vehicle, or we'll send it out as it is. Either way, from the time we ship it, the vehicle should arrive to you in a week or less.
Find Rust-Free Custom Trucks
Ready Today
The inventory at Ultimate Rides has a lot going for it. You should notice right away that our quality standards are very high. Even on our older vehicles, like the lifted 2006 Chevy Silverado, we won't bring in anything that has rust damage. We also inspect every vehicle to ensure it meets our standards. While it can be impossible to predict the future of any used vehicle, our team does everything in our power to check the vehicle for any issues. We truly want the best for our customers, and while you may pay more for one of these vehicles, that's because you're getting a handpicked custom ride.
Where Customer Service
Still Matters
While other auto dealers may have let customer service fall to the wayside, it's still very important at Ultimate Rides. As a family business, we make it a point to treat each customer with the care and respect they deserve. Our friendly staff is here to answer your questions and help you find your perfect vehicle.
That gets us back to the lifted 2006 Chevy Silverado. If there's a model you're after that you don't find in our inventory, just let us know. With a small deposit, we can have our team start searching right away. They see countless vehicles over the course of their search, so it shouldn't be long before we track down what you need. From there, we'll bring it back to our shop to get ready for you, with any customization you want available. Whatever you decide, you're free to come pick the vehicle up or we'll ship it straight out to you.
Contact Ultimate Rides for
Further Details
Does it sound like we might be the right place to find your next vehicle? Whatever it is you're searching for, we're quite confident we can make it happen. Our headquarters is located about an hour south of Chicago, at 38 W. Division St., Coal City, IL 60416. If you're in the area, feel free to stop by! We'll be happy to show you some of the incredible vehicles we have to offer today. Otherwise, give our office a call at 815-634-3900 to speak to a member of the team. They'll make sure you are well taken care of!
---
Two Brothers With a Dream

,

Building The Best Ultimate Rides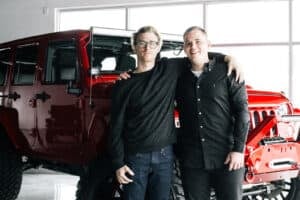 Ultimate Rides consists of two brothers who have been buying and selling custom vehicles for over ten years. Selling lifted trucks by day and writing these awesome reviews by night! They started their Ultimate Rides journey with a third brother Jake, who was a big part of building the business they have today. In 2016 Jake passed away and losing their brother was the hardest thing they ever had to deal with. Even though they had a tragic loss they plan to continue to set a new trend for the auto industry, keeping customers number one. Pushing the envelope on the lifted truck market, these guys love researching and learning about everything in the auto industry!
 — Nick and Alex Bulanda, Founders of Ultimate Rides