Lifted Ford F150 for Sale in Illinois
Visit Ultimate Rides for a

Lifted Ford F150

for Sale in Illinois
If you live in Illinois, that means you aren't too far from Ultimate Rides. We are a high-quality custom auto dealer located in Chicago-land area. However, despite that, we help customers from all across the country find the vehicles they are looking for. We're your number one destination for custom vehicles, including the always-popular Ford F150. Anybody who is seeking a Ford F-Series truck with a lift kit for sale in our state ought to come check out the Ultimate Rides inventory. Start looking online right now! You'll find a number of different options, and you'll be able to customize each to your liking. Today, we want to provide you with some more information about Ultimate Rides. When we're through, we're confident you'll be excited to shop for your next truck.
There are a number of different things that set Ultimate Rides apart from standard auto dealers. Buying a vehicle can be frustrating these days, but we want it to be as smooth and simple for our customers as possible. We sell both new and used vehicles, but even our preowned options are in fantastic shape. There's a guarantee of quality at Ultimate Rides that you won't find anywhere else. On top of that, we pride ourselves on offering a better type of customer service. Perhaps best of all, we have our own service center on-site. It's staffed by some of the hardest-working and most talented technicians out there. You just won't find vehicles like this anywhere else. Let's start by telling you more about the Ultimate Rides lift center!
Customize a Ford F150

in Our Lift Center
At Ultimate Rides, we have the ability to customize any vehicle, including an awesome used Ford. Many of the rides for sale here have already been customized by our team. Take a look and you'll see a number of modifications, and there's always more available. Whenever someone purchases a vehicle from Ultimate Rides, they'll always have an opportunity to send it over to our custom service center. We can make any adjustments you want on the vehicle, from adjusting the suspension to new wheels and tires. You'll be able to either pay for this work at the time of service, or you can finance it and pay it off with your new vehicle. Just let us know what you want done and we'll take care of it.
Our ASE-certified technicians are the best around, and we offer plenty of different options. Visit Ultimate Rides for light bars, performance chips, stereo installation, running boards, and so much more. Our pricing is fair as can be, and we're always straightforward and transparent with our customers. Plus, we can even offer these services to the public. If you'd rather upgrade your current vehicle, let us know and we can set you up! Ultimate Rides is the place to find or create the vehicle of your dreams.
You won't have to worry about your vehicle being taken care of, whether it's a used Ford or anything else. Our team has countless hours of experience, and even more importantly a strong passion for these vehicles. A great deal of care and dedication goes into each and every job we do, whether it's for our own vehicles or for a customer. Come see for yourself, or take a look at our online reviews and see what previous customers have to say!
2022 Ford F150
Features Overview
Ultimate Rides has both new and used pickups for sale, and that includes the 2022 Ford F-Series. There's a reason Ford pickups are so popular, and it's because they offer an excellent combination of features, performance and safety. While you will have a wide range of model years available to you, including whatever Ford models our buyers can seek out, we thought it might be helpful to cover some of the standout features and qualities you can find on the latest available model of the Ford F-Series.
Ford F150 Interior Comfort and
Driver Convenience
Step foot inside a new Ford F-Series truck and you'll be met with tons of exciting features meant to enhance your comfort level on the road. The 2022 F-150 comes available in eight different trim levels, each one providing a slightly different assortment of features. Across these trim levels, you could have access to amazing features such as a 360-degree camera system, Pro Trailer Backup Assist™ from Ford, or a state-of-the-art active park assist system. These modern Ford models might include the SYNC® 4 infotainment system featuring enhanced voice recognition, along with a 12-inch capacitive touchscreen and a deluxe Bang & Olufsen® sound system.
An available wireless charging pad means you will no longer have to worry about leaving your charger at home. Just set a compatible phone down in the tray and let it charge! These Ford models may include 10-way power adjustable front seats, ensuring you can get into the perfect position for your drive. One highly-sought-after feature available in the 2022 F-Series is dual-zone automatic climate control. This system allows both the driver and front passenger to choose their temperature for air conditioning. These aren't all the features available in the Ford F-Series, and these features aren't in every single model, so make sure to contact the Ultimate Rides team to find out what's waiting for you in our inventory.
Ford F150
Exterior Features
It's important for a truck for sale to offer a solid selection of utility features, and the Ford F-Series definitely does. The truck may come with LED pickup box lighting, a power tailgate with a step and work surface, and a set of LED mirror-mounted spotlights. Some models will include an onboard scale system that can calculate the weight of your payload, as well as LED projector headlights with automatic on/off and rain-sensing. The vehicle may include a set of power-deployable running boards, and if it doesn't then Ultimate Rides will be able to hook you up with a set. You may even be able to find one of these Ford pickup models for sale with a stunning sunroof for your enjoyment. Whatever it is you plan to do with your Ford pickup truck, you'll be able to find a trim of the F-150 that suits you.
Ford F150
Performance Capabilities
As a company, Ford is known for excellent performance in their pickups. The 2022 Ford F-Series is an excellent example of what they are capable of. For the 2022 edition, drivers could have access to as many as seven different engine configurations in these Ford models. There is a 3.5L EcoBoost V6 engine that offers as much as 400 horsepower and 500 lbs.-ft. of torque. There is also an available hybrid 3.5L V6 engine, there for those who want to work towards green energy and better efficiency for their vehicle. If you feel as though you don't need the maximum level of power in your Ford vehicle, check out the available 2.7L EcoBoost V6 engine. Drivers may have access to a 5.0L V8 engine, a 3.3L V6, or a high-output 3.5L EcoBoost that's only available on the Raptor trim level.
As for additional performance features, some Ford models may include a 4×4 setup, an electronic locking rear differential, an integrated trailer brake control, and so much more. We encourage you to contact Ultimate Rides sales department concerning our available new and used Ford models to find out what kind of performance you're working with. Make sure to ask us about the option to install a performance chip in your engine that our team can offer for more direct control over your Ford F-Series truck.
Ford F150 Standard and Available
Safety
Before moving on, we think it's important to share some of the useful safety features that can be found on the Ford F-Series, across a wide range of trim levels and price points. The vehicle may come with a curve control system to help manage speed on turns for enhanced stability, or a blind spot warning system with cross-traffic alert and trailer tow coverage. You can expect to find four-wheel anti-lock brakes across all models of the 2022 Ford F-Series, as well as many older used models. The Ford F-Series could provide you with a tire pressure monitoring system, letting you know when it's time to add some air. Of course, you'll also find plenty of airbags spread across the interior of the truck, there to protect you in the event of an accident. There may be more safety features found in the Ford F-Series, and our team of new and used experts will be glad to provide more details.
The Best Rust-Free Vehicles –

New or Used Ford Models
We've spoken a bit about how important our vehicles are to us. Let's get into some more detail in that regard. We sell both new and used vehicles at Ultimate Rides. The majority of them are preowned, usually still a recent model year, but one thing they all have in common is that they're in fantastic shape.
As you might expect, rust typically isn't much of an issue on new cars. However, it can be a big problem for preowned vehicles. If you've been to most local auto dealerships, you likely already know what we mean. At Ultimate Rides, we're proud to sell only rust-free used vehicles.
If you're tired of taking a gamble every time you buy a used truck or SUV, we're the solution. Because we're located in the Midwest, we have to go out of our way to track down vehicles without rust. We really do believe that it's worth all that effort. We send our buyers out to warmer parts of the country, such as New Mexico. It's often easier to keep vehicles in great shape here, so our team usually has better luck finding rust-free models. From there, we bring them back home and inspect them. As long as everything looks good, we'll get the vehicle ready for you!
Nowhere else will you be able to find such consistent high quality among custom used rides. If you'd like to take a look at a custom-built Ford F-Series pickup truck for sale in IL, feel free to come and visit Ultimate Rides!
Ultimate Rides Prioritizes

Customer Service
We know that it takes more than just great vehicles to convince people we're the best. Well, don't worry. We have excellent customer service to offer as well. It's common knowledge that auto dealers have a negative reputation for working with customers. Ultimate Rides is out to alter that perception through our actions. We work hard for our customers, and believe that we have a different mentality that allows us to serve you better. You see, instead of treating every person that comes through our doors like they're a walking dollar sign, we treat you like a person. We think everyone deserves respect, especially in a professional setting.
It's our goal to help our customers find the right vehicle, no matter what it is. Our team will work with you in-person or over the phone to find out your perfect truck. From there, we can help you create it. As we've said, we offer countless different upgrades, and our team will work hard to make sure you get everything you're looking for. If you have any questions about our inventory, all you need to do is give us a ring.
We're always happy to go through our own vehicles with you, but it doesn't have to stop there. At Ultimate Rides, we go above and beyond to make our customers satisfied. If there is a certain make and model year that you need, we can track it down for you. Leave a small deposit with us and our buyers will search for the vehicle. We'll let you know as soon as we find it and you can come pick it up. Whatever it takes to get you the right vehicle, we can do.
History of the
Ford F150
The roots of the Ford F-Series can be traced all the way back to 1948. The vehicle was introduced that year under the name of the Ford Bonus-Built. The timing is not coincidental, as the company was shifting focus in the aftermath of the second World War. There were a number of major changes compared to previous Ford pickups, with a strengthened emphasis on the driver and passenger experience. In many ways, the introduction of the Ford F-Series served as a major advancement in the modernization of pickup trucks. Just as it is today, back then you were able to choose from a range of configurations within the overall Bonus-Built model. These different designations were labeled as F-1, F-2, F-3 and so on. Thus began a long tradition that continues through modern Ford F-Series pickup.
These Ford vehicles underwent a variety of changes across generations. The changes to this vehicle have happened both subtly over time and in large changes all at once. One only needs to look at the jump from the seventh to eighth generation Ford F-Series, introduced in the late 1980's, to understand what we mean. The vehicle underwent a major redesign, bringing the look up to modern standards (at the time). Since then, Ford has done an excellent job of keeping the truck up-to-date in terms of both features and style. The Ford F-Series is currently in its fourteenth generation, with no signs of stopping any time soon.
Used Ford

Vehicle Delivery for Chicago and Beyond
One of the things that customers love about Ultimate Rides is the ability to have a vehicle delivered right to your home. Whether you live in Illinois or across the globe, we can supply you with an amazing custom vehicle. The entire process is easy. Simply give us a call and a team member will hear what you're looking for. If you've already checked out our inventory, you'll have a head start and can tell us exactly what you want. If not, we'll work with you to help you find exactly the right model. Someone from our team will be able to provide you with more photos as well as any other relevant details. Once you make a final decision, we can arrange financing and delivery!
We make it as easy as can be to order. You'll still have an opportunity to customize the vehicle before we send it out. Every single upgrade in our shop will be available to you. Additionally, you can once again choose to pay for delivery up front or finance it. Our delivery costs are very reasonable, and we're happy to offer either option to our customers. With financing, delivery should be affordable for just about everyone. No matter which way you choose, your next vehicle will be on its way before long. From the time that it's ready, it'll be a week or less before the vehicle arrives to you. Does this sound appealing? Get in touch with Ultimate Rides to kick the process off now.
Ford F-Series: The

Most Popular Truck

in America
Year after year, for quite a long time now, the Ford F-Series has been America's highest selling pickup truck. Ford has built up their brand over more than a century, and there is no auto manufacturer that has shaped the industry quite like them. Even after all this time, the company continues to innovate and upgrade. The Ford F-Series lineup is better now than ever before. Each year the company adds great features, whether based around comfort, driver convenience, safety or performance. One of the biggest things that the F150 has in store is versatility. You'll be able to easily tackle a variety of situations in this pickup, and that's just one of the reasons so many drivers love it.
On top of that, you can also easily customize the vehicle to your liking. Whether you're looking to adjust the suspension or completely overhaul the look of the vehicle, Ultimate Rides can help. The F-Series can be turned into a true off road behemoth with just a few changes. If you're in search of a custom Ford F-Series for sale in IL, look no further. Ultimate Rides has exactly what you need.
What It's Like to Drive a
Ford Truck
Ford vehicles, especially Ford F-Series pickups, have a reputation to uphold. That is part of the reason why Ford puts so much time and effort into keeping their vehicles up to date. What you can expect from a Ford F-Series differs depending on the model year and trim level you're behind the wheel of. Newer models with a high price point are loaded out with driver assistance features and modern amenities. Some of the older Ford F-Series models are a little more barebones when it comes to features, but still offer excellent performance.
It's difficult to paint all Ford F-Series pickups with one brush by telling you exactly what you can expect. The best thing we can recommend is to research some different models that might be available to you. Think about what you plan to do with the truck, talk to experts, and narrow down your options until you find the model that's right for you. Then let our team at Ultimate Rides know and we'll help you find or build the truck of your dreams.
Great Deals on

Used Ford Trucks
Ultimate Rides is the place to find a fair price on high-quality custom Ford F-Series pickups. While the price you find here might be higher than that of your standard auto dealer, that's because we only sell the best. You'll find models that are free of rust, with options that are low on miles, and featuring custom upgrades of all kinds, available at a great price. Used Ford vehicles often have a high price compared to competitors. This is true for a variety of reasons, including the fact that they can last so long when taken care of. Our sales team will be happy to discuss the price of our available models and how we get to the figure that we did. Our number one goal is to get you set up with a custom new or used Ford model that you are happy with, and that includes being satisfied with the price. Let us know if you have any questions or concerns. We've got a team standing by to help!
Ultimate Rides Offers

Vehicle Repair and Maintenance

Now
Along with everything else, you can also find maintenance and repair for your vehicle here. It doesn't matter if the vehicle came from us or not. If there's a problem, we can fix it. As we've already said, we have the utmost confidence that our team is the best. They have tons of experience, and are eager to put all of it to good use. Plus, we'll get your vehicle back to you as quickly as we can. Along with our fair prices and straightforward customer service, there's not much more you can ask for from a team of mechanics. Let us know the issue (or if we need to diagnose) and we'll slot you in for an appointment!
Lifted Ford F150

for Sale in Illinois Today
Now you know a great deal about Ultimate Rides. We hope you give us a shot the next time you're in need of a vehicle, such as a Ford F-Series truck at a fair price. Our team is ready to help you find just the right thing. Plus, you won't have to worry about quality. To reach Ultimate Rides, give us a call at 815-634-3900. Our office is located at 38 W. Division St., Coal City, IL 60416.
---
Two Brothers With a Dream

,

Building The Best Ultimate Rides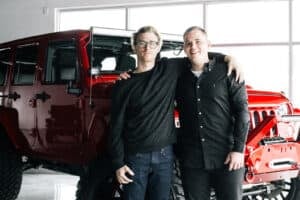 Ultimate Rides consists of two brothers who have been buying and selling custom vehicles for over ten years. Selling lifted trucks by day and writing these awesome reviews by night! They started their Ultimate Rides journey with a third brother Jake, who was a big part of building the business they have today. In 2016 Jake passed away and losing their brother was the hardest thing they ever had to deal with. Even though they had a tragic loss they plan to continue to set a new trend for the auto industry, keeping customers number one. Pushing the envelope on the lifted truck market, these guys love researching and learning about everything in the auto industry!
 — Nick and Alex Bulanda, Founders of Ultimate Rides