Lifted Ford F150 for Sale in Indiana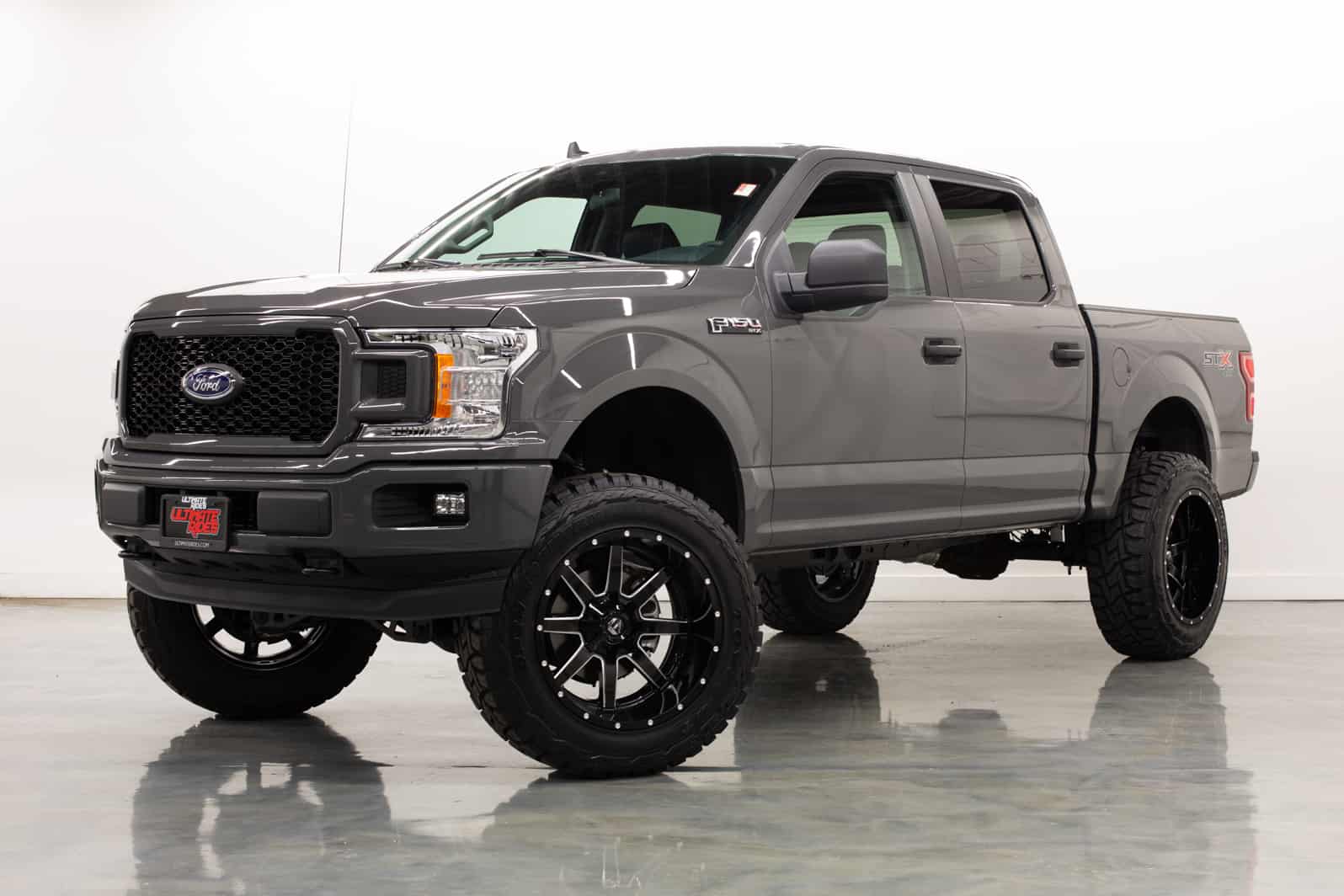 Get a Lifted Ford F150

for Sale in Indiana
These days, it isn't always easy to find a preowned pickup truck in good shape. This is especially true for custom trucks, which move quickly when sold at most dealerships. If you want to find a high-quality lifted Ford F150 for sale in Indiana, you might want to look just over the border into Illinois. Ultimate Rides is located in Coal City, and we are the place to go for high end custom trucks like the F150. We sell our vehicles new and used, but you can always expect excellent quality. Plus, if you'd rather not leave the confines of your home, you'll be happy to learn that we deliver our vehicles for an affordable price.
Today, we want to give you the rundown on Ultimate Rides and why you may want to choose us for your vehicle needs. We'll tell you all about our available vehicles, our service center, our customer service excellence and so much more. Trustworthy dealerships can be few and far between. If you want a team that looks out for you, it's time to visit Ultimate Rides.
Advantages of Driving a

Lifted Pickup Truck
Before we go any further, we'd like to talk about why someone might want a lifted truck. There are both aesthetic and practical reasons to upgrade, and we'll cover them both here. Essentially, there are two primary reasons people decide to opt for lifted trucks: looks and off-road performance. There's no denying that a lifted pickup truck has a tough vibe, and it's an appearance that many folks love. That certainly includes us!
Along with that comes increased off-road performance. You'll have more clearance underneath your truck, which helps avoid rocks, bushes and other hazards/obstacles. All too many trucks have been scraped up because they didn't have a lift kit installed while heading off-road. While in a lifted truck, you'll also notice a difference in your vantage point. Being higher up in the air, you should be able to see things farther ahead with ease. That can also make it more difficult to see things that are right up close to your truck, however, which is something to be aware of.
Overall, everyone has to make their own decision as to whether a lifted truck is right for them. The trend continues to pick up steam, and we're here to help anybody who's interested in upgrading.
Our Vehicles are Clean and

Rust-Free!
At Ultimate Rides, we strive to put ourselves head and shoulders above your standard auto dealership. You'll find vehicles of all sizes, both new and used here, but they share one thing in common. Every vehicle sold at Ultimate Rides is free of rust. Corrosion is a probably that plagues vehicles once they start to get a few years old. This is especially a large problem here in the Midwest, where snows and salt can start to corrode the vehicles quickly.
We solve this problem by sourcing our inventory from warming parts of the United States. Our buyers head out to states such as California to seek out vehicles that are in great shape. Once we get them back here, they go over to our service center for inspection. In many cases, they'll also receive some upgrades there (more on that later). One thing you'll always find when you buy from Ultimate Rides is that our vehicles are in truly fantastic shape. It's just one of the many reasons customers are so fond of our vehicles and service. You'll find a clean lifted Ford F150 for sale in Indiana when you shop with Ultimate Rides.
The Ultimate Rides

Lift Center
Our service center is yet another thing that we're proud of here at Ultimate Rides. We finished work on constructing our new lift center back in 2017, and it's truly a thing of beauty. All of our vehicles come here for inspection, and we outfit many of them with lift kits, custom lighting, and other modifications. We can install performance chips, custom wheels and tires, new lighting rigs, sound systems, and of course lift kits. There's plenty more where that comes from, and we recommend giving us a call if you have questions.
You can have our services performed either on a vehicle you're buying from us, or the vehicle you currently own. Every time you purchase a vehicle from Ultimate Rides, you'll have the choice to get some work done before you take ownership. You'll also be able to choose whether you want to pay for that service separately, or if you'd like to finance it with your vehicle.
If you're bringing your own ride in, you can trust that we're the best around at what we do. When it comes to lifted trucks, some auto shops have a hard time. That's not the case here, as our team knows its way around custom vehicles. Our technicians are ASE-certified, and have years of experience working on vehicles just like those pictured here.
Our Customer Service

Sets Us Apart
It's not just our vehicles that keep our customers coming back to us for all their automotive needs. When Ultimate Rides began, we saw that there was a dire need for improved customer service in this industry. Since then, we've been out to change the perception of auto dealers. Our team members will go above and beyond to make sure that our customers get everything they need from us. Whether it's a ride from the airport or help finding a rare vehicle, we've got you covered.
We're the best place to find a lifted Ford F150 for sale in Indiana and the surrounding area. Our staff is here to help you find the perfect vehicle for your needs, and get you set up with all the customizations you'd like. If you have any questions for us, we encourage you to reach out to our office today. We're standing by to help!
Lifted Ford F150 for Sale in Indiana with

Vehicle Delivery
More than half of all of our customers come from outside our immediate area. It's because the quality of our vehicles are hard to match. However, you don't have to make the drive out to our office if you'd prefer your vehicle to be delivered. Simply give us a call and we can walk you through the process step by step. We have pictures available of all our vehicles here on our website, and we can provide more if you give us a call. We can arrange all the financing and delivery details over the phone, and soon your next F150 will be on its way to you! The process is secure, quick and reliable.
Get Your Vehicle Repaired at

Ultimate Rides
At Ultimate Rides, we offer plenty more than just your next lifted Ford F150 for sale in Indiana. On top of customizing your vehicle, we can also make sure it's in great shape with our maintenance and repair services. From oil changes to transmission replacements, we can take care of just about any problem you run into. We're aware of how difficult it can be to find an auto shop that you can trust. With us, you'll always get your vehicle back in better shape than when you brought it in. Plus, our team works quick, so you shouldn't be without your vehicle for too long. Our prices are fair, and our work is top-notch. Give us a call if you'd like to learn more about our repair and maintenance!
Final

Thoughts
Well, you've now learned most of what there is to know about Ultimate Rides. We hope that you'll think of us the next time you feel the need to upgrade your vehicle, or shop for a new one. We've worked hard over the years we've been in business to keep our reputation as high as can be. You won't find a more friendly, hard-working team than here at Ultimate Rides. On top of that, we think our vehicles are something special too. The next time you need a lifted Ford F150 for sale in Indiana, think of us!
If you're in our area and you'd like to stop by the office, you can find us at 38 W. Division St., Coal City, IL 60416. You can also give us a call today at 815-634-3900.
---
Two Brothers With a Dream

,

Building The Best Ultimate Rides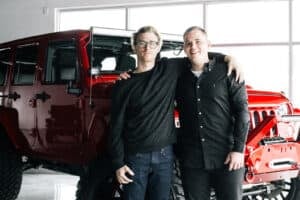 Ultimate Rides consists of two brothers who have been buying and selling custom vehicles for over ten years. Selling lifted trucks by day and writing these awesome reviews by night! They started their Ultimate Rides journey with a third brother Jake, who was a big part of building the business they have today. In 2016 Jake passed away and losing their brother was the hardest thing they ever had to deal with. Even though they had a tragic loss they plan to continue to set a new trend for the auto industry, keeping customers number one. Pushing the envelope on the lifted truck market, these guys love researching and learning about everything in the auto industry!
 — Nick and Alex Bulanda, Founders of Ultimate Rides