Lifted GMC Denali for Sale with Shipping
Find a Lifted GMC Denali for Sale at
Ultimate Rides
Have you considered a GMC Denali as your next vehicle? The Denali isn't a model, but instead it's the luxury trim level available with many GMC trucks and SUVs. That means you could find a lifted GMC Denali for sale in the form of a Sierra pickup truck, Yukon SUV and more. If that sounds appealing to you, we encourage you to contact our team for more details on the Ultimate Rides inventory.
If you would like to learn more about our business, you're in the right place. In today's brief guide, we'll tell you how we can provide an amazing custom truck to you anywhere across the United States. Stick around to learn about our industry-leading customer service practices, our incredible technicians who staff our custom service center, and much more. Ultimate Rides is your destination for anything vehicle-related, from sales to repairs to custom upgrades and beyond.
Build Your Custom Truck in Our
Lift Center
One of the biggest things that sets Ultimate Rides apart from standard auto dealerships is that we specialize in custom vehicles, both new and used. That's because we have a passion for lifted trucks, and it runs through every aspect of our business. Take a look at the inventory and you'll see that most of our rides already feature lift kits and other impressive upgrades. That's just the beginning.
Any time you buy a vehicle from Ultimate Rides, you'll have a chance to make further adjustments in our lift center. We'll be able to include the cost of whatever work you decide on in your financing deal, or you can take care of it upfront. You'll have access to installation of running boards, custom lighting, stereo upgrades, a new interior trim, performance chips, and so much more. We encourage you to give us a call to learn about everything we can do to customize your next vehicle.
Our shop is also open to the public. Give us a call and we can make an appointment for you to bring your vehicle down. All of those same services will be available to you, along with a full range of repair and maintenance services.
High-Quality Rust Free
Custom Vehicles
You won't just find any old vehicles for sale in our inventory. We handpick every single vehicle that we sell, with specific things we're looking for to ensure it meets our standards. Our buyers head out to areas of the country with favorable climate for vehicles, like California. From there, they bring back the options that suit our inventory. Each one is inspected in our lift center, usually gets a few custom upgrades, and is then listed in our inventory for you to buy.
Every one of the vehicles available at Ultimate Rides is free of rust, whether it's a lifted GMC or another model. That is something that's very important to us. At most regular auto dealers, you can look around the lot and spot rust on a good number of vehicles. Our used models have all been checked out, and we do everything we can to guarantee their quality.
Customer Service You Can
Count On
Along with our vehicles, customers seem to love dealing with our team. That's because we place customer service at or near the very top of our list of priorities. We understand that the process of buying a vehicle has become miserable over the years. We want to inject some fun back into that process. At the same time, we understand this is a major purchase. Our team works hard to make sure you learn every aspect of the financing deal, and you have as many details at your disposal as possible.
We'll even go the extra mile for our customers. Is there a certain model you're looking to buy? We can track it down for you even if it's not in stock. Just leave a small deposit with us and our buyers will keep their eyes peeled until we find it. As soon as we do, we'll let you know and we can figure out how to proceed from there.
Delivery Available
Across the Country
Wherever you live, Ultimate Rides can get a vehicle to you, whether it's a lifted GMC Denali for sale or something else. We offer reliable and fast shipping nationwide, and the whole process is as simple as can be. Just give our team a call and we'll work with you to find the right vehicle. Once we do, we'll handle all the financing and shipping details right there over the phone. You can decide if you'd like to include the cost of delivery in your financing plan or pay for it all ahead of time. Either way, our team will get right to work as soon as we're off the phone!
Buy Your Next Truck
with Us!
Now that you've had a chance to learn more about Ultimate Rides and a possible lifted GMC Denali for sale, do you feel as though we might be able to help? Our goal is to bring the vision of your dream truck to life, and there are countless ways for us to do that. To learn more or to get started, give our office a call today at 815-634-3900. Additionally, if you live in or are traveling through the Chicago area, you can find us an hour south of the city. Our office is located at 38 W. Division St., Coal City, IL 60416. The Ultimate Rides staff is here to help with any auto needs, so don't be afraid to get in touch soon!
---
Two Brothers With a Dream

,

Building The Best Ultimate Rides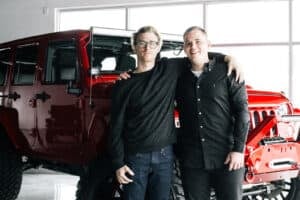 Ultimate Rides consists of two brothers who have been buying and selling custom vehicles for over ten years. Selling lifted trucks by day and writing these awesome reviews by night! They started their Ultimate Rides journey with a third brother Jake, who was a big part of building the business they have today. In 2016 Jake passed away and losing their brother was the hardest thing they ever had to deal with. Even though they had a tragic loss they plan to continue to set a new trend for the auto industry, keeping customers number one. Pushing the envelope on the lifted truck market, these guys love researching and learning about everything in the auto industry!
 — Nick and Alex Bulanda, Founders of Ultimate Rides