Lifted Hummer for Sale at Ultimate Rides
The Destination to Find a

Lifted Hummer for Sale
There's only one place you need to look when shopping for an awesome custom vehicle: Ultimate Rides. We have high-quality lifted vehicles available like the Hummer. This highly sought after SUV is getting a new model soon, but some folks would rather pick up one of the existing versions. You can find one in great shape right here with us. Even better, we'll be able to send it to you via our delivery if you can't come pick it up! If you have struggled to find the right vehicle in the past, Ultimate Rides can help you. We're unlike other auto dealers in a number of ways, and in this guide we want to tell you more about what sets us apart.
The assumption when buying a vehicle today is that your auto dealer is out for themselves to make as much as they can off of you. We think that's hurt our industry quite a bit, and we want to change that reputation. When you shop at Ultimate Rides, you'll be dealing with a team that believes we can all succeed together. If we line you up with exactly the vehicle you want, customized and in incredible shape, you win and we win. Find out more about what separates Ultimate Rides from the pack by reading this guide, and feel free to contact our office if you're ready to find a lifted Hummer for sale today!
Ultimate Rides Offers

Rust-Free SUVs
We'd like to start by telling you a little bit more about the vehicles you'll find at Ultimate Rides. Our cars, trucks and SUVs aren't just pulled off the street and sold to you. We specifically seek out rust-free vehicles to bring in. Rust can be a great indicator of quality on a vehicle. While it's not the be-all end-all, you can use it to determine how well the vehicle has been maintained. In the Midwest, it can be difficult to prevent rust from manifesting on a vehicle. There are special cleaning products that can do it, but it usually comes around in the end. That's why we send our buyers out to warmer parts of the country with favorable weather. The vehicles here don't deal with as much rust, and we bring them back here to sell to you.
If you've visited your local auto dealership, they may offer some vehicles that are in great shape. However, you can't always be sure what you're buying is high-quality. At Ultimate Rides, we only sell the best vehicles we can find. On top of that, they're also usually customized by our team (more on that soon). Take a look at the inventory on our website and see if anything catches your eye. You could find a lifted Hummer for sale that you simply have to own.
Customize a Hummer in the

Lift Center
One of the biggest things our customers love about Ultimate Rides is access to our lift center. Most of the vehicles you see in our inventory have been altered by our team right here. From lift kits to running boards to sound systems to performance chips, there's almost no limit to what we can accomplish here. Every time you purchase a vehicle from us, you'll have the chance to send it over to our service center for modifications. That includes the lifted Hummer for sale, allowing you to make even more changes. You'll even be able to choose whether you want to pay for these services now, or finance it and pay alongside your new ride. Whatever works best for you is good for us.
Let us know what you'd like done, and our team will make it happen. If you'd like to learn about the full range of features we offer, get in touch with our team over the phone. Our service center features a staff of ASE-certified technicians who love what they do. We truly believe that our crew is the best around, and our vehicles are a testament to that. You can't just visit any old dealership to find custom vehicles like this. You need to know you're dealing with the best, and that's exactly what we are. For those who aren't ready to buy their next vehicle, we can still help. Bring your vehicle to us and we'll customize it for a great price! If you have any questions for us, don't be shy about getting in touch! We're always ready to help you find the perfect ride.
We Also Provide Auto

Repair, Maintenance and Detailing
On top of offering custom installations, our team also handles repair, maintenance and detailing for your vehicle. Whether you bought the ride from us or not, our team can get things in shape for you. Just give us a call to schedule an appointment and we'll get it all figured out. Our technicians are incredibly talented and hard-working. We also know how important it is to have a set of wheels. It won't be long at all before you vehicle is ready for you. Get in contact with us to learn about costs and more! We can assure you that you won't regret bringing your vehicle to Ultimate Rides. Whether it's a minor maintenance issue, or something major like transmission repair, our team can take care of the problem. Plus, our detailing can get your vehicle looking brand new once again!
Customer Service

Unlike Anywhere Else
It's not just our inventory that makes us so exciting for our customers. We also have a different customer service mentality than other dealerships you may have dealt with in the past. We're a family business, and because of that we treat every customer like one of our own. When you come in to meet with us, or contact us over the phone, you'll be met by a friendly and helpful member of our team. They'll be able to answer your questions, as well as help match you up with the right vehicle. Whether that's a lifted Hummer for sale, or something much smaller, we think we've got the correct assortment of options for you to consider. If you'd like to find out what it feels like to be treated like a VIP when buying a vehicle, it's time to check out Ultimate Rides!
We'll even go the extra mile for you. If there's a specific vehicle you want and we don't have it in stock, our team will be able to seek it out for you. Our buyers travel all over the place, and see a huge range of vehicles each and every day. Leave a small deposit with us, and we'll buy the vehicle as soon as we find it, bringing it back to our HQ to get ready. Then you'll be able to come and pick it up or we'll even ship it out you if you'd like.
Lifted Hummer for Sale –

Delivered to You
Now it's finally time to talk shipping! It's one of the many things that sets us apart, and it's something we're very proud of. We know it can be difficult in some areas to find quality custom vehicles. When we started this business, we wanted a way to make our rides accessible to everyone. We're able to easily arrange financing and shipping details with you, making it quick and easy to get a vehicle delivered to you. We hope you'll get in touch with our office so you can find out how you could buy an amazing lifted Hummer for sale and have it sent straight to your home.
Visit or Call Ultimate Rides for

Assistance Today
Do you feel like the right vehicle is waiting for you at Ultimate Rides? We agree! No matter what kind of car, truck or SUV you want, we can find it and customize it for you. Give us a call today at 815-634-3900 to speak to a member of our team and learn more. If you're in the Chicago area and would like to come pay us a visit, you can find our office at 38 W. Division St., Coal City, IL 60416. We've got an amazing selection of vehicles ready for you, so what are you waiting for?
---
Two Brothers With a Dream

,

Building The Best Ultimate Rides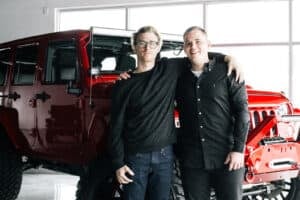 Ultimate Rides consists of two brothers who have been buying and selling custom vehicles for over ten years. Selling lifted trucks by day and writing these awesome reviews by night! They started their Ultimate Rides journey with a third brother Jake, who was a big part of building the business they have today. In 2016 Jake passed away and losing their brother was the hardest thing they ever had to deal with. Even though they had a tragic loss they plan to continue to set a new trend for the auto industry, keeping customers number one. Pushing the envelope on the lifted truck market, these guys love researching and learning about everything in the auto industry!
 — Nick and Alex Bulanda, Founders of Ultimate Rides