The Best Place to Find a Lifted SUV for Sale
World Class Lifted SUV for Sale,
Available At Your Convenience
At Ultimate Rides, we're well aware of how difficult the process of purchasing a car has become. It's our goal to make that complicated process as simple as possible for you. We do this in a number of ways, including a quality guarantee, worldwide vehicle shipping, first rate customer service and our own dedicated lift center for you to customize your ride. If you're looking for a high quality lifted SUV for sale, you're searching in the right place. We have a wide selection of SUVs for sale, with some already including lifts while others are just waiting for you to pick them out and choose your lift height as well as wheels and tires.
One surprising fact about our business is that despite being located just an hour south of Chicago, most of our business comes from buyers outside of Illinois. Our prices and selection are appealing worldwide, so we make it easy for you to have one of our vehicles shipped to you almost anywhere. All you have to do is get in contact with us and we can work through the details and provide you with information and photos of the vehicle you have your eye on, such as a lifted SUV for sale. In addition, as a part of your financing deal, we can include the cost of transporting your vehicle, meaning you'll be able to pay for it by adding a few dollars to your monthly payment.
We're Raising the Bar When It Comes to
Higher Quality Used Vehicles
Along with our prices, another way we've made ourselves appealing to buyers from all over is our dedication to selling high quality used SUVs and trucks. All of our vehicles are free of rust that covers many parts of the under body of vehicles across the Midwest and in many other places around the world. We are able to do this buy sending out buyers to different places around the country to seek out the vehicles that are up to our standards to bring back to us. Each one undergoes a quality inspection to make sure they are up to our standards before being sold to anyone. When you buy from Ultimate Rides, you can trust that your buying a used SUV in solid shape.
Every winter a vehicle spends driving around roads in the Midwest is another year of heavy salt damage to the body and undercarriage of the vehicle. This salt causes rust, that can damage the vehicle and make routine maintenance a nightmare. If you want your used SUV to last as long as possible, buying a model free of rust is one of the best ways to make that happen, along with regular maintenance and care. Finding vehicles in this kind of shape is not easy in our area, so we had to think of another way to bring these vehicles to Chicago. From there, our popularity and the ease of the internet allowed us to expand our business to help customers everywhere find their perfect lifted SUV for sale.
Popular SUV Models

Found at Ultimate Rides
We get a huge range of vehicles in our inventory. It all depends on what our buyers are able to track down in good shape. Take a look at the pictures shown in this guide. You can also check out our inventory page to find out what's currently available. We get vehicles new and old, large and small here. It's hard to narrow down and say exactly what models are most popular. We do tend to get a lot of Jeep Wrangler models in. It's one of our very favorite vehicles to work on and customize. They last great when maintained over the years, and they're a blast to modify.
No matter what kind of SUV you want, we're confident that we can help you find it. We may already have one waiting for you. If not, we can track one down. Just get in touch with us and you could soon find your next SUV. There's really no telling what you could find here. If you're tired of searching, you've come to the last dealership you'll need to shop at. Not only can we find you the right vehicle, but we'll also modify it in just the ways you want.
Discover What Your SUV Could Be
Using Our Lift Center
One thing that customers seem to love about shopping for their next SUV at Ultimate Rides is the ability to send the vehicle over to our lift center for some extra features. We can raise or lower your new ride and add custom tires and wheels, all in-house. Our passion for awesome SUVs, trucks and cars was what has helped guide Ultimate Rides from the very beginning. We've been family owned and operated since day one, and it's our passion that drives us to keep getting better.
We are extremely proud of everything we have to offer when it comes to our inventory and our services in our lift center. If you have any questions or interest in getting a lift kit installed or customizing your vehicle, please feel free to contact us. Though many of the vehicles in our inventory already have lifts installed, as it is something we specialize in, not all of them do!
If you want your new lifted SUV for sale raised or lowered, all you have to do is ask, and we can even include it within your vehicle financing deal. You'll be able to pay off the cost of your lift as a part of the cost of your vehicle, or you can simply pay up front and not have to worry about it. We want to accommodate you as best we can, so let us know what we can do to help!
We'll Modify Your

Current Vehicle Too!
Does it feel like your current vehicle still has some years left in it? If that's true but you still want to make an upgrade, we can outfit your current vehicle with whatever you want. Whether it's a lift kit, new wheels, or a combination of things, we'll make it happen. Our prices are affordable, and there's a huge range of options for you to consider. Our team is truly the best around, so you will be able to know your vehicle is in good hands. Plus, we tend to work pretty quick, so you shouldn't be without your ride for too long. If this sounds like a good idea to you, make sure you give Ultimate Rides a call! We'll be able to schedule the right time for you to bring in your vehicle.
Customer Service for a
New Era
It seems plain to us that the old way of doing business for auto dealers is going out the window. The days of old fashioned sales pitches and the classic run-around are over, and we hope to help usher in a new way of buying SUVs. When you visit or call Ultimate Rides, you'll be able to relax and have a genuine, no-pressure conversation about what you're looking for in a vehicle. We'll be able to show you everything we have to offer, and we don't believe there's any need to sell you on something you have no interest in.
We are a family business, and that is a key part of how we operate. Some dealers may have the goal of getting you in and out as quickly as possible and taking you for all they can. That's not how we work. Instead, our goal is to match you up with your ideal vehicle, in the best way possible. Our team is helpful, friendly, and knows what they're talking about. If you have any questions, give us a call. Someone from our team will offer all the answers you need, as well as tell you more about what we offer.
Tracking Down Rare SUVs
Ultimate Rides can even help you track down specific or even rare vehicle models. If there's something in particular you need, let us know. Even if we don't have it in our inventory, we can help you find it. Just leave a small deposit with us and our buyers will keep their eyes peeled. We'll let you know as soon as we have it, and you can come pick it up from our office. Our standard delivery service also applies here! Our buyers see tons of vehicles in their travels, and it shouldn't be long before they find the model you're searching for.
Ask About Our

Vehicle Delivery!
It's now easier than ever before to order a custom SUV. At Ultimate Rides, we have a system that ensures your information stays secure and you get a fair deal on your vehicle. Get in touch with us and let us know you have some interest. Our team will talk you through the process. We'll be able to take care of all the financing details right over the phone. You'll also be able to choose whether to finance the cost of delivery or pay for it upfront. Once again, Ultimate Rides wants to make sure you can pay the way that's most comfortable for you.
You can begin by taking a look at the inventory here on our website. If you spot something you like, let us know. We can offer up more details on that model, as well as more photos. Once you make a final decision, that's when we'll take care of all the details. You can rest assured knowing that it will be on its way very soon. You'll also still have the option of customizing any vehicle you buy before we send it out. Whatever kind of ride you want, we can make come to life.
Benefits of Driving with a

Lift Kit
It's no secret that lifted suspension continues to grow in popularity around the world. You've probably seen a substantial increase of custom vehicles on the road recently. You may have even seen some of our very own work out there! Our vehicles are available to customers everywhere, so they could be anywhere. If you've been wondering why exactly there's been such a boost in popularity, there are likely a few reasons we can point to. First off, accessibility is better than ever for custom vehicles. Whether you choose a specialized dealership in your own area, or want Ultimate Rides to ship, the limitations that once stood in the way are gone.
On top of that, people are realizing the benefits of lifting your vehicle. There are some immediate improvements in off-road performance. You'll be able to avoid scratching up against rocks and other obstacles on the ground. Additionally, you may be able to see a bit farther out as you'll be sitting higher up. Best of all, you'll be able to outfit your SUV with larger wheels and tires. That's yet another thing we can take care of for you at Ultimate Rides. Finally, perhaps the biggest reason of all on why people continue customizing their vehicles is a new look. Lift kits can completely change the aesthetic of a vehicle, and it's a look many people are after. Those are just a few of the countless reasons why you should think about upgrading!
Body Lift vs. Suspension Lift:
Which is Better?
These days, it's safe to say that most drivers know what a lift kit is. However, there are two primary types of lift kits, and the fact is many people do not know the differences between the two. As we may have mentioned previously, Ultimate Rides excels when it comes to lift kits, so we're more than qualified to tell you about each.
A body lift kit is the more inexpensive of the two. It's also almost always easier to install on your vehicle. Some drivers may even have the ability to install one of these kits on their own at home with the right equipment. However, despite these benefits, body lift kits are usually considered the worse of the two kinds. Because they are more inexpensive, they often don't offer the same level of quality as a good suspension lift.
The main difference between the two is that body lifts will raise up the actual body of your vehicle without altering the suspension. A suspension lift actually raises up the suspension of your SUV, truck or car. While this variety of definitely more costly, it'll offer a higher ride quality and last longer for you. It's definitely the style that we prefer at Ultimate Rides. We'd suggest saving up over time to get a suspension lift over a body kit. You could also find out about our available financing to get the benefits of a suspension kit today.
Off Road Upgrades from
Ultimate Rides
Do you want the perfect off road SUV? Our team can help you build it. While we're partial to Jeeps, any model you want will work. Just get on the phone with a member of our team. We'll go over all the recommended upgrades, such as a suspension lift and a larger set of wheels. The process will work just like any other upgrades from Ultimate Rides. However, our team is absolutely able to recommend certain builds for specific use, such as off road action.
We love driving off road at Ultimate Rides. While many drivers lean towards pickup trucks for these situations, there's nothing wrong with using an SUV. You just have to make sure it gets the right setup before you head out. We know exactly what to do, and there are a variety of choices you can make depending on your specific needs and budget. Reach out today and let us know you're looking for an off road build. We'll get right to work on setting you up with the right SUV.
Repair and Maintenance Available at

Ultimate Rides
There's more than just a new vehicle waiting for you at our dealership. Our service center also takes on outside clients. That's right! Just give us a call and we can schedule your vehicle for an appointment. We are located about one hour south of Chicago. If we're in your area, don't be shy! We truly believe our team is the best around, and we want to share that talent with you. We can take on small issues like oil changes or tune-ups. On the other hand, we'll also be here for major work, such as engine or transmission repairs. If you want to get a quote before having work done, give us a call and we'll see what we can come up with for you.
Beyond that, Ultimate Rides even offers detailing for your vehicle. Whether it's a special occasion, or it's simply been too long since the last one, our crew will get your ride shining and sparkling. Our rates are fair and affordable, and our turnaround time is great. Get in touch with us to set up an appointment for your vehicle soon! You won't regret bringing it to us. If you don't believe us yet, just take a look at some of our customer reviews found online to see what we mean.
Visit or Call Us Today for the

Best Vehicles Around
Ultimate Rides is out to change the game when it comes to buying vehicles. We think that there's a better way of doing things out there, and everyone can benefit from it. If you are tired of the same old way of buying, and also tired of getting mistreated by the business you're buying from, visit us. We can promise you will find a team with a different mentality. We are not your average auto dealer. With Ultimate Rides, you can expect excellence in both product and service.
It's been our goal for a long time to provide a positive alternative to your standard SUV dealer. With our forward thinking customer service, stunning inventory and exciting prices, we think we could have what you're looking for in a lifted SUV for sale. You can get in touch with our team via phone by calling 815-634-3900 today, or come on down to see us at 38 W. Division St. Coal City, IL 60416. Let's see if we can find you your perfect ride.
---
Two Brothers With a Dream

,

Building The Best Ultimate Rides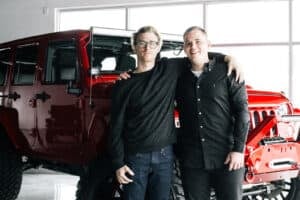 Ultimate Rides consists of two brothers who have been buying and selling custom vehicles for over ten years. Selling lifted trucks by day and writing these awesome reviews by night! They started their Ultimate Rides journey with a third brother Jake, who was a big part of building the business they have today. In 2016 Jake passed away and losing their brother was the hardest thing they ever had to deal with. Even though they had a tragic loss they plan to continue to set a new trend for the auto industry, keeping customers number one. Pushing the envelope on the lifted truck market, these guys love researching and learning about everything in the auto industry!
 — Nick and Alex Bulanda, Founders of Ultimate Rides