Lifted Tahoe For Sale, It's What We Build And Sell!
Custom Lifted Tahoe for Sale Now
Wherever you live across the United States, or even beyond our borders, you can count on Ultimate Rides for an awesome custom vehicle. That includes the excellent Chevrolet Tahoe SUV. Our inventory is always changing, and there's no telling for sure what you'll find on a given day. The Chevrolet Tahoe is a great vehicle, and we always love getting one in stock. If you don't see one in our inventory, we encourage you to call the Ultimate Rides office. We can help you find a model, or we'll even have the option to build one. There's so much more to learn about Ultimate Rides, so we hope you'll stick around. Get to know us, as well as your options with a lifted Tahoe for sale. You'll be glad you did!
Chevrolet Tahoe Standout Interior Features
There are many reasons why the Chevrolet Tahoe is such a beloved SUV. A big part of it is the interior. The exact details will change from year to year and model to model, but the highlights showcase what the SUV has to offer. You'll find that it may seat up to eight people, ensuring you can fit plenty of friends or family inside without feeling squished.
The latest model year of the Chevrolet Tahoe could feature a high-definition surround vision camera, useful for difficult parking situations or everyday safety. Some models also include an impressive heads-up display system, which projects information about the vehicle and your current trip onto your windshield. It'll make you feel like we are truly living in the future.
The Chevrolet Tahoe might also provide you with a wireless charging station for your cell, a front and rear parking assist feature, or preset memory settings for the driver's seat. Some trim levels could also provide dual zone climate control with rear air conditioning. While these features are found in the latest model year of this SUV, many of them can be installed by our team in your next vehicle, whatever you decide on.
Popular Customizations for the Chevy Tahoe
There is no denying how popular the Chevrolet Tahoe is, so it's an SUV that we see in our shop quite often. A lift kit is one of the most highly-chosen upgrades for this vehicle, as you would probably expect. Beyond that, a lot of drivers also decide to add on a set of running boards as well as new wheels and tires. All of those things go well with a lift kit, and can help you achieve the full package for your vehicle.
Those features can also help get you ready for off-road action, but a lifted Tahoe for sale will need more than just that to get the full rugged experience. If it doesn't already have four-wheel drive, that is an upgrade you may want to consider. We'd also suggest looking into a performance chip, which can give you more customized control over your engine.
You may also want to consider adding features to your interior to improve your daily driving. We can upgrade the vehicle with a GPS system, a fresh trim for your seats, or an entire redesign.
Build Your
4×4 Tahoe with Us
We will customize any of our stock Tahoes to your specifications. You pick the the Tahoe or Yukon you want from our lot, then simply pick your lift kit, wheels, and tires and we'll build your dream Tahoe. We'll even finance the cost in your deal! Feel free to call us if you have any questions, because for a few extra bucks per month you can have it your way. If you are looking for a lifted or stock Tahoe for sale, we have you covered. We build them to your liking, we have even built a suburban with a water snorkel for a customer to send to Haiti.
If you have a Chevrolet Tahoe or Suburban in mind that we do not have, we can buy it for you. Put down a deposit and we can locate you that hard to find 2003 rust free Tahoe. After we find your dream ride we can build it to your liking. Order any lift kit from a Rough Country to a BDS, Wheels From Fuel, XD or anything in between. We have our own team in house for lift kits, wiring, and general repair. We have ASE mechanics on hand to build and maintain your lifted Tahoe for sale after you purchase it from us. If you are in the area and have a 4×4 Chevrolet Tahoe that you need lifted, no problem our service center can help with that. Either way, we are here for you, to help find, buy and build the lifted Chevrolet Tahoe of your dreams!
Shipping Vehicles Around the World
Ultimate Rides specializes in nationwide truck sales. We sell, transport and ship 4×4 trucks and SUV's to regional states such as Indiana, Missouri, and Michigan, and as far away as Texas, California, Alaska and Dubai! Over 40% of our lifted trucks get shipped to new owners in other states, the other 60% make the drive to see us in our small town. From financing to transport, we will get your dream vehicle to your door and exceed expectations. We offer airport pick up and will help with local or nationwide delivery. Every lifted Tahoe for sale that we sell at Ultimate Rides go through an inspection for quality to ensure our valued customers are getting a vehicle that will last. We welcome third party inspectors to come and inspect our vehicles and pride ourself in selling reliable Ultimate Rides. We can provide any professional photos at your request, video walk arounds or anything you would like. Our mechanics are ASE Certified Mechanics and specialize in lifted 4×4 Tahoes that we sell. If you have any questions regarding a Chevrolet Tahoe, truck or Suburban you can contact us here.
Customer Service You Can Trust
At Ultimate Rides, we know what the experience can be like buying a vehicle like a Chevrolet Tahoe from most auto dealers. The simple fact is that they are more concerned with their profits than providing you with the best vehicle. When you shop with us, we truly believe that we can succeed as a business by offering our customers the best experience possible. If you are tired of getting screwed when it comes to buying a vehicle, we want to be a welcome breath of fresh air.
The process starts over the phone, where our team is always ready to help. If you don't live in the Chicago area, or you do but still would rather not stop by the office, you can take care of the whole buying process over the phone. Someone from our team will guide you every step of the way, making sure you get the exact vehicle that you want. After all, if you're not going to be seeing a vehicle in-person before you buy, we want to make sure you can get as good of a look at it as possible.
If there are any questions you have during the process, we'll be here for you. Additionally, if you can't find the vehicle you're looking for in our inventory, like a custom Chevrolet Tahoe, be sure to let us know. With a small deposit, our buyers will start searching for that specific vehicle. As soon as we track it down, we'll bring it back to our HQ to get ready for you. We can add on custom modifications if you'd like, or give it to you as-is. Just let us know if you want to come pick it up or if we should ship it out to you!
Driving a Lifted Tahoe for Sale, New or Used – What You Should Expect
When you first get behind the wheel of a lifted vehicle such as the Chevrolet Tahoe, you'll notice a big change right away. This difference can be hard to put into words, but you'll definitely feel it. It's caused by being up higher from the ground, with the entire geometry of the vehicle being altered. As long as you have a high-quality kit with reliable installation, the SUV will still drive great. The center of gravity will be higher, so you'll want to be more careful taking turns. However, you'll be able to see over most of the vehicles surrounding you, giving you more awareness of the road.
There are also some extra maintenance steps you'll want to add into your normal routine. This includes making sure all the joints and ball bearings are lubricated as well as ensuring every bolt is tight and secure. As long as you do this on a regular basis, in addition to all the regular elements, you'll ensure your truck stays in good running shape as the years go by.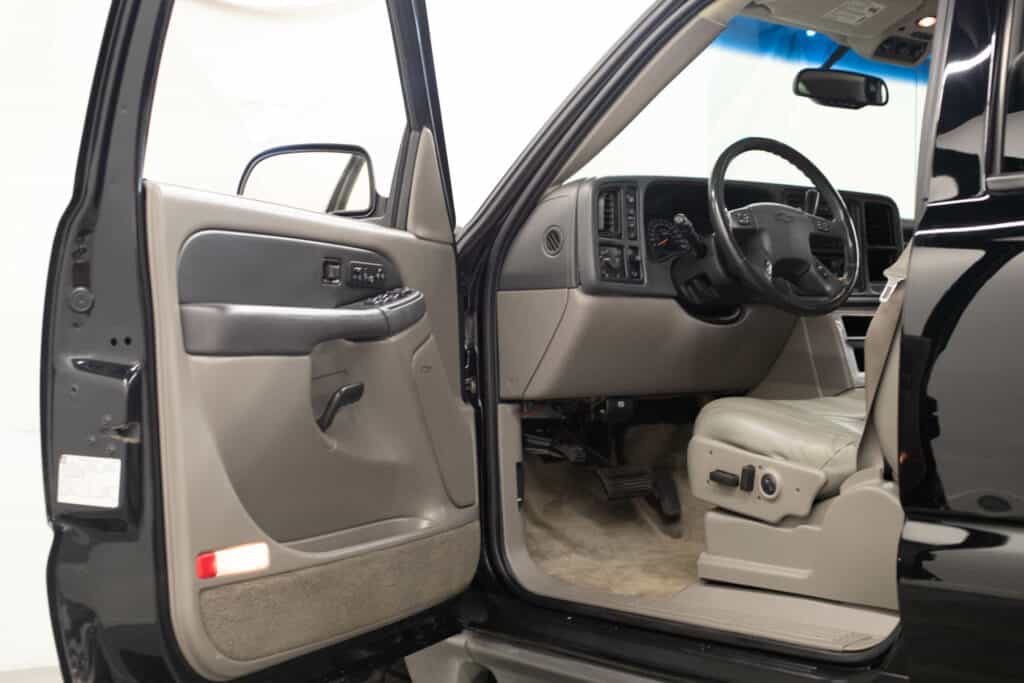 History of the Chevrolet Tahoe
The Chevrolet Tahoe has consistently been one of America's top-selling SUVs, beating out the competition in its class by a large margin. However, you may be surprised to know that it was actually its sister vehicle, the GMC Yukon, that debuted first. GMC introduced the Yukon to the public back in 1991 (with the 1992 model year), and the Chevrolet Tahoe came along just a few years later in 1994.
The Chevrolet Tahoe (and GMC Yukon) take a lot of cues from the Chevrolet Suburban, as well as the discontinued Blazer. However, over the course of their vehicle history, these SUVs began to develop their own identity, both of which have become a hit with drivers everywhere. The second generation of the Chevrolet Tahoe was introduced with the 2000 model year, helping break in the new millennium. The vehicle is now in its fifth generation, still breaking sales benchmarks and introducing new features to enjoy.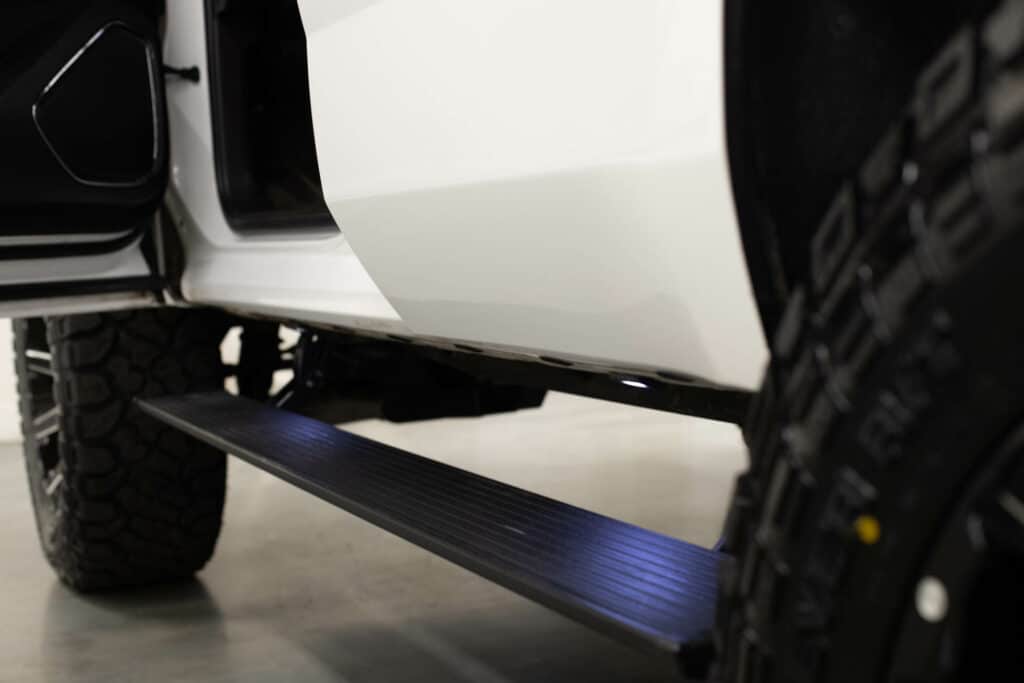 2022 Tahoe
Overview
We've already covered a few of the exciting interior features you could find inside the latest Chevrolet Tahoe. However, now we'd like to offer an even closer look at the latest model of the SUV for sale. We feel that Chevrolet have gone above and beyond to deliver an amazing vehicle for drivers. First of all, it's a full-size SUV, able to fit between seven and eight people depending on your configuration. Each model should include a set of black assist steps, though Ultimate Rides can upgrade to a power-assisted set or a more off-road oriented pair of running boards if you wish.
The Chevrolet vehicle will include IntelliBeam LED headlights, as well as rain-sensing automatic windshield wipers. Some models will include a 10-speaker Bose surround sound system, plus a front and rear parking assist feature to help minimize the chances of dinging up your Chevrolet Tahoe. There are additional driver assistance features available from Chevrolet, including lane keep assist or a side blind zone alert system. As always, Chevrolet offers multiple optional packages that can add even more features to the vehicle.
Tahoe Power and
Performance
We haven't yet been able to dig into performance for this Chevrolet SUV. In the 2022 Chevrolet Tahoe, drivers could have access to two different engine configurations. The first is a 5.3L V8 engine with dynamic fuel management, direct injection and variable valve timing. This Chevrolet engine can get drivers up to 355 horsepower with 383 lb.-ft. of torque available. If that's not quite enough for you, Chevrolet is also offering a 6.2L aluminum block V8 engine, capable of providing up to 420 horsepower with 460 lb.-ft. of torque. Some models of the Chevrolet SUV may include an adaptive air suspension system for an even smoother ride, or features such as an engine block heater, an Autotrac® 2-speed transfer case, or an upgraded 250-amp alternator. Contact Ultimate Rides to find out specific performance details on our available Chevrolet Tahoe models today.
Driving a Classic Used Tahoe
Those of you who love the Chevrolet Tahoe like we do know that it's worth keeping around for the long haul. You can keep your Chevrolet Tahoe in good shape by practicing proper maintenance, and with that it can last a very long time. Though we don't always have these options in stock, it wouldn't be uncommon for you to find a retro Chevrolet Tahoe available in our inventory. We like bringing in classic models of vehicles. We could set you up with a high-quality Chevrolet Tahoe that is 10 or even 20 years old. Some drivers may wonder why they might want to opt for an older vehicle, but there are a number of potential advantages. If you're looking for a specific engine in the Chevrolet Tahoe that is only found in older models, we can hook you up. Sometimes drivers prefer the look of an older Chevrolet Tahoe, which is another reason to consider a retro model. Perhaps most importantly, older vehicle models will usually cost you less. Whatever your reasoning might be, you can count on us to help you find the Chevrolet vehicle you're looking for.
Customize Your Current Tahoe
At Ultimate Rides, making sure you drive your perfect vehicle is more important than us simply making a sale. If you call and schedule an appointment with us, we'll be happy to work on your Chevrolet Tahoe. Taking a Chevrolet tahoe lifted to its perfect form is what we always try to achieve. It's a beautiful SUV, and one that our team can make even more impressive. Once you're on the phone with a member of our team, we can discuss options for the Chevrolet Tahoe. That can range from a basic suspension lift, to more advanced upgrades like getting the vehicle satellite radio ready or adding on a long list of accessories. We have the ability to order whatever parts or accessories you'd like for your Chevrolet Tahoe, in addition to having a huge selection of improvements already available in our lift center. Your Chevrolet Tahoe deserves the best, and when you choose Ultimate Rides for your upgrades, that is exactly what you should expect.
If you drive a Chevrolet Tahoe and feel as though now is the right time to make a change, you don't have to resort to getting rid of the vehicle. Let us offer a facelift instead! There's no limit to the changes available for current and older models of the Chevrolet Tahoe. You can even make enough major changes so that the vehicle hardly resembles the original Chevrolet design. Just let us know what kind of upgrades you're looking for, and we should be able to provide you with a quote. From there, it's just a matter of finding a good time to bring your Chevrolet Tahoe to us and our team can get to work! Check out our available Tahoes for sale or any other vehicle in the inventory, Chevrolet or otherwise, and let our team know if we can help!
Lifted Trucks and Chevrolet Tahoe – Frequently Asked Questions
What is the difference between the Chevy Tahoe and GMC Yukon?
Chevrolet and GMC are sister brands. They're owned by the same parent company, and share many similarities in terms of performance and features. The biggest differences between the two are stylistic, as they have some pretty diverse looks. You'll also find some specific differences between the two on a year to year basis, such as one sporting a slightly more powerful engine, or one offering better luxury features.
There is no obvious answer as to which is the better vehicle. It all comes down to personal preference. We encourage you to shop around for both and see what they each have to offer. You may find you favor one over the other, but remember that Ultimate Rides can always help you upgrade the Chevrolet Tahoe, GMC Yukon, or any other vehicle you'd like.
Does driving with a lift kit have an effect on gas mileage?
It will, but the extent will depend on a number of other factors. The type of driving you do will play a big role as well, as stop-and-go city traffic as well as rough off-road action can burn more fuel than highway driving. The amount of extra money you'll spend in gas should be pretty low in most circumstances, and the vast majority of lift drivers find it to be well-worth it.
Lifted Tahoe for sale near me?
Ultimate Rides Sells lifted tahoe near me, because we can ship our lifted tahoes nationwide. If you are searching lifted tahoes near me and we come up, its because we can ship directly to you. Let us help you get a lifted tahoe, and delivery to your doorstep.
---
Two Brothers With a Dream, Building Lifted Tahoes

Ultimate Rides consists of two brothers who have been buying and selling vehicles for over ten years. Two brothers with a dream to buy, build and sell a lifted Tahoe from rust free state. Build a business on a great reputation and always make sure customers are happy with their purchase. In the auto business that sometimes is hard to do, but year after year their business grew and five star reviews started to come in. They started their Ultimate Rides journey with a third brother Jake, who was a big part of building the business they have today. In 2016 Jake passed away and losing their brother was the hardest thing they ever had to deal with. Even though they had a tragic loss they plan to continue to set a new trend for the Chicagoland market, keep customers number one and grow this business for their baby brother Jake.

 — Nick and Alex Bulanda, Founders of Ultimate Rides